It's windy, and there may be showers around today, tonight, and in the morning:

Strong to severe storms are possible Wednesday afternoon and/or evening. Since yesterday, our area's been upgraded to a slight risk of severe weather by the Storm Prediction Center.
Biggest concern is damaging winds (15% probability of damaging thunderstorm winds or wind gusts of 50 knots or higher within 25 miles of you). Can't rule out a tornado (5% probability of a tornado within 25 miles of you) or hail (5-15% probability of one inch diameter hail or larger within 25 miles of you).
Localized flooding could be an issue with forecasted accumulation of 1 to 3 inches with this system. WPC says probability of flash flooding within 25 miles of you Wednesday is between 10%-20%.
See HRRR run below for timing of storms: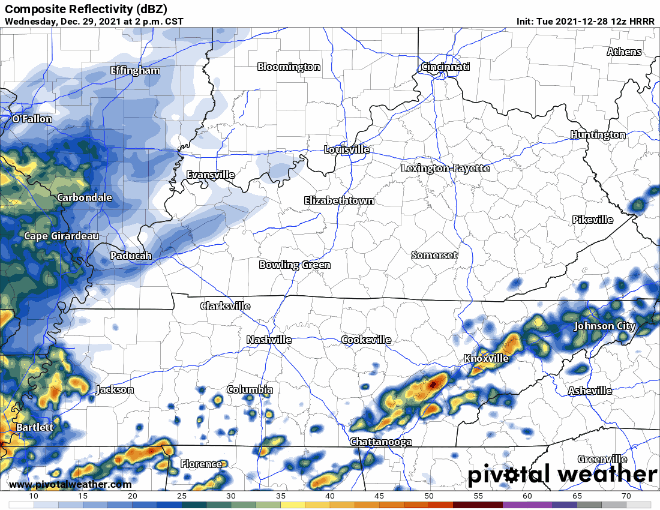 Have ways to get weather alerts and have a plan for shelter if under a warning!
David tweeted this morning about the main uncertainty about the severe forecast: will the warm front get far enough north to put us on the "bad side" that would open the door for the that low probability of severe weather? Some models think yes, others think "gonna be close, maybe not." The new models rolled in late this morning and provided no clear picture. This will be watched through the day, night, and all day Wednesday. Expect an updated blog and Many Tweets tonight and, of course, through Wednesday.
You need a severe weather plan — ways to get warnings, and an understanding about where to go if a warning is issued.
Another severe event is possible Saturday. SPC already "outlooked" it: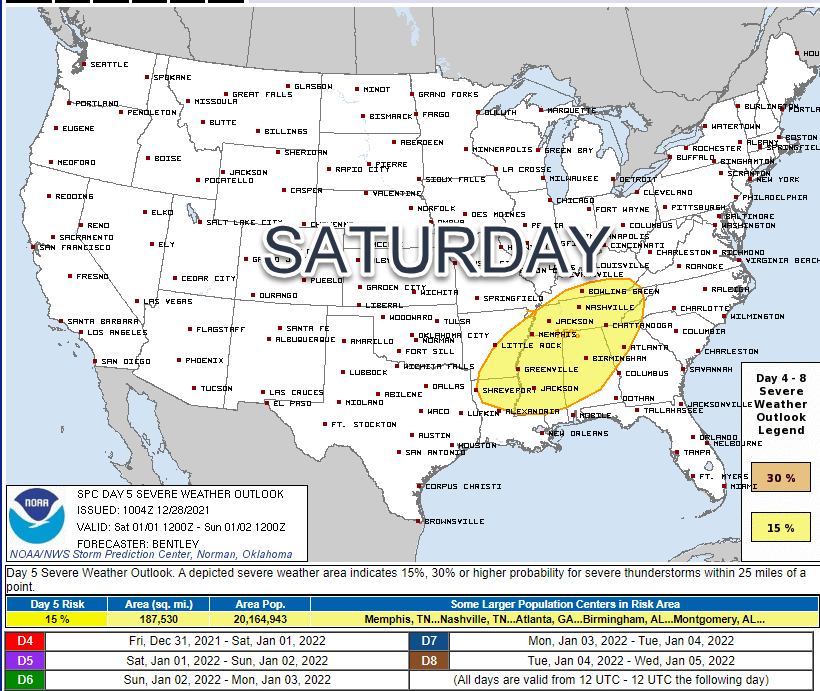 Update on the white stuff that's probably showing on your crap apps: not much has changed. GFS likes the chances, Euro does not. Not much agreement in the models, so not much confidence. The models agree on it getting Really Cold Sunday, but the snow is only seen in the GFS, and displays an inconsequential snow event which is a common false signal.
Don't be fooled by bleepflake funny business. Models commonly show snow falling this far away, only for models to lose the flakes as we get near the "event." It's not impossible, but is super unlikely, and any flakes that fall would nestle then melt on the warm earth. Snow model data at this range has a bad track record.
[bracing for all your panic, break, milk, french toast, party, other drivers, flights, school, so you're telling me there's a chance tweets]