Humidity Likely, Rain Unlikely Today
A few scattered showers may sneak into Middle Tennessee this afternoon. The HRRR model thinks this is unlikely, though.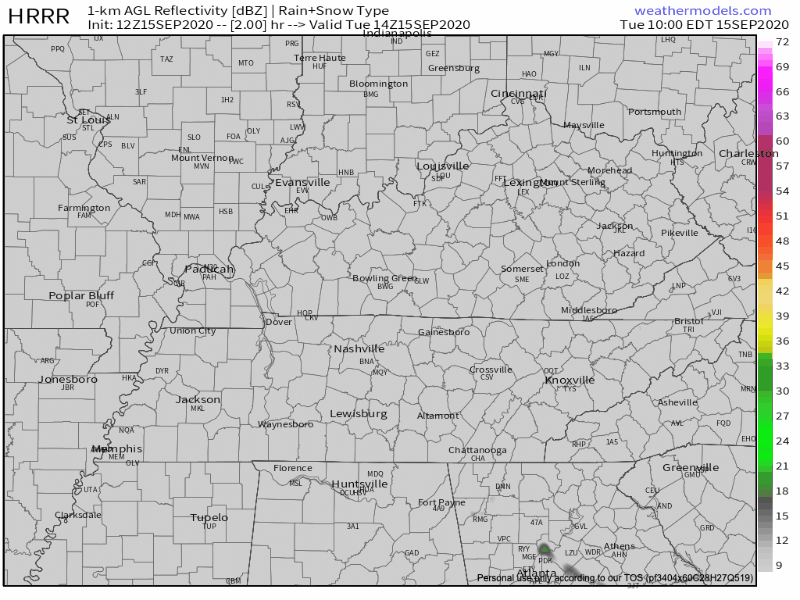 Pretty scattered if you ask me… If anything materializes, it will be in the afternoon.
The more significant part of today's forecast: humidity. Our dew points are creeping back up into the upper 60's. This, plus temperatures in the mid-80's, will make it feel pretty gross outside today.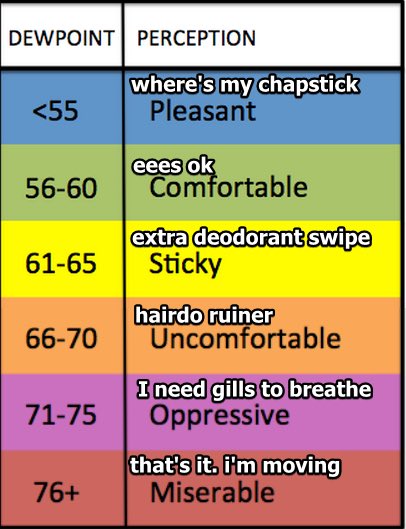 The humidity is thanks to Hurricane Sally (of course). Even though we won't see much rain from the storm, we at least get some of the moisture!
So, What's Happening With Hurricane Sally?
Hurricane Sally is currently churning off the Gulf Coast of Alabama/Mississippi/Louisiana.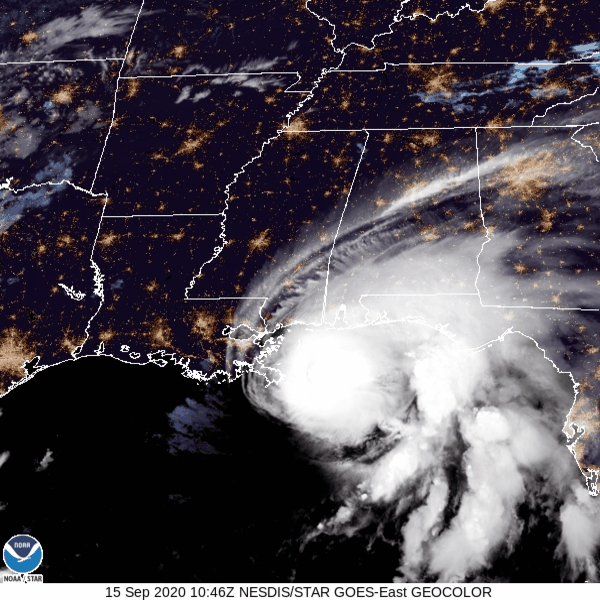 The Alabama and Mississippi coastlines, along with the Florida panhandle, will experience hurricane-like conditions today, with sustained winds around 85 mph. The storm is moving very slowly–at 3 mph. This isn't good news for these areas. Sally will dump rain and likely cause massive flooding along the coast.
Nashville is currently located outside the cone of uncertainty.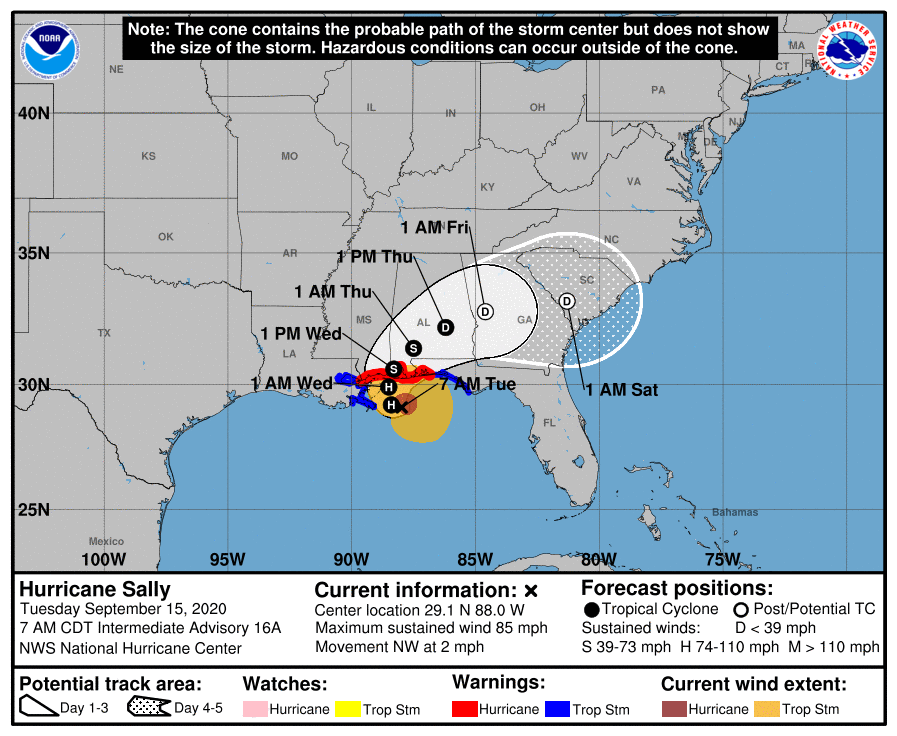 The cone of uncertainty shows the probable area where the center of the storm will travel. So, impacts from the storm can reach outside of the cone of uncertainty.
With that being said, we shouldn't experience many impacts (i.e. strong winds, heavy rain) because we are pretty far away from the path of the storm. The National Hurricane Center also keeps all significant rainfall totals south of Middle Tennessee.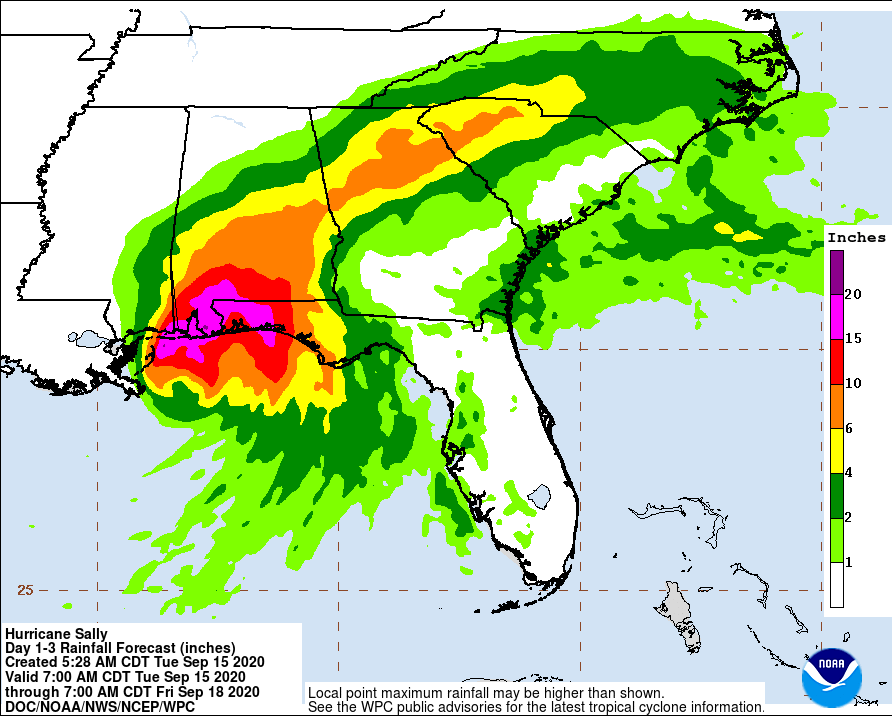 Quiet Weather Continues Into Wednesday
Rain from the remnants of Sally should stay well to our south. Any chance for free plant watering will come from isolated afternoon showers. Not that your plants need it after this past weekend.
High temperatures Wednesday will be in the low 80's. Dew points will remain in the mid-60's. But, relief is in sight!
Do I See Dew Points in the 40's??
Yes! You will have to wait until this weekend though.
And, guess who's (indirectly) responsible for the cooler weather this weekend?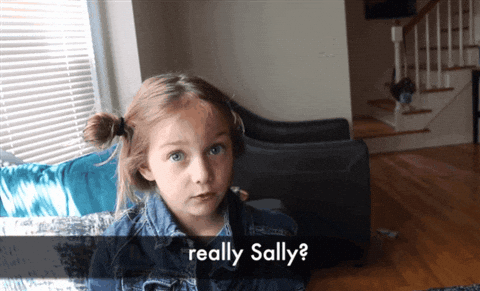 Sally will help an upper level trough bring in cooler and drier air on Saturday.
Highs in the mid-70's.
Lows in the 50's.
Mostly clear skies.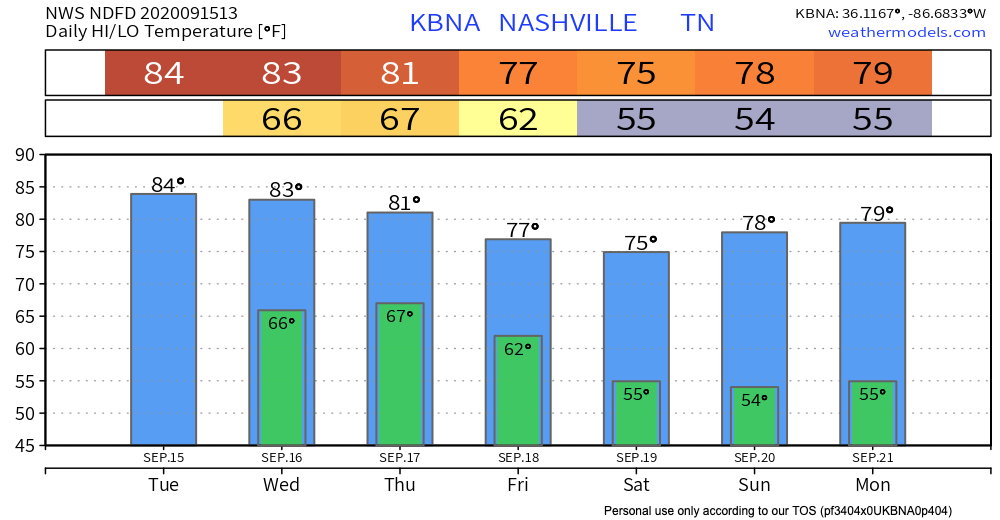 This is the kind of fall weather we've all been waiting for!
Until then, enjoy the humidity… Happy Tuesday!