A pretty mild and dry afternoon approaching with our high temperature in the mid-80s.
It'll feel warmer, though, with those dewpoint temperatures projected to hang out in the upper 60s today.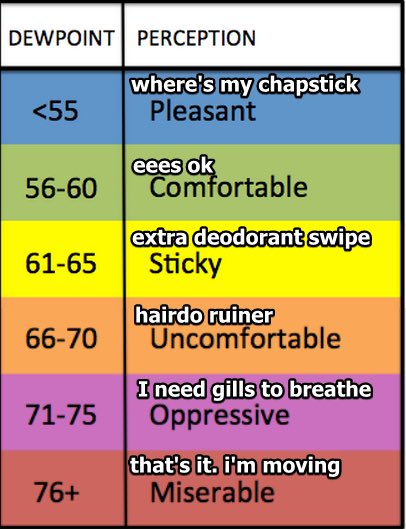 A chance for isolated showers is forecast for the southern region of the state. Most of the activity will stay mainly south of us, along the Tennessee and Alabama border this afternoon.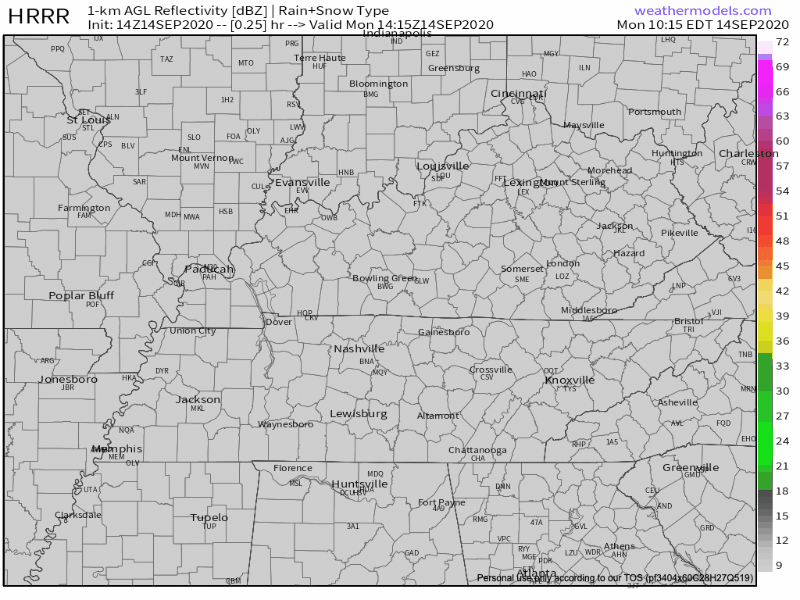 Expecting tomorrow to be the same as today: mid-80s, a lot of humidity. We do have a low chance of an isolated shower in the afternoon.
The real story isn't until Wednesday through the weekend.
Hurricane Sally – Will This Affect Us?
Short answer: yes and no.
Currently a Category 1 hurricane with maximum winds of 90 MPH, Sally is expected to make landfall along the Mississippi and Alabama Gulf Coast tomorrow morning. For us back at home in Middle Tennessee, we'll get some rain.
After making landfall, Hurricane Sally makes a right turn toward central Alabama and Georgia. It is projected to downgrade to a Tropical Depression by Wednesday night.
Remnants of Sally will reach Nashville by mid-week. Rainfall totals have been on a downward trend in recent models runs. The current forecast is for as little as a quarter inch in Davidson Co, and as much as an inch in S Williamson County.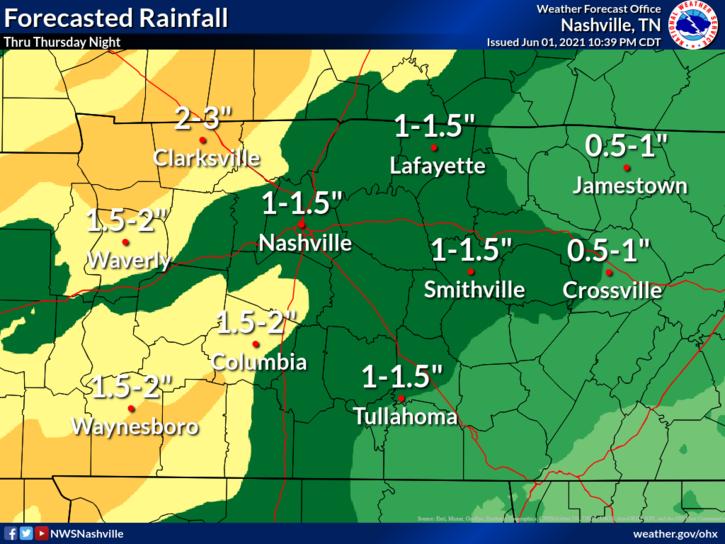 Cooler Temperatures Into This Weekend
High temperatures in the upper 70s by this weekend! Low temperatures will sit in the 50s for Saturday and Sunday. This is all thanks to a high-pressure system expected to dominate the Ohio Valley, bringing drier and cooler temperatures this weekend.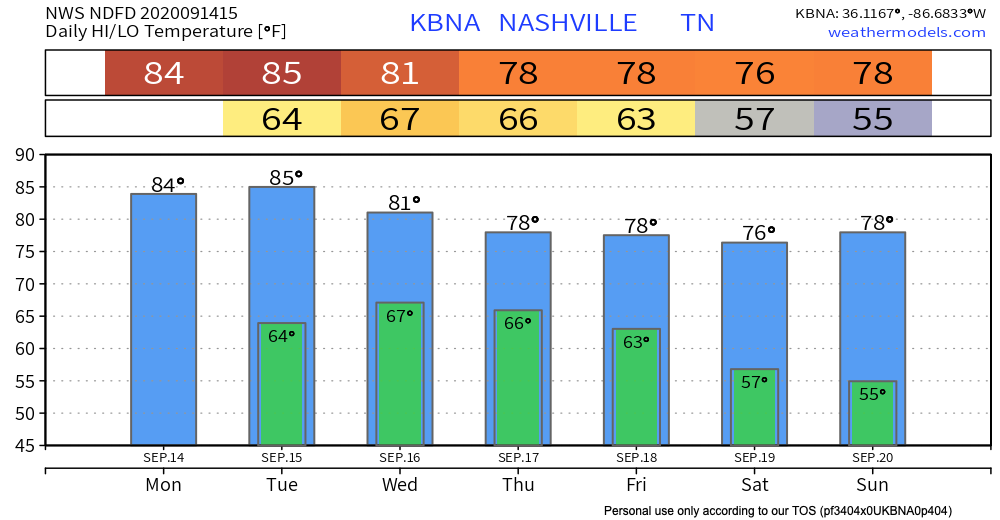 Recap:
Tuesday: Warm, temperatures in the mid/upper 80s and a pop-up shower in the afternoon.
Wednesday: Showers from remnants of Sally, mainly after 2pm. High in the low 80s.
Thursday: Widespread showers throughout the day. High in the upper 70s.
Friday: Slight chance of showers in the early morning. Partly cloudy with a high in upper 70s.
Saturday and Sunday: Cooler, highs in the mid-70s. Sunny.
Editor's Note: Yesterday
Yesterday was one of those days when we hated to see the HRRR model verify.
Saturday night, we noticed the model was spitting out 6-7 inch rainfall totals over a small area of NE Williamson County and into NW Rutherford County.
Here are today's CoCoRaHS reports.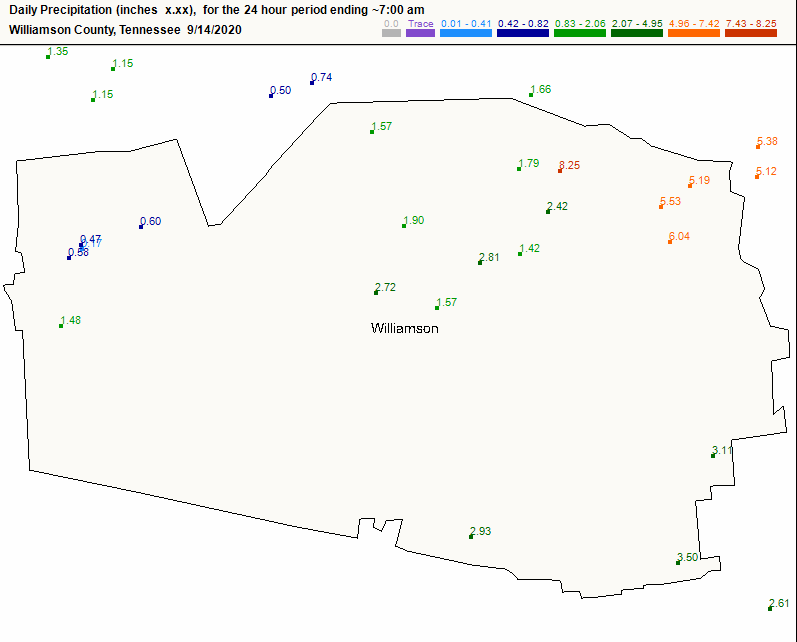 Many of the 5 and 6 inch reports in NE Williamson County were on top of the inch they received just prior to emptying their rain gauges for the day at 7:00 am. So, in all, 6.5 inch totals were common yesterday right in the watershed of Mill Creek.
The Town of Nolensville was particularly hard hit. Nolensville is no stranger to floods through the decades, but no two floods are alike. The muddy water invaded homes, businesses and the local Williamson County Rec Center/pool.
Our two counties have had high water marks etched into our memories several times over the years, but in every case, the stories of people showing up to help strangers is what we remember most.