Slight chance of rainfall and storms today, but we will probably stay dry. Mostly cloudy most of the day.
High temp of 92° with a heat index of 100°. Humidity is high as Laura pulls thick, humid air off the Gulf of Mexico and into Middle Tennessee.
Hurricane Laura
Hurricane Laura made landfall around 1 AM CDT Thursday morning, on the western coast of Louisiana, as a Category 4 hurricane.
This storm had maximum sustained winds of 140 mph along with significant storm surge.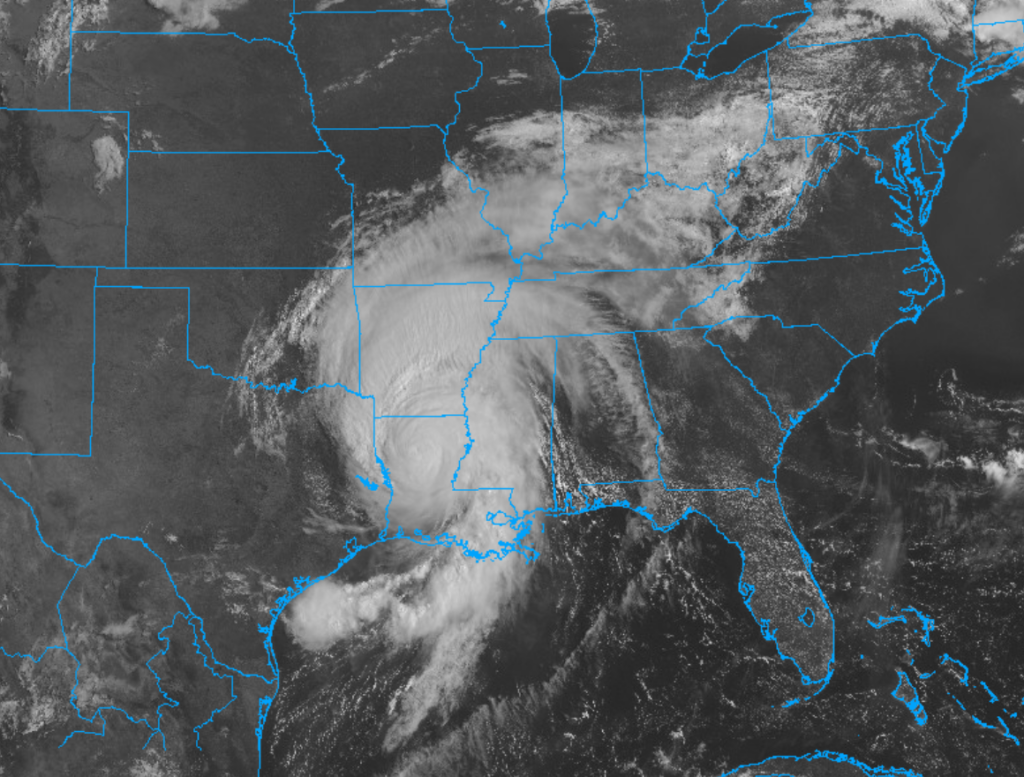 Laura Weakening, But Will Impact Us Friday
Laura's center will weaken to a tropical depression then pass just north of us Friday night.
Notice the white area, above. It defines where the center of Laura might go. There's the northern route near the Ohio River, the middle route (most likely) into Kentucky, and the southern route that will bring it just north of us.
We do not want that southern route. The southern route will increase the winds, rainfall, and tornado risks.
Impacts will arrive as early as lunchtime Friday, and continue off and on through the day Friday afternoon, evening, and overnight.
Threats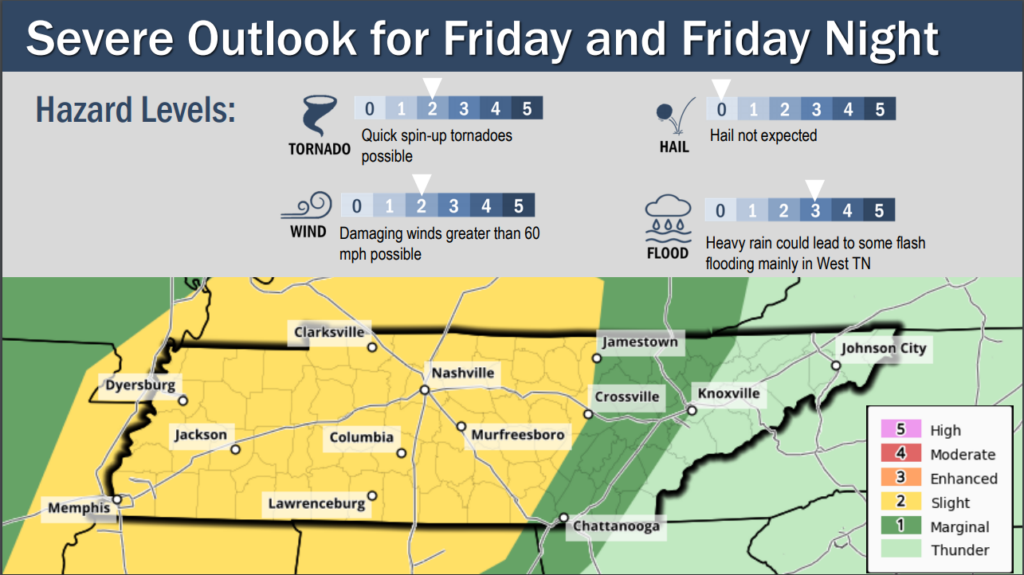 Wind gusts up to 40 mph. Winds will be out of the south, sustained between 15-25 MPH. Gusts over 30 MPH will be rare. These are non-storm related winds.
Storms could produce wind gusts up to 60 MPH.
Heavy downpours might create isolated flash flooding. Up to 4 inches of rain is possible in NW Middle Tennessee, closer to Laura's center. Locally we expect 1.5″ to 2″ or so total, but that number will increase if Laura takes a southern track and its center moves closer to us.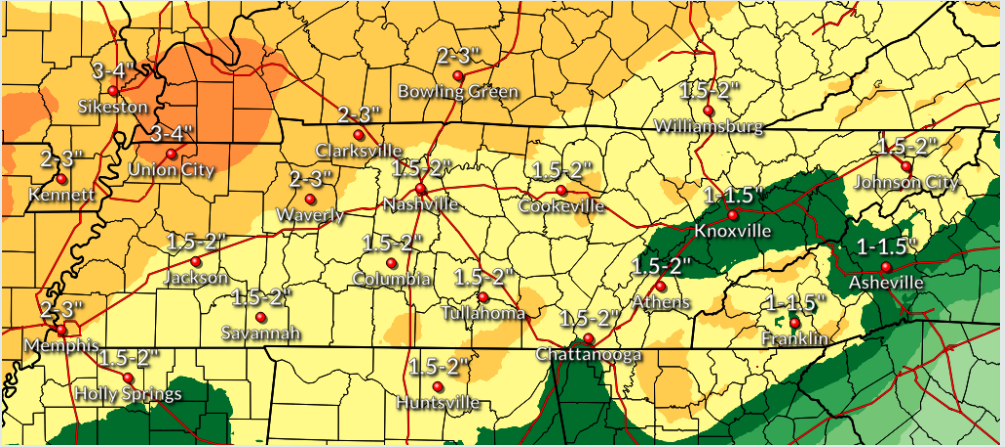 Quick, spin up tornadoes are also a threat. Inland tropical systems that produce tornadoes often make weak, short-lived, tornadoes, with little advance warning. These tornadoes are usually less powerful than supercell tornadoes. The March 3 tornado was a supercell tornado.
It is possible that we will be placed under a Tornado Watch by Friday afternoon if Laura does not take a northerly turn. Model data displaying the Significant Tornado Parameter shows the tornado threat is an actual, but low-end, threat.
The probability of a tornado within 25 miles of you is 5%. The probability of a tornado not happening within 25 miles of you is 95%.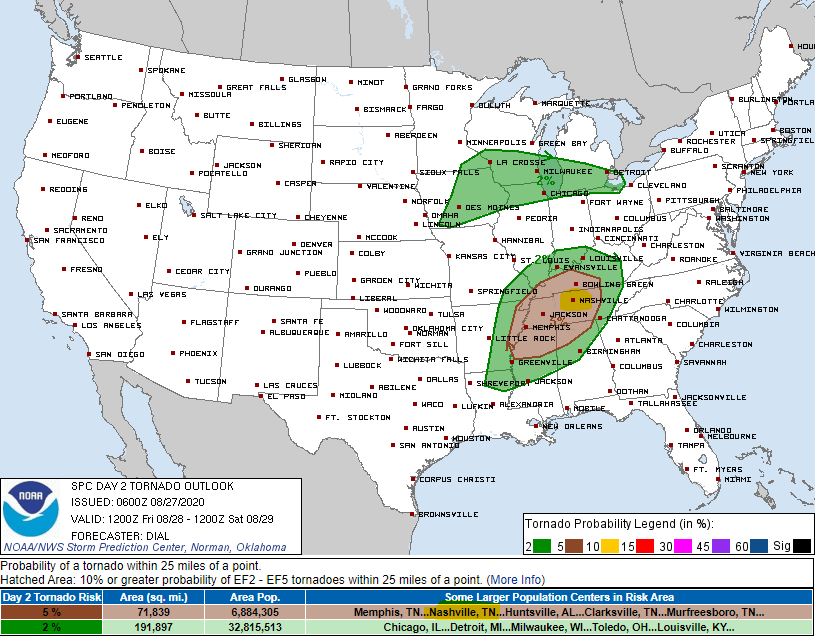 Uncertainties
Timing: the HRRR model times out a rain/storm band associated with Laura arriving here around lunch, and another around 5 PM or so, but timing confidence is low.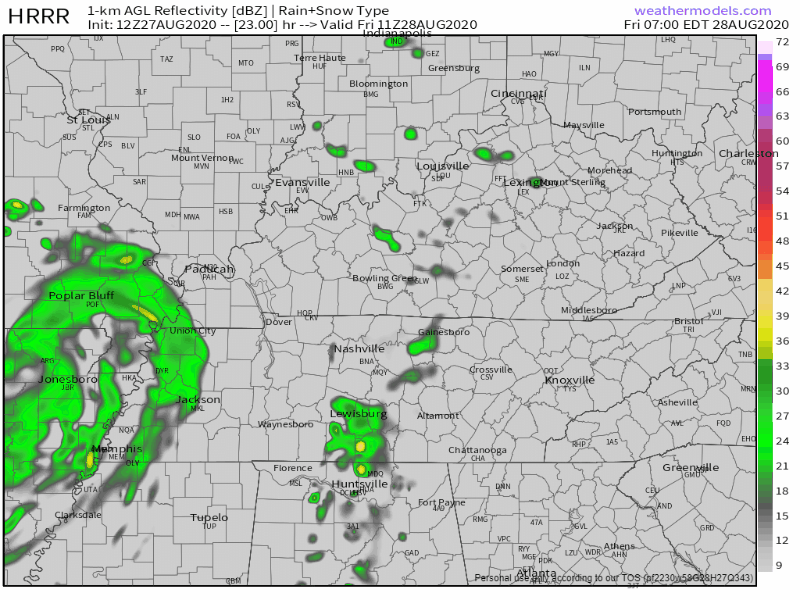 The European model thinks we may see rain and a few storms Friday afternoon, but the main rain/storm bands associated with Laura could hold off until late Friday night and last into the early Saturday morning hours.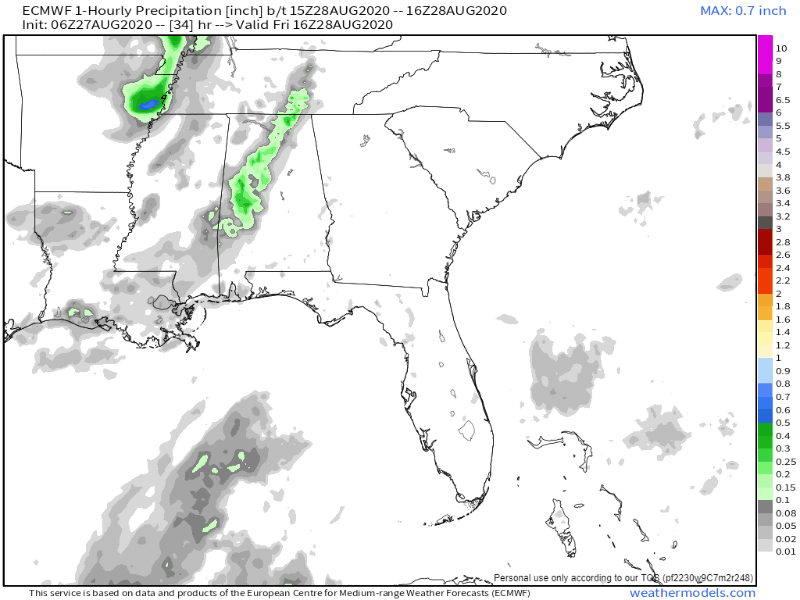 Check back tonight, tomorrow, and all day Friday for updates on ETAs. Timing is a big uncertainty, but if you can reschedule your Friday night football game to Saturday, that's a good idea.
Again, all this depends on Laura's track. If Laura slows down, or the low tracks farther south, rainfall amounts will increase and the window for tornadoes will be longer. If it goes north, concerns will drop.
Impacts will depend on the track and intensity of Laura and are subject to change due to the uncertainty of what this storm may do.
Saturday Impacts
Laura will determine our weather into the early hours of Saturday morning. By dawn Saturday morning, Laura's remnants should be racing off to the east and out of our area.
A cold front will arrive behind Laura. This front will create additional, scattered right and storms, in the afternoon. A few storms may even be strong. However, these storms should not be widespread. Generally speaking, Friday's weather will be worse than Saturday's.
Rainfall totals by Saturday night should hit 2″ to 3″.
My heart goes out to everyone in Louisiana impacted by this storm as well as my thoughts and prayers.
Stay safe and be weather aware, Nashville!