At 6:54 PM Hurricane Laura was seen from space in the remaining sunlight, moving NW at 15 MPH, maximum sustained winds 145 MPH.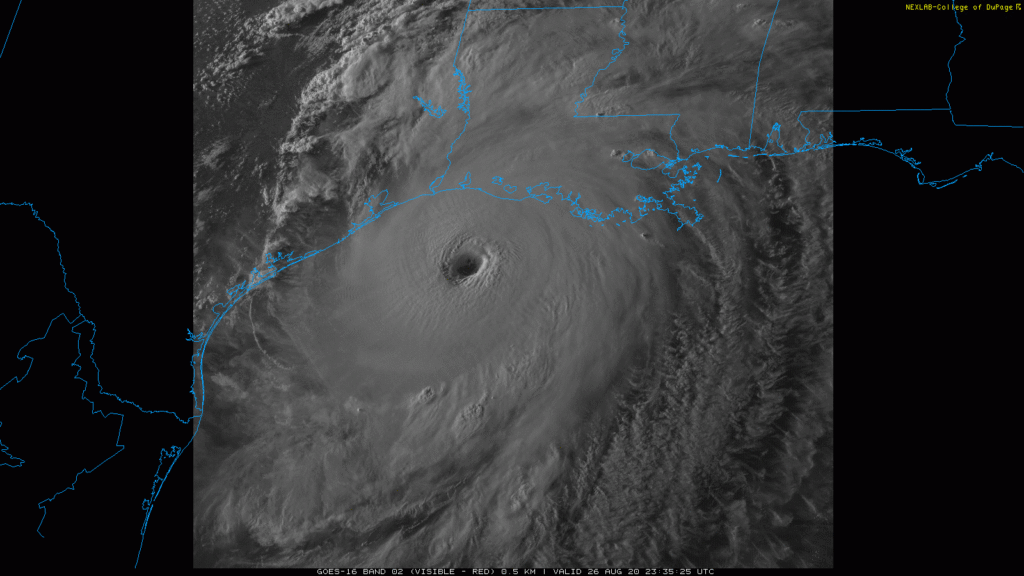 Those are 145 MPH sustained winds; the March 3 Nashville tornado peaked at these speeds. Hurricane Laura will ram through Louisiana like a wide EF-3 tornado, carving a huge damage swath.
After midnight, probably shortly after midnight, Hurricane Laura will landfall, packing perhaps even stronger winds. Coastal residents along the storm's right front quadrant (the area northeast of the eye), will experience "unsurvivable storm surge" (NHC) over 9 feet, and not just along the "beach" but inland, too.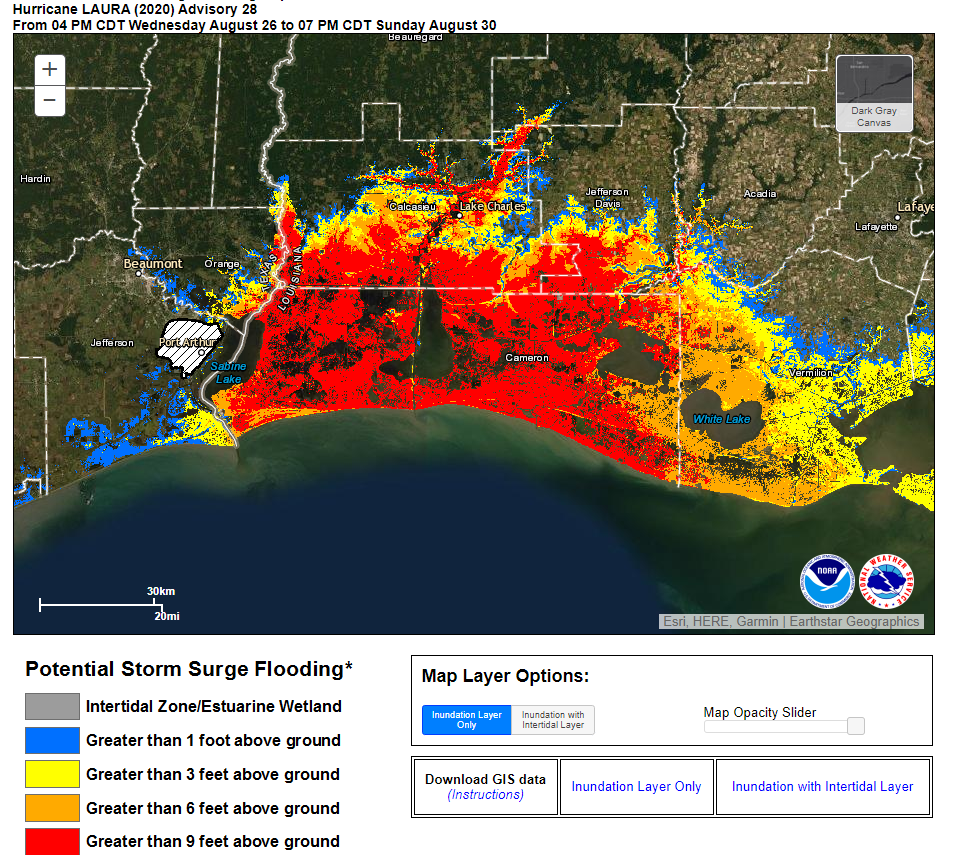 "This surge could penetrate up to 40 miles inland from the immediate coastline, and flood waters will not fully recede for several days after the storm." NHC, 4 PM Advisory.
Meanwhile, a Tornado Watch is up and active for most of Louisiana, as a series of spin up tornadoes have prompted Tornado Warnings off and on through the day. That should continue tonight.
Laura will landfall and weaken as it moves into NW Louisiana then to Little Rock as a tropical storm. By 1 PM Friday Laura should be downgraded to a tropical depression near the Missouri bootheel, where it could take one of three routes east (1) a northern track along the Ohio River, (2) straight through Kentucky, or (3) I-40 into Nashville. Any is possible, but the current thinking is Laura will push through Kentucky as a tropical depression.
Meanwhile, here in Nashville and Will Co, Thursday looks very humid, but rainouts are unlikely.
Laura Related Local ETAs & Potential Hazards
Models are starting to fall in a general agreement, but there are timing differences.
Later Arrival. The Euro model has the center of Laura near Clarksville around 1 AM Saturday morning. Rain and strong winds will ruin Friday night plans beginning around 10 PM (possibly sooner than that, high school football fans), and lasting past midnight into Saturday morning.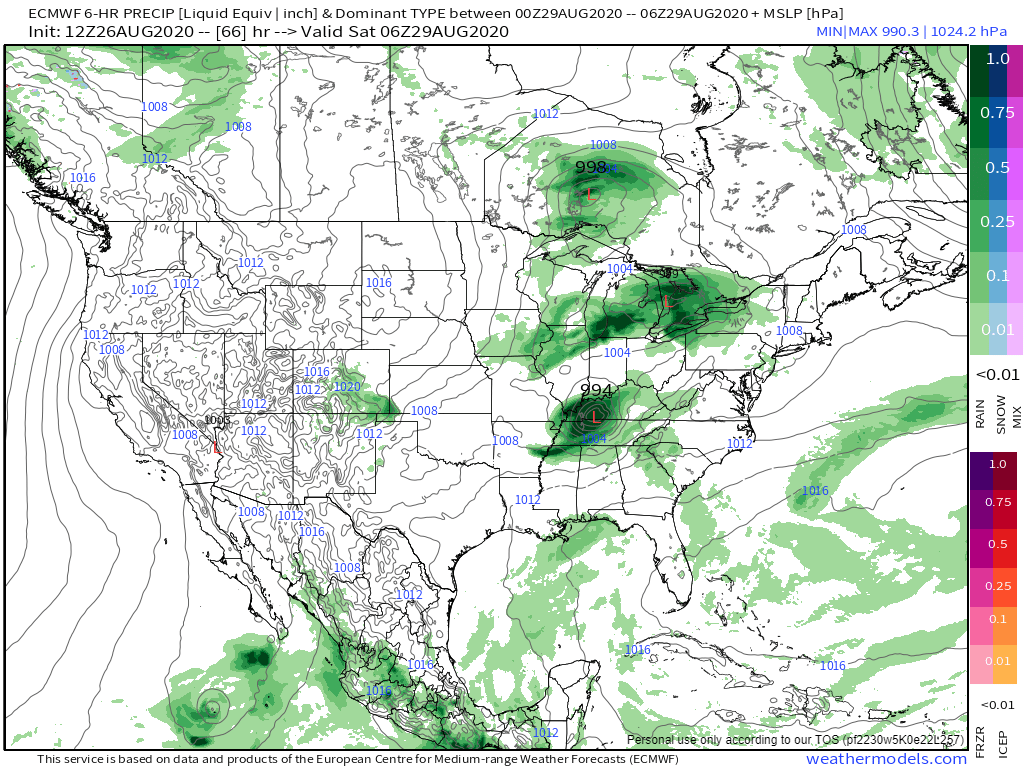 Earlier Arrival. The GFS model thinks Laura will devolve into a rain blob and arrive earlier Friday, beginning with rain sometime in the afternoon and continuing all day long, with south winds gusting 20-30 MPH.
Timing should improve as new, higher resolution model data arrives Thursday and early Friday.
Hazards. Sustained winds of 15-25 mph with gusts up to 40 mph. Winds may begin Friday afternoon and continue until dawn Saturday. Whether we get those 40 MPH winds will depend on Laura's track. The further the center is from us, the weaker the winds. If the Euro model is correct, and Laura's center moves closer to us, our wind concerns will increase.
A window for quick, spin-up tornadoes exists beginning as early as mid afternoon Friday and ending around midnight. Again, Laura's exact track will raise or lower these concerns. If Laura ends up closer to us, as shown by the Euro model, our risk of a tornado or two will increase. Inland tropical system tornadoes are often weak, narrow, and short-lived. Our concern level, and worry level, is low, but the risk is not zero so this will be watched closely.
Lightning is possible, but this should not be a high frequency lightning event.
Rainfall between 2″ to 3″ is possible; again, this is track dependent and may need an up or down adjustment.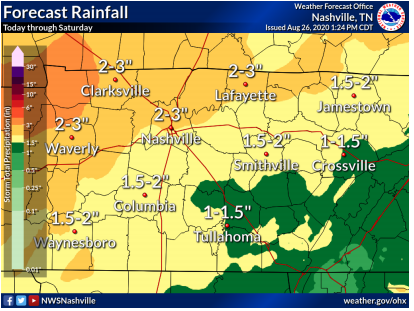 A cold front is expected here late Saturday. This should bring additional rainfall but not raise flooding concerns. Less humid weather filters in Sunday (rain unlikely) and Monday, but another warm front returns late Monday to rehumidify us, and we never really shake the rain/storm chances.
Expect multiple updates from us on Twitter, and look for updated, long-form blogs like this one Thursday.
For all updated hurricane information, see hurricanes.gov.