Threats Today Include Heavy Rain, Gusty Winds, and Isolated Tornadoes
The remains of Tropical Depression Laura are spinning our way. The storm has finished its trek northward, and today it will set its eyes on Middle Tennessee and Southern Kentucky as it moves east. At daybreak, the storm was at the Arkansas/Tennessee state line.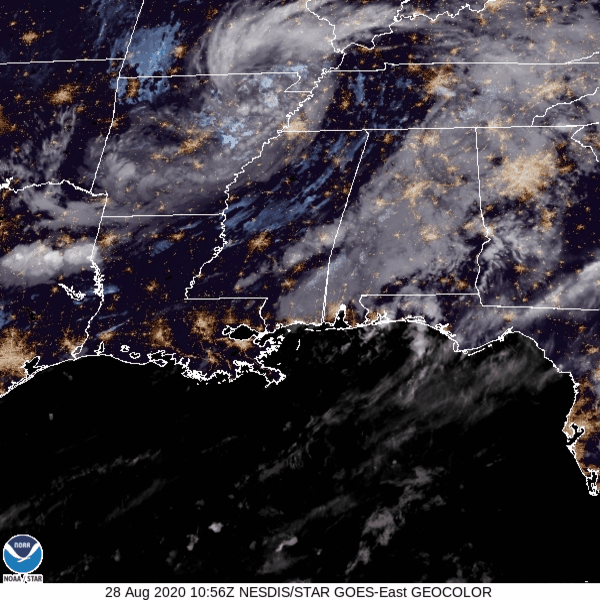 Timing
The storms will come in waves today. The first wave is expected to arrive around lunchtime around noon or 1 PM. The second wave should arrive shortly thereafter, around 3pm.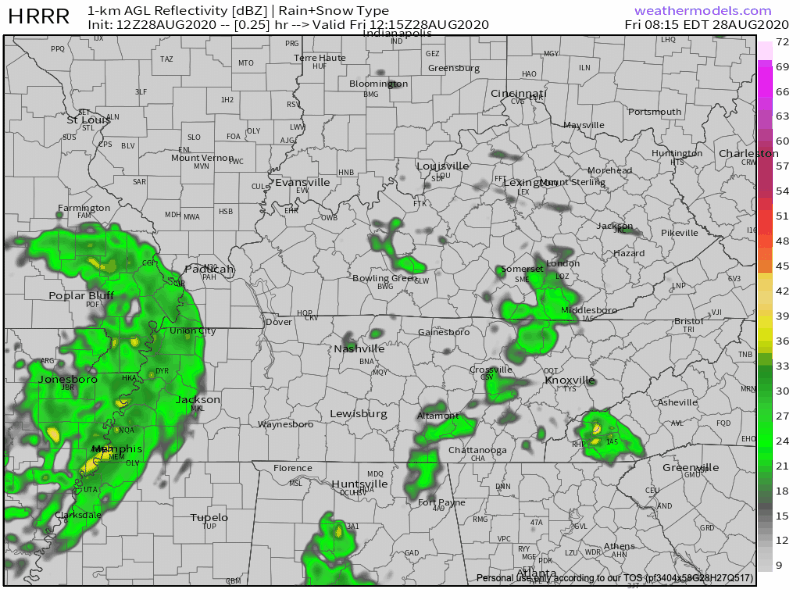 The second round of storms will bring the greatest potential for severe weather. Rain showers will clear Middle Tennessee around midnight tonight.
ETAs may need adjustment, so stay connected @NashSevereWx for updates and changes.
Heavy Rain
We are under a Flash Flood Watch from noon until late tonight.
If you live near a small stream/creek/river that rises out of its banks quickly, you should pay particular attention to any flash flood warning. The stream/creek/river could flood in a matter of minutes if enough rain falls. Stay aware of the water level throughout the day. And, if you see a flooded roadway, remember to turn around, don't drown! (Or have your engine stall, your car float, have to climb out, get rescued, and call your insurance agent to report a total loss).
Around 1-2 inches of rain will fall across much of Middle Tennessee, but expect isolated pockets of greater amounts.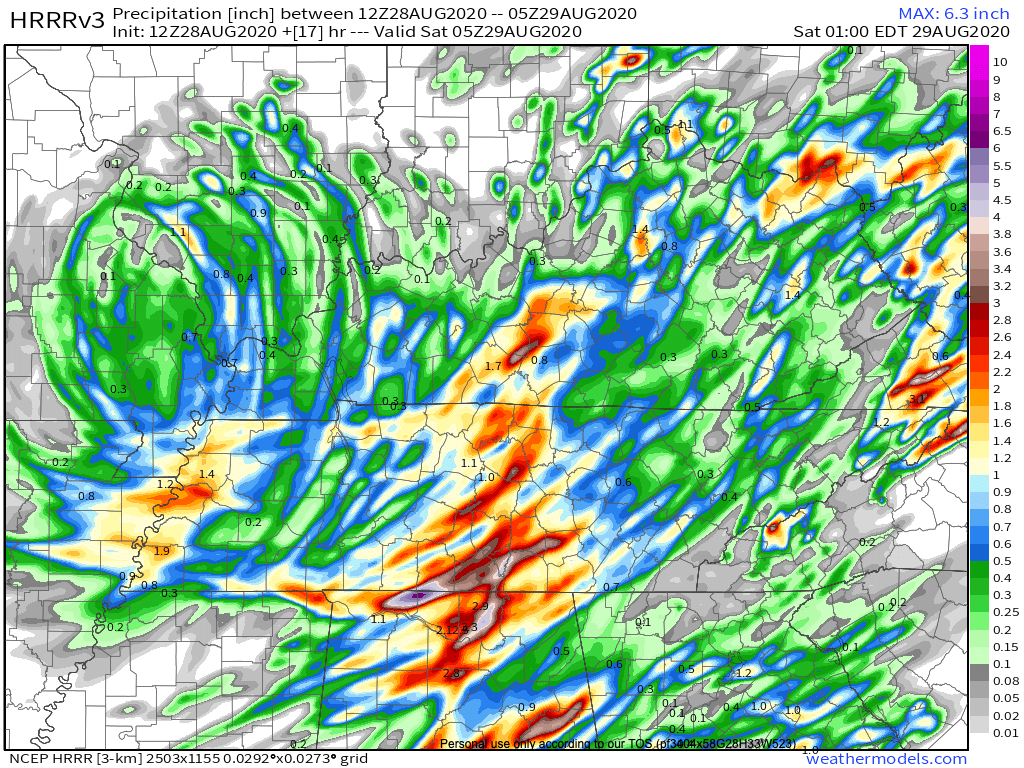 The tropical air ushered in by (you guessed it!) the tropical depression contains lots of moisture. The moisture will manifest itself in two ways: precipitable water and humidity.
We are seeing precipitable water values upwards of 2 inches. This means that rain showers will be well-fed and may turn into potentially dangerous downpours.
The humidity is not as relevant to today's weather story, but if you are curious what it feels like every day in Houston, now is your chance to find out.
Gusty Winds
Tropical Depression Laura will pack sustained winds around 20 mph. Our wind gusts could reach 35 mph or higher, especially this afternoon when the more severe line moves through.
Thunderstorms inside the rain bands may pack winds up to 60 MPH; there's a 15% probability of that happening in a storm within 25 miles of you.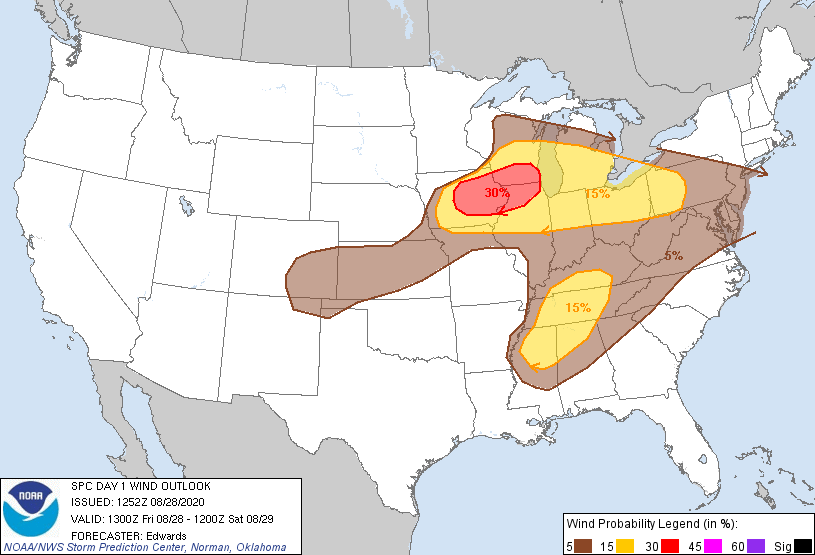 This is enough wind to make your patio umbrella or trampoline go flying. Be sure to secure all loose outdoor objects this morning.
Isolated Tornado
"Isolated" tornado means there should not be many of these in the region, but that's not a comfort in the unlikely event it "isolates" on you.
This threat will be greatest this afternoon and early this evening. These will be quick spin up tornadoes, not long track tornadoes like we saw with the March 3 supercell. These tornadoes are particularly hard to warn ahead of time since they have such a short lifespan. So you should be sure you are not far from a secure, enclosed, tornadosafe structure today, just in case.
Early atmospheric soundings showed plenty of energy (aka storm fuel) to feed severe weather.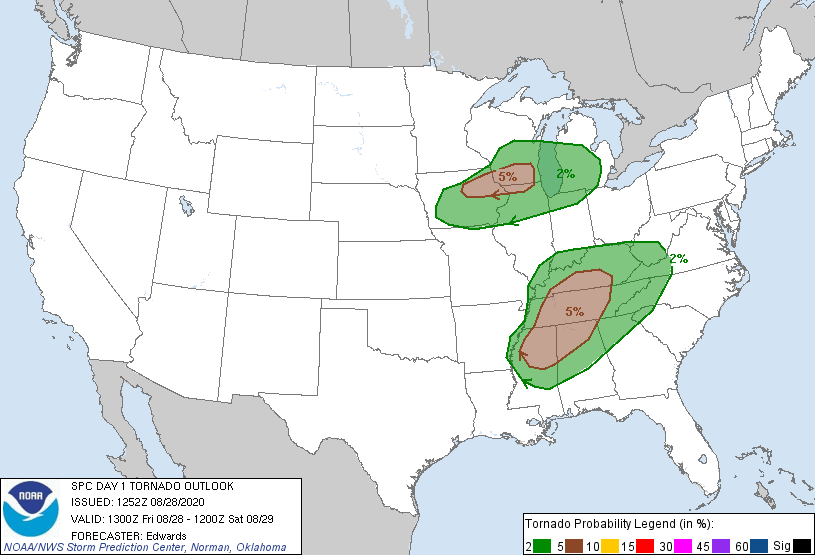 The round of storms with greatest potential for producing severe weather will move through this afternoon, between 2pm and 5pm. After this "main" event, there will still be some potential for storms to spin up into tornadoes until midnight.
Stay tuned to @NashSevereWx all day for updates as these storms develop.
I Wish I Had Better News for the Rest of the Forecast, But I Don't.
A brief break from the rain is in sight Saturday morning.
Then, a front will move through the area Saturday afternoon bringing a chance for showers and thunderstorms. Not to worry though. Any threats associated with these storms will be much lower than those associated with Laura. A few storms may get rowdy, but right now that look more likely to our east.
Sunday through Thursday, the frontal boundary will stall over Middle Tennessee. Our weather pattern will continue to be unsettled – iffy chances of rain each day – during this time.
Ew.
Showers and storms are possible each day.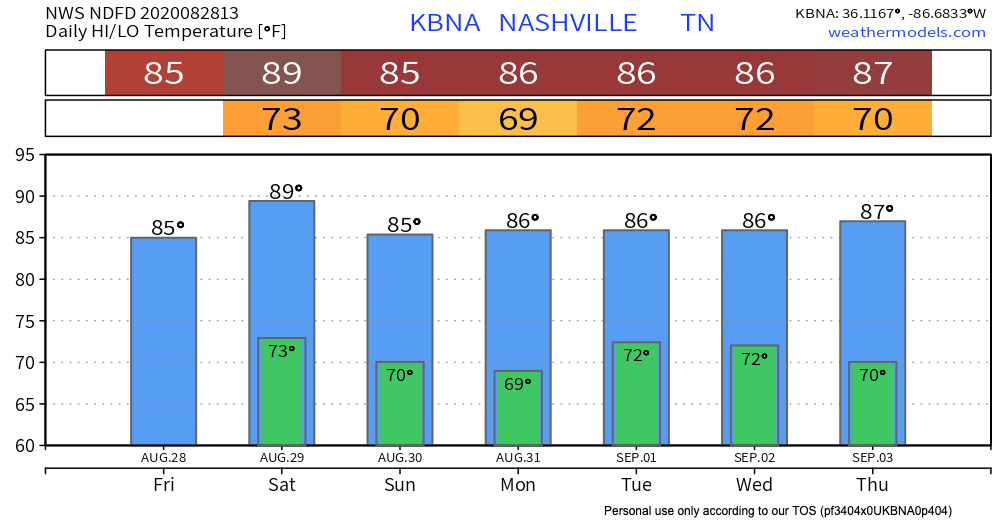 Temperatures will remain around average this weekend and into next week. Expect lots of humidity, too.
Please stay safe and weather aware today. Have a good weekend!