Friday Afternoon Rain Raises Localized Flooding Concerns
More showers will move through our area this afternoon, bringing an additional half inch to inch of rain. Localized flooding is the biggest concern today. Take a look at the amount of rain that has fallen in the past day in Davidson and Williamson counties, through 7am this morning: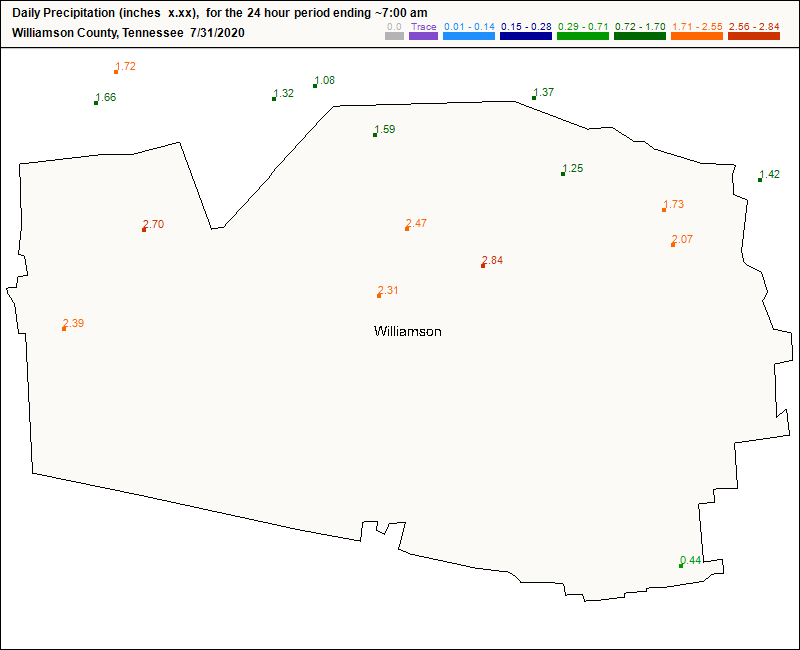 If you see a flooded roadway, remember to turn around, don't drown!
We aren't really concerned with today's round of showers turning into a severe event. However, the SPC has looped us into a slight (5%) chance that damaging winds occur within 25 miles of you.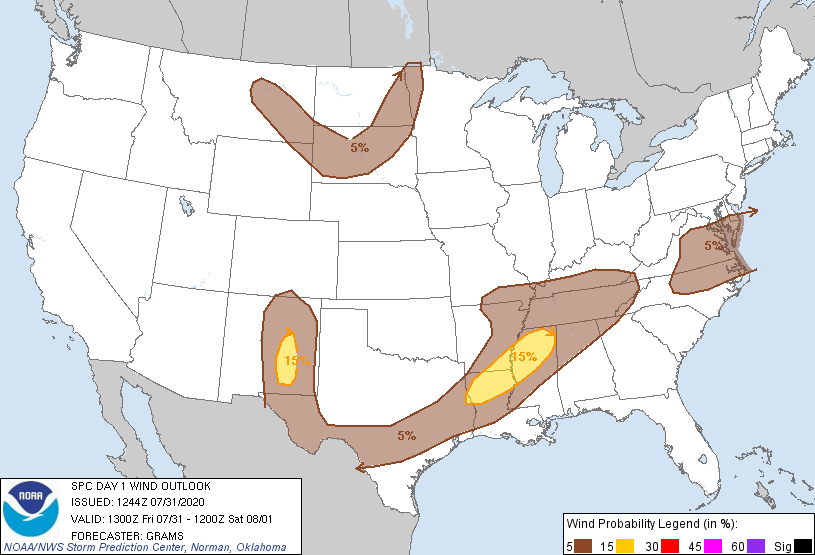 As for rain timing, the HRRR model shows scattered activity today for the most part.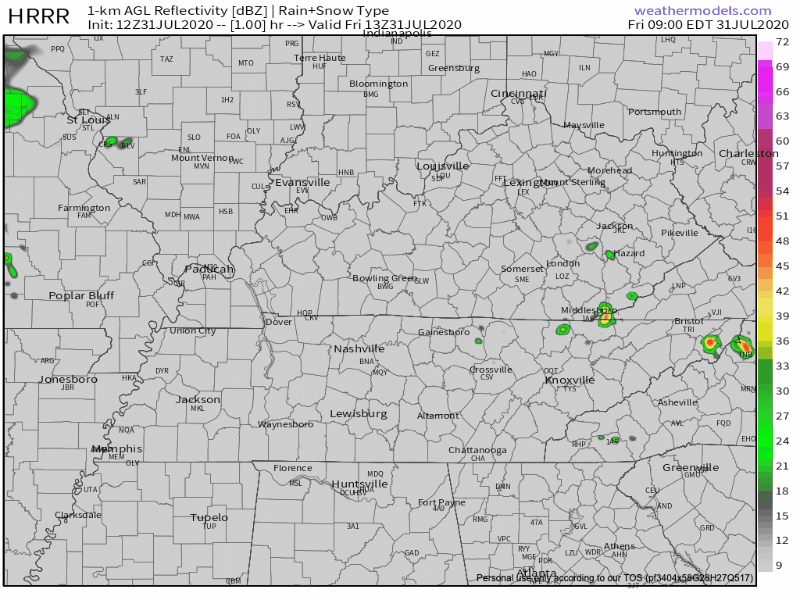 Some showers look like they will pop up around noon, but the bulk of this rain will stay to our west. A second round will materialize tonight. The HRRR says around 10pm, but this timing is not exact, especially this far in advance. Expect these rain showers to stick around into the overnight hours.
As far as camping goes tonight, I'm not sure I would recommend it. Unless you enjoy camping in the rain, it might be best to delay. (Spoiler: reschedule your camping for next week to enjoy cooler temperatures AND lower rain chances!)
Stay tuned to @NashSevereWx on Twitter for more updates on storm timing throughout the day.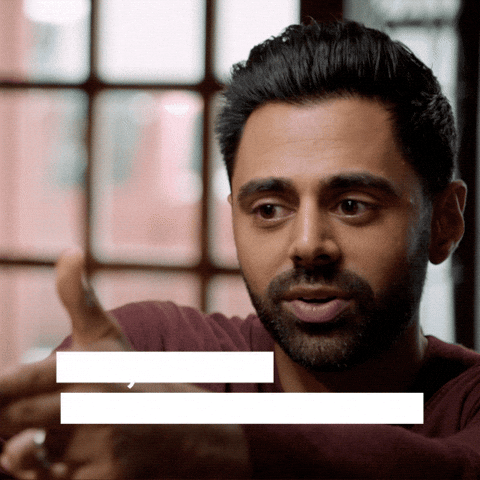 Thanks to the rain showers, our afternoon high temperature today will stay in the 80's! That pattern is here to stay, too.
The Weekend: Afternoon Washout Possible Saturday, but Dry Out in Store Sunday
Saturday
The NWS said it best:
Saturday appears to be a rinse and repeat version of today with scattered showers and storms by the afternoon.

-NWS Area Forecast Discussion
Again, the SPC has included us in the outlook for strong winds tomorrow. Expect an additional inch or two of rain to fall, so localized flooding will be an issue.
Here's the HRRR model's early prediction of rain timing: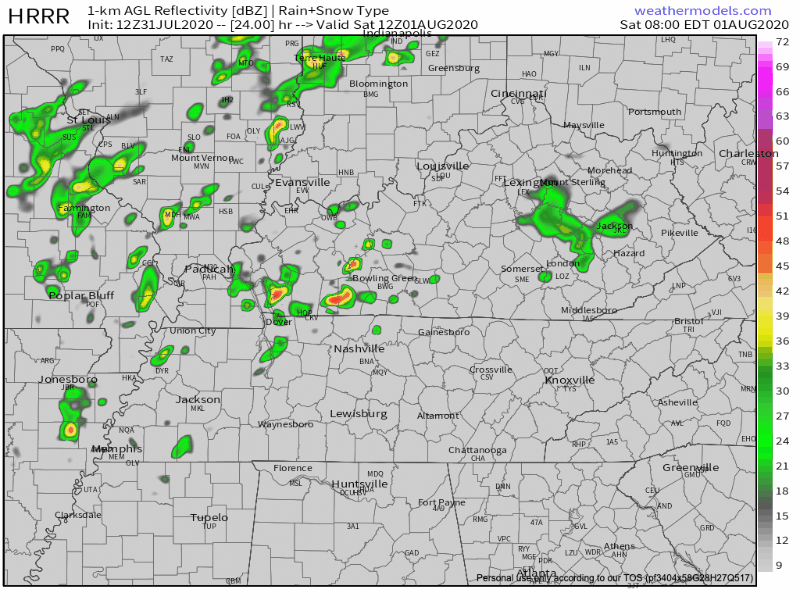 Disclaimer: Please do not take this as a definitive prediction of where/when rain will fall. This is a model of 24+ hours from now, and a lot can change between now and then.
Sunday
If you are planning anything outdoors this weekend, plan it for Sunday. Luckily, we get a break from all this rain! A nice temperature relief is also in store for this first weekend in August. Best of all, dewpoints will back off to the 60's.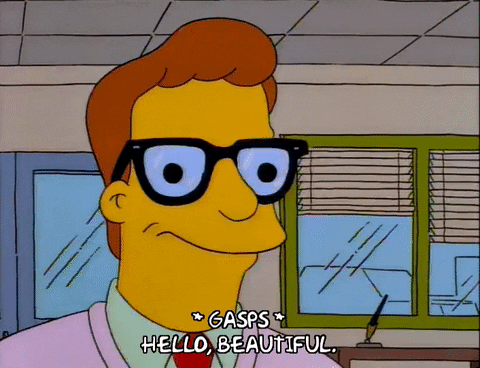 The Relief is Here to Stay
Through next week, temperatures will remain lower than average! The typical summertime chance for afternoon showers won't go anywhere though.
I never thought I would be saying this– especially in 2020–but it looks like it will be a very pleasant first week of August!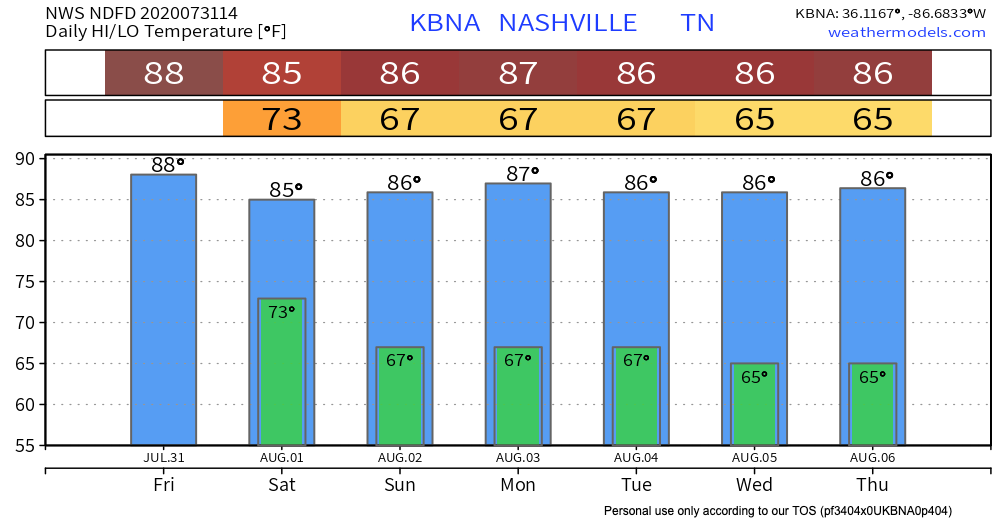 Happy Friday!