At 10 AM a heavy rainstorm was moving across Nashville south of I-40 and all of Will Co. This morning's weather balloon showed over 2″ of precipitable water content, setting us up for Day 1 of what should be a soggy trio of days ahead.
Heavy rain this morning is using up much of the available rainmaking energy that weather models thought would be available to power storms and more downpours later today.
Models are scrambling to keep up with reality. The HRRR model, below only shows a few more waves of rain this afternoon and tonight.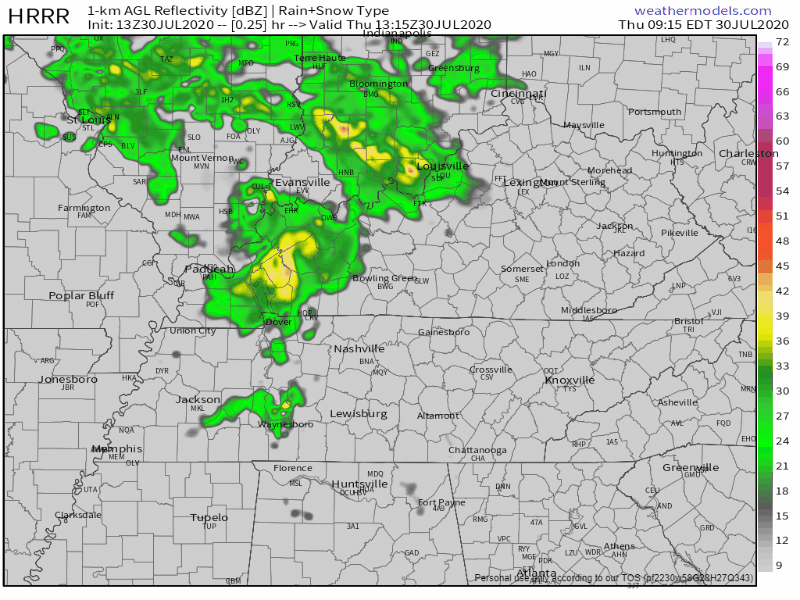 ETAs aren't reliable today, but roughly, look for another round of storms/downpours between 3 PM and 7 PM. Stay connected, this ETA will probably need revision.
There should still be latent energy for storms to tap later today, and a few lightningstorms may develop.
Flash Flooding
Flooding is the most likely hazard. WPC says the probability of a flash flood within 25 miles of us Thursday and Friday is between 10% and 20%. A flash flood risk will continue into Saturday.
Damaging Straight Line Winds
SPC includes us in a massive area (see below) for a 5% probability of damaging winds, but we are not included in any SPC large hail or tornado risk area.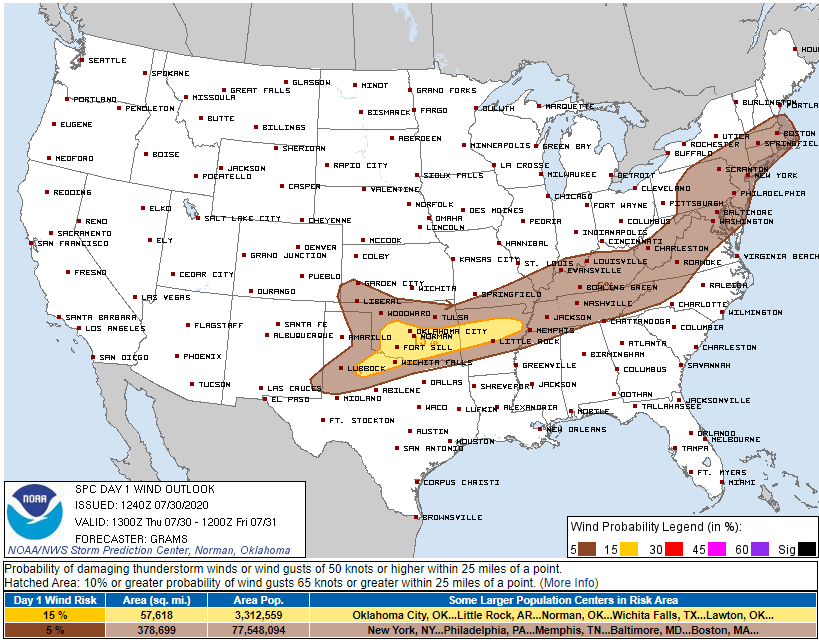 Tornado
Editor's Note: the HRRR model is showing a recharged atmosphere and some storm relative helicity in our area later this afternoon and tonight, so we will need to watch out for a few rotating storms.
Low level shear will also be sufficient enough today that an isolated brief tornado cannot be ruled out, but the potential appears very low.

NWS-Nashville, Morning Forecast Discussion, 7/30/20
There is nothing particularly alarming about this set up, and there are several reasons to think we will not see a tornadic environment (among them, the model above shows a low level cap, a rebound to nearly 2000 j/kg CAPE may be a stretch, and the surface wind is bent a little SW). I am not concerned about it, but I wanted to mention it because it's summer and this system operates more like a spring system. This much helicity should not, and will not, be ignored. Tornadoes that form in this environment are often weak and short-lived. This atmosphere is not expected to be anything like what we saw March 3, 2020.
Friday & Saturday
The Euro model doesn't have much rain until later in the day Friday, then overnight Saturday into the day Saturday.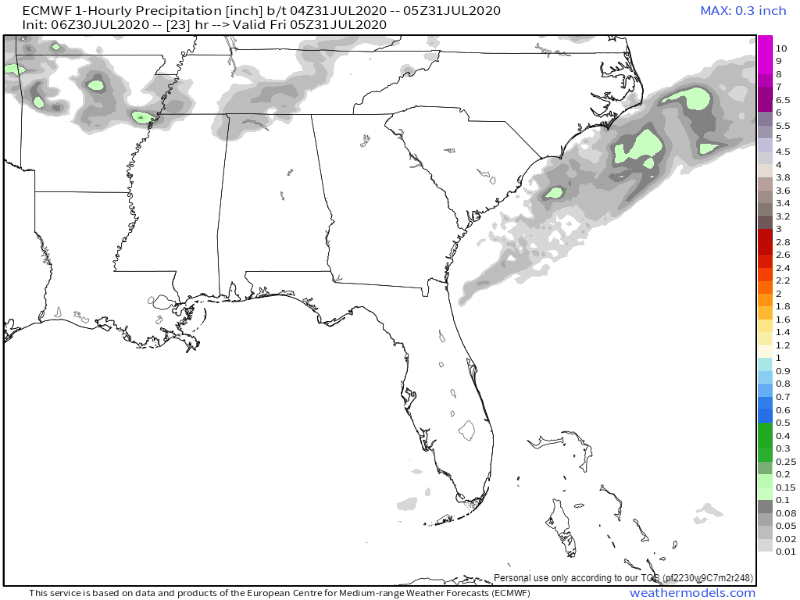 But, again, storms and heavy rainfall are the concern. A brief/weak tornado remains a possibility. A good summary from NWS-Nashville:
Forecast soundings both days show plentiful MLCAPE near or over 1000 J/Kg, and low/deep layer shear around 30 knots, so once again some strong storms with gusty winds and possibly even a brief tornado could occur. However, the main impact should continue to be heavy rainfall and an increasing potential for flooding as PWATs remain at or above 2 inches and grounds become more saturated from the repeated rounds of rain,

NWS-Nashvillle, Area Forecast Discussion, 7/30/20
Again, any tornado — very unlikely still — would be brief and weak. Flash Flooding is the most likely hazard.
Rainfall totals from today through Sunday morning estimated around 3″:
Sunday's chances for showers and thunderstorms are significantly lower and will take place in the morning and evening hours. We may even see the sunshine in the afternoon!