Today
A Heat Advisory is in effect from 12 PM CDT to 7 PM CDT.
Dangerously hot and humid conditions will persist across the Mid State region today as a ridge of high pressure in the upper part of the atmosphere takes control of our weather.  High temperatures will top out around 95 degrees this afternoon with dew points in the mid 70s. This will cause heat indices to soar to near 105 degrees making for oppressive and dangerous conditions.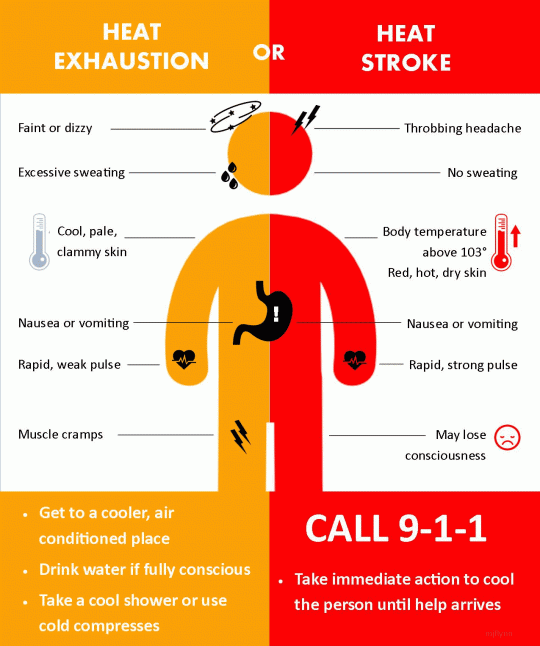 Be sure to reschedule any activities to later this afternoon or this evening if possible, and be aware of the symptoms related to heat illness.
Take frequent breaks and stay well hydrated if you have to be outside during peak heating, and try to have some access to shade if possible.
It is worth noting all of the information above, and to remain weather aware.
Due to the very hot temperatures and high dew point values, there will be enough instability in the atmosphere to get an isolated thunderstorm to develop, but it will not be anything widespread, and unfortunately will not bring any relief from the heat.  The latest HRRR model shows this below:
This Weekend
Remaining hot and very humid.
The National Weather Service says this:
Despite the increasing ridge today, it looks like a weak disturbance will move slowly from east to west across the southern portion of the ridge on Saturday. Along with a corresponding increase in moisture, this feature should increase the chances for showers and storms Saturday (especially south and east counties) into Sunday (areawide). This may "drop" the heat index a couple degrees Saturday and another couple degrees on Sunday.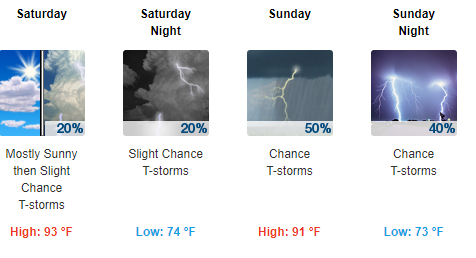 Stay cool and be sure to check back for updates!
---