Today
A Heat Advisory will be in effect from 12 PM CDT to 7 PM CDT.
This means dangerously hot and humid conditions are possible in and around our area. Head indices could reach 105°F.
I use the word could because of uncertainty with where the heat index goes.
NWS-Nashville expresses this uncertainty in their discussion this morning:
Big question will be heat index. With increase potential for pcpn today and possible cooler temps, uncertain as to if we will see indices to go to or above 105. At this time we are not issuing advisory.
This cloud cover is related to a weakening MCS (mesoscale convective system) or cluster of storms that is moving through the area. Some redevelopment in this system is expected today and into tonight, with a secondary shortwave showing up in a couple of the models.
Here is the HRRR, showing some showers and storms related to this MCS: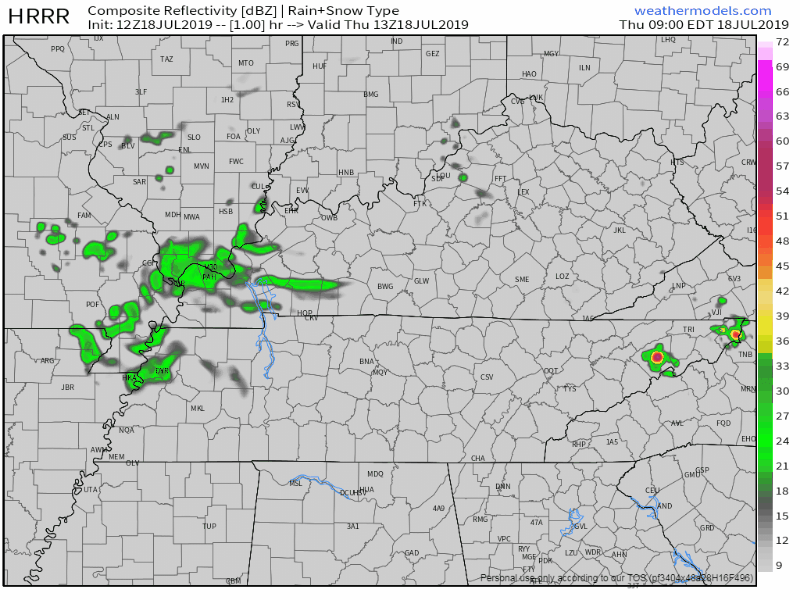 and then the NAM3, showing the bulk of the activity south of our two counties: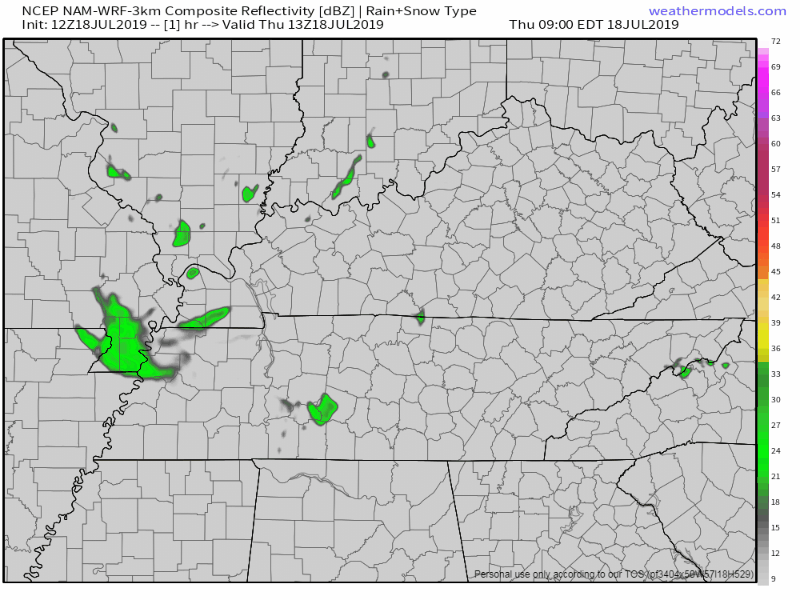 This MCS is the big factor in where our heat indices go today.
Current cloud cover, and a slightly lower-than-expected dew point will be moderating the heat for us. Thank goodness.
Friday
A high pressure ridge is expected to reign, making it more likely to see heat indices approaching 105°F.
NWS-Nashville has more:
Potential for reaching heat indices of 105+ seemingly better on Fri as the upper ridge strengthens over the area and dewpoints remain in the mid/upper 70s. Do expected to see isolated showers/ storms, especially south/east in the afternoon/evening. Similar conditions continue of Sat as well, but upper ridge does weaken a bit. Heat indicies will however remain at or above 100 and possibly as high heat advisory criteria.
Heat illnesses could be possible if working or conducting strenuous activities outside, especially in the sun.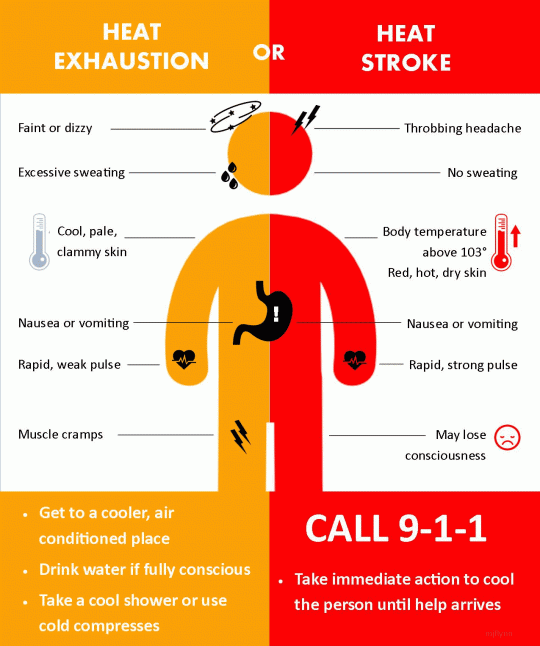 Be sure to reschedule any activities to early this morning or later this afternoon if possible, and be aware of the symptoms related to heat illness.
Take frequent breaks and stay well hydrated if you have to be outside during peak heating, and try to have some access to shade if possible.
It is worth noting all of the information above, and to remain weather aware.
The Weekend
Looks like the heat and humidity sticks around into Saturday.
Highs look to be approaching the mid-90°s.
A slight chance of storms are possible during the afternoon as well.
On Sunday, a cold front is expected to move through the area.
Decent upper jet digs out this trough, which eventually deepens enough to drive a cold front through the mid- state on Mon/Mon night. This will initially increase rain chances Sun…and especially on Mon when this front passes. Behind, a fairly deep upper trough will remain across the east US into late next week…bringing us slight cooler temps, lower humidity, and only small rain chances.
The Nashville Weather Service Office mentions this system increasing our rain chances through Monday.
They also mention slightly cooler temperatures through the late week. Cooler is a relative term, of course.
Check back for updates as conditions change, and follow us on Twitter @NashSevereWx for more up-to-date information on the latest!
---