We had a Blerg (No snow √, No sun √, Temps under 40° √) today, our first this fall.
Tomorrow, things get worse.
A cold rain is coming Wednesday, with the possibility of wintry mix/snow very late Wednesday into Thursday.
Before reading further, promise yourself you will consult updated information late tonight and tomorrow from multiple reliable weather sources. Resist the temptation to repeat incomplete information to others. This is not a simple forecast, to achieve understanding, you need more than a sentence or two. Those in West Tennessee have a forecast much different from ours here in Nashville and Williamson County.
Rain will be here around late morning. "Late morning" is intentionally vague because to-the-hour ETAs are unreliable. That said, our favorite weather model (HRRR) thinks rain will arrive around 10 AM or 11 AM, first in Will Co, then Nashville. Be flexible if planning weather-dependent activity.
The rain is coming in from the south.
Once rain starts, it should continue through the lunch hour, afternoon, and evening. The HRRR model below illustrates this, with rain continuing at least until midnight Wednesday evening: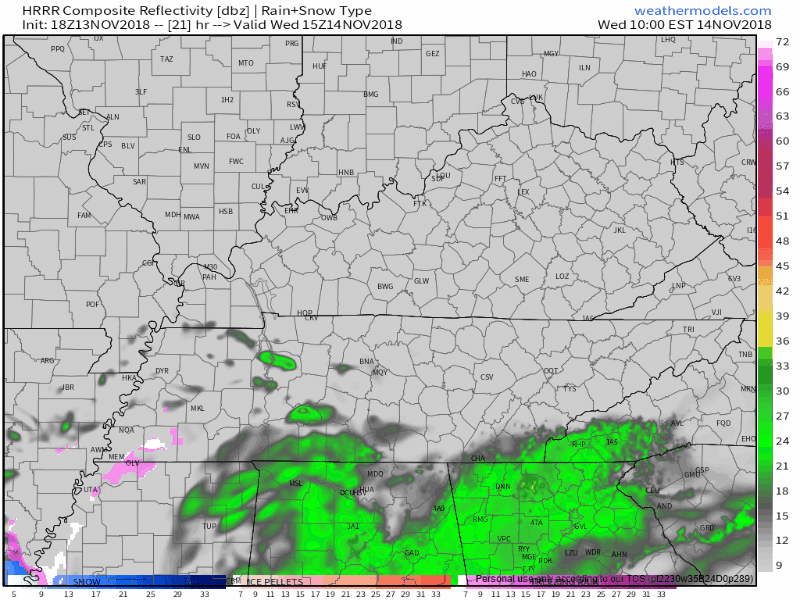 Wednesday's rain will be a cold rain. As the rain starts, temps will be near 40°, but as the process of evaporative cooling works its magic and the sun goes down, temps will drop into the upper-to-mid 30°s.
Close to midnight and into Thursday, things get interesting. We may see rain mix with sleet and a little snow late Wednesday night.
Whether we get a cold rain or a little snow after midnight Wednesday into Thursday depends on whether the system moves over us (just rain) or east of us (more snow). Right now we think the system will move over us and we'll mostly only see a cold rain with maybe some sleet mixed in Wednesday night, with those in West Tennessee seeing snowflakes flying, then, on Thursday, a possibility of some light, no worry snowflakes off and on through the day.
Most Likely Scenario
The NAM3 model thinks by Thursday morning lingering precip will turn to snow and fall lightly, off and on, through the day Thursday. However, none of this should stick with ground and surface temps at or above freezing: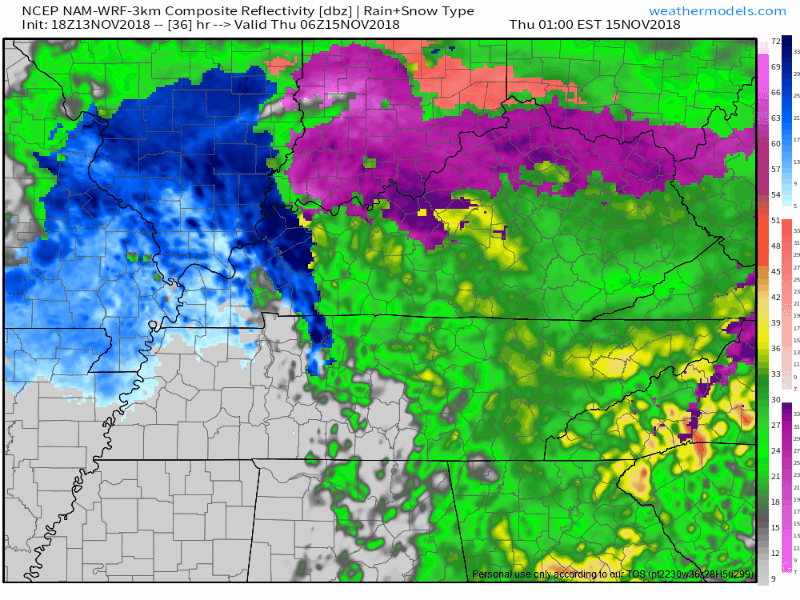 This is also what the Euro model thinks: a cold rain overnight Wednesday into Thursday morning, with a few flakes flying around later in the day Thursday.
The GFS model also agrees.
With reasonable agreement across these three models, this is the most likely scenario: Rain Wednesday, a brief rainy or wintry mix of no consequence late Wednesday night, then maybe a transition to light snow/flurries in the air with little/no travel impacts.
Less Likely Scenario
If the system arrives faster and tracks further east, we could see snow here late Wednesday night, with travel impacts minimal and unlikely. NWS-Nashville had this to say about this "worst case/less likely scenario" (note this is not the forecast):
[In this least likely/worst case scenario], a light dusting or around a tenth of an inch of snow would be possible for the I-65 corridor, but not looking like much more or any travel impacts outside of the northwest part of the area [this does not include Nashville or Will Co]. Stay tuned to any updates on this event as current guidance could vary on next model runs and could result in decent swings for the snowfall forecast.
Don't miss that last part. We're dealing with fine margins. Even little wobble here or there could mean the difference between only rain, a mix, or more snow than we thought.
Thus, the probability of an accumulating snow is between 20% and 40%, per this handy graphic from NWS-Nashville: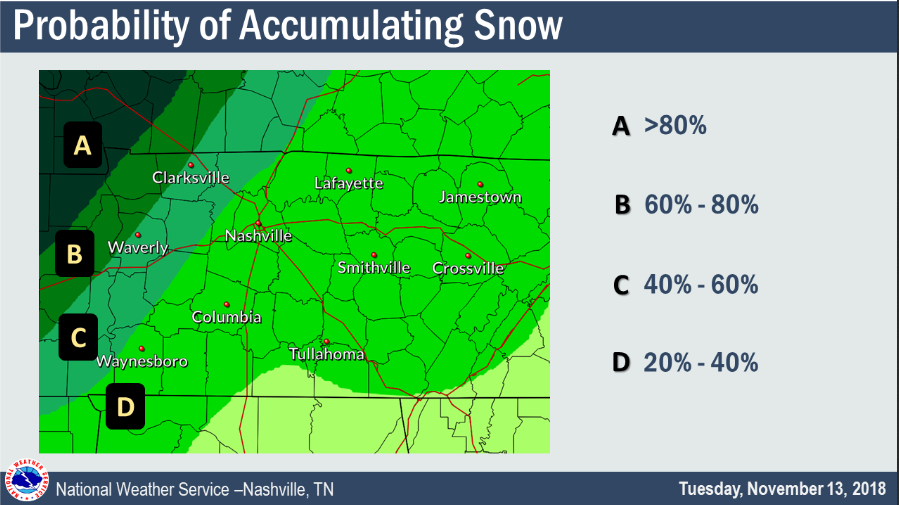 Note an "accumulating" snow doesn't suggest a lot of snow, just a little, enough to register a "trace" of it.
Either way, ground and surface air temps will not keep any frozen precip around for long with temps quickly moving above freezing during the day Thursday.
Finally, even if this less likely/worst case scenario happens, NWS-Nashville says:
Even if models continue to trend colder, impacts are still not expected east of I-65 and south of I-40.
The Difference Between Sleet, Snow, Freezing Rain, and Just Rain
If we get a wintry mix, distinguishing rain from sleet from snow to just regular old rain can be a challenge for the non-nerd.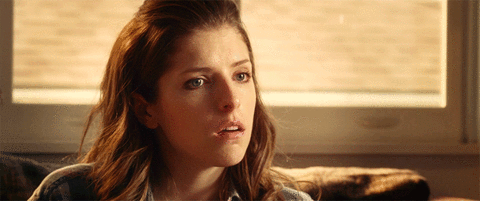 Ground temps are almost always different from temps overhead. This matters because, obviously, your local friendly precip drop has to fall through various layers of the atmosphere #BecauseGravity, and along its journey to earth your friendly precip drop encounters varying conditions and temperatures. Precip often starts as snow or rain pretty high up, and as it falls it changes to sleet and/or snow and/or rain a few times before it goes splat on earth. What it is when it gets to us all depends on whether the temps at various altitudes are above or below freezing, whether the Dry Air Monster is sitting up there gobbling the precip, and other things . . . but you're probably thinking this paragraph has already gone on too long and I agree.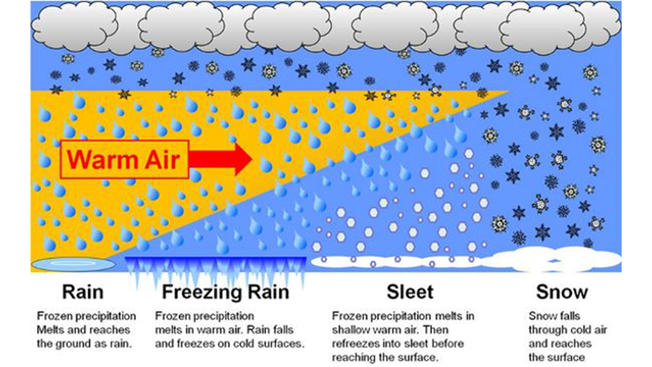 Sleet is the stuff that makes noise on your window. Freezing rain is regular rain that freezes on the ground after it falls. I'm confident you know rain and snow. Just because it falls as snow doesn't mean it'll stick to anything.
I don't see any scenario in any model where we get freezing rain, but models are showing a "warm nose" of varying size, which may result in sleet mixing with rain and/or snow late Wednesday night through Thursday.
Of course all this may change. Stay connected for additional information.

---