Blerg Day 2
Today is the day everyone has been waiting for. Is it going to snow?!
The short answer: it's looking a lot less likely than what we have been seeing in the previous model runs leading up to this event. Before that threat, let's get through today first.
Still looking at a high temperature near 40° and windy. Wind chill temperatures will struggle to get above freezing. Remember, wind chill temperatures have no effect on actual precipitation, only actual temperatures do.
This morning's run of the HRRR keeps the rain arrival time around mid-afternoon, lasting thru afternoon, evening, and wee morning hours of tomorrow.
PRECIP TYPE: For Nashville, we are expecting precip to be all rain with a pretty small chance of a brief wintry mix of no consequence late tonight before rain switches off. Our temperatures are just not going to fall below freezing quickly enough to get a widespread change over to winter precipitation.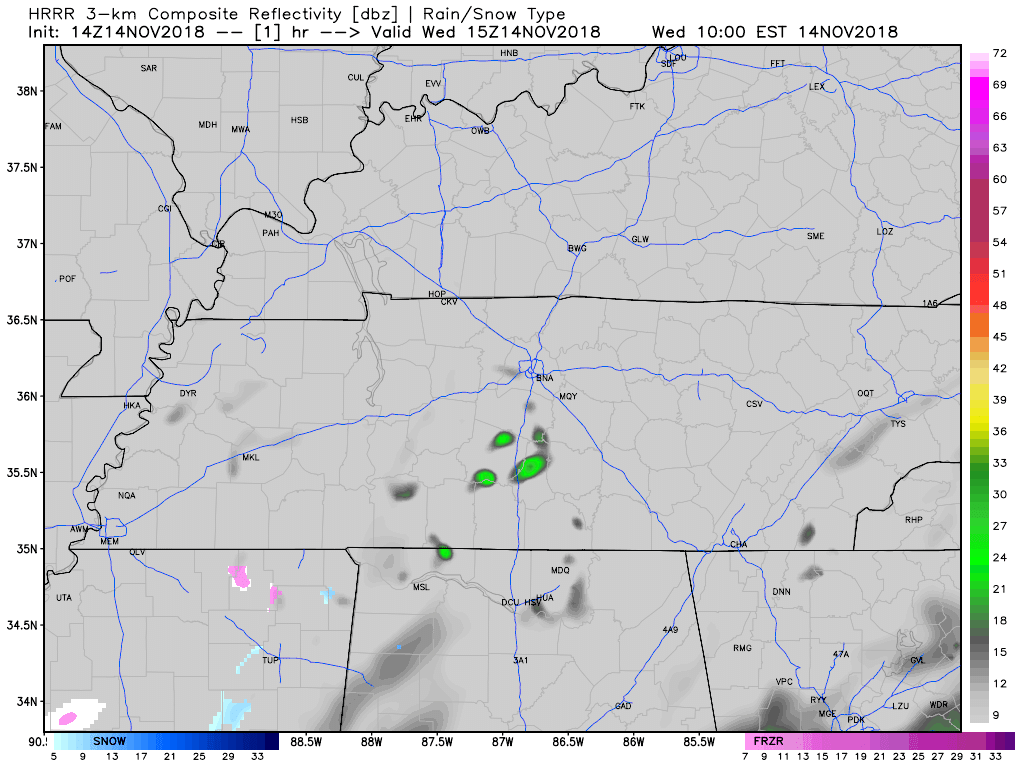 Isolated flakes may fly tomorrow, possibly in the morning then again in the PM, occurring on the back side of this rapidly-departing upper low storm system. Snow chances are better the further north you are. No accumulation expected locally. No advisories cover us nor are there plans for any to.
What's Next

After we get through this bleh weather, drying and warming will begin to settle in across middle Tennessee as we approach the weekend. Rain chances will not return until Sunday night when a weak upper trough pushes a frontal boundary through the area. That boundary will not cool us off too much, just provide a brief rain chance. All in all, temperatures will return to more seasonable values.