Current Temps and Radar
At 2:11 PM, NWS-Nashville canceled the Winter Storm Warning in Davidson County and replaced it with an Ice Storm Warning effective until Tuesday at 9 AM. Williamson County is also under the same Ice Storm Warning until 9 AM Tuesday.
Widespread significant icing has already occurred. See #tSpotter on Twitter to submit and review other storm/accumulation reports, or just click here. Some additional freezing rain is possible into the evening before it changes to sleet and snow, then tapers off. As I write this, the main batch of frozen in freezing precipitation is moves east of I-65, but a few lingering sleet and snow showers will be possible until dark. Both HRRR and NAM4 models have all the precip gone by dark.
By 6 PM, temps which once were flirting with freezing are forecast to drop back into the upper 20°s. By midnight, we're expected to be 21°, on our way to a low temp of 16° in the wee hours of Tuesday morning. Tomorrow's high is only expected to reach 30°.
The biggest concern is the weight of the ice sitting on trees and power lines. Interruptions to power, with an inability to drive safely to a place with power/heat, continues to be the main concern.
Should you attempt to drive tonight or tomorrow morning? If you're asking me: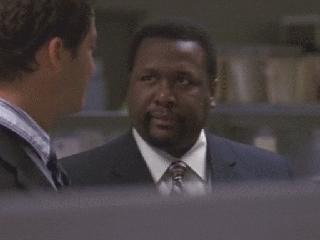 Will it melt tomorrow? Probably not. We're going to be mostly cloudy, and although every little bit of sunlight helps, with temperatures as cold as they are and considering the amount of sleet and freezing rain we've seen, travel is discouraged. Most reports I've seen suggest treated roads are hazardous, and untreated roads resemble a hockey rink, but I haven't driven anywhere today and I'm not a transportation expert, so I claim no authority on the topic. It just seems logical driving is a bad idea.
In fact, even colder air is on the way Wednesday and into Thursday. As this reinforcing blast of arctic air arrives, it might produce a little Wednesday afternoon snow, with little/no meaningful accumulation. We will probably set a record low cold temperature Thursday morning. I don't know if if you will be able to make it to the Predators game Tuesday night or whether school will be canceled for the rest of the week. I won't speculate on either.
We are not forecast to get above freezing until Saturday.
11:51 AM Update
At 10:25 AM, NWS-Nashville noted that above-freezing temperatures at and near 5000 feet continue to stream into Middle Tennessee. These temperatures are why it's not snowing, but sleeting instead. As this warmer air aloft continues to stream in, most precipitation should be freezing but not frozen, meaning we should see more rain mix in with the sleet. This will continue through the early afternoon.
Meanwhile, temperatures at the surface are hovering right at, but mostly just below, freezing. This is promoting the accrual of ice, which will continue this afternoon for most locations. We now expect between 1/4″ and 1/2″ of ice in both counties, not just Williamson County.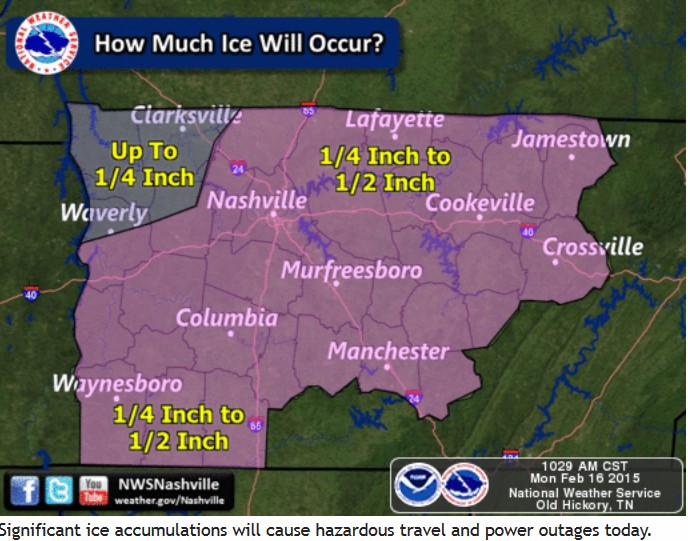 The exact amount of ice accrual will depend on a few factors. First, elevation. Some will see more, others less. Second, the location of the heavier precipitation bands will influence the amount of ice accumulation. Your results will vary.
As we go into the late afternoon and evening, colder air will sweep southeastward and bring a transition back to sleet and, yes, a little bit of snow, across all of Middle Tennessee.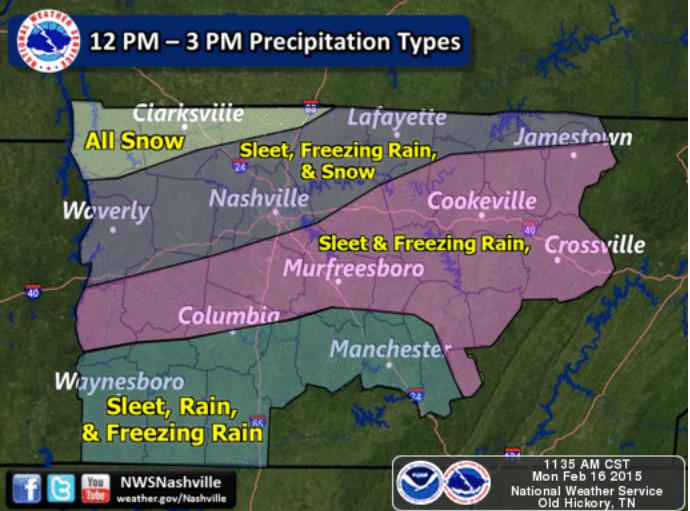 Models think this will end around 6 PM or so. Until then:
However, as this is happening, the moisture will be decreasing, such that snowfall totals for this event will be generally less than 1 inch south of I 40, with amounts around 1 inch along I 40, increasing to as much as 5 inches at the Tennessee/Kentucky line.
The sleet is ruining our chances for massive accumulating snow.
Why? The "warm nose" of temps at 5,000 feet we've been talking about since early Sunday morning, seen here on data collected from this morning's weather balloon: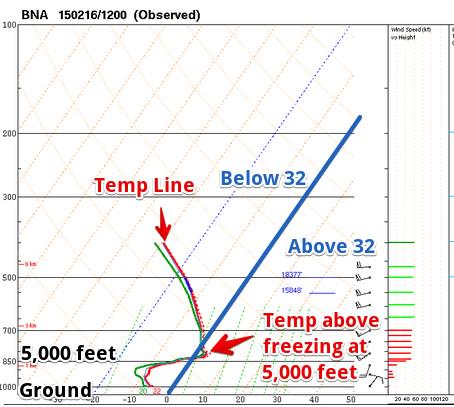 It appears your kid will have to sled like this. Wear a helmet!
Model guidance also suggests the precipitation will end between 7 PM and 9 PM tonight. And then it'll get colder!
This website supplements @NashSevereWx on Twitter, which you can find here. This website will be infrequently updated. All of our updates, etc. will be posted on Twitter. Consult multiple reliable weather sources multiple times today.