Current Temps and Radar
Sleet and freezing rain has arrived. This is not what we ordered. Roads – especially untreated secondary roads – are a slippery mess. Car wrecks everywhere. It's not safe to drive right now. Will says the treated roads are slushy, bad but passable with his Jeep, in 4WD, equipped with specialized snow tires. Untreated roads are much worse.
An Ice Storm Warning is in effect for most of Williamson County as shown by the the purple shaded area below. It runs generally from just south of Fairview, through Cool Springs, towards north of Nolensville:
The Ice Impact Index is an experimental product offered by NWS in an effort to quantify the impacts an ice storm will have on the power structure. There are 5 levels of impacts:
The area along and S of Highway 96 in Williamson County seems to be the dividing line between the first and second group. Those along and south of that line might expect scattered utility interruptions typically lasting less than 12 hours.
From HWY 96 north to I-40, some local utility problems are possible, lasting typically only a few hours.
This morning, the Storm Prediction Center issued a very technical discussion expressing concern that the sleet will change to rain…then freeze at the surface. You can read that here if you want.
For those north of the black line in the image above, including all of Davidson County, sleet and freezing rain is still expected, it's just that we don't think it will accumulate past 1/4″. This area remains under a Winter Storm Warning for the mix of sleet and snow expected to accumulate through the day. Significant ice accumulation is still possible.
The sleet is ruining our chances for massive accumulating snow.
In looking at the HRRR and NAM4 models, it looks like there will not be a transition to snow until later tonight, and only briefly. Right now, this looks to be primarily a sleet event. Why? The "warm nose" of temps at 5,000 feet we've been talking about since early Sunday morning, seen here on data collected from this morning's weather balloon: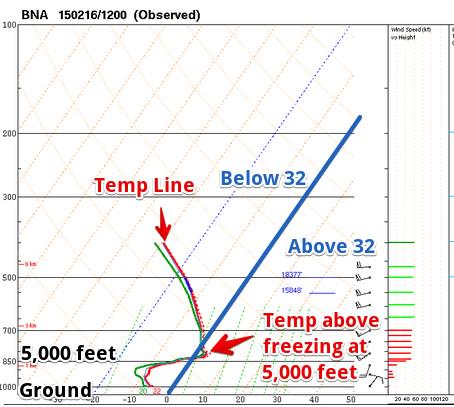 Model guidance also suggests the precipitation will end between 7 PM and 9 PM tonight. And then it'll get colder!
This website supplements @NashSevereWx on Twitter, which you can find here. This website will be infrequently updated. All of our updates, etc. will be posted on Twitter. Consult multiple reliable weather sources multiple times today.