Current Official Hourly Observation (taken at :53 on the hour)
Tonight  – Chilly; Light Rain & Flurries Possible – Midnight Temp 36
Some light rain is moving across northern Middle TN tonight. After that leaves, another cold front will arrive and reinforce the cold air already in place.
We may see a few flurries or snow showers, but no accumulation is expected.
The biggest story tonight will be the winds, 5 – 15 mph, with gusts up to 20. This will be enough to put wind chills into the mid 30s and upper 20s.
The HRRR model likes tonight's rain chances, Thursday 5 pm – 10 pm. This rain can be seen on the radar, above.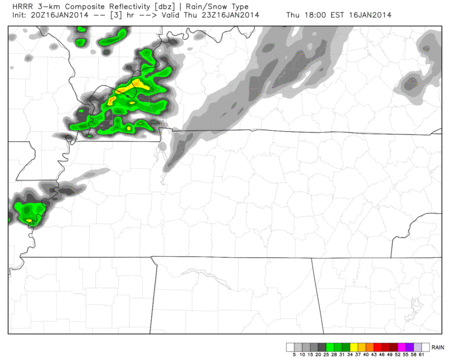 Friday –  Cold, Chance of Flurries & Windy – Morning Low 29 / Afternoon High 32
Temps: 6a 29 . 9a 31 . 12p 32 . 3p 32 . 6p 26 . 9p 25

Wind Chills: 6a 21 . 9a 19 . 12p 21 . 3p 21 . 6p 18 . 9p 14
Snow flurries possible all day, but no travel problems are expected.
We won't get above freezing. Winds will still be moving nicely at 10 – 15 mph, with gusts of 20 possible. Reminds me of Montreal (just a little bit).
Clouds clearing and flurries disappearing late.
Saturday – Cold, Morning Flurries – Morning Low 17 / Afternoon High 44
6a 19 . 9a 29 . 12p 41 . 3p 44 . 6p 40 . 9p 36

Very cold morning, but a nice warm up, with 40s before noon.
Extended Official NWS Forecast:
The Next C-O-L-D BLAST!!
I'm ready to start betting money on this major arctic blast at the end of the month. Any counter bets? My limit is $10 though, I'm a poor college student 🙂
What the models show is a really impressive cold blast. Florida might not even be safe. Good time to start planning that trip out west. (Editor's Note: Watch out for wildfires in California).
Here's the GFS model's 7 day average temp anomaly for January 25 – February 1 (the chart is in celsius). This says "how much colder will it be than normal?":
This model suggests temps 13C, which is 23F, below average. Again, this is not a specific forecast, but rather an idea of what is to come.
If you missed the explanation and discussion from yesterday, here it is again:
A ridge (usually meaning warmer temps) is going to build into Alaska. and possibly into northern Canada. The cold air that is usually in Canada will be evicted, and it will have to go somewhere. Models think that "somewhere" will be the eastern half of the USA. It might very well be colder (if that's even possible) than it was at the begging of the month, or maybe not, we can't say for sure. This is just a big picture forecast.
Could the models be completely wrong?
Of course! But, I think with what I have learned as a student at MSU and talking with professors in the meteorology department, this cold snap is looking likely and serious.
How cold will it be compared to the blast at the beginning of the month?
That is a very hard question to answer this far away. The core of the cold air could be further east this time around. Other variables include how cold it will be at the source and how much snow cover there will be across the country. All these will effect how cold it could get.
Some are comparing this to the 1985 inauguration of Ronald Reagan, when it was 2F in Washington during his address. Let's hope everything pointing to a cold snap is completely wrong, Punxsutawney Phil does not see his shadow, and Spring is right around the corner come February 2nd.
Questions? We're on Twitter @NashSevereWx.