Current Official Hourly Observation (taken at :53 on the hour)
Tonight  – Cold; More Flurries – Midnight Temp 22
More snow flurries are possible tonight. No accumulation is expected.
This will be one of our last really cold nights for the next few days. (Editor's Note: Enjoy it now, because from the way The Intern is talking, a Cold Doom awaits us).
Wind chills tonight will be in the mid teens.
HRRR model tonight (6 pm – 10 pm) shows a few flurries moving by: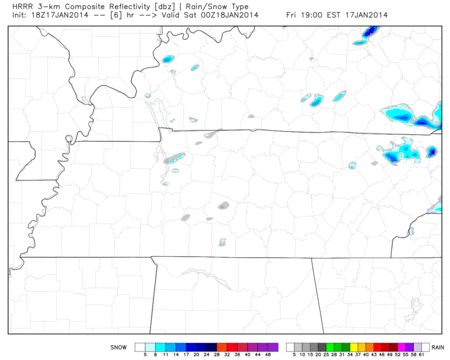 Saturday –  Cold Morning; Warmer & Windy – Morning Low 17 / Afternoon High 41
6a 18 . 9a 25 . 12p 35 . 3p 40 . 6p 37 . 9p 34
Wind chill of 11 is forecast at 7 am.
If you can wait a few hours before heading outside, do it. We will warm up considerably once we get a few hours of sunshine and warmer temps blown in by south winds.
It'll be windy. If you can't keep your 80 y/o, 80 lb aunt inside, secure her to sturdy people/structures. Winds of 10 – 15 mph, with gusts as high as 30 mph, are possible. Those strong winds will continue into the overnight.
Sunday – Sunny & Warmer – Morning Low 29 / Afternoon High 44
6a 30 . 9a 34 . 12p 40 . 3p 43 . 6p 40 . 9p 37

Winds will still be dying down. Thankfully, they will be southerly winds, warming us up into the 40s.
Extended Official NWS Forecast:
January Arctic C-O-L-D BLAST!!
Don't kill the messenger! (Editor's Note: but, if you do, let me be clear here: The Intern wrote this).
Unless something incredible happens, we are probably going to have another record breaking cold event on our hands in late January. This looks like it'll be in place longer than the last one – possibly up to a week of temps waaaaay below average.
Here is the Climate Prediction Center's Probability temperature forecast for January 22 – 26. This says we have a 70% chance of below average temps:
Here is another map for January 24 – 30. It says we have a 60% chance of below average temps. I think that will increase as we get closer:
This is a US Hazard map for the next 8-14 days (also from the Climate Prediction Center). It has us just outside the "Much Below Normal Temperature." I also think this will change as we get close to include us:
I hesitate to say this because it's a forecast pretty far away (and thus should be viewed skeptically), but we think you can handle it with that disclaimer in mind:  With the cold air possibly locked in here for up to a week, there will be a lot of time for a precip-making weather system to come through. If it does, it may very well likely be in the form of snow. This could happen further south, it could happen here, or it may not happen at all. This is not a forecast. I'm not saying it's definitely, or even probably, going to snow. But if you want snow, be encouraged: it looks like it'll be cold enough. All we would need is a low pressure system with some moisture….
Questions? We're on Twitter @NashSevereWx.