A Heat Advisory is issued by NWS-Nashville when they think the heat index ("feels like") will hit 105°.
We were under a Heat Advisory for today, but it was just canceled.
Why? We started "cooler," there's cloud cover, and we may get an iso shower or storm this afternoon.
Max expected heat index today "only" 102°.
"Only"
What was that about showers or storms today?
I can't show you a model that has a storm popping up on us during the day. I'm not expecting rain. It's possible but yeah, not expecting anything.
Clouds tossing shade expected to roll in mid-afternoon, right when we'd hit the max feels like temp. Begone 105° heat index potential! Just One Oh Two. Here's the HRRR model rolling those clouds in: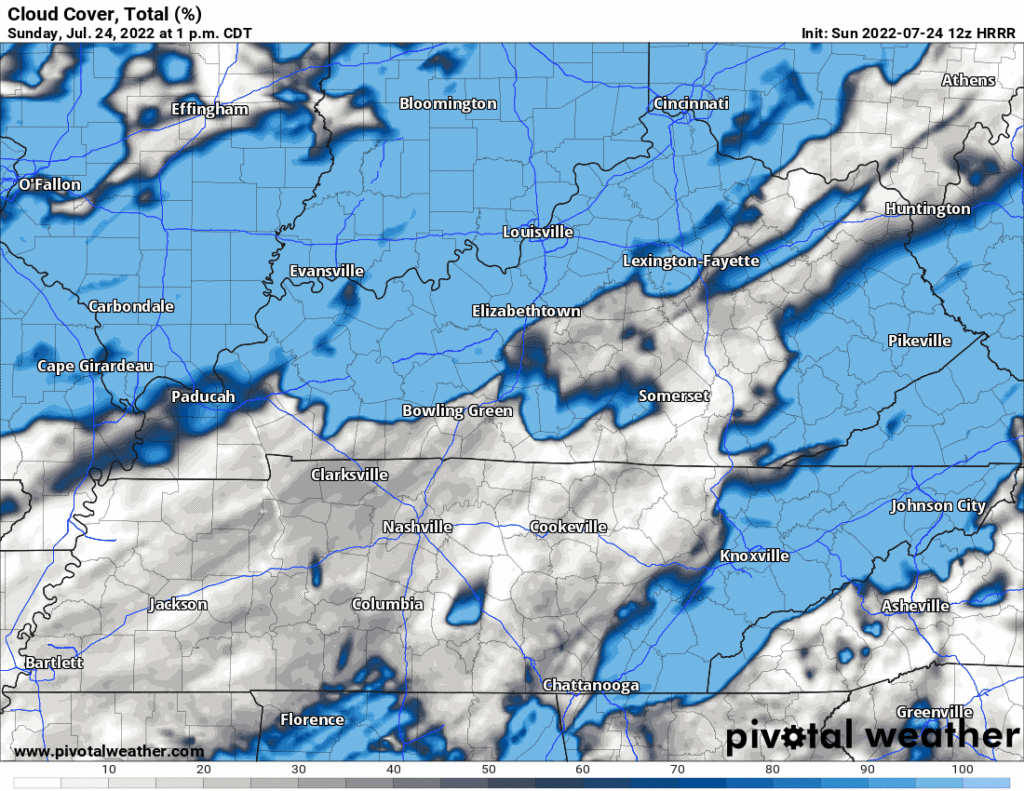 The Wattery returns next week! Monday especially.
Monday, there should be many Wattery winners.
NWS-Nashville calls Monday's rain/storm chances "likely."
So does the 12 run HRRR model. It thinks rain starts in spots before lunch then really picks up into the afternoon: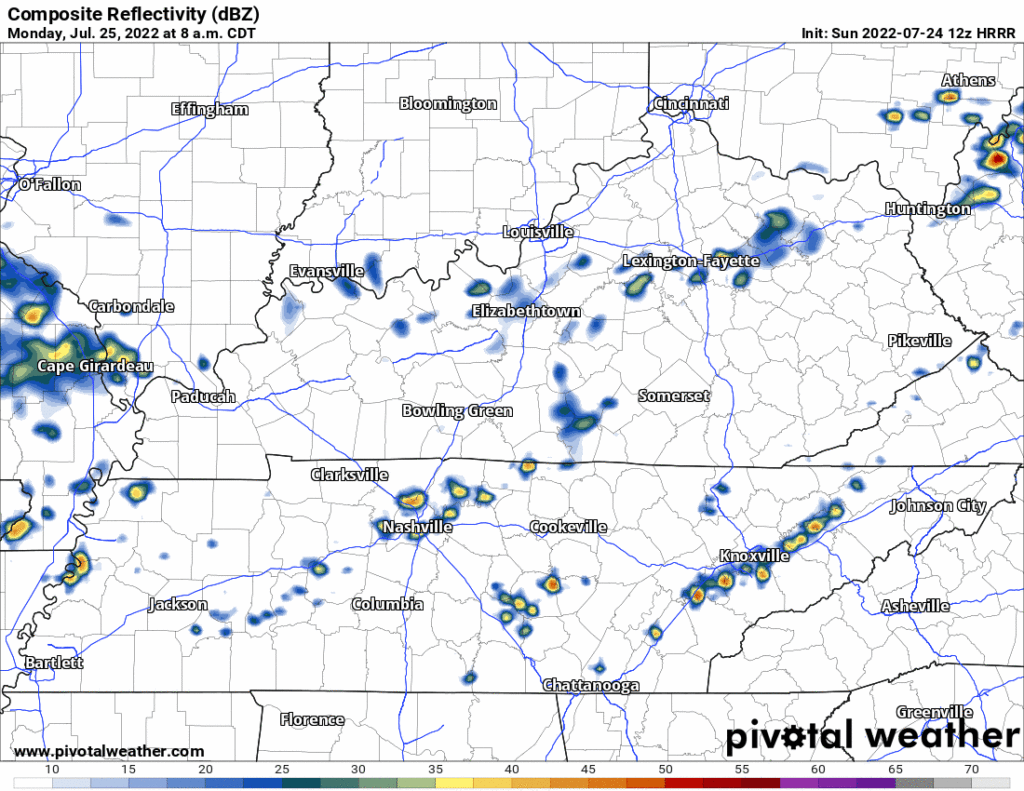 Rainfall may be excessive. WPC estimates the probability of a flash flood event within 25 miles of you between 15% and 40%: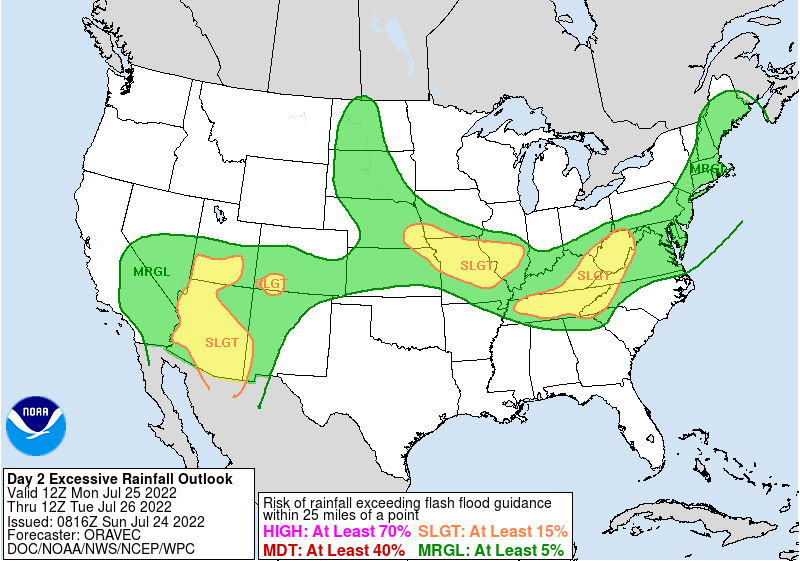 It is possible you get shut out entirely. It's Wattery szn, after all.
Lightning, and a 5% probability of a damaging straight line wind event (remember our Microburst blog last Friday?), join excessive rain as Monday's low probability hazards. Tornadoes, hail are not outlooked for us by SPC: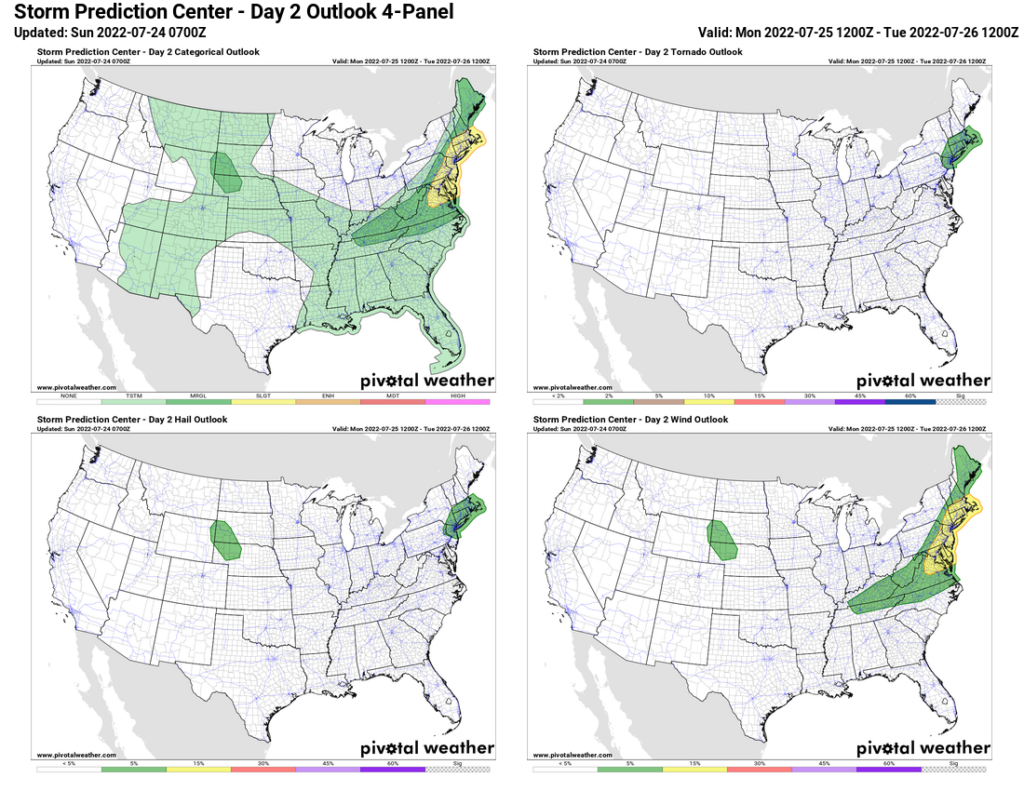 Wattery chances exist each day this week. Monday may be extra, also: Thursday!
WPC has already outlooked us for excessive rainfall potential Thursday. See below.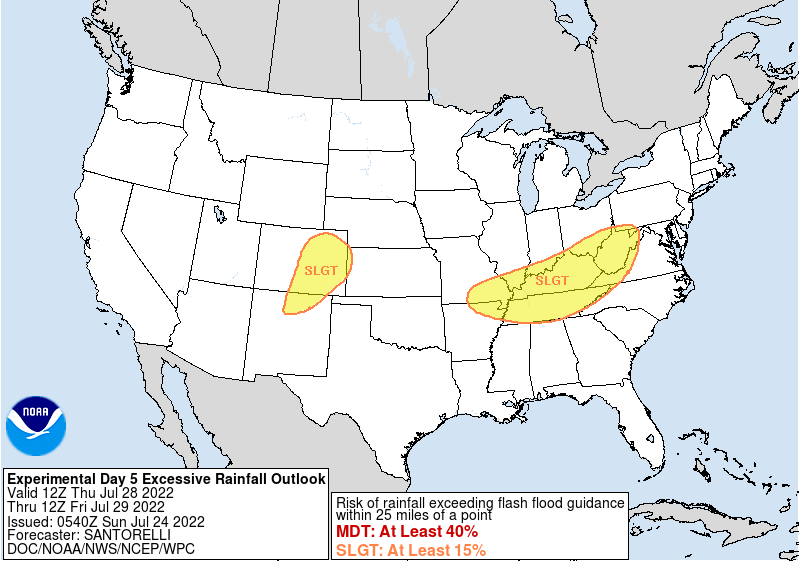 Friday also looks quite wet.
This does not look like a good week for my double elimination softball tournament.
Weekend Cool Down? Some of y'all'vebeen sliding up in my texter and tweeter asking about low 80°s and upper 70°s as the high temp Friday through the weekend into next week. In late July? Is Early Fall here? PSL szn upon us (#VileBrew)? Is this sus?
Notice the Euro data, below, it's got highs 83° Friday, 79° Sunday, 83° Tuesday, wuuuut?
Y'all, this is not the Autumn you're looking for.
First, those temps will only happen if it's raining . . . a lot . . . Thursday through Tuesday.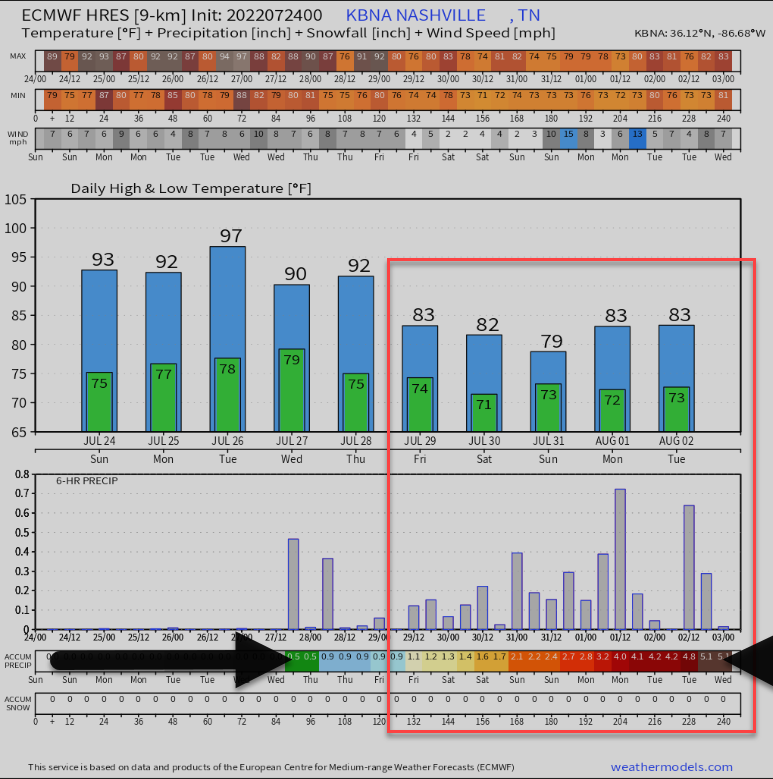 That Euro data says 5″ of rain 6 days. If spread out sensibly, we can handle it, and we kinda need it with much of us still "abnormally dry." If we get the rain in short heavy bursts, obv, there's a flash flood risk.
Caution: rainfall amount accuracy at this range not great. Sideye rainfall amount data.
Low temps will have top of the scale (for us) high dewpoints into the lower/mid 70°s. Guh-rowse.
Those low temps are not an autumn airmass, y'all, it's a wet swamp.
Here's the latest NDFD 7 day temp graphic: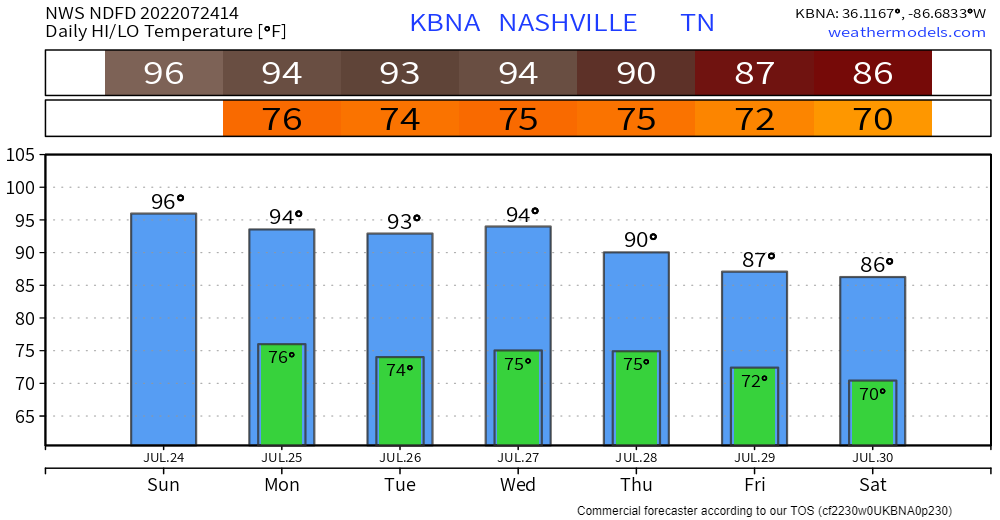 Quick References:
Weather changes constantly.
Follow @NashSevereWx on Twitter for any changes to this forecast.
We are 100% community supported. No ads. No subscription fees. Keep it free for everyone.