Most of us have struck luck with the Wattery the past two days, bailing us out from the heat index getting to excessive territory. We just need one more day of that.
If not, temps will surge up into the upper 90's, dewpoints in the mid 70's = heat index pushing 110°, reason for the Excessive Heat Warning for today.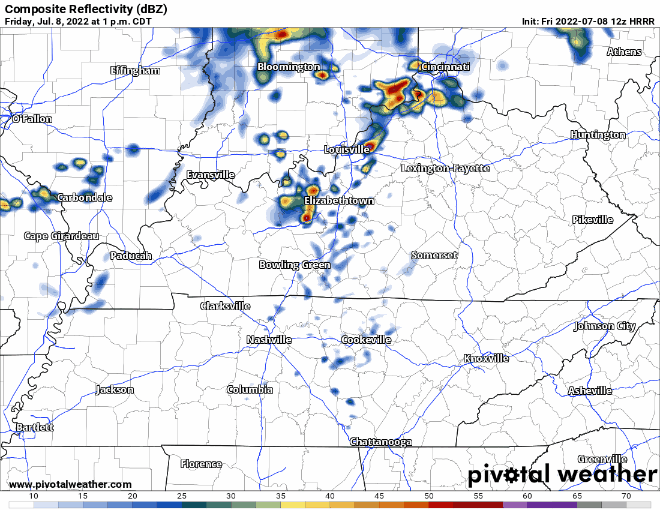 The HRRR model once again thinks afternoon pop-ups are few and far between. It's also thought the same thing the past few days, and they've been a lot more widespread. We'll see what the Wattery wants to do today.
HRRR thinks a line-ish of storms comes down I-24, ETA 9 or 10pm, give or take a few hours.
With any of these storms, lightning is possible, which is bad enough. But there is also a low-end probability of damaging winds and hail. Not concerned about any tornado threat. Some flash flooding could unfold if a storm decides to sit in the same place.
---
Saturday finally marks the end of the upper 90's.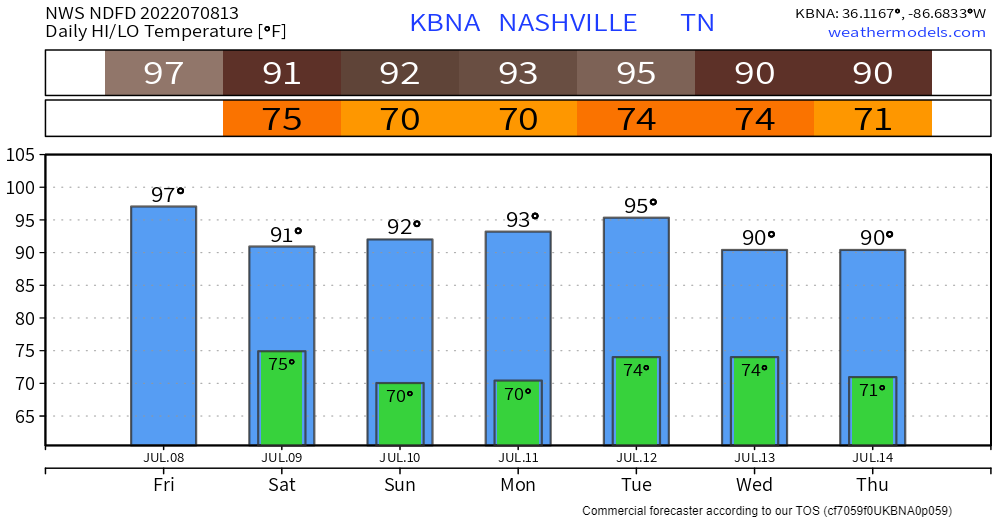 It'll still be hot, just not as hot. Dewpoints will still be in the low 70's on Saturday, but they'll fall into the 60's on Sunday.
However, Saturday is not the end of rain. The HRRR thinks some showers/storms may be ongoing as you wake up.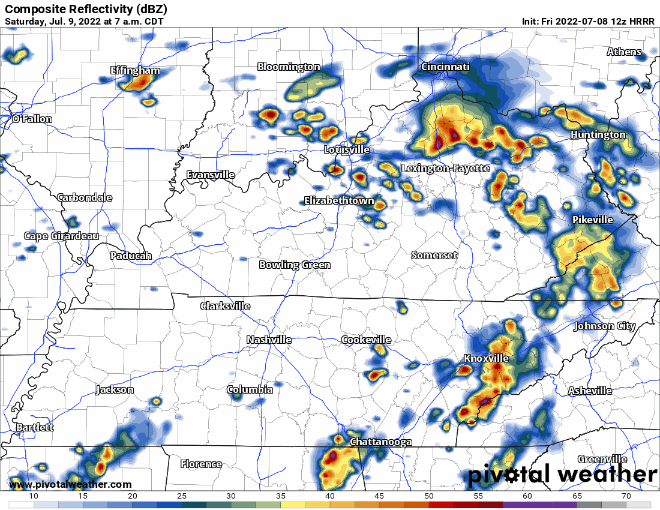 Then maybe a brief break around lunch, and then storms on/off the rest of the day. These storms do carry a 5% chance of damaging winds, but not worried about any severe hail or tornadoes.
This particular run of the HRRR thinks these storms sit all day, leading to a few places getting 4″ + of rain, which would lead to flash flooding. Does this actually happen? Probably not. Is it a possibility? Yes. We'll keep an eye on this.
---
Sunday finally looks rain-free. I guess one or two Wattery winners could happen but looks unlikely. You'll notice the difference in the dewpoint.
Monday and Tuesday look dry, with rain chances returning Wednesday. Dewpoints hanging out around 70°, temps in the low 90's, meh.
Quick References:
Weather changes constantly.
Follow @NashSevereWx on Twitter for any changes to this forecast.
We are 100% community supported. No ads. No subscription fees. Keep it free for everyone.