On one edge of the blade, you have super hot, uncomfortable temperature + dewpoint combo, but there is no severe weather. On the other edge, you get kinda hot, but then a shower/storm comes and cools you down. Maybe not the easiest choice. Good thing Mother Nature decides for you.
Even if we do see rain/storms today, it will be hot regardless. Before it rained yesterday, we peaked at a heat index of about 106°. Models are hinting at less storm coverage today, which could end up letting us get into the Excessive Heat Warning criteria of heat index of 110° +.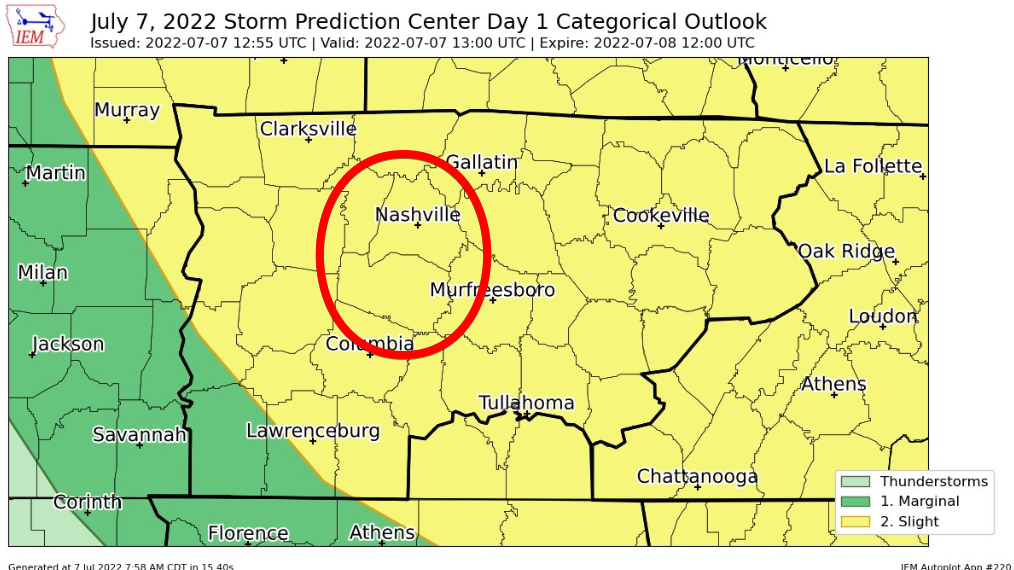 If it does storm today, there is a low-end chance that the storm could contain damaging winds. The Storm Prediction Center has outlooked both counties for a 15% chance of damaging winds within 25 miles. NWS Nashville notes this is mainly for downbursts, and that most storms will probably not reach severe criteria. There's also a 5-15% chance of flash flooding within 25 miles. We are not included in any hail or tornado probabilities thanks to lackluster shear.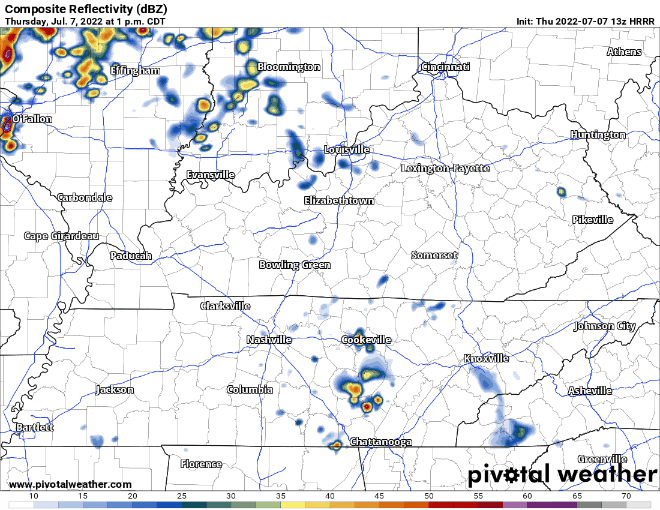 The latest 13z run of the HRRR is especially not impressed with out Wattery chances, and it thinks we bake today. Until a cluster of showers/storms arrives at a rough ETA of 9 or 10 pm. This run of the HRRR thinks this cluster starts to fall apart before it gets here, but the previous run (12z) thinks it holds together more, and arrives earlier. I don't know which one, if any, are correct. It's best to weigh all the possibilities.
With that being said, heat safety will be just as, if not more important today as it was yesterday. If you have to be outside, take frequent breaks and drink(s) lots of water. Continue to check in on the more vulnerable, and those without A/C. And always look before you lock.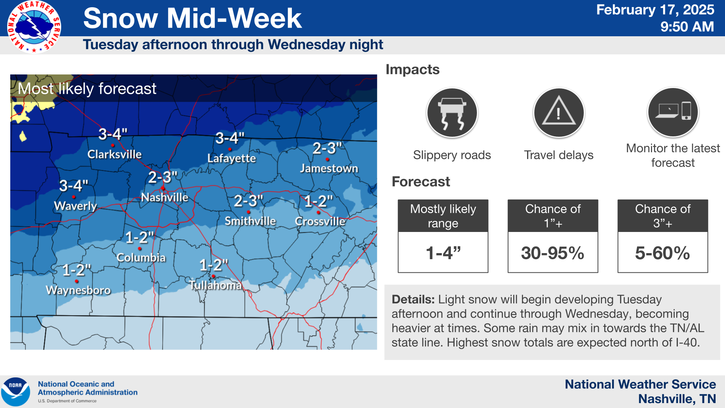 ---
Friday will be similar to today, the Excessive Heat Warning continues as temps continue to flirt with the 100° mark, and dewpoints remain 'Oppressive'.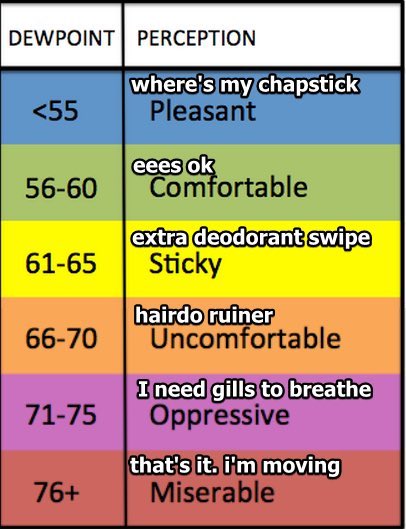 The HRRR model thinks we yet again miss the afternoon Wattery on Friday, sending our heat index up to 110-115°. However, it is a lottery, so afternoon shower/storms that cool us off cannot be ruled out. This model run thinks we don't get any action until late-evening, when a cluster of showers/storms comes down I-24.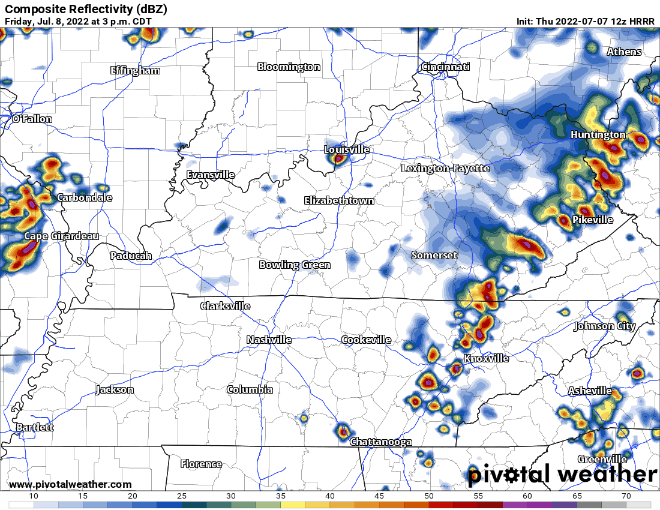 We are yet again outlooked by the SPC for a 5% chance of both damaging straight-line winds, hail and 5-15% chance of flash flooding, all within 25 miles. No tornado threat. Looks like on/off showers/lightningstorms throughout the night, so could call for a Dense Dog Advisory for scared pets. Rain should end before sunrise Saturday.
---
And to make it 3 days in a row, we are outlooked by the SPC on Saturday for a 5% chance of severe weather. Looks like for the possibility of some rogue afternoon Wattery storms. More details later as it becomes more clear.
One thing that is clear, Saturday marks the end of the upper 90's and temps struggle to make it to 90° both Saturday and Sunday. Dewpoints will also drop into the low 60's by late Sunday, and you'll be able to feel a noticeable difference.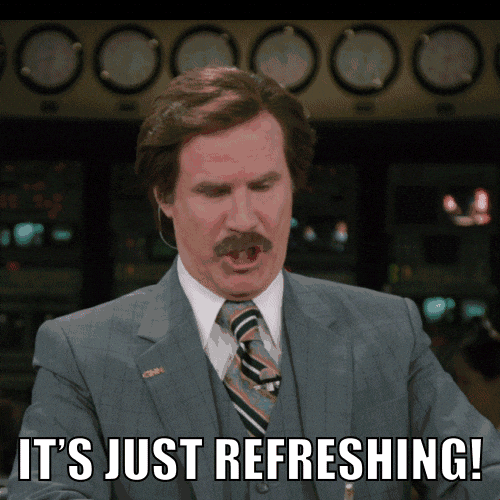 Drought Update

The weekly Thursday update shows most of Davidson county in a Moderate drought, and the majority of Williamson county in abnormally dry. No real big changes from last week. This does not include any rain we had Tuesday or Wednesday, so it may be slightly better than it actually is. Fingers crossed for more Wattery winnings.
Quick References:
Weather changes constantly.
Follow @NashSevereWx on Twitter for any changes to this forecast.
We are 100% community supported. No ads. No subscription fees. Keep it free for everyone.