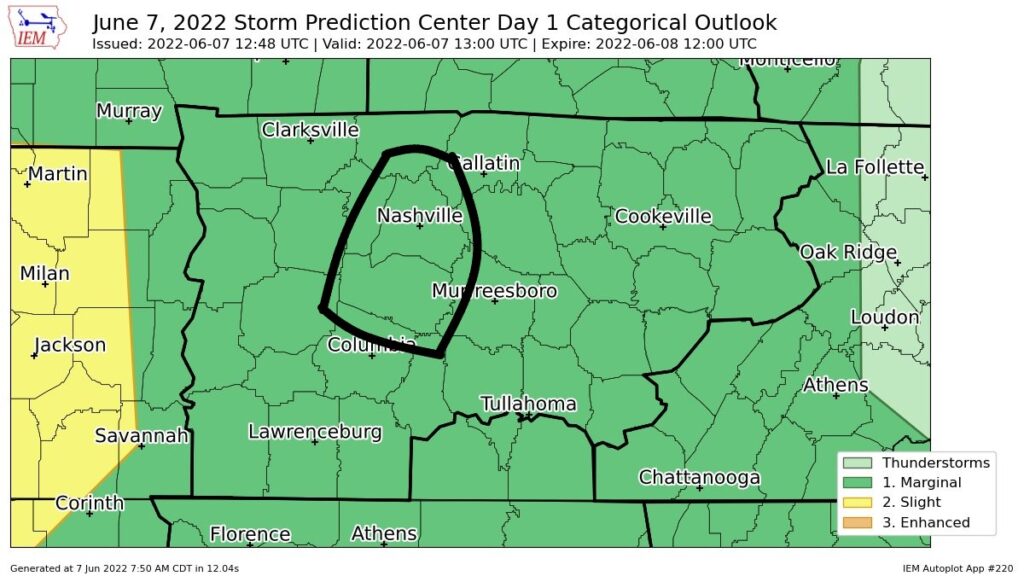 Rain has moved out from last night. SPC has outlooked us again today, 5% chance for damaging winds, hail, and flash flooding. We are not outlooked for a tornado threat, thanks to very little shear.
HRRR model (below) still shows a rough ETA of 5 – 6PM, still may not be exactly right.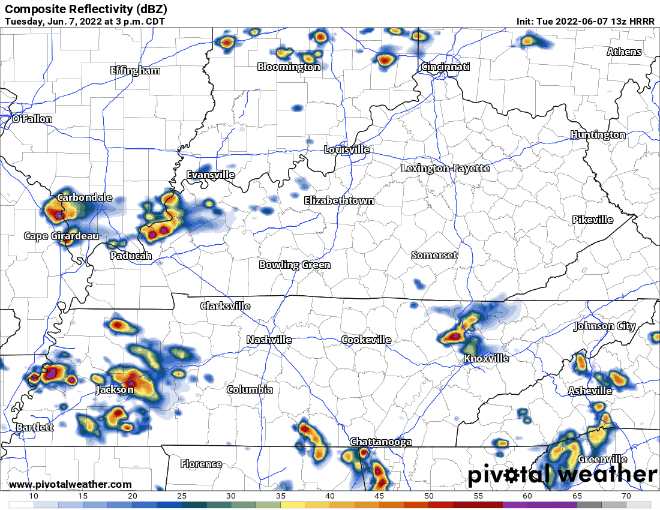 You may see a severe storm today. You may not. You may not even see rain today. These storms will be popping up like an Angry Karen at the front desk asking for a manager. They eventually go away, similar to the storms today. (Apologizes to all the good Karens in the world) We'll keep you posted on where exactly these storms do pop up on the Twitter. We also have a radar on our website for your use.
If it's not storming today, and you go outside, you'll probably feel like you're in a sauna. As of 9:30AM, the dewpoint was 72…quite oppressive.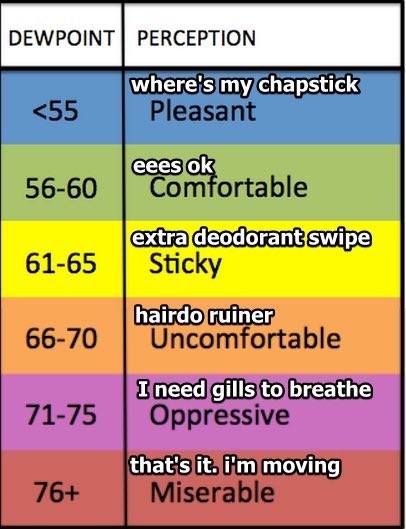 ---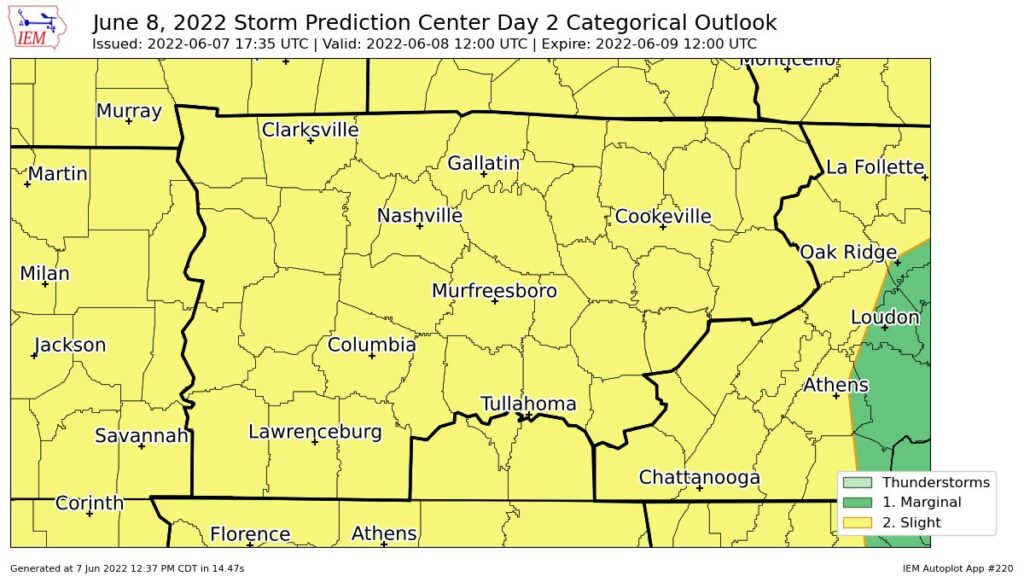 Wednesday we have been given a 15% chance of seeing damaging straight-line winds or a severe hail event with 25 miles. 5% chance of seeing flash flooding. We are not outlooked for any tornado probabilities.
HRRR model (above) thinks there could be some pop-up lightningstorms in the afternoon/evening. Hard to nail down exactly where they might pop up. Then a line of storms comes down I-24, looks to be a rough ETA of 8 – 9 PM. It may fall apart before arrival. Both afternoon/evening popups and line of storms could be severe.
If you step outside tomorrow, you will yet again be met with sweat. Dewpoints stay in the low 70's.
CMA Fest
Thursday, the first day of the party looks about as good as you can ask for. Low 80's for high temps, with dewpoints in the upper 50's. No rain.
Friday is a slightly different story, with rain chances beginning in the afternoon.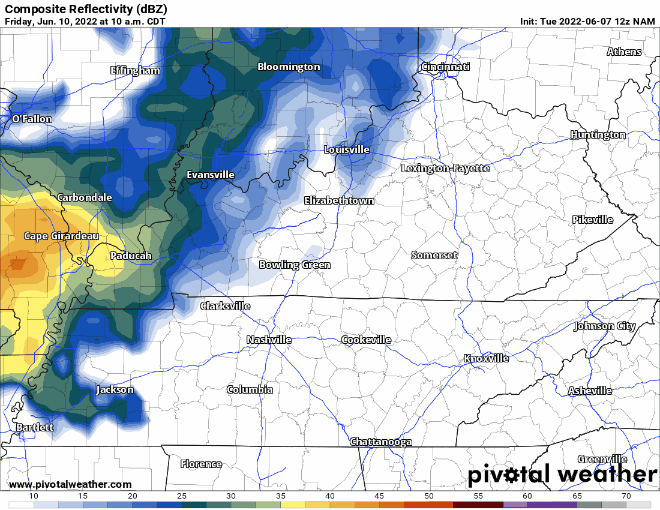 The NAM model (above) isn't the most high resolution model, but it gives you a general idea of the timing. If there is any good news, it looks like it may clear out for the evening/nighttime activities. Changes in timing will likely happen tho. As of right now, no severe weather expected.
Saturday looks hopeful. The Euro and GFS keep the rain south. Sunday also looks rain free. Fingers crossed.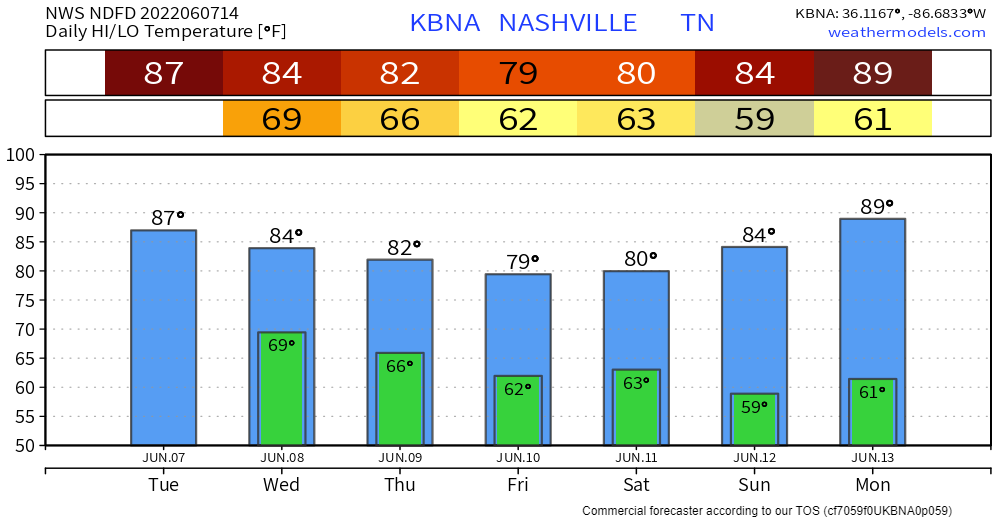 Quick References:
Weather changes constantly.
Follow @NashSevereWx on Twitter for any changes to this forecast.
We are 100% community supported. No ads. No subscription fees. Keep it free for everyone.