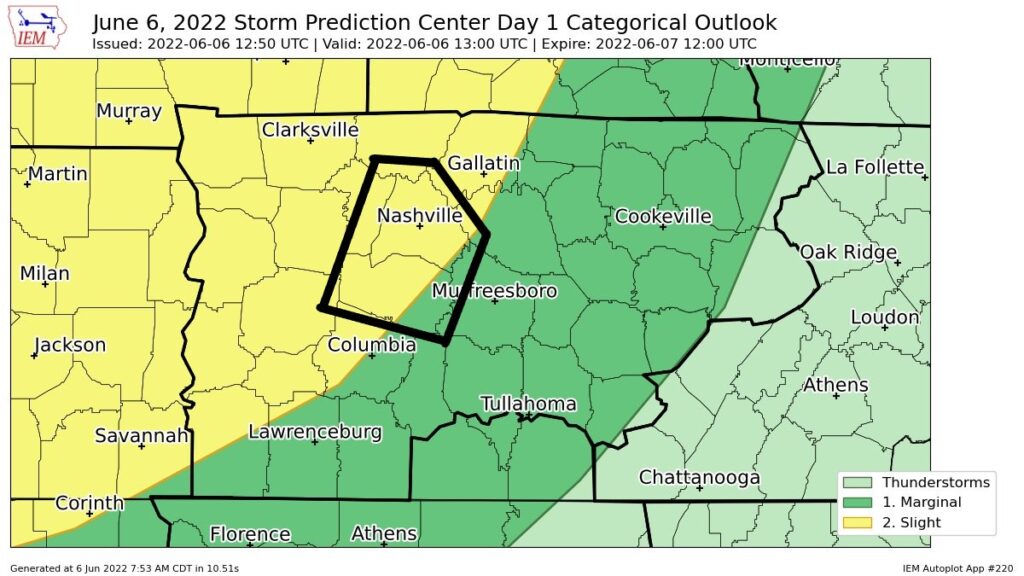 The Storm Prediction Center maintained the 2% chance of a tornado within 25 miles for today. There is a 15% chance of a damaging straight-line winds, 5% chance of hail and flash flooding.
We're still looking at the possibility of two rounds of severe weather.
Round One looks to be 6 – 7 pm according to the HRRR model. NAM 3k model has an earlier ETA of 5pm.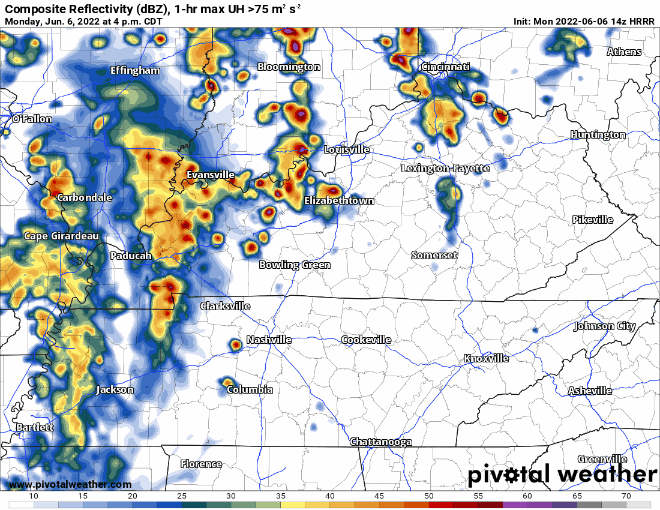 The new 14z run of the HRRR (shown above) depicts a "weaker" first round. This is just one run, of one model, nevertheless, still somewhat encouraging. Still no reason to let your guard down today, any storm today will be capable of producing severe weather.
Round Two looks like the beefier of the two. ETA looks around 12 – 1 AM.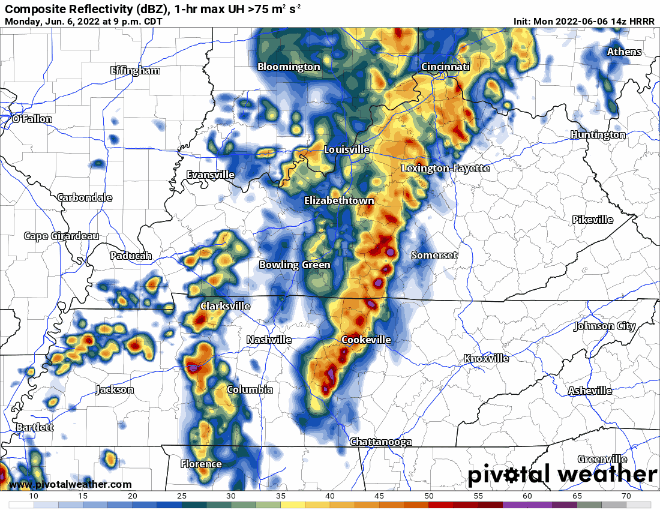 Which round will be stronger? Probably the overnight round. After the first round, shear increases, which allows for storms to maintain their updrafts. However, this is no where close to a "grand slam" set up to cause big time concern. CAPE is relatively low, there may be a slight "cap" right above the surface (thanks Ned), and lapse rates are pretty unfavorable for big time storm worries. This run of the HRRR model (above) shows showers in between the first and second which could help limit the extent to which the atmosphere recovers. So, all of that is good news.
That said, we think the 2% tornado probability exists for both rounds. It's a low probability of a high impact event.
Models today aren't showing the heavy rain lasting all night like they were yesterday. Our atmosphere will be LOADED with water, so if a storm decides to "train" over the same spot, flash flooding could ensue late tonight. We also think the storms tonight will be pretty noisy, so prepare for a Dense Dog Advisory if you have thunderscared pets. Rain should clear out before Tuesday AM rush hour.
Lots of variables may change this forecast. We'll be tweeting updates all day. Stay connected and informed. This looks to be a nighttime event, you need to have a way to wake up incase a warning is issued for you. Know where to go and what to do if that warning happens to be a tornado warning. Storm anxiety is real, here are some tips to help.
---
Tuesday (tomorrow) we have been outlooked again for severe weather.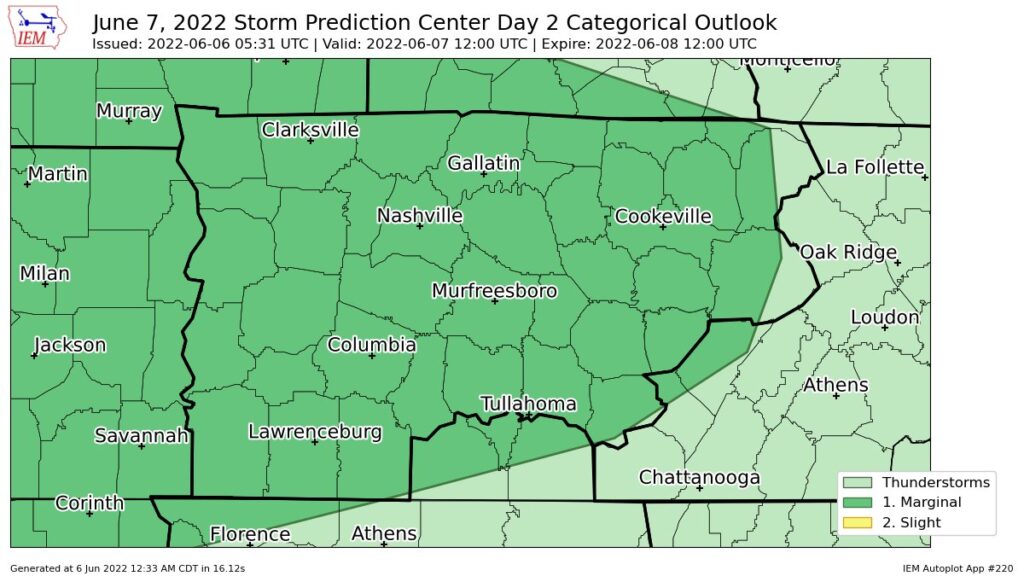 Probabilities are 5% chance for damaging wind, hail, and flash flooding. We are not outlooked for any tornado threat.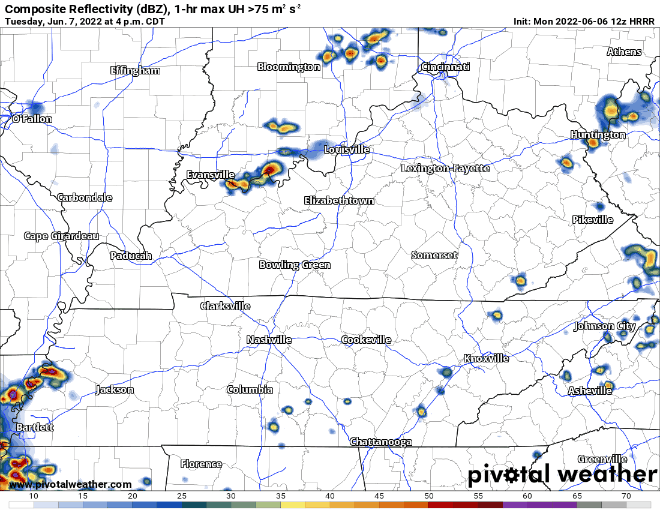 HRRR shows lightningstorms initially staying south of us during the afternoon, and then creeping north into the evening. This may and probably will change before tomorrow. More deets on this as new and fresh data comes in.
Also worth nothing, dewpoints will be in the low 70's tomorrow, which makes me sweat just thinking about it.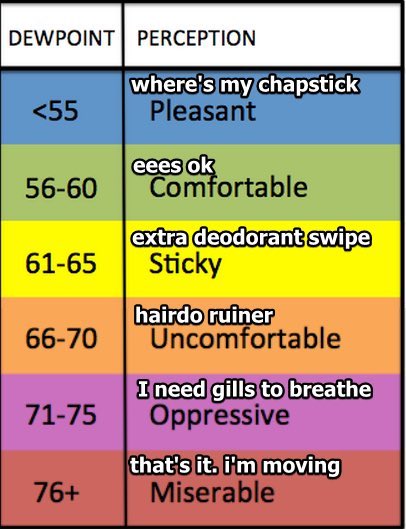 ---
And if two days in a row wasn't enough for ya, we've been outlooked again for Wednesday. 5% probability of severe weather, this far out the Storm Prediction Center doesn't issue specific risk chances to each mode of severe weather.
None of the high-res models go out this far yet, but super rough ETA looks like afternoon/evening.
Dewpoints will still be in the upper 60's/low 70's. Gross.
We might get a dry day on Thursday, with rain chances returning on Friday and Saturday. More CMA specifics in the following days.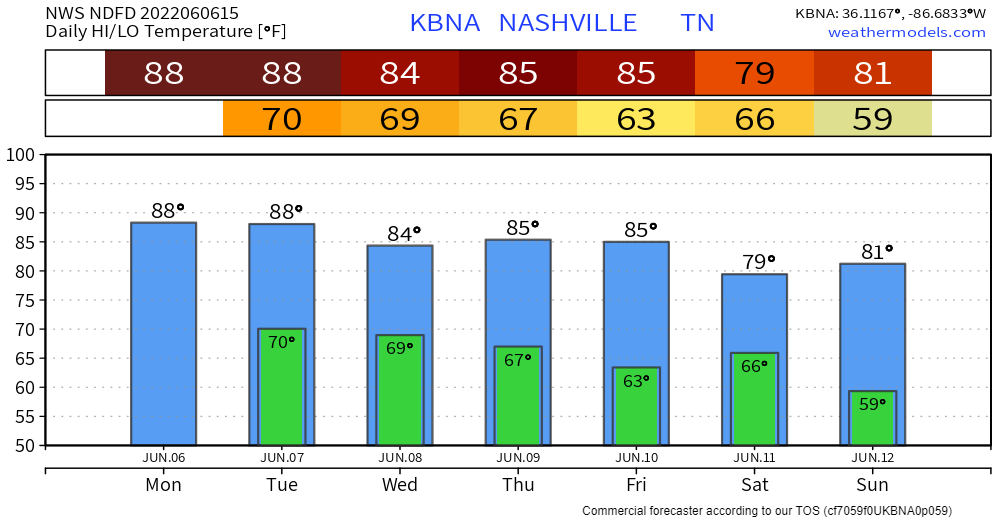 Quick References:
Weather changes constantly.
Follow @NashSevereWx on Twitter for any changes to this forecast.
We are 100% community supported. No ads. No subscription fees. Keep it free for everyone.