Travel is hazardous this morning. Our replies are filling up with "black ice" and "skating rink" stories. And that was just due to overnight freezing fog and freezing drizzle.
Happy Valentine's Day everybody!
Black ice will stay on the road who knows how long. Davidson and Williamson Counties collectively cover 1087 square land miles with roads shaded, at various elevation, treated and untreated, some/no/lots of traffic, different moisture exposure, different chemical properties. Makes it impossible to determine whether, or when, conditions will improve.
---
Winter Storm Warning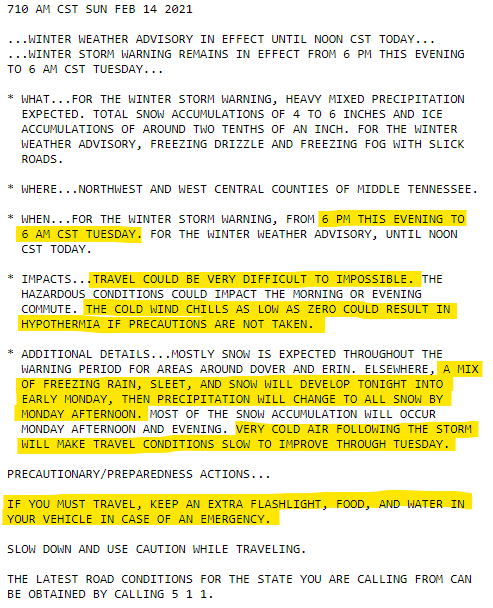 Last one of these was 1,848 days ago.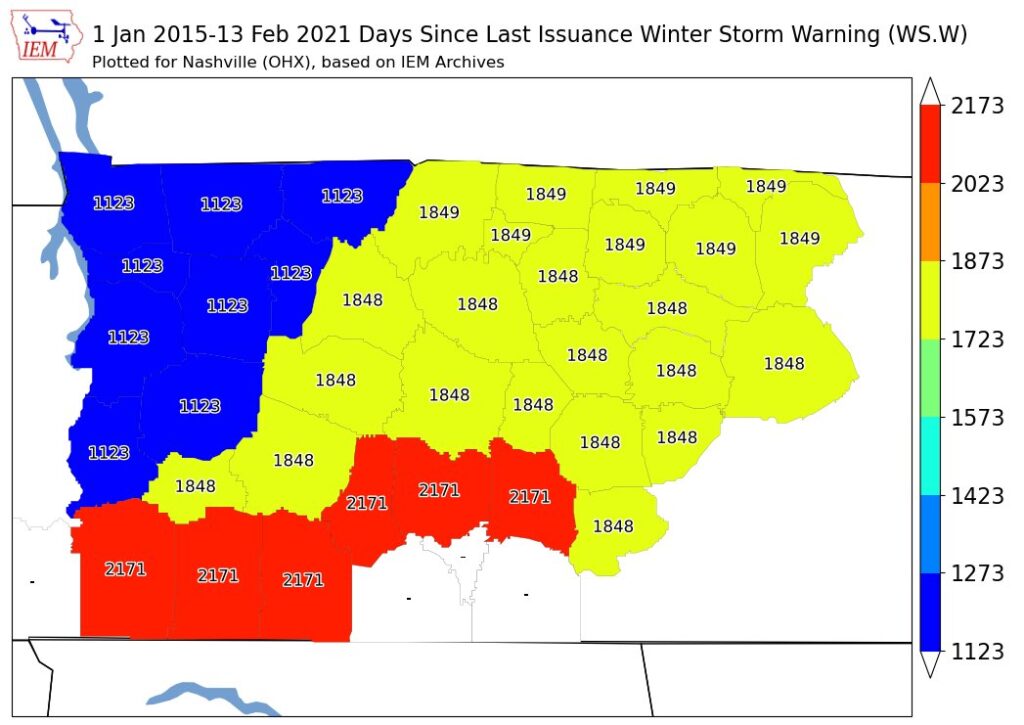 Sleet & Ice
Freezing rain and/or sleet — probably sleet, the stuff that makes a pitter patter when it hits a window — should begin around dusk or dark and continue off and on overnight until around dawn Monday. Here's the HRRR model:
We want it to be sleet or snow and not freezing rain. Sleet bounces around, snow nestles, neither sticks well to tree branches or power lines. Freezing rain gets trees wet and soaks power lines; they freeze. Ice is heavy. Branches fall (on power lines), and power lines sag and fail due to the weight of the ice on them.
If precipitation is a little heavier than expected, we could start having a few localized issues with trees and power outages by daybreak Monday. On the other hand, thermal profiles show at least some potential for sleet, which would cut down on the ice accrual.

NWS Area Forecast Discussion
Sleet is ice, and it will settle on the ground. Travel will be a mess tonight. Roads icy this morning will get icier tonight, overnight, and early Monday morning.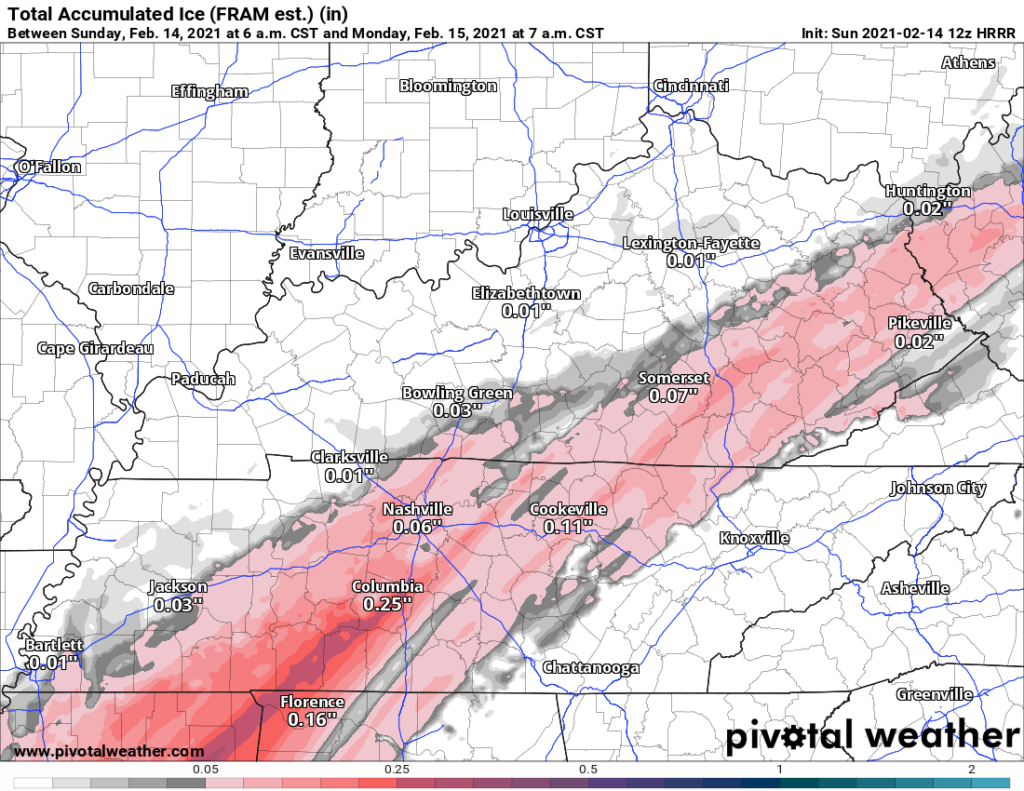 Total ice around 0.06″, probably more in Will Co. This assume it's sleet. Note this is more ice than we have this morning.
But you may wake up and say where's all the snow?
The Snow Is Coming Monday
Early/Mid morning things go quiet.
Round 2 will begin late Monday morning. The HRRR model shows it starting with more sleet and freezing rain, then transitioning into only-snow by mid-afternoon. HRRR model thinks snow will end by 7 pm.
Totals & the Editor's Note
Through 6 pm Monday, between a tenth and a quarter of an inch of ice is expected.
From James Spann's TV station in Birmingham AL:
Atop the ice, the most likely result is 4 inches of sleet/snow.
Editor's Notes: There is some uncertainty about this. You may have seen weather models running snow totals as high as 8″ and a low as almost nothing, with a bunch of totals in between (see below).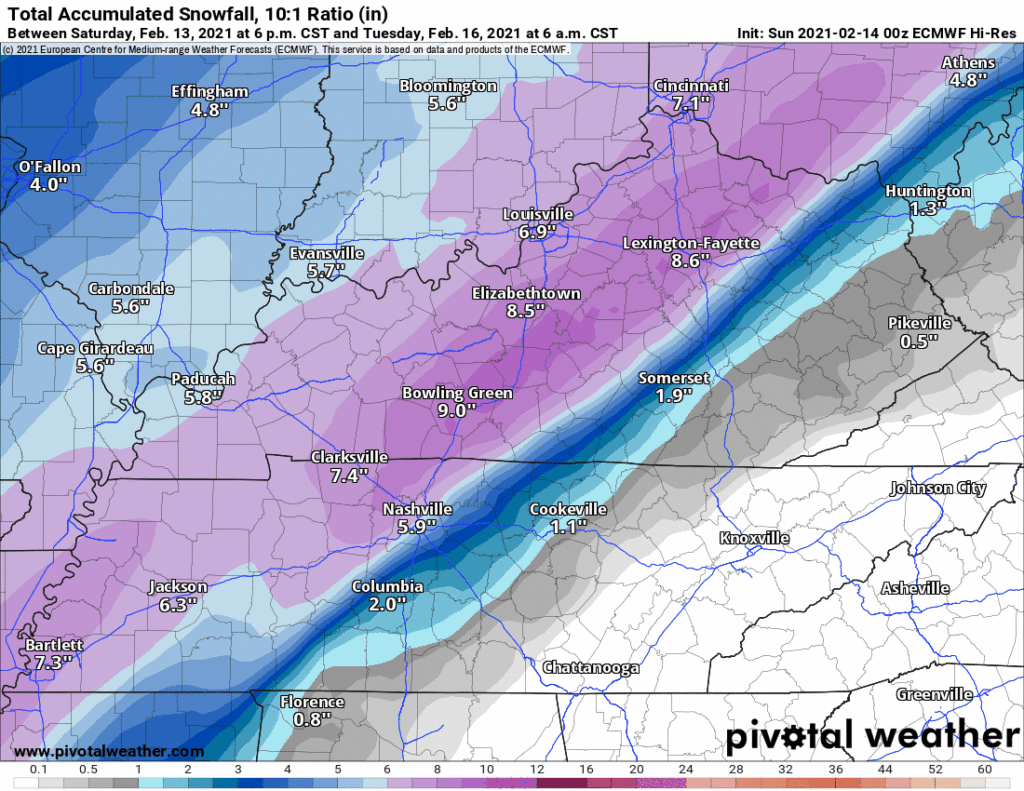 Where snow is low, ice is high. And vice versa. For example, the NAM has under an inch of snow because it thinks an ice storm will paralyze the city and threaten our power grid. The HRRR, on the other hand, thinks this is an 8″ snow event with very little ice.
Several things complicate the forecast and contribute to the uncertainty.
Models count sleet and snow as the same things. They are not the same. Sleet isn't snow and doesn't accumulate like snow.
The difference between sleet, freezing rain, and snow is about a few degrees high up in the air. A small error in the models will make a big change in forecast accumluation.
The line between snow and ice runs from SW to NE, and every model has a different idea of where to place it.
Snow totals assume a 10:1 ratio, it may end up being more or less than that and that can increase or decrease accumulation.
A very small temp difference can be the difference between a superfun snow event and a 2020-level ice storm. It's entirely possible, for example, that Joelton gets buried by snow, and Nolensville gets an ice storm.
Surprises are common. Those in 2016 probably remember January 22, when parts of Nashville got 8″, and parts of Will Co only got 2″. The best forecasts were not great and had to be adjusted on the fly. That can happen again, except instead of Nashville getting 8″ of snow, Will Co could be dealing with significant ice accumulation.
So, for now, the most likely result is 0.1″ to 0.25″ of ice beneath around 4″ of snow.
---
Please clear off the top of your car or truck before driving. FPD responded to a horrible accident from ice missiles during the last one of these event. The whole concept of an ice missile sounds ridiculous. It's like in Christmas Vacation when Clark sends the ice missile through his neighbors' window, but ice missiles flying in reverse off the cars of negligent drivers actually happens in real life.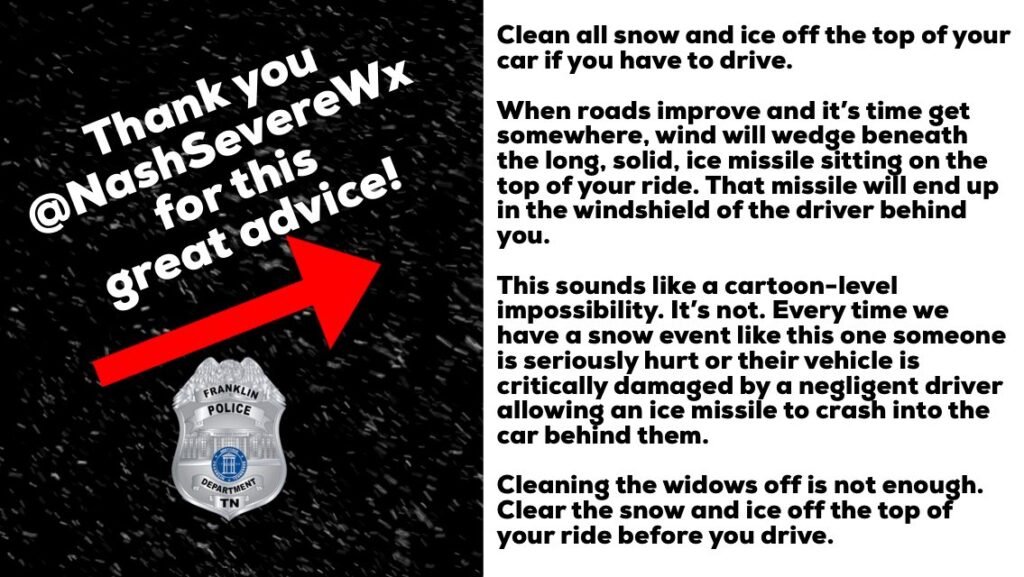 Snow will exit Monday night. We will still be feeling the effects Tuesday. Early morning sledders Tuesday will have to deal with single digit wind chills. And probably into Wednesday morning.
Highs will only reach into the 20s, and that may be optimistic for the northwest. Wind chills will drop near zero at times. This could make travel very slow to improve with a thick mix of ice and snow on many roads.

NWS Area Forecast Discussion
Another Snow/Ice/Rain System Wednesday Night
Some melting is possible Wednesday afternoon. Then another system will come through Wednesday night into Thursday. Cold temps are the big question. We may not be cold enough for snow, sleet, or freezing rain. Models have been going back and forth on that.
The GFS currently shows rain for our area:
The Euro has a mix of rain, freezing rain, sleet, and snow.
Much on everything this on Twitter @NashSevereWx.