"This is an evolving forecast that will likely change over the next 24-36 hours." –NWS-Nashville.
Saturday night – Sunday morning, there may still be lingering slick spots on bridges and overpasses. Drizzle on windshields means black ice on roads.
Sunday afternoon, look southwest, here it comes. HRRR model thinks Round 1 arrives Sunday night after dark. ETA will be closely watched. It may get here Sunday afternoon.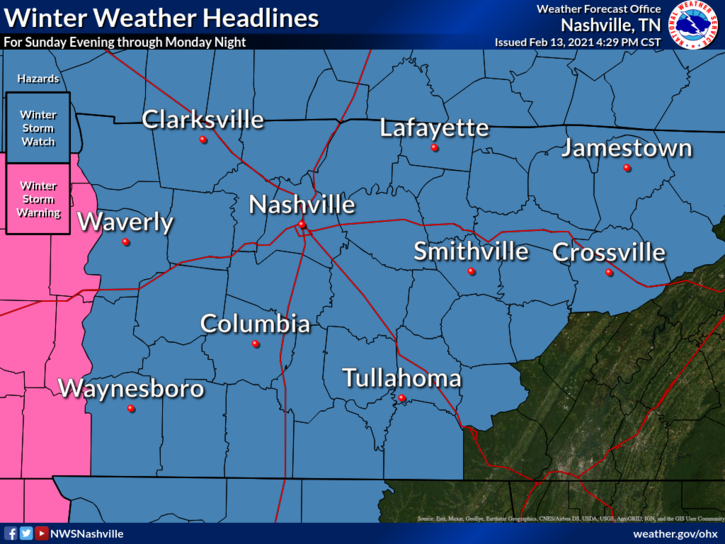 Round 1 will be snow and sleet mixed with freezing rain. Ideally this would be all snow because ain't nobody got time for ice. But right now we think Round 1 will mostly produce ice, either as sleet or freezing rain, Sunday night overnight into Monday morning. During this time temps will be mid 20°s. The ground is already frozen. Precip falling as rain or sleet will freeze. Accumulation will occur fast. Travel problems will occur quickly. Travel will be hazardous Sunday night through Monday.
At a quarter-inch of ice, we start to worry about power lines stressing from the weight of the ice. Looks like we should get less than that. But if Round 1 is an all sleet/freezing rain event, watch out.
There should be a break Monday morning. Round 2 begins Monday afternoon and will last until around midnight. Temps will not get above freezing and wind chills will be in the teens. Round 2 will compound problems. Round 2 looks like some sleet, but mostly snow. Here's the Euro model run.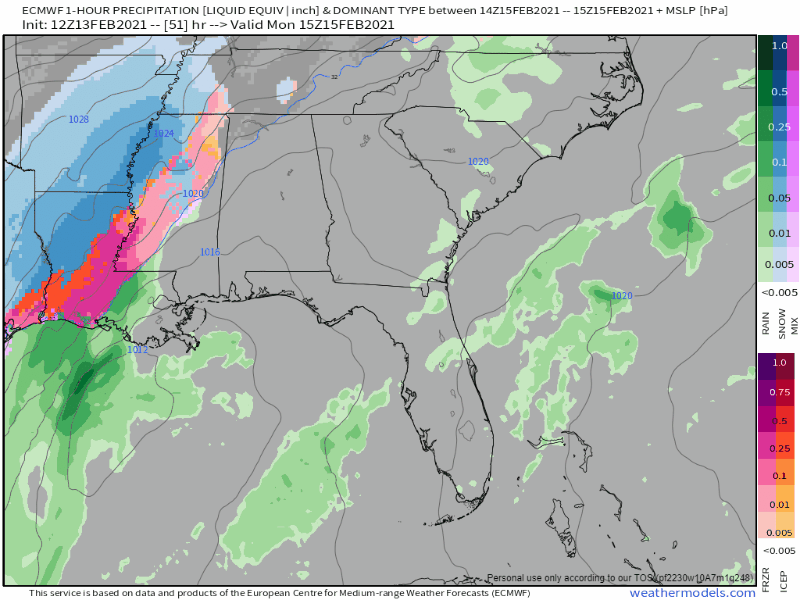 It thinks Round 2 is almost all snow for us, thankfully, so do most other models. How much snow this will be is difficult to say because models confuse snow and sleet. Sleet cuts down on snow accumulation, so the models may be overdoing it. The current thinking is 3″ of snow atop a solid layer of ice around 0.17″ thick.
You're probably going to see clickbait model images from the Euro showing 8.2″ over Nashville and Will Co. That's not impossible. Models aren't forecasts and need context. The operational run of the GFS has around 5″, the new GFSv16 has 3.4″, the NAM has a range from 1.6″ in SE Will Co to 6.2″ in Metro, and the NBM, shown below, is running 3″ to 4″. We think the NBM makes the most sense here. Notice if the models shift a little bit NW or SE, we could get a lot more or a lot less.
A half foot of snow is not impossible, we had one of those about 5 years ago.
Remember: "This is an evolving forecast that will likely change over the next 24-36 hours." –NWS-Nashville.
Snowpack atop ice will keep that base layer of ice solid. No one should plan to travel at all Monday night overnight into Tuesday morning if there is another alternative.
If our Winter Storm Watch will be upgraded to a Winter Storm Warning, it'll happen overnight tonight when the midnight NWS-Nashville shift comes in and makes the call. They do not upgrade Watches to Warnings prematurely.
Again: do not plan to travel Sunday night through Tuesday morning if it can be avoided.
Clean all snow and ice off the top of your car if you have to drive. When roads improve and it's time get somewhere, wind will wedge beneath the long, solid, ice missile sitting on the top of your ride. That missile will end up in the windshield of the driver behind you. This sounds like a cartoon-level impossibility. It's not. Every time we have a snow event like this one someone is seriously hurt or their vehicle is critically damaged by a negligent driver allowing an ice missile to crash into the car behind them. Cleaning the widows off is not enough. Clear the snow and ice off the top of your ride before you drive.
Tuesday should be the best day to sled but you're gonna have to want it. Afternoon high 27°. Wind chills will be below 20°.
Melting should be possible for a few hours Wednesday afternoon when we may hit the upper 30°s. Then comes Round 3.
Round 3 ETA Wednesday night – Thursday. Here's the Euro model: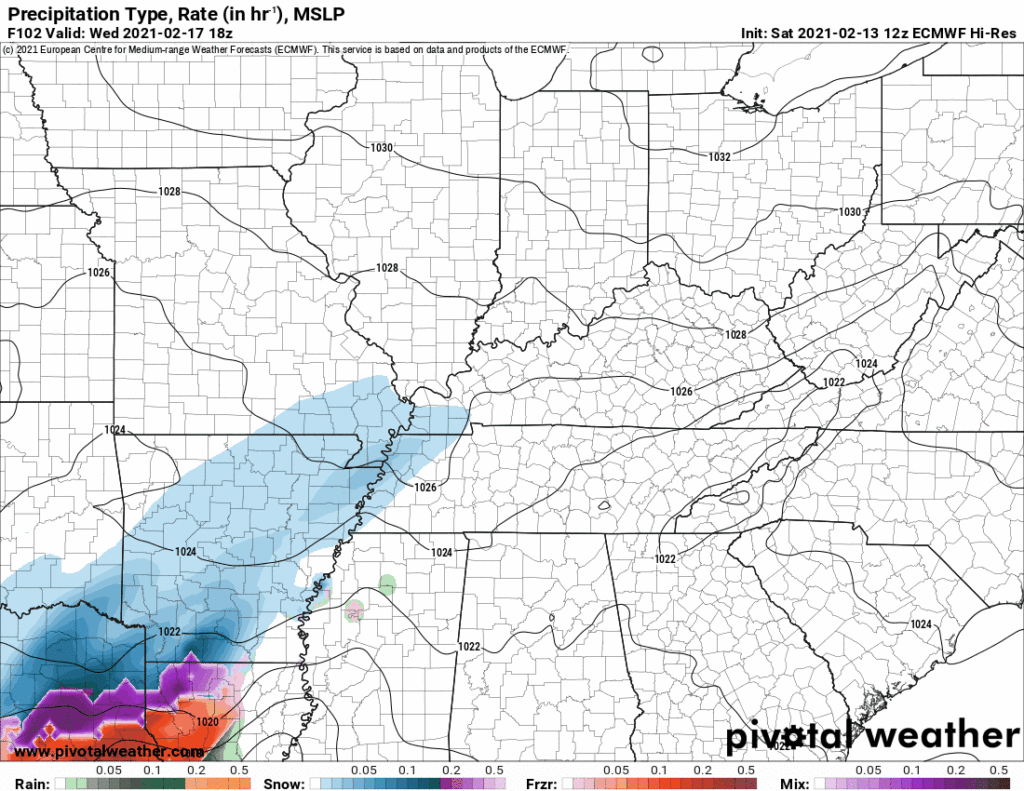 This looks like another mixed wintry precip event. Sleet, freezing rain, and snow all possible. Draw few conclusions right now. Event is too far out.
More tonight on Twitter @NashSevereWx.