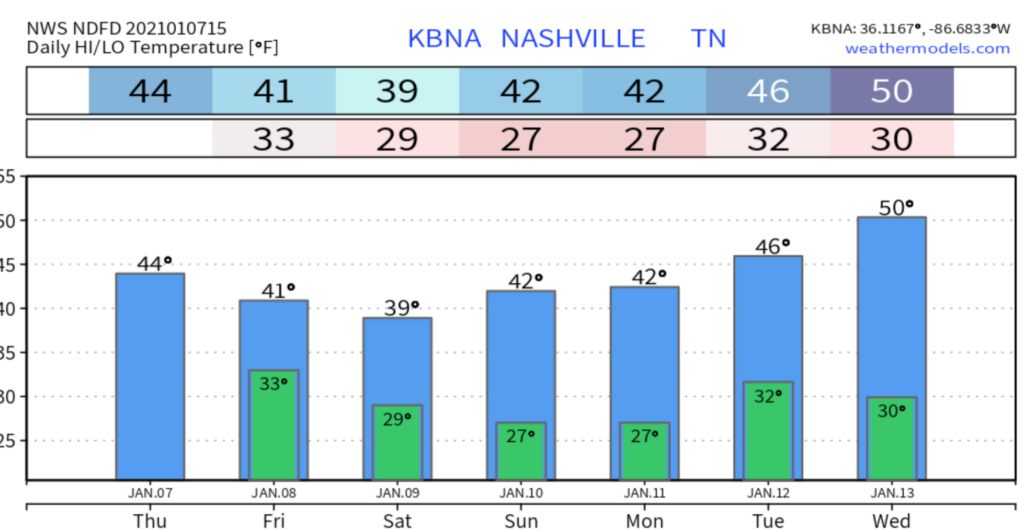 Snow Potential Tonight And Friday Morning
The real story here is that rain will begin pretty soon. JK the real story is that there is a non-zero chance of snow tonight and tomorrow morning. Let's dive in…
After the afternoon rain event today (mainly after 5pm), temperatures will drop below freezing and that rain will transition into a rain/snow mix.
Nashville, although, is only expected to see less than half an inch. If anything, we will just get a dusting.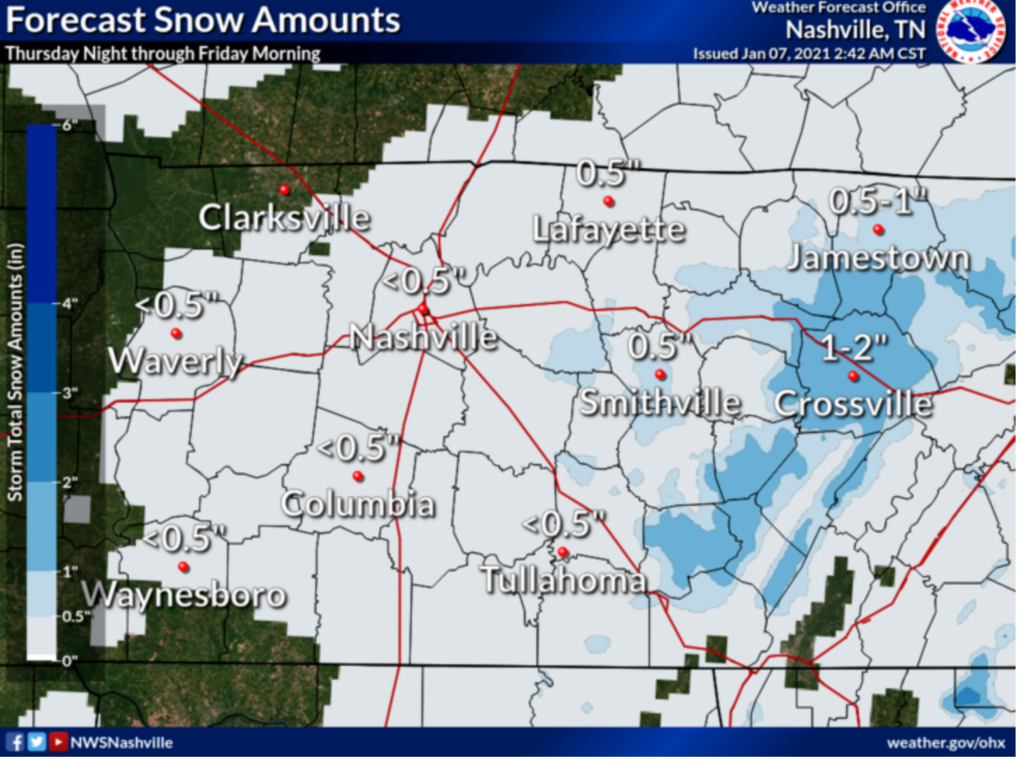 In general, impacts remain low. Temps should hover just a little bit above freezing at the surface in Nashville, but in the hollers, if it's colder, bridges and overpasses could be impacted. Regardless, if you plan on traveling anywhere tonight or tomorrow morning, be cautious!
Let's take a look at forecast models.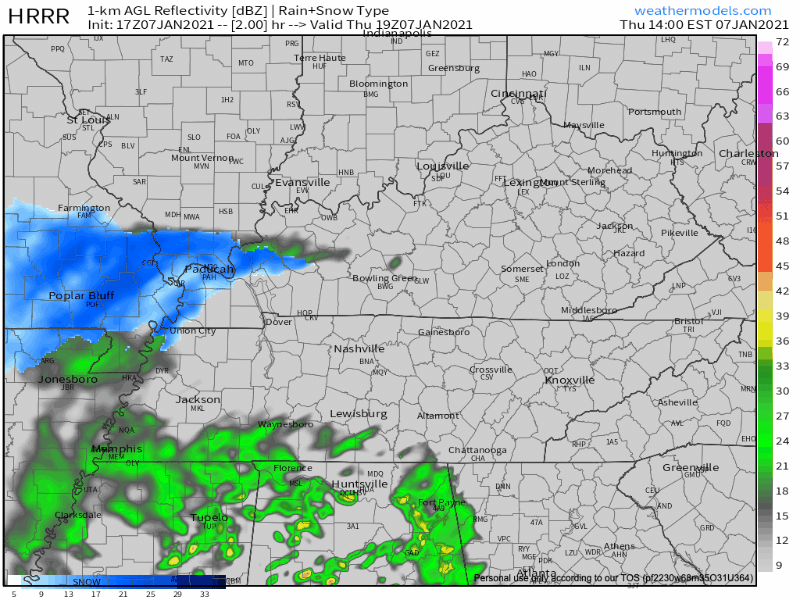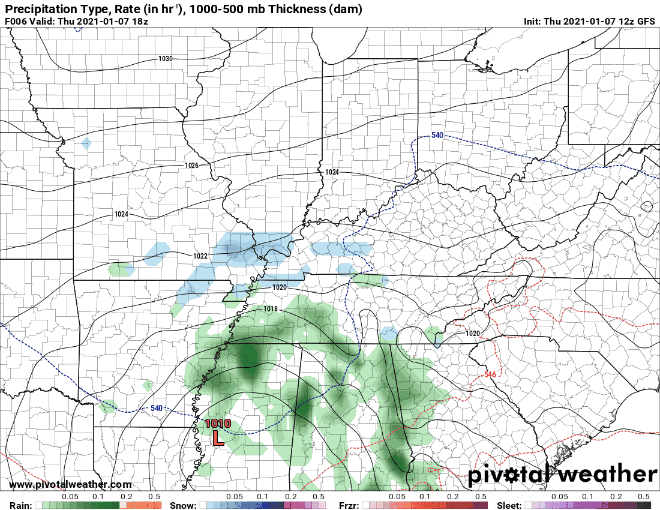 The Euro model (above) shows the snow Friday staying to the east. Other models show lingering moisture and weak lift which should be enough for some areas to see flurries.
Here's what the NWS says…
IT STILL LOOKS LIKE THERE MAY BE A BRIEF PERIOD OF MIXED 
PRECIP THIS MORNING ON THE LEADING EDGE OF THE PRECIP WEST OF I-65
AND LOOKS TO BE ALL RAIN THROUGH THE DAY THEREAFTER. AFTER 
SUNSET, TEMPS WILL DROP TO THE MID 30S BEFORE 9 PM, AND PRECIP 
WILL CHANGE FROM RAIN TO A RAIN/SNOW MIX, FOLLOWED BY ALL SNOW 
JUST AFTER MIDNIGHT. HIGHER ELEVATIONS INCLUDING THE PLATEAU MAY 
COOL OFF A FEW DEGREES SOONER, AND SEE ALL SNOW BEFORE MIDNIGHT. 
SHOULD TEMPS COOL OFF A BIT SOONER AREA WIDE, WE MAY SEE MORE 
SNOW, AND IN THE OTHER DIRECTION, SHOULD TEMPS STAY WARMER, SNOW 
WILL BE DELAYED AND AMOUNTS WOULD DECREASE. 
Confidence of how much snow could accumulate is still low due to lots of model disagreement. We will monitory them hourly though the evening.
Generally, there will be more snow if temperatures cool earlier and evening moisture hangs around
longer into Friday. There will be less snow if temperatures remain warm Thursday evening and/or moisture moves out earlier Friday.
EDITOR'S NOTE: This is a terribly hard thing to forecast and the difference between a little and a lot of snow depends on not only timing but also elevation.
Bottom Line… Chance for snow in our area Friday morning is slight. By the later morning hours, this system will be moving out for a cloudy, rainless afternoon, but still chilly.
Dry For the Weekend
Saturday and Sunday will bring sunnier skies and no rain.
Saturday will be mostly sunny with a chilly high of 39. Sunday mostly sunny as well with a high of 43.
If you have any outdoor plans, be sure to bundle up!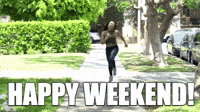 More Snow on Monday?
It's still way early to say this with confidence, but another snow event could be possible Monday afternoon into Tuesday morning.
Main possibility is on the Plateau again, but more widespread snow this time is a possibility.
Stay tuned for the development of that forecast. Meanwhile, the DAM says, "I'm waiting…".