This morning, the fog lifted over Middle Tennessee, as seen below on satellite.
Sunshine today, but clouds will increase this afternoon. Colder than yesterday. High temps near 52°.
The HRRR model thinks a hard, cold rain (wind chills in the 30°s) will start around 8 PM. Rain won't end until just before sunrise Monday morning.
Anywhere from 1 to 2 inches of rain is possible, bringing us a good soaking. For now, NWS-Nashville thinks 1″ to 1.5″ is most likely, but we may see more than that.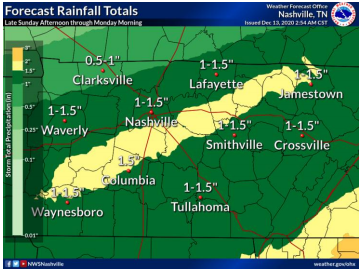 Our ground is abnormally dry. Dry soils reduce flooding probability. Localized isolated flooding is possible late tonight, but unlikely. Expect a hydroplaning road/urban hazard late tonight when the rain should be falling hard.
Rain/Snow Mix Before Sunrise Monday Morning?
You may have noticed a little pink and blue on the HRRR model above. Pink means mixed precip/sleet, blue means snow.
Both the HRRR model and the Euro model show some mixed frozen precip or snow occurring between 3 AM and 6 AM Monday.
HRRR model shows surface temps bottoming out at 36°.
NWS-Nashville's map shows a little snow to our northwest and east, but nothing for us: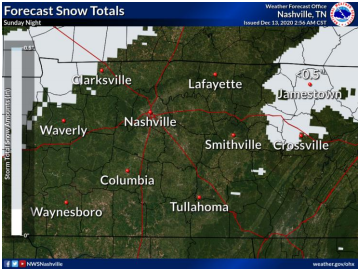 Note that with temperatures expected to remain above freezing, warm ground, and elevated surfaces mild/wet from the rainfall overnight, any snow that falls will have trouble accumulating and likely be limited to grassy areas or elevated surfaces, with little impacts.

NWS-Nashville, Morning Forecast Discussion, 12/13/20
We will be tweeting about this tonight. Check back for updates in case something changes.
Nothing Really Happening Monday & Tuesday
The sun returns, highs will be in the mid to upper 40s.
Mid-Week Rain
Rain returns, ETA late Tuesday or early Wednesday. It should be out of the area by lunch Wednesday.
This Wednesday system will be weaker than tonight's system. Expect around a quarter of an inch of rain Wednesday.
Snow will be possible with that Wednesday system north of us. Something to watch but there's no expectation wintry precip will be part of our mid week event.
Sunshine returns Thursday and Friday.
Very active jet stream pattern looks to bring another upper trough into the Tennessee Valley over the weekend, with more widespread rain possible.

NWS-Nashville, Morning Forecast Discussion, 12/13/20