As I sit down to write, the dewpoint is up, now 63°, step outside you'll feel the summertime quality humidity. High dewpoints are storm fuel.
The high temp today is 86°. South winds are running 10-13 MPH, gusting under 20 MPH. Things will be quiet this morning and early this afternoon, allowing our atmosphere to destabilize. That's not great for us, y'all.
Two systems will approach. You can already see the first one, a line of thunderstorms to our north in northern Kentucky. As that line sinks southeast today, it will send a cool surface wind south, which should trigger our instability and create a regenerating line of storms over Middle Tennessee, including Nashville and Williamson Counties, by mid-afternoon/early evening. The NAM thinks 5 PM ETA: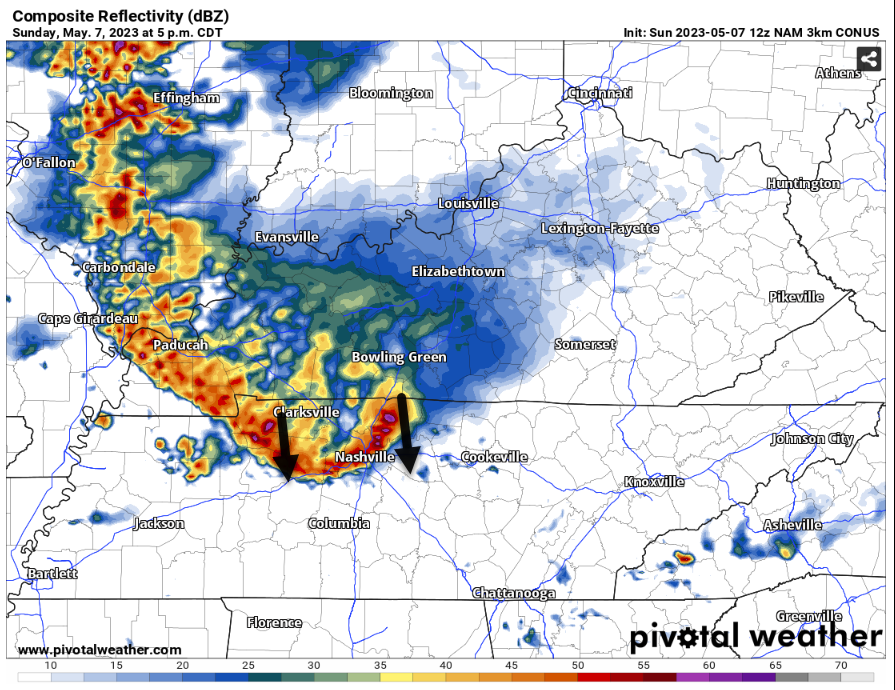 The HRRR agrees with 5 PM, and even lingers the storms into tonight's show, below here's what it shows at 7 PM: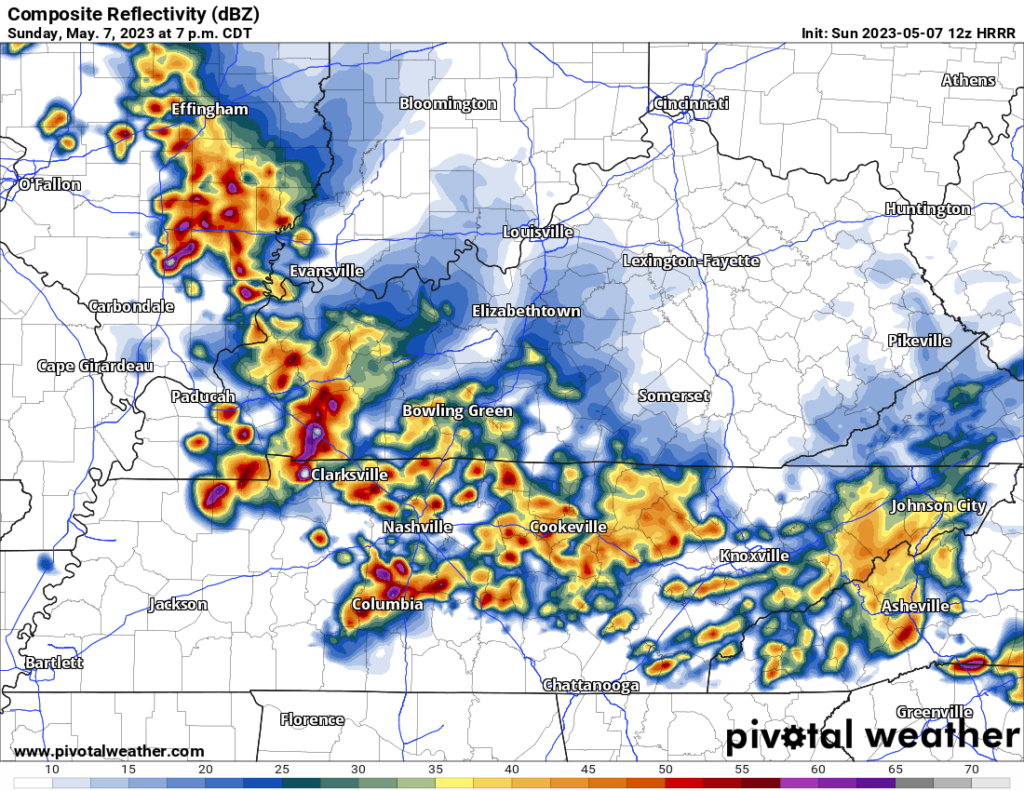 A second system from the west is set to arrive here around the same time, but lately models have fizzled that one. So it looks like this system from the north is the one that threatens outdoor activities by late afternoon through the evening.
For Swifties, we'd like to see this system come in ASAP, get all the lightning and heavy rain out of the atmosphere BEFORE the show. I doubt it will be able to lightning for more than a few hours, so if/once it does, it'll leave us to only have to deal with light rain tonight. Those with tickets should for sure pack ponchos, rain-tolerant comfortable shoes (it's a lot of time on your feet + walking to your car/ride/hotel), and fully charged phones.
Today/Tonight's hazards: heavy rain and lightning. Storm Prediction Center says there's a 15% chance of a 58+ MPH wind gust within 25 miles of us this afternoon and tonight. There is a 5% chance of damaging hail. There is no tornado threat. .
**If there is lightning, find an enclosed shelter. Do not stand underneath trees. The tall person next to you is not shelter. Neither is a tall building next to you. Follow event and govt official directions**
Wondering which version of you I might get on the phone tonight. This forecast may change. The models may be wrong. The system to our north could slide east and miss us. We will follow this all day and night on our Twitter @NashSevereWx.
---
More storms should slide in Monday, coming from the NW, what we call I-24 Specials because they seem to follow I-24 from Clarksville. These are often heavy rainmakers and frequent lightning producers. SPC thinks hail and damaging straight line winds are low probability hazards (5% of either within 25 miles of you) with the tornado threat (2%) just to our north. HRRR model ETAs are late afternoon and after midnight Monday night.
Rain chances go down for the rest of Tuesday through Wednesday. Thursday into the weekend looks like our first of many "heat of the day = it may storm" pattern of 2023.
---
Quick References:
Weather changes constantly.
Follow @NashSevereWx on Twitter for any changes to this forecast.
We are 100% community supported. No ads. No subscription fees. Keep it free for everyone.