First, some noon and 1 PM housekeeping:
---
Weather models have been struggling lately. Behold this Very Good Meteorologist: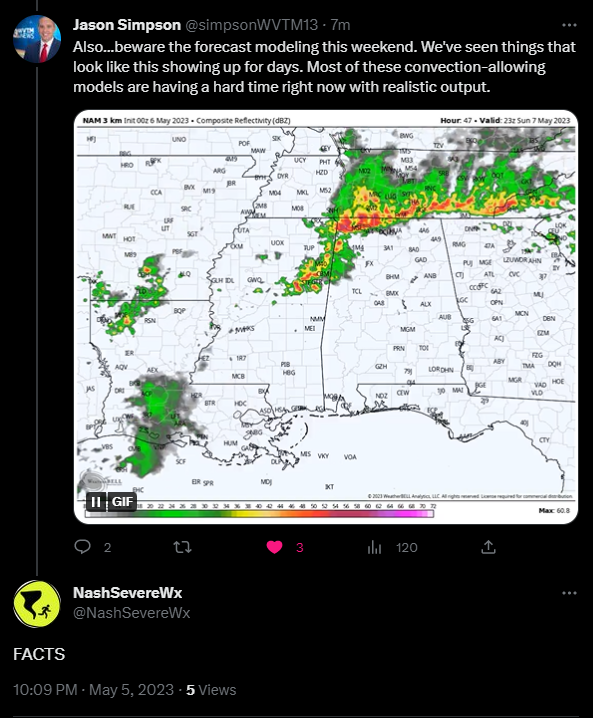 This means the models could have one idea now, then a totally different idea three hours later.
For today through Sunday, we will switch into an early summer wx pattern as temps and humidity levels climb each day. Low level south winds will strengthen as an upper level ridge builds. Unfortunately, this pattern will make it difficult to forecast
the exact location and coverage of showers and storms. We (and most forecast models) think today`s building ridge and lack of
forcing will keep most areas rain-free. Uncertainties develop for this evening as some short range models show thunderstorms from the Mid Ms Valley diving southeast into our area. We will be able to watch upstream development through the day to provide updates for the potential of thunderstorms as evening approaches. If storms do come our way, they will contain brief downpours, lightning, and gusty winds. We are not expecting an organized severe wx threat.

NWS-Nashville, Area Forecast Discussion, 5/6/23
Such is life, filled with uncertainty.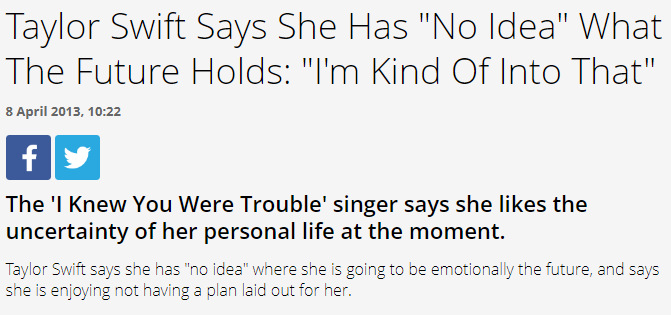 ---
Saturtay.
The HRRR model is our favorite short range high resolution model. It's imperfect, but it's among the best tools we have for figuring out if it's going to rain or storm. Yestertay, it was showing storms threatening tonight's (Saturtay) concert. But the last two runs of the HRRR have no storms for us today or tonight. Great news for Swifties! Other models agree with this, which is even better news. I'm feeling guardedly optimistic about Saturday outdoor activities.
However, remember temps and humidity are up, our atmosphere is like emotions: unstable, so we cannot rule out a shower or storm tonight. You probably won't need a poncho, but a packed-neatly poncho is easy to carry and not much of a hassle. So if you're against risks, poncho is the move.
Please check back on this forecast on our Twitter @NashSevereWx today and tonight for forecast changes/updates.
---
Suntay looks … iffy.
First let me say this time yesterday, some models showed a pile of storms in here for Saturtay night, but now, the models have Saturtay night clear. So, things can change! Also remember what we wrote at the top of this blog about uncertainty and models not doing so great in these unsettled pre-summer airmasses.
The NAM model has no storms Suntay.
The Euro (a respected albeit low resolution model) drops a line of heavy rain and lightningstorms from Kentuctay and puts them to us around mid-afternoon, clearing before the concert.
The latest run of the HRRR model (below) thinks a line of heavy rain with frequent lightning will hit Nashville and Williamson Co around 7 PM – if this was to happen the show would definitely be suspended and Swifties ushered out of seats to be sheltered from lightning. The heaviest rain would last an hour or two, then switch to light rain, finally ending around midnight. This is a near worst-case scenario.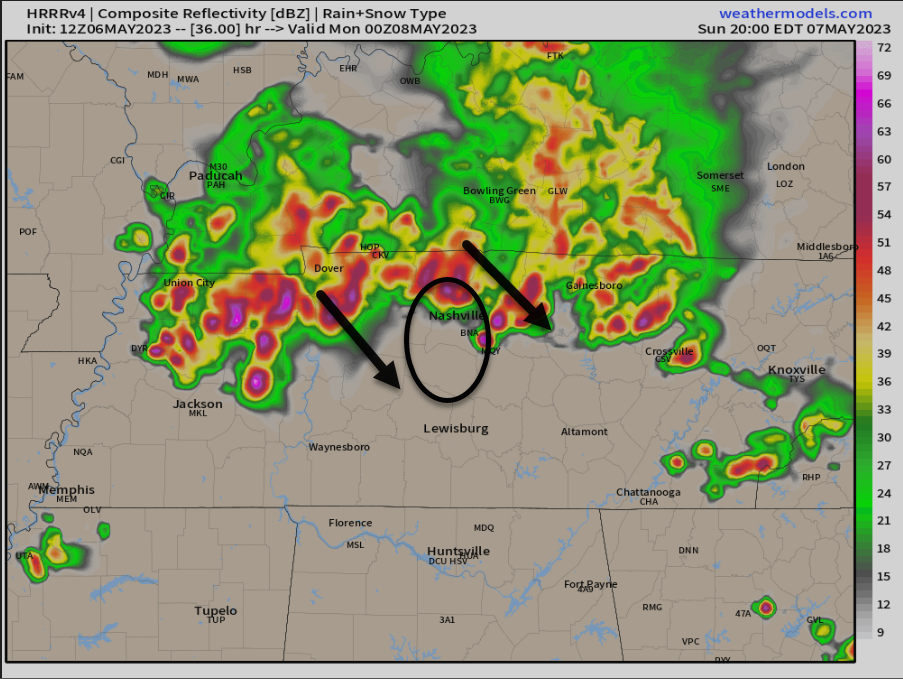 However, the earlier run of the HRRR (6z) thought those storms would miss us to the east, delaying a Nashville area thunderstorm until after midnight Suntay night.
Remember, the HRRR has been wrong recently, so it is not time to panic! The models have been awful. Suntay ticketholders should plan on comfy shoes, fully charged phones, and a legit poncho – hopefully, you won't need it!
Remember how the song ends:
Baby, I didn't say my vows
So glad you were around
When they said, "Speak now"
We will update this forecast on Twitter throughout the day, night, and all day tomorrow.
---
Suntay will be especially humid. Dewpoints will jump into the mid-60°s. Guh.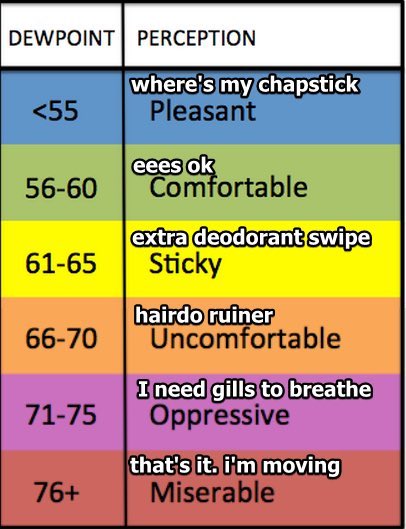 ---
Summer is coming.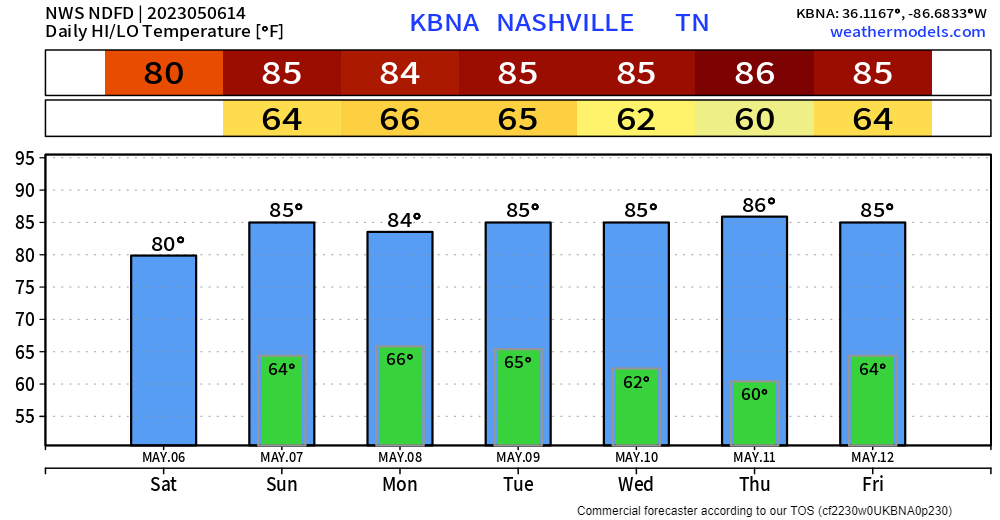 ---
Shower and storm uncertainties continue Monday and Tuesday. The spigot shuts off Wednesday.
---
Quick References:
Weather changes constantly.
Follow @NashSevereWx on Twitter for any changes to this forecast.
We are 100% community supported. No ads. No subscription fees. Keep it free for everyone.