Moving this morning in our general direction are storms that last night caused Severe Thunderstorm and Tornado Warnings in the midwest. This storm complex is now much weaker and crossing the Ohio River, moving south through Kentucky. Most models think these storms will further decay and then completely fall apart before the Tennessee state line. (A few models predict the system – while weaker – will at least hold its precip and cross into Tennessee along and east of I-65).
The forecast is for no rain today, though. The HRRR model shows the decay.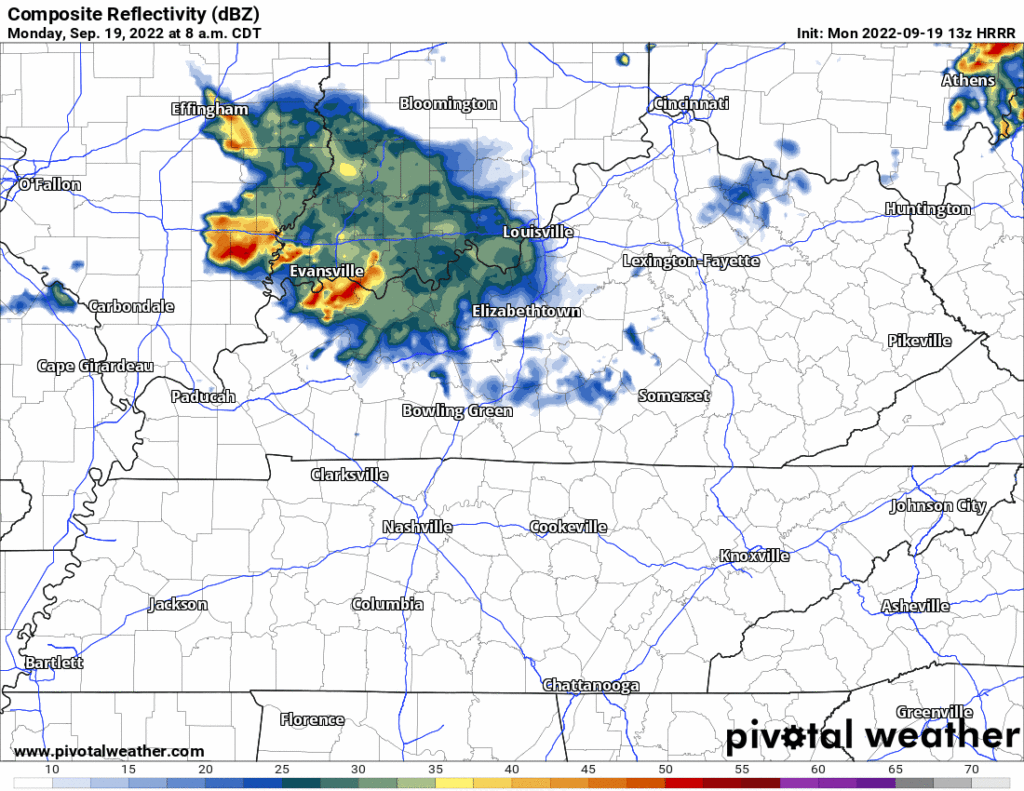 We will watch this system this morning on Twitter to be sure.
---
Tonight and overnight, a shortwave should set off a little rain but that looks like it'll also move east of us. Another thing to watch. Nothing expected locally, but we will watch it because 10 years ago a radar was stapled to my body.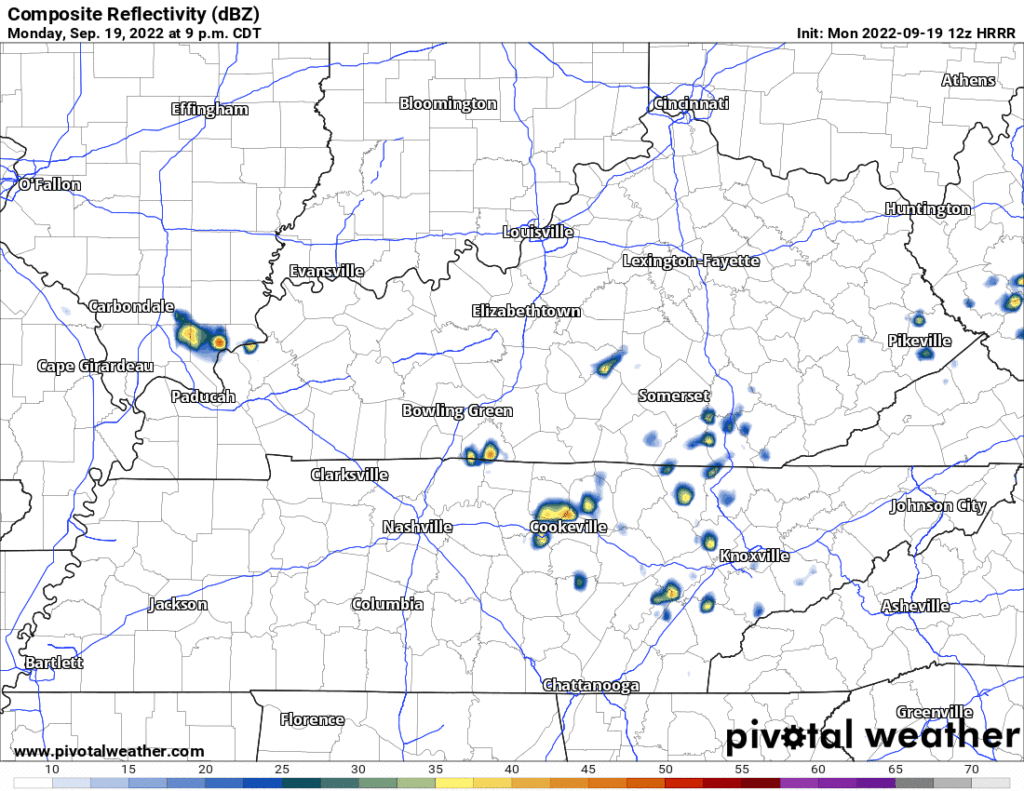 ---
The heat, tho. We may even break record.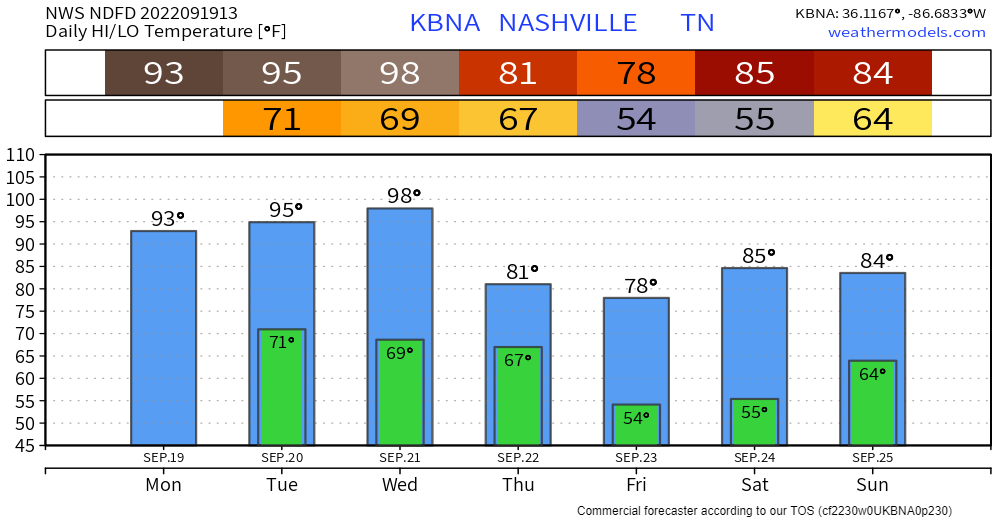 95° Tuesday is two degrees away from the record set in 2018 (97°).
Wednesday's record is 97° set in 1955. We're forecast for 98°.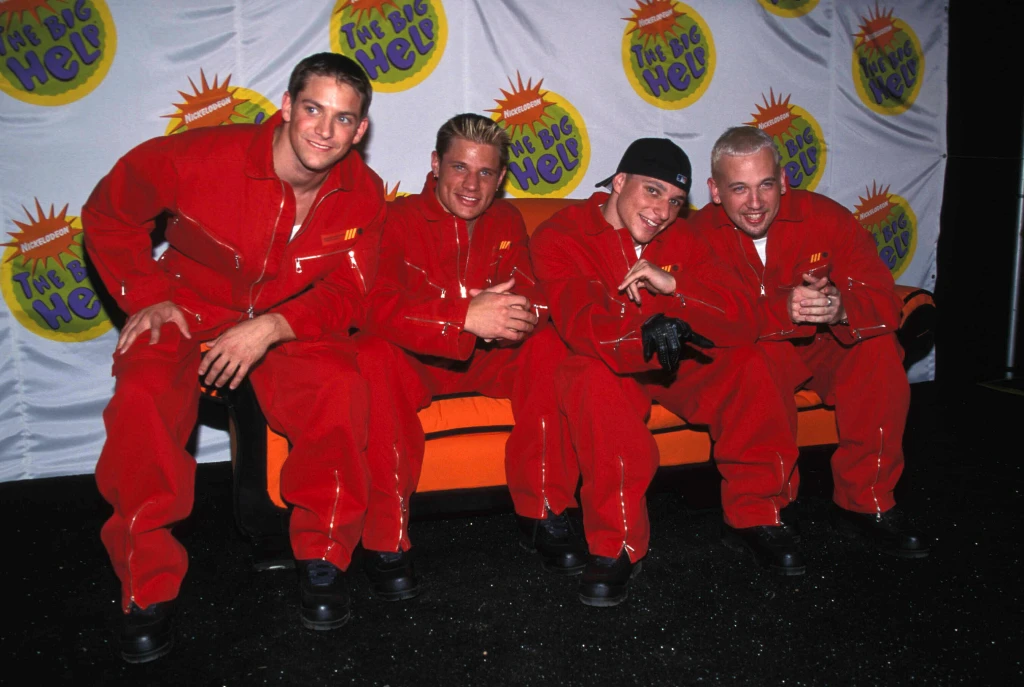 Humidity will also rise. Dewpoints in the low to upper 60° won't be as bad as the heat/humidity combo earlier this summer, but it's still "Sticky" and gross.
---
Preparations are ready to go for Fall's arrival at 8:03 PM Thursday night. A drier, cooler airmass arrives very early Thursday morning and hangs around through Saturday, behold: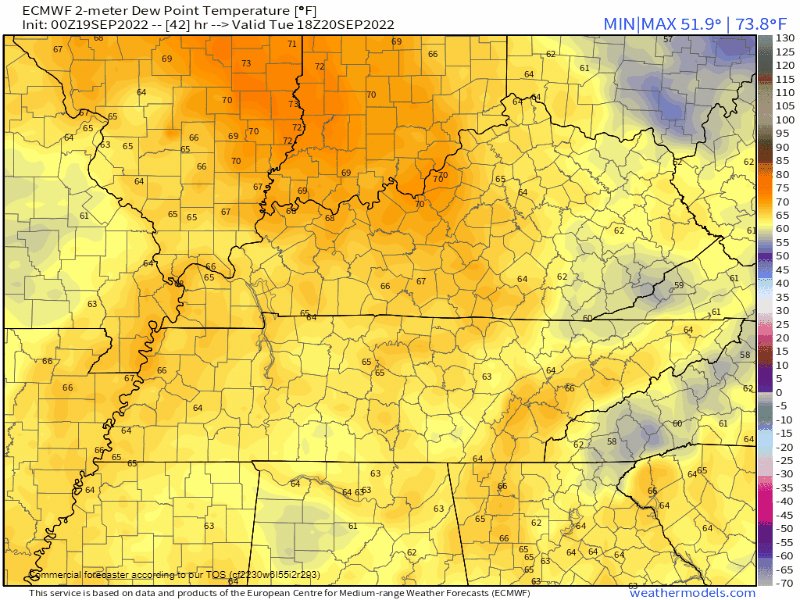 It's not in the forecast right now but the Euro has a little bit of inconsequential rain coming in Thursday. I don't think I believe it. If future model runs keep up this idea, the forecast may need to change from "no rain" to "maybe a little rain."
---
Sadly, Sunday delivers another 24 hours or so of heat and humidity before another cold front arrives. This might bring rain late Sunday into Monday morning. Model resolution and consistency are fuzzy.
A week from today we'll be looking at a good solid week-ish of early Fall.
Quick References:
Weather changes constantly.
Follow @NashSevereWx on Twitter for any changes to this forecast.
We are 100% community supported. No ads. No subscription fees. Keep it free for everyone.