Yesterday's uncomfortable humidity is gone … for a few days. Comfortable air will hang around today and Thursday.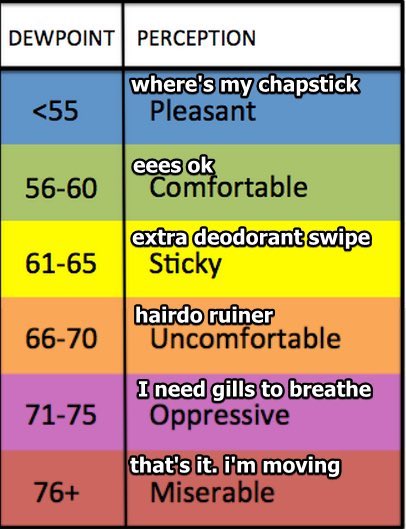 Humidity turns Uncomfortable Friday and hangs on for a while.
Model data high temps for the next seven days says It's Still Summer:
---
No rain today or Thursday and probably also Friday. Rain is unlikely for you Friday night when there might be just enough heat/humidity combo to pop a storm somewhere. NWS thinks that risk is east of us. Football looks OK.
The Wattery (TM) returns Saturday afternoon and lasts through the foreseeable future. Each afternoon heat/humidity may conspire to pop a rainout or nonsevere thunderstorm nearby. Sunday and Monday "look pretty wet" (NWS-Nashville) in Middle Tennessee, but not everywhere in Middle Tennessee. Our atmosphere will be waterloaded meaning any rain/storms we get could be heavy/strong, but no severe weather is expected. We are not outlooked for flooding. You may have to dodge lightningstorms and downpours the last half of the Labor Day Weekend. You might see no rain at all. Watteries have winners and losers.
Quick References:
We are 100% community supported. No ads. No subscription fees. Keep it free for everyone.