Remember when we were all SMHing over the 90° days? We were looking at August coming with the dread and Oh Noes? Well…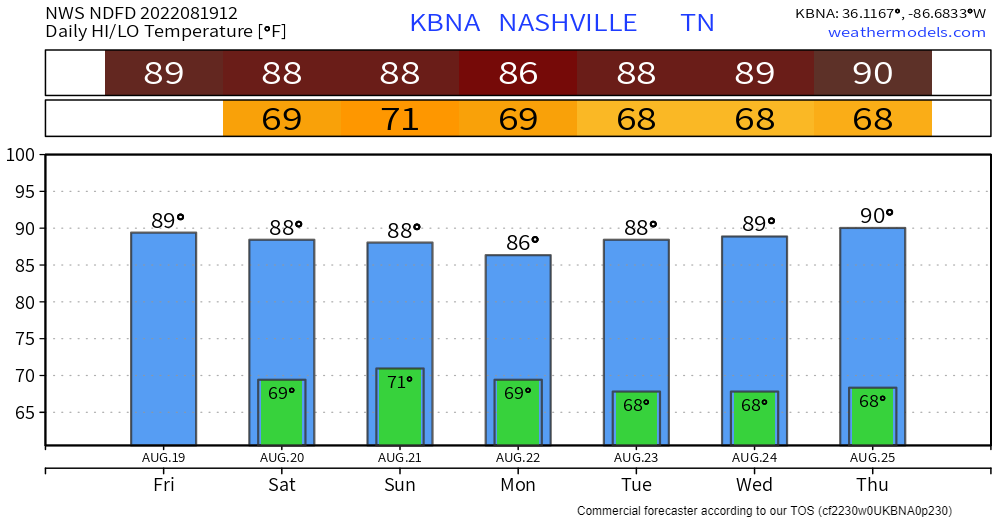 Just one 90°.
Humidity up to uncomfortable levels is teaming with Other Atmospherey Things You Don't Care About to create a weekend full of so-so rain/lightning chances.
1 Prep for a Low-Probability Storm Tonight, Just In Case
It's Friday Night Lights tonight and while I doubt most of you reading this will get a storm, there's enough activity in the HRRR model for me to suggest you put rain gear in your car before you head out to the game. Once you get to the game, pop open the radar and see if there is anything nearby before deciding whether to bring it in the gates. Or not, you do you, various libertarians and librarians.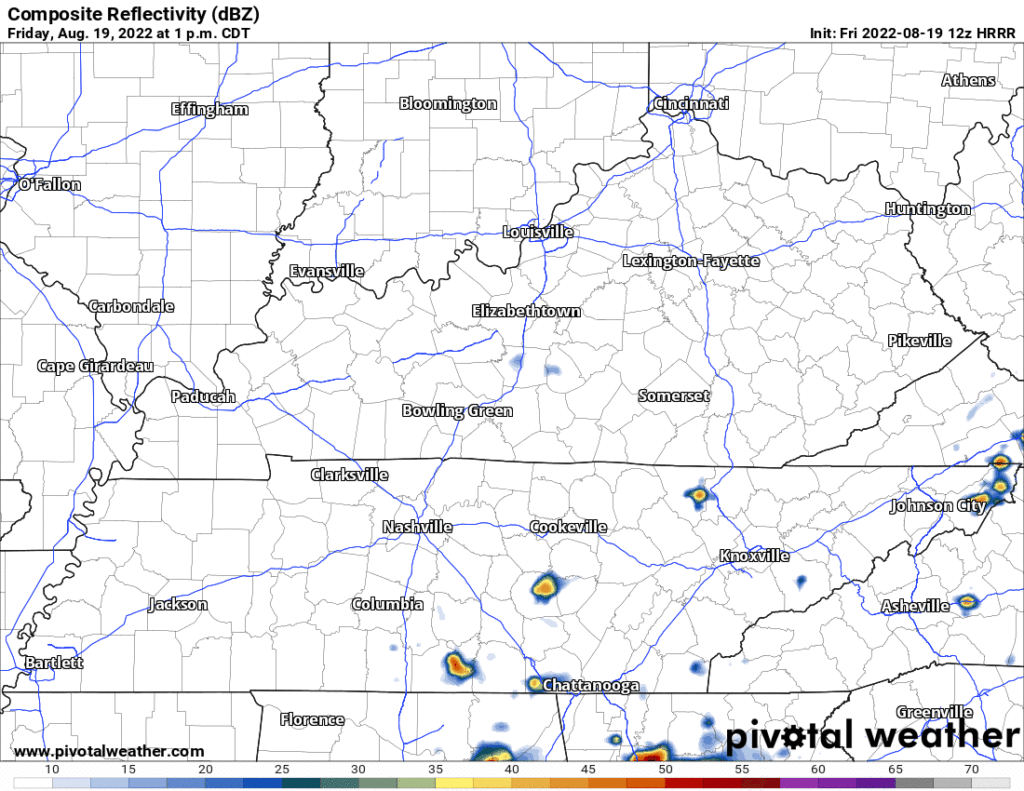 Storms may contain lightning, but not much else.
2 Plan In Case of a Saturday Afternoon Thunderstorm
HRRR thinks a storm complex will form south of us and roll through in the afternoon.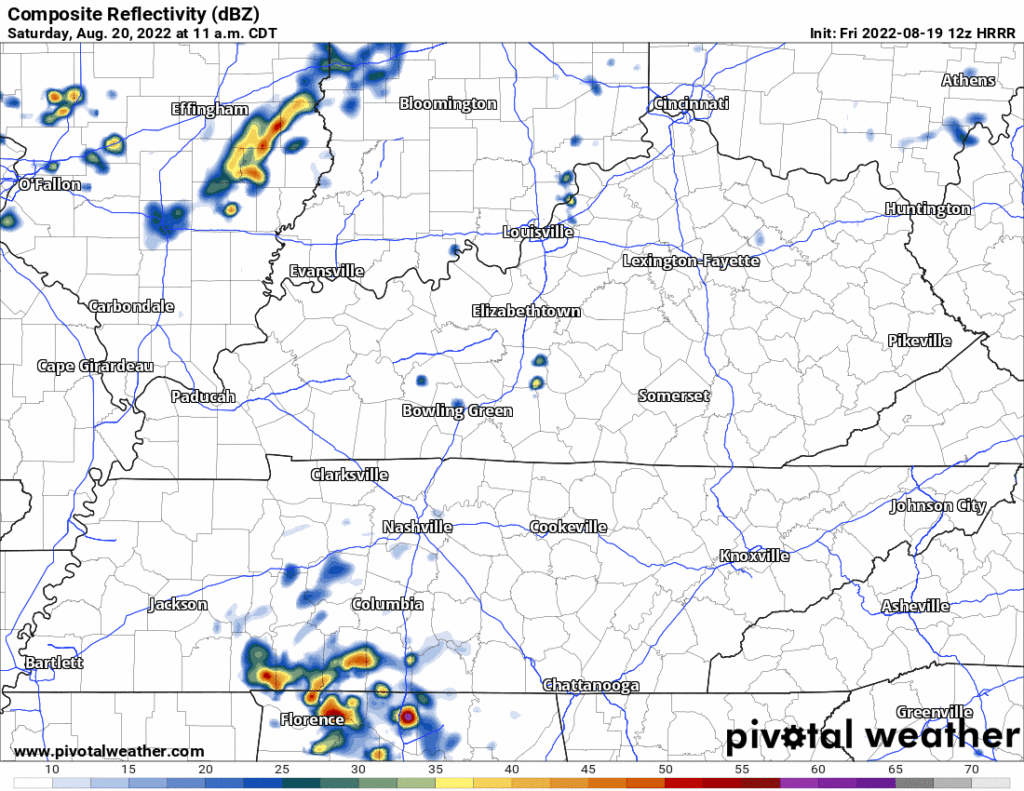 Notice this model doesn't bring everyone a storm. I wouldn't cancel anything Saturday — storms may pass to our east and miss us altogether — just don't get trapped on a lake or forget to make a plan B if some lightning rolls up on you while you're far from shelter (a tree is not a shelter). Lightning the main hazard, no severe weather concerns right now.
3 Of All The Next Several Days, Rain Is Most Likely Sunday
Both Euro (below) and GFS models predict rain and a few storms Sunday afternoon.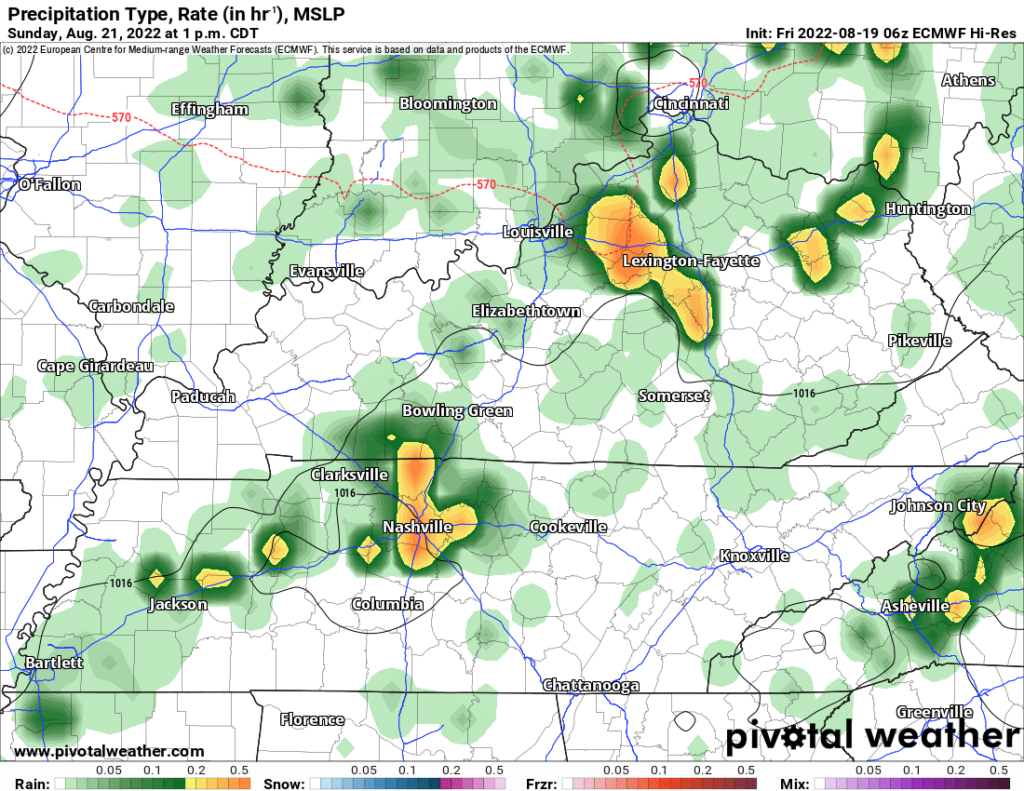 I'm not convinced everyone in Davidson and Williamson Counties will get something Sunday. Severe weather ingredients are north of us. But if you must be doing outside things you don't want to do and you need a weather excuse, plan to do those Sunday.
There's no flash flooding in the forecast.
Wattery Szn storms possible Monday, but after that things quiet down. BTW this "quiet" forecast is a 180° turn from previous model runs that predicted a pretty wet and stormy next week. Ahhhh models, the day traders of the weather enterprise.
Quick References:
Weather changes constantly.
Follow @NashSevereWx on Twitter for any changes to this forecast.
We are 100% community supported. No ads. No subscription fees. Keep it free for everyone.