Below I posted the MaybeWrong HRRR model. It thinks light showers descend from KY beginning midnight tonight and hit or miss sprinkle you until around Saturday afternoon. Would not alter plans. Rainfall unevenly spread and very light. No storm concerns.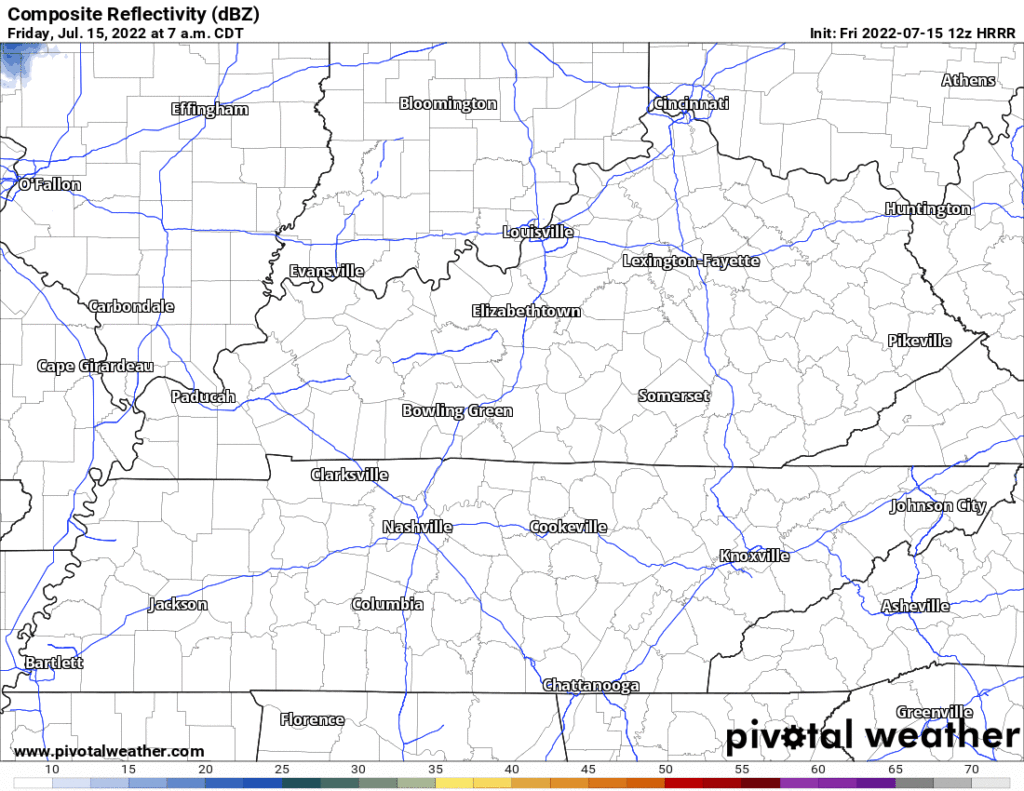 The tail end of the HRRR also has overnight/Sunday morning off and on rain but beyond that not much happening.
Heavier rain is expected Sunday late afternoon into Monday. It will not be continuous and it won't be evenly spread out. Think it is most likely and heaviest Monday morning. WPC thinks we'll wake up maybe up to 1″.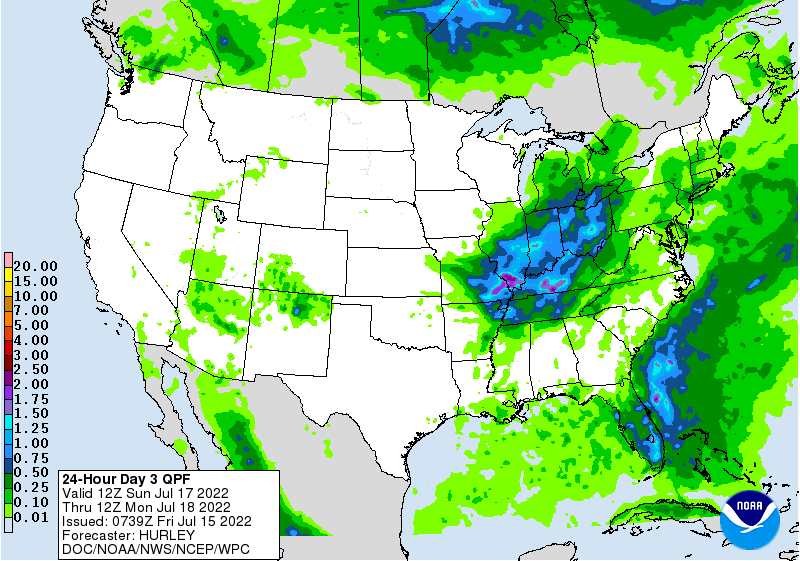 Thunderstorms will be possible Sunday afternoon through Monday morning but severe weather is not a concern.
Our Top 10 streak of consecutive days reaching at least 90° sits this morning tied for 8th "all time" (recordkeeping began in 1873) and should tie for 6th place today, 5th place Saturday, then make a run at second place next week if we hit 90° Monday.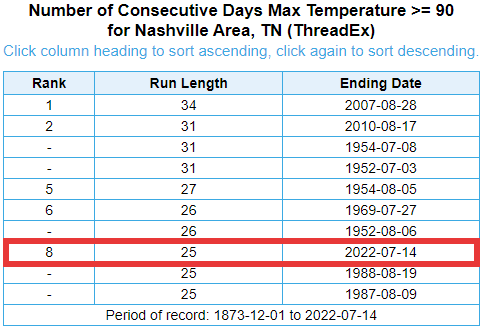 We'd break the record on July 24. Whether we'll make it will depend on the timing and intensity of temp-lowering rainfall over the official site at BNA. The official "blended" forecast from NDFD has temps only to 89° Monday — that number has been going back and forth between 89° and 90° in several local datasets — but then temps rise back up for the foreseeable future which in this dataset is July 21.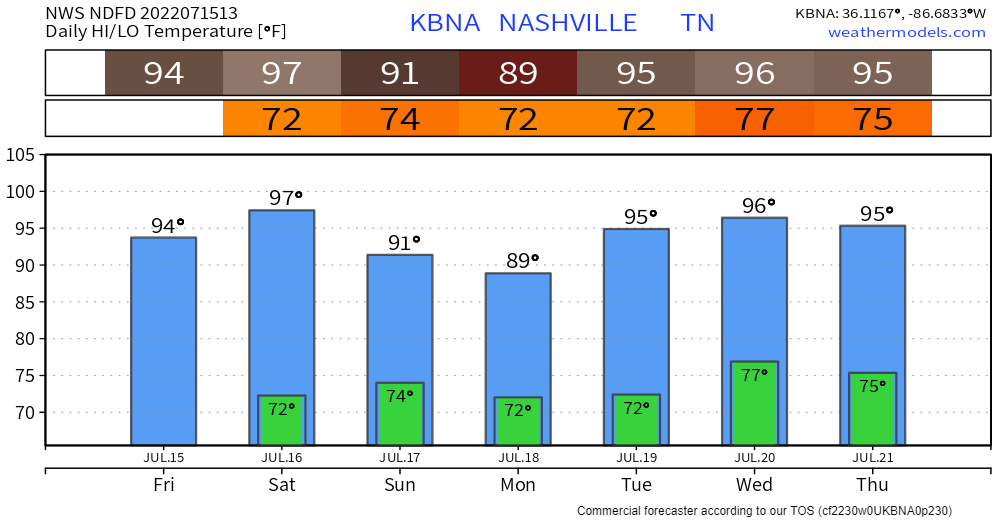 Other models have other ideas. I chose the Euro, below. It's got a lot of heavier rain Sunday and Monday which is why it thinks our temps only hit the mid 80°s. Forecasters think that's unlikely, but possible. Notice then the 100° Weds and 102° on Sunday the 24th, the day the 90° record may snap, which is kinda unbelievable when looking at other models.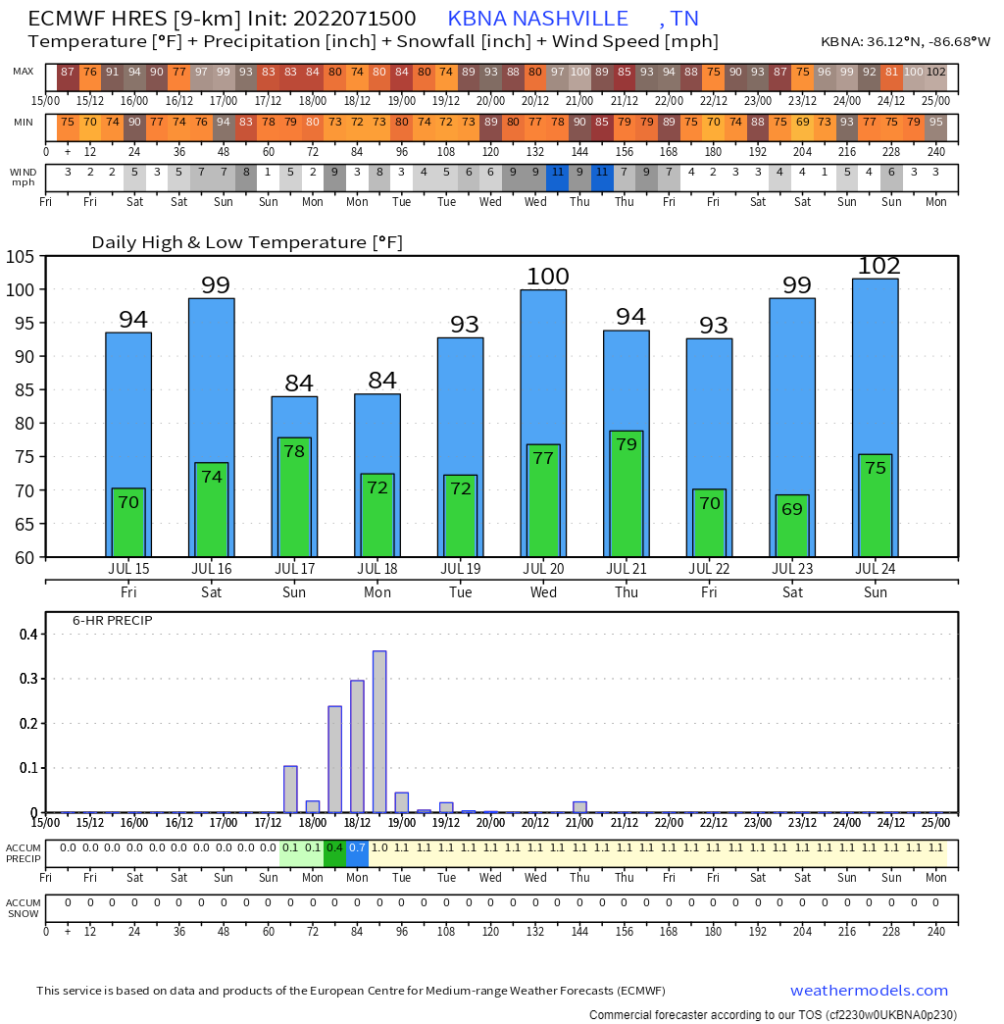 Several other models have different ideas. The point is: different supercomputer-powered models are constantly at work and no one model is "reliable," but each is useful for trying to narrow down the range of possibilities.
Also, disclaimer! The question of 90° consecutive days isn't really a big deal. It is not like it's "34 Days Of An Asteroid Hitting Town, A Record, Also Oh No" but it's a hot window into the Problems of Weather Forecasting and a great fact you can discuss at work or parties to make people not want to talk to you more, if that's your thing.
Oh, the humidity cranks back up near oppressive levels beginning Sunday afternoon, running into next week. July will July.
Quick References:
Weather changes constantly.
Follow @NashSevereWx on Twitter for any changes to this forecast.
We are 100% community supported. No ads. No subscription fees. Keep it free for everyone.