→ Our bodies are not acclimated to the heat/humidity combo here today. It'll stay through most of this week. Cramping, feeling dizzy, headaches are among the warning signs of heat exhaustion and heat stroke. Listen to your bod. No force of will or "toughness" can overcome the natural process of an overheating body starting to shut down. At minimum, heat exhaustion is embarrassing because you're vomiting on a sidewalk. At worst, it can land you in the hospital with organ failure. I'm not a biologist but I recall from A&P classes that your organs are important. Take care of those most vulnerable — those working outside — and if you employ such workers require that they get inside. These conditions will exceed every and any reasonable OSHA workplace safety guideline.
→ Rain is missing on the HRRR model for the next 48 hours. Not saying a pop up rainer is impossible (because it is possible) but nah — this heat miser ridge will suppress any/all storm chances. The heat lifting this excessive humidity that would ordinarily release in the form of afternoon storms is trapped at the surface and we're all swimming in it.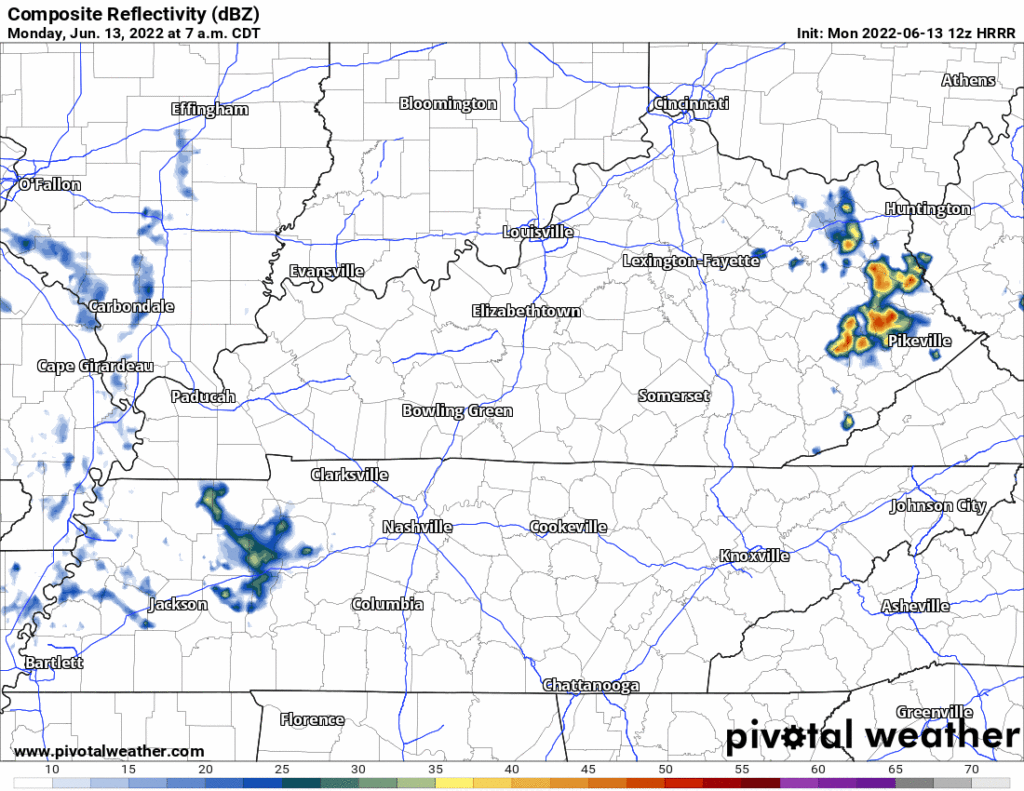 → Instead we are afflicted by exceptionally (for us) high humidity and near record high temps.
Dewpoints running into the 70°s through Wednesday will thicken the air with a blanket of sweat, like you're inhaling oxygen through a small straw.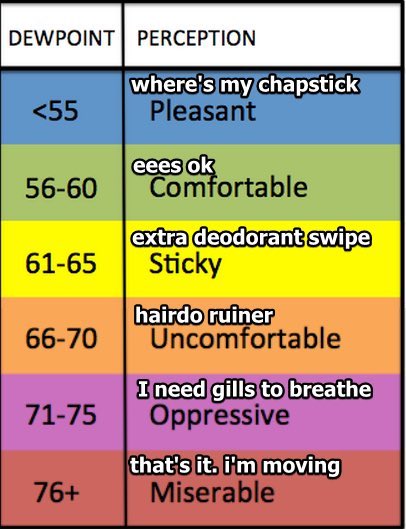 NWS-Nashville issues a Heat Advisory when the temp/dew combo makes a 105°+ heat index. There's one in effect today from 11 AM to 7 PM. The forecast for Tuesday and Wednesday is for 105°+ heat indices so expect a Heat Advisory then, too.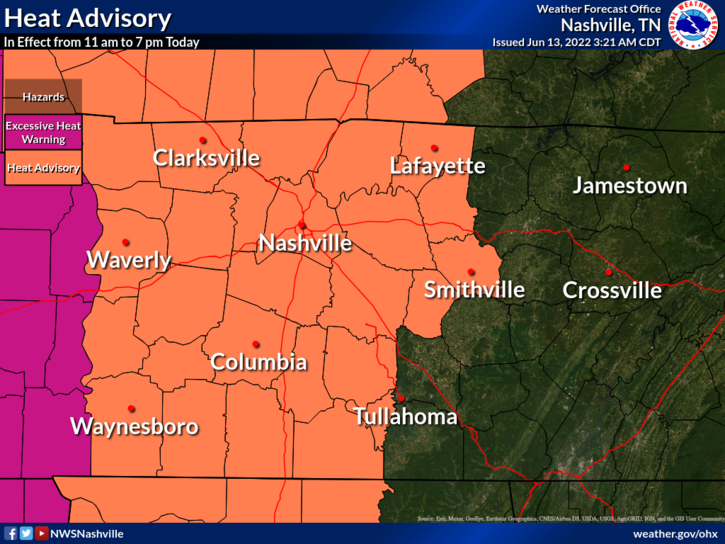 → Temps and Heat Index values may back off a degree or 2 [on Wednesday], but any relief will be hard to detect. Slight weakening of the ridge may allow a few thunderstorms to dot the area Wednesday. The center of the ridge will shift west of our area Thursday and Friday. This will allow temps to back off a little more and will allow for some scattered showers and storms.

NWS-Nashville, 6/13/22, Forecast Discussion
→ The ridge causing this heatwave should slide off us this weekend, allowing for "normal" temps — still hot but not crazy like we'll see this week — but with much lower humidity. Then longer range models show the ridge returning next week. If that happens temps'll go back above normal. Do not want! It's still technically spring!
Quick References:
Weather changes constantly.
Follow @NashSevereWx on Twitter for any changes to this forecast.
We are 100% community supported. No ads. No subscription fees. Keep it free for everyone.