→ Humidity will get worse each day. It'll be nice today. But big dewpoint jump Sunday. Then we straight up heatswamp Monday through at least Thursday.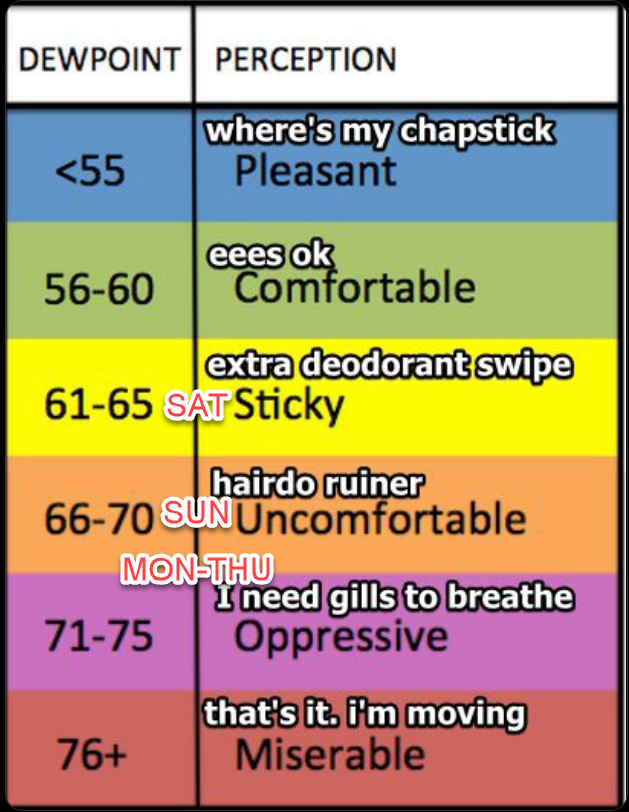 → Temps will follow the humidity rise.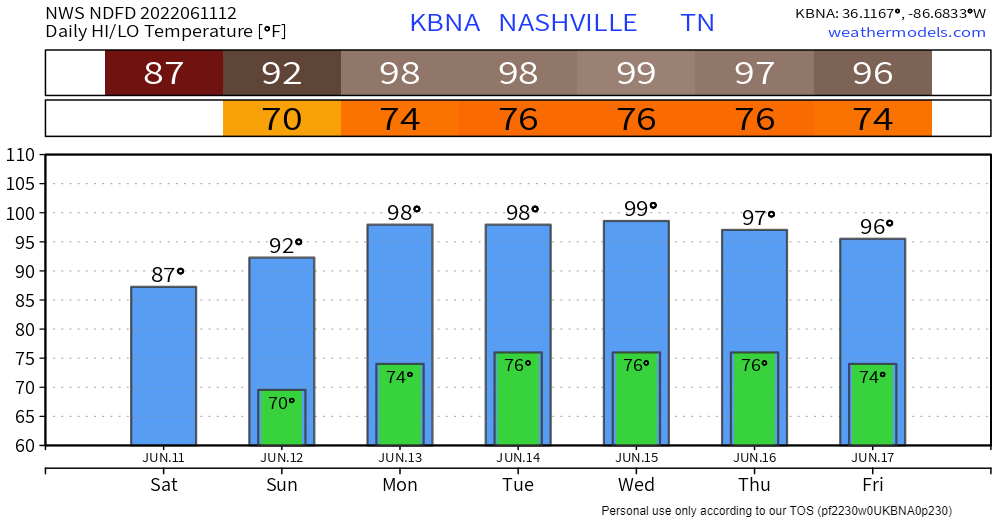 → CMA Fest Sunday will scorch. Shaded temps up to 92° plus dewpoints rising up thru the 60°s. This'll drive the heat index close to 98°. That's the forecast for the shade and does not account for the heat radiating off crowds. Music goers should mix in more water today to prep for tomorrow. Locals are not acclimated for this.
Rain is unlikely Sunday but a system may come down 24 and spread in some rain in the middle of the day Sunday. We'll be tweeting updates to the models to account for this chance. Here's the 12z HRRR:
→ The heat/humidity combo turns dangerous beginning Monday. Low 70° dewpoint + temps to 98° will send the heat index to 105° – 106°. Similar heat/dew combos will plague us at least through Thursday. Maybe longer.
→ "So please start making preparations for this potential dangerous heatwave situation. Check on your elderly friends to be sure they have proper air conditioning and try yourself to stay inside in an air condition building also if at all possible during the heat of the day. Remember it is also very important to check the backseat of ones automobile during these heatwave events, because it only takes a few minutes for unattended children and elderly to experience dangerous heat exhaustion or heat stroke in an automobile with all the windows rolled up, and also don`t forget your family pets back there too. For additional heat safety information, please visit the NWS Heat Safety Tips and Resources Webpage at weather.gov/safety/heat."

NWS-Nashville, Area Forecast Discussion, 6/11/22 (AM)
→ Nashville last officially hit 100° on July 8, 2012. Almost 10 years ago. That was a "dry heat" and it was epic. Since then, we've hit 99° several times without tipping it over to 100°. One reason that may happen against is that:
"most vegetation around here is quite green after rainfall of the past few weeks. This means even during a potential hot weather scenario these plants will be releasing moisture into the atmosphere to help cool themselves, i.e. evaporative cooling, and this can add more moisture to the atmosphere and keep temperatures from soaring any higher than forecasted or even a degree or two cooler."

NWS-Nashville, Area Forecast Discussion, 6/11/22 (AM)
→ Will it rain with all this heat and humidity? Models have very little rain. Usually, this much heat and humidity would lift straight up and create pop up showers and storms. That probs won't happen this time. The problem is this heat wave has a cap (a "Ned") that will trap the heat and humidity at the surface. We're hoping for the cap to break, the humidity to lift up, drop the heat index and make storms, but there's very little evidence of that in the models. NWS-Nashville thinks 10% for rain Sunday through Tuesday, up to 20% Wednesday through Friday, none of them very good chances for your place.
Quick References:
Weather changes constantly.
Follow @NashSevereWx on Twitter for any changes to this forecast.
We are 100% community supported. No ads. No subscription fees. Keep it free for everyone.