→ No reliable information tells anyone exactly when or where (Halsey concert, baseball games, whatever) it is going to rain or storm tonight. It may not storm at any one location.
→ You should be prepared for rain and storms. Most of us will be probably be fine, or slightly inconvenienced by weather. No data suggests a total washout/stormout for us tonight.
→ Model data is often bad and needs to be corrected. Stay connected to our Twitter for updates and forecast changes.
The HRRR model thinks today between 3 PM and 5 PM a line of briefly heavy rain and lightningstorms will move quickly north, riding along a warm front.
This ETA may vary, check back this afternoon when storms are on radar and the timing can be better estimated.
Tonight, rain will be off and on, but if the models are correct it'll be mostly "off" for most people in Davidson and Williamson Counties.
→ Another round of storms Wednesday. Rain may linger Wednesday morning, but most of the daylight should be quiet. Meanwhile, the atmosphere will reload to support a stronger batch of lightningstorms that may turn strong, even severe, Wednesday late afternoon through the evening. This event has legit rainout/stormout potential.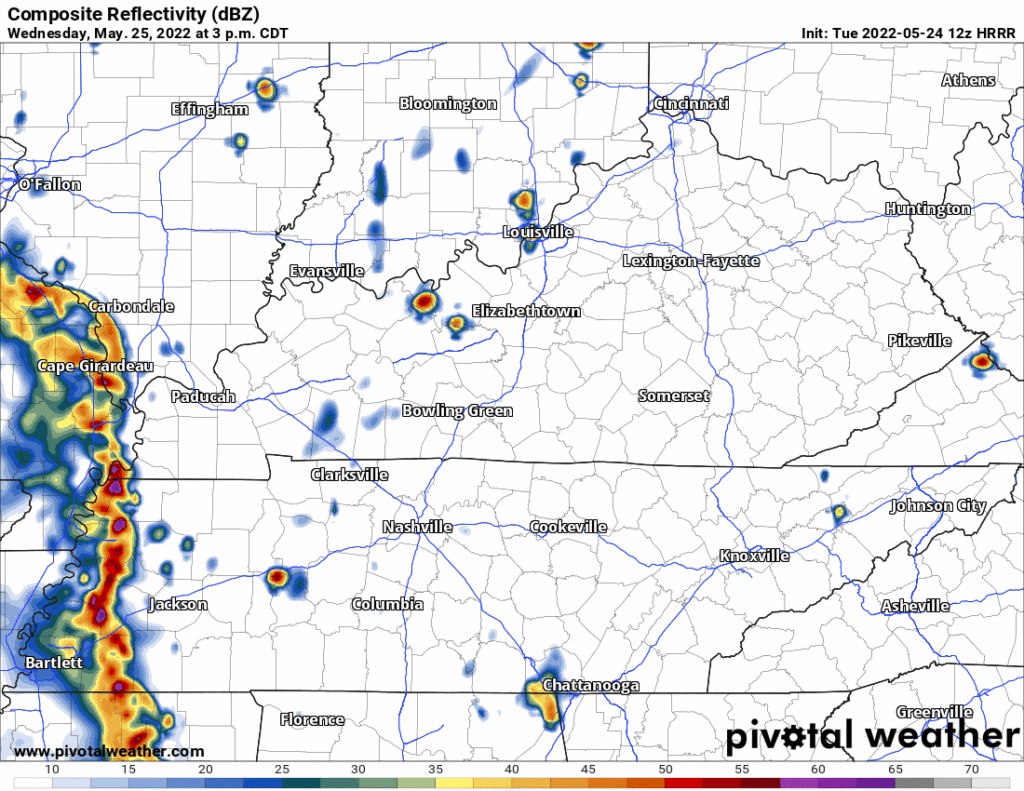 The most likely hazards are lightning and heavy rain. Right now SPC has us outlooked for 5% probability of damaging straight line winds and large hail. This strong/severe risk occurs at the beginning of the event, so late afternoon/early evening, until it transitions to a rain and lingering lightning event closer to bedtime. Right now SPC hasn't included us in its tornado outlook but I think it's premature to totally rule that out — late May tornadoes are rare but they can happen — that said the data suggesting a tornado is possible is comfortably marginal but will nevertheless be monitored.
→ Thursday morning after sunrise another round of weak storms with additional rainfall swings through. Not much storm fuel will feed this system, but ETAs are a bit rough. If the system delays into late morning. we may see more lightning out of it. It may take the entire allocation of daylight Thursday to clear the rain away.
→ Total rainfall amounts by Friday will range from 1 inch to as much as 3 inches, with minor flooding of low lying and poor draining areas possible in stronger storms. Memorial Day weekend looks dry with increasingly warmer temperatures each day." -NWS-Nashville.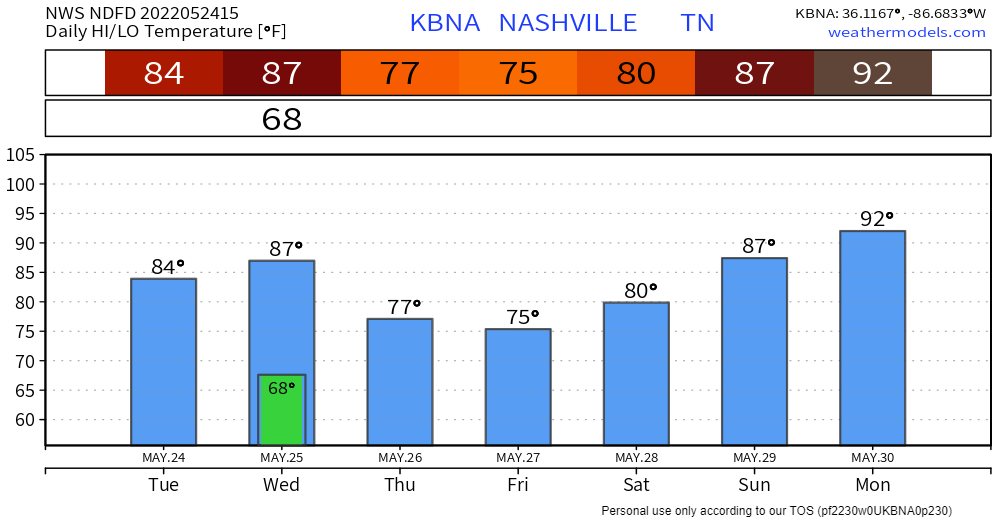 Quick References:
Weather changes constantly.
Follow @NashSevereWx on Twitter for any changes to this forecast.
Live coverage during tornado and severe thunderstorm warnings:
Look good.
Support the mission.
We are 100% community supported. No ads. No subscription fees. Keep it free for everyone.