The morning weather balloon showed our atmosphere r-e-a-d-y to storm but our hero Ned is there, capping us off, preventing it all from happening. Hold on, Ned!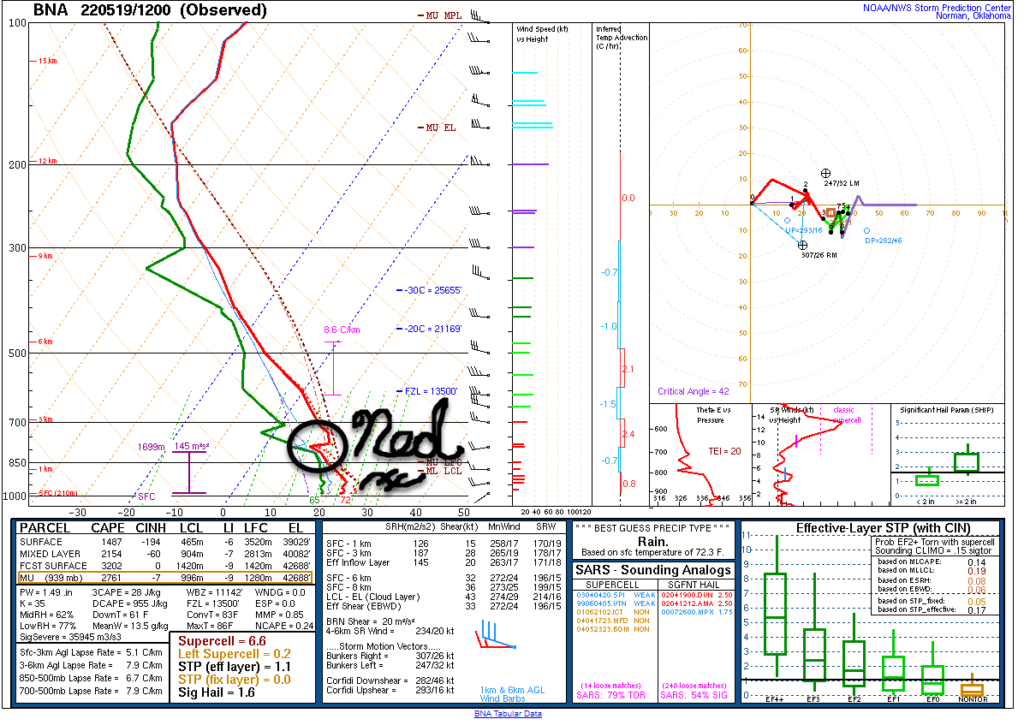 Models think it won't storm today. HRRR shows a storm complex running north of us right along the Ohio River today: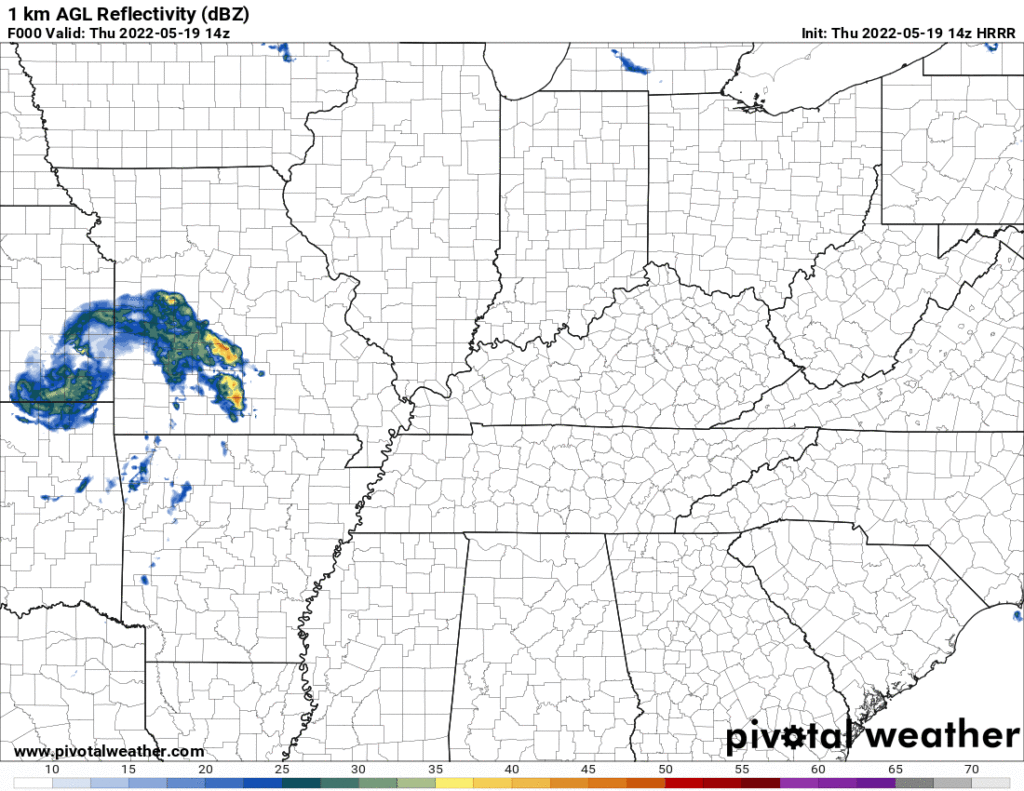 If Ned leaves — or is forcibly removed by an area of cold air shooting south from that storm complex running north of us today — our afternoon and evening will be dented by lightning, and maybe even small hail/damaging winds. Almost every high res short range model keeps the storms north of us, but a few bring them in to us. The lower res global Euro model has storms around here today. That said, I still think we're fine today — meaning probably no storms — but if the minority view holds watch out, things could get strong/severe fast. Our atmosphere is joooooced, plenty of CAPE, but Ned's there keeping it from happening. He's the kink in the hose.
To account for this low probability, SPC has us only in the 5% probability of damaging straight line winds and/or large hail within 25 miles. Tornado threat and higher probability hail/wind risks are, yeah, north of us.
Humidity will stay Sticky until Sunday.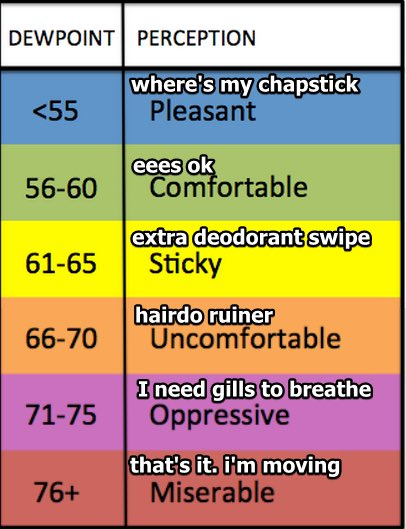 This weekend a cold front is coming through and with that, some rain and maybe a few storms. ETA range running Saturday night through Sunday morning, followed by a temp drop Sunday. Line doesn't look severe but we could squeeze some lightning out of it very late Saturday night into the overnight hours. Shear is almost nil and instability isn't winning scholarships.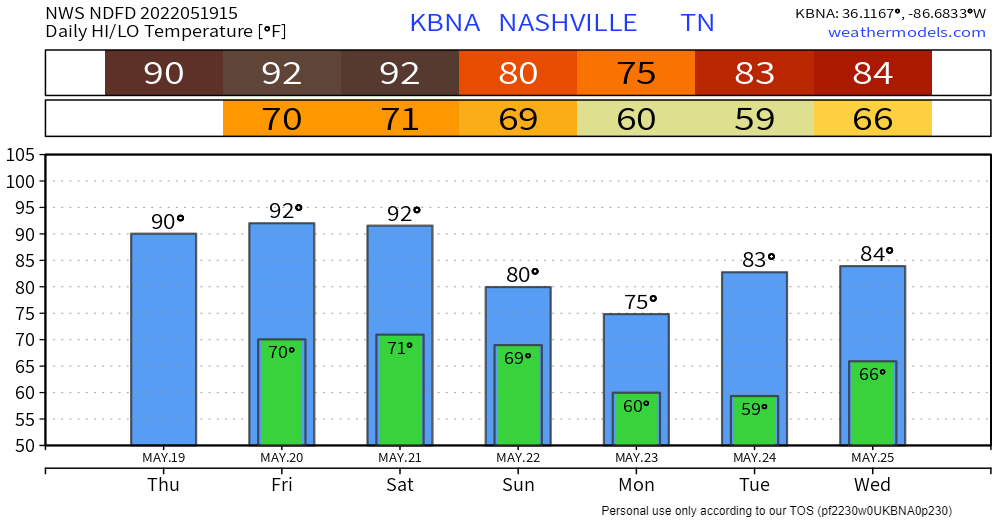 Middle of next week another rain/storm system should come in, but IDK exactly when. Data at this range is bad at ETAs, especially this dataset which looks like it went out drinking then bought a nine hundred dollar hat.
WPC thinks just over 1″ total on average for all three systems (the probably-not one today, the weekend, and middle of next week).
The new drought monitor is out. Last week just southwest part of Middle TN was "abnormally dry," now it's all of southern Middle TN, but not us, not yet anyway.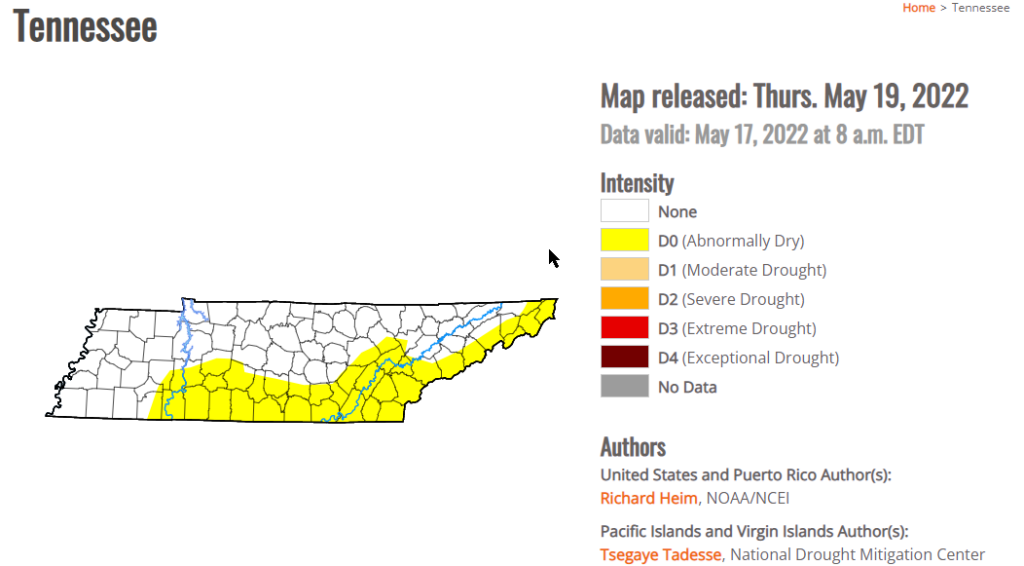 Quick References:
Weather changes constantly.
Follow @NashSevereWx on Twitter for any changes to this forecast.
Live coverage during tornado and severe thunderstorm warnings:
Look good.
Support the mission.
We are 100% community supported. No ads. No subscription fees. Keep it free for everyone.