NAM3 and HRRR models think storms will fire up mid afternoon Thursday in Middle Tennessee. Both models include storms in Davidson and Williamson Counties. One model thinks another line of storms will arrive Friday morning after AM rush hour. I am not sold on the timing of any of this. Never tell me the odds!
DEETS
Models agree storms will scatter across the region Thursday afternoon and evening. Some areas may be rained or stormed out, others not. Traveling through model data isn't like dusting crops, farm boy.
Here's the HRRR: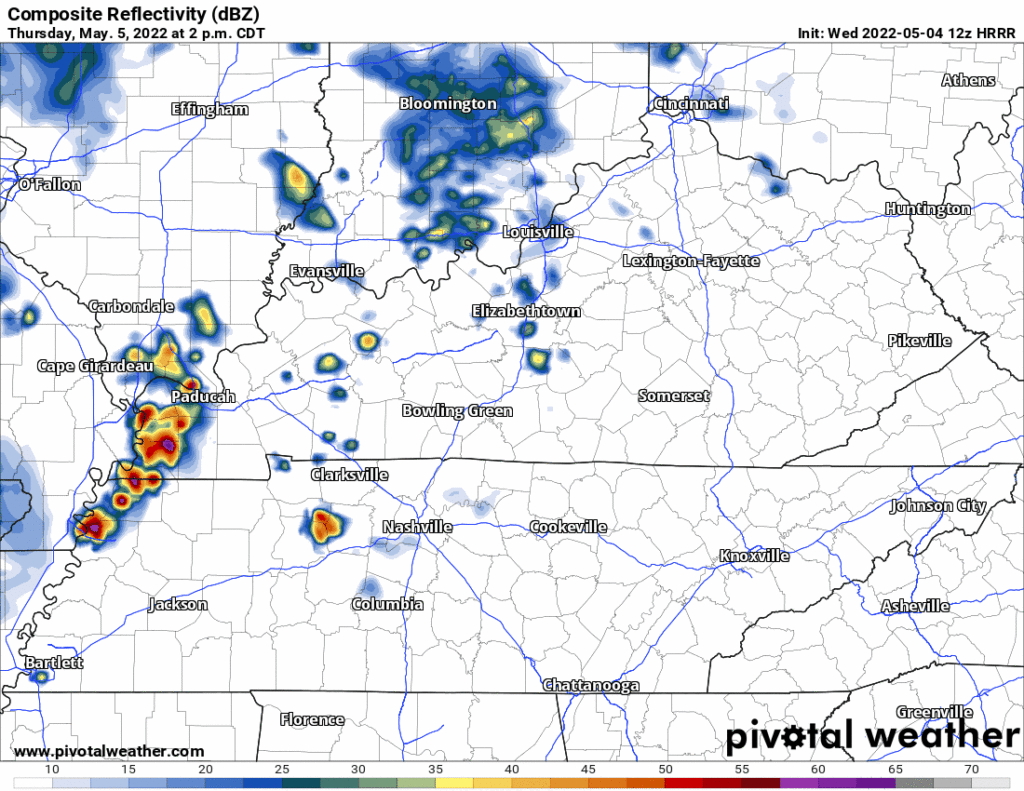 And here's the NAM3: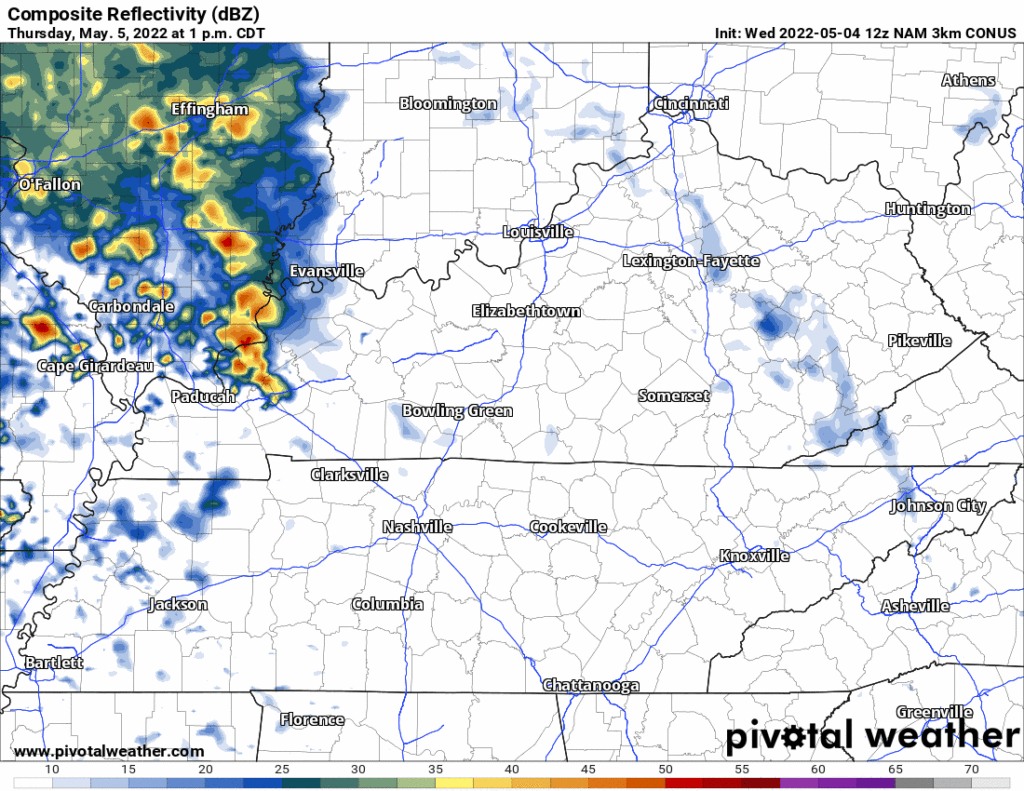 These will be strong, maybe severe storms Thursday afternoon/evening — for those who lose the scattered storm lottery. Do or do not, there is no try. Both models show more than enough CAPE/instability and upper level support for lightning. The HRRR model shows only straight line winds as a hazard. The NAM3 shows some rotation (tornado?) potential but no serious forecaster believes that right now — the NAM3 almost always exaggerates tornadomaking ingredients ("I find your lack of faith disturbing," said the NAM).
Check back with us later today but right now SPC only has us outlooked for a 5% probability of damaging straight line winds from Thursday to 7 AM Friday. Never tell me the odds!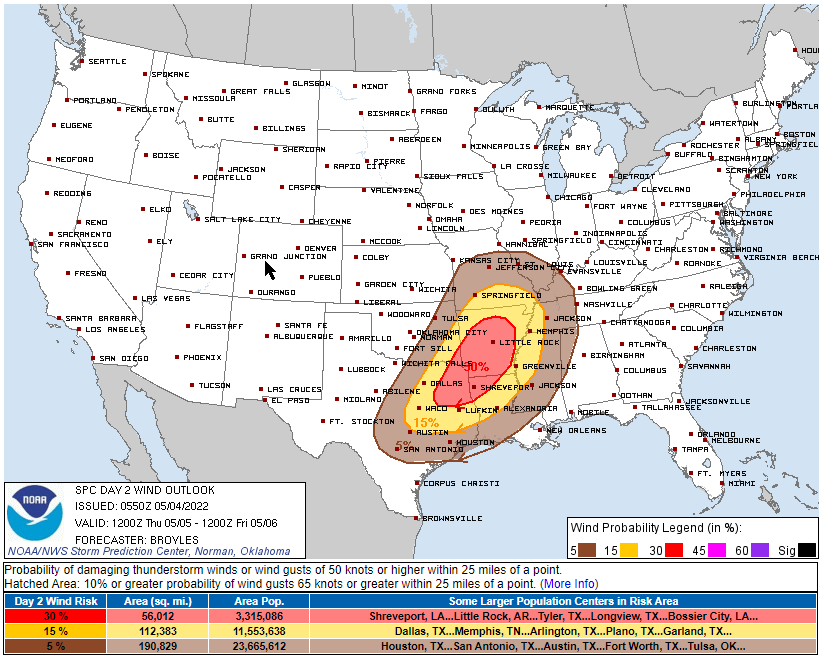 That Friday morning line could pack a severe threat after 7 AM, but I have my doubts. It makes sense storms will form because of a cold front coming through during the day. Usually storms form ahead of cold fronts if the atmosphere has enough energy left to lift. It may not have enough such energy after the Thursday afternoon/evening event. I'm looking forward to getting more model data today. Check Twitter today for updates.
Rain may try and linger into Friday afternoon. It may cause problems for Friday night activities but I still have hope for them.
The cold front should cut temps this weekend. But OBTW we'll be near 90° Tuesday. Judge me by my size, do you?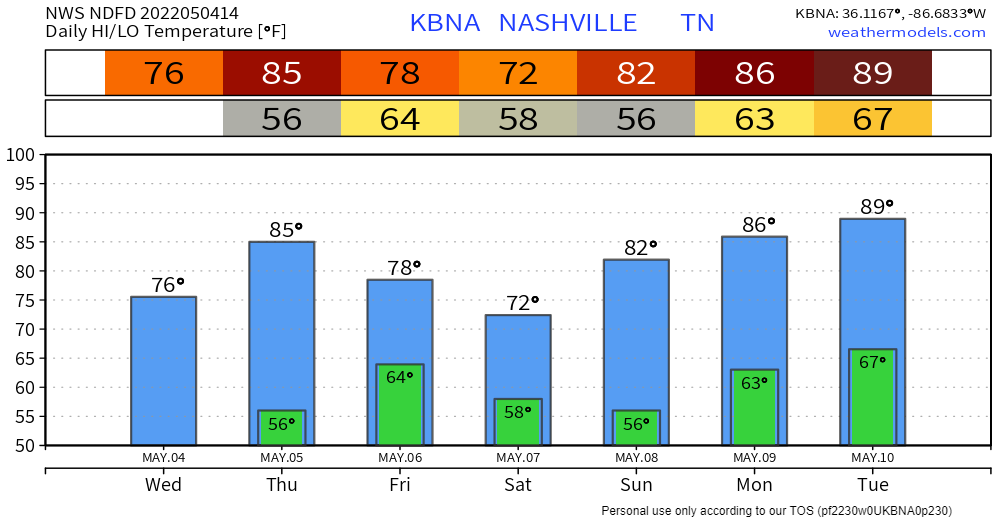 Quick References:
Weather changes constantly.
Follow @NashSevereWx on Twitter for any changes to this forecast.
Live coverage during tornado and severe thunderstorm warnings:
Look good.
Support the mission.
We are 100% community supported. No ads. No subscription fees. Keep it free for everyone.