New data arrived over the past few hours. Below see forecast changes.
During lunch SPC introduced tornado, hail, and damaging straight line wind risks for Thursday afternoon/early evening.
The probability of a tornado within 25 miles of you is 5%.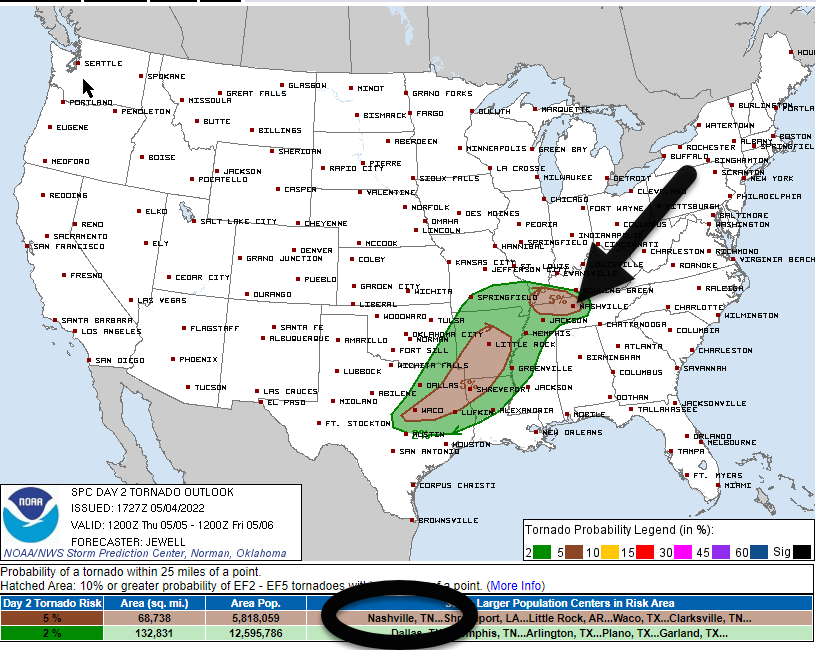 For hail and damaging straight line winds that probability jumps to 15%.
This concern is for Thursday afternoon and evening. Storms should develop in and near (mostly to the west and northwest) of Williamson and Davidson Counties, then move quickly toward/thru us. This is shown by the HRRR model below: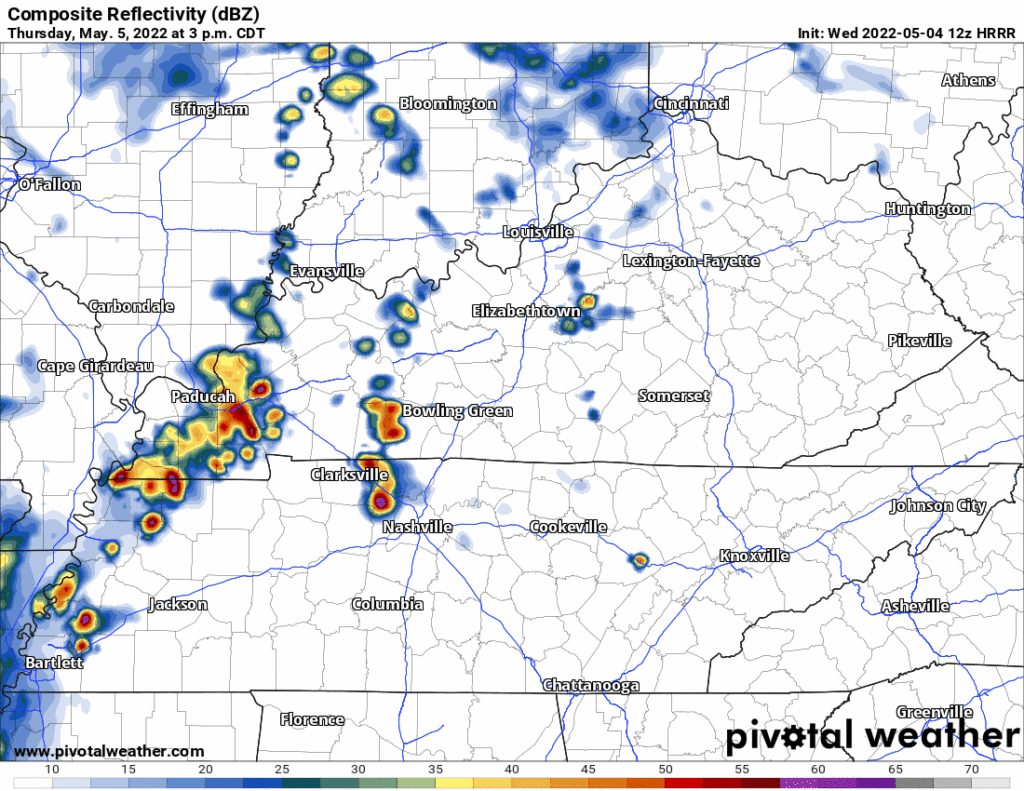 Currently — subject to change — we expect storm development between 2 PM and 9 PM Thursday. The most likely time will be in the middle of that range. There is no indication exactly when or exactly where it will impact any one event tomorrow.
SPC thinks storms will develop west of us and move our way. Supercells are the concern.

Supercell storms operate independently of other storms. Supercells ingest humid air to power them, and expell colder air out the back. This expulsion can cause damaging straight line winds. If shear is strong enough — and it might be — supercells can rotate and in certain circumstances produce tornadoes and/or large hail. This threat is probably a bit more likely to our NW but as you can see from the HRRR above Nashville/Davidson Co and Will Co are among those potentially impacted.
Other models show similar solution. This 12z HREF model suite supports SPC's inclusion of storms breaking out in an atmosphere conditionally and potentially supportive of tornado(es), damaging straight line wind, and hail: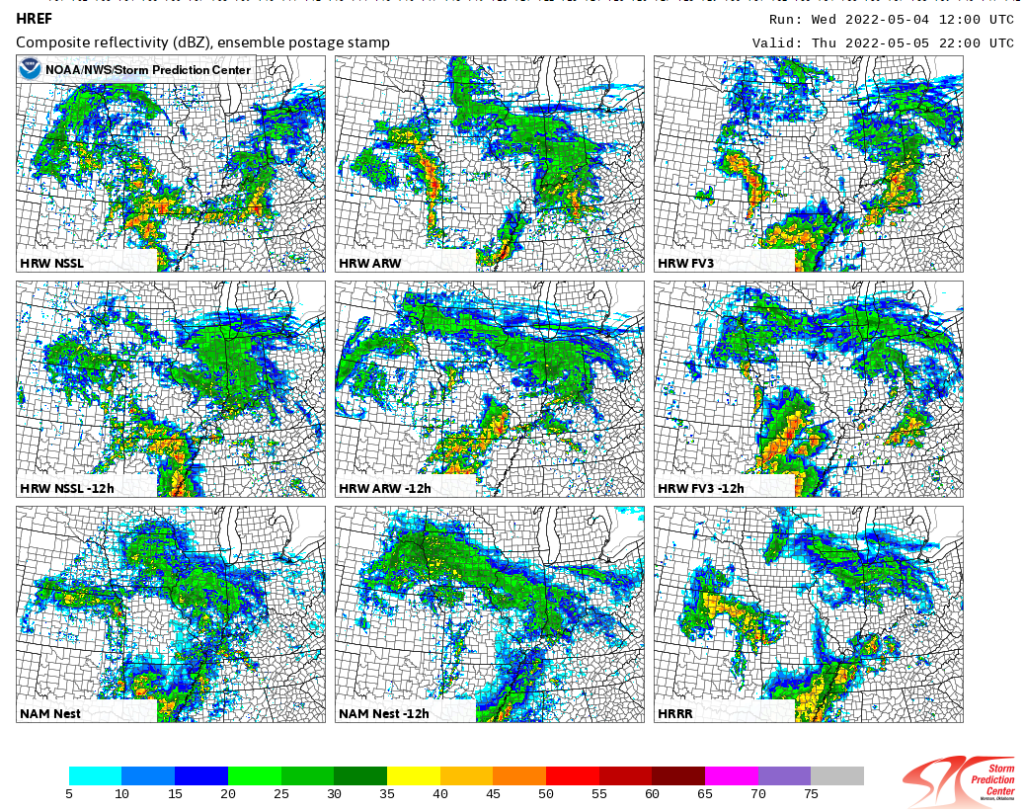 If the threat remains in the models and follows radar/satellite trends tomorrow, a Severe Thunderstorm or Tornado Watch may be needed. A Watch means conditions are favorable for severe weather (winds, hail, tornado). If we get one, you should pay special attention in the event a warning is issued for your exact location. Watches are usually issued when potential storms are less than 6 hours away. A warning (if needed) is issued over a much smaller area with the message to take action, take cover.
This is not a particularly alarming outlook, but it has my full attention. The odds of a particular storm hitting you, and being strong enough to create any such hazard to you personally, are very low, but would come with a high impact. So you should reluctantly do some risk management adulting tomorrow. The best thing to do is have a severe weather plan and be close to an interior, lowest level room, during the ETA window (currently 2 PM to 9 PM, and likely to change, stay connected!) in the event a warning is issued for you. Reducing your vulnerability to a low probability, high impact event is the best thing you can do.
Flooding is not a concern at the moment. Lightning is all but guaranteed with any supercell. It's also possible the storms miss us to the north or northwest.
More on this through today, tonight, and all day tomorrow.
Quick References:
Weather changes constantly.
Follow @NashSevereWx on Twitter for any changes to this forecast.
Live coverage during tornado and severe thunderstorm warnings:
Look good.
Support the mission.
We are 100% community supported. No ads. No subscription fees. Keep it free for everyone.