Humidity is way up today compared to yesterday. So is storm fuel/instability.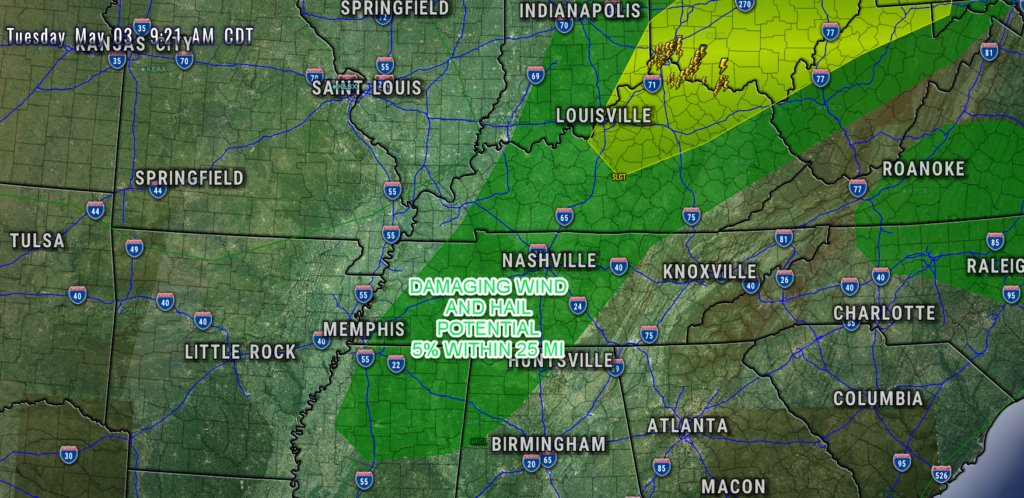 Storms may develop in Middle Tennessee later this afternoon into the early evening hours.
Exactly when varies by model and model run.
The 12z run of the HRRR model — see below — thinks storms get here 7-9 PM. Notice they don't get everyone in Davidson & Williamson Counties. Backyards will vary.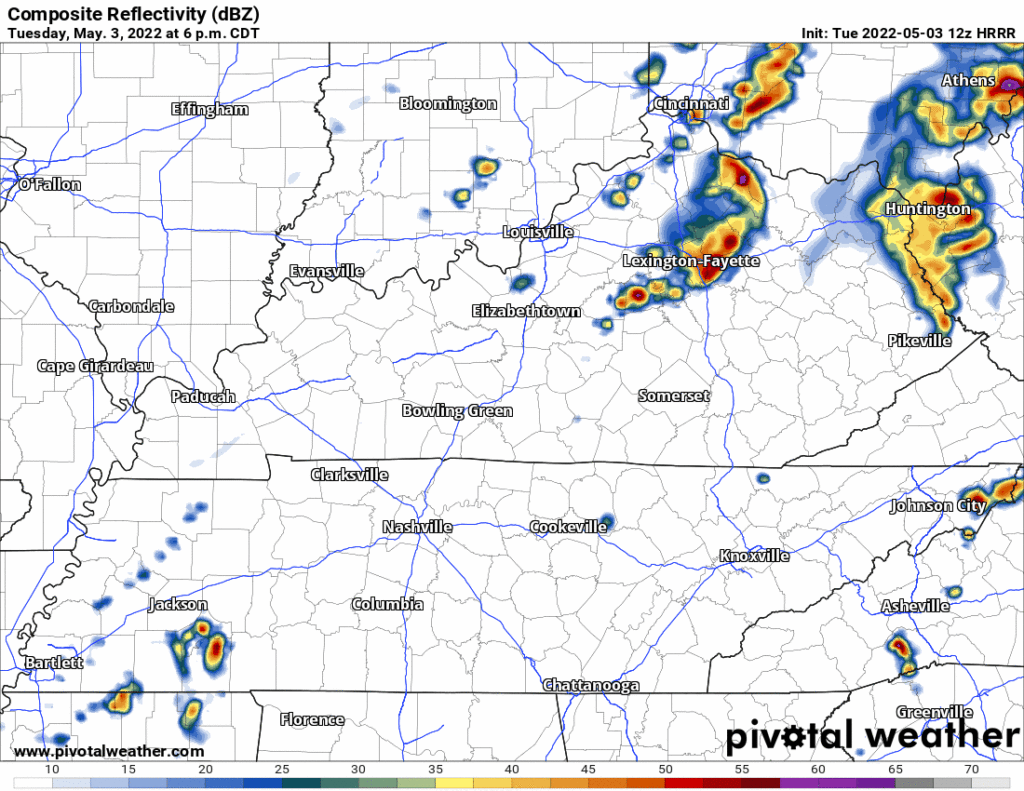 There's even a question of whether it'll storm at all. The 12z run of the notoriously unreliable NAM3 model has no storms.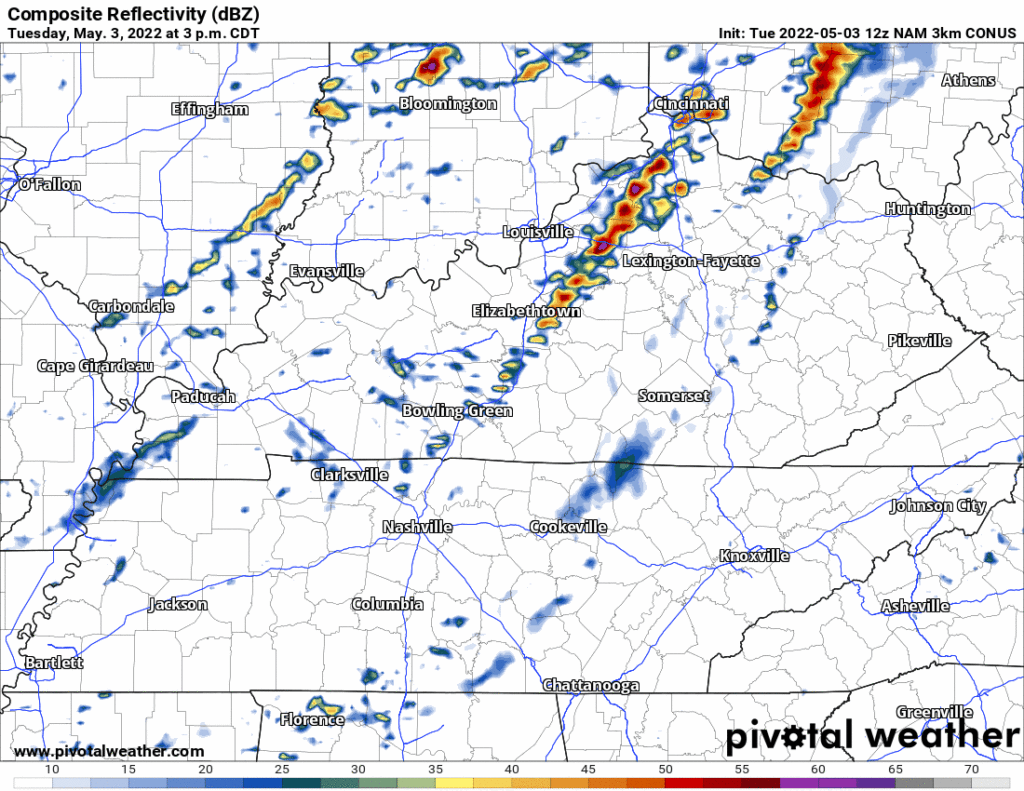 Confidence is therefore low on timing and impacts, or even the existence of storms today.
But it makes sense storms will develop. A weak cold front will arrive. Shortwave energy will pass over us. So something should set off, just exactly where is the Big Question. I would not discount the HRRR model's storm complex coming through late this afternoon or early evening.
Hazards with storms will be mainly non flooding heavy rain and frequent cloud to ground (CG) lightning. SPC says the damaging straight line wind and large hail probability within 25 miles of you is 5%. Tornado potential is very low and north of us so at the moment tornado is not a concern.
Check back on our Twitter (or here) for updates and potential forecast changes for what you are reading here.
Wednesday looks quiet. Thursday a severe threat increases to our west (SPC outlook below).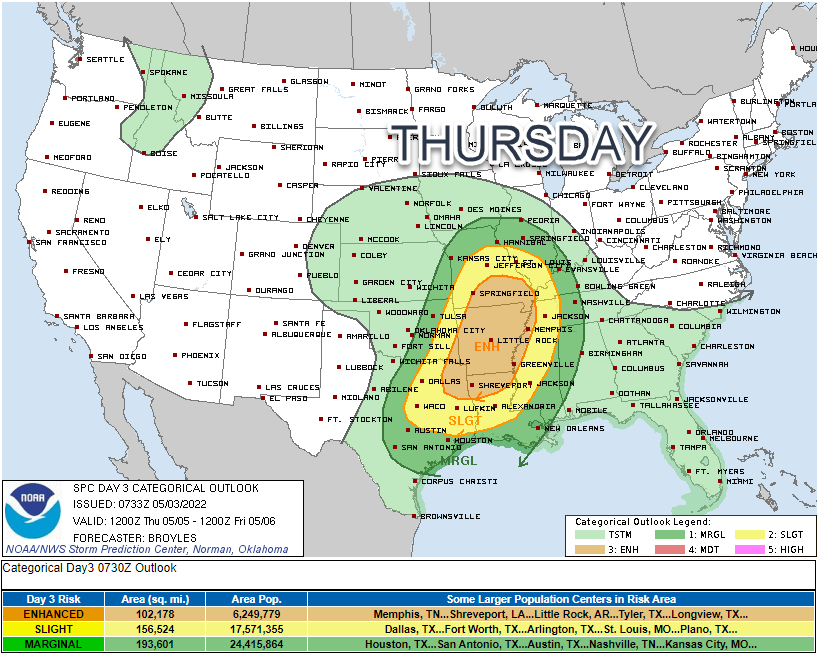 This system should move east into our area very late Thursday night. Forecast data shows sufficient "moisture, instability, and lifting mechanisms to be in place [for strong or severe storms], especially for locations around and west of I-65 Corridor Thursday night." NWS-Nashville. This potential event is outside the high res model range right now, blinding us to key details like timing. A heavy rain storm event will be possible overnight into Friday morning. Rain/Storms should move out with the cold front arriving sometime Friday.
This should set up a very nice weekend.