Throughout today, we're expecting to see some scattered showers. Some of these individual clouds could drop some heavy rain and wind. No need to cancel daytime or dinner plans, but carry an umbrella in case the rain scatters on you.
Tonight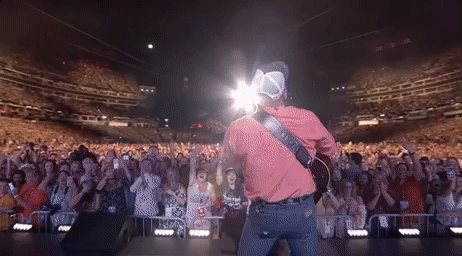 Editor's Note: Let me say this. I have a big backyard party to attend tonight. My wife is going to see Garth with the girls from work. There is no one in the world who wants great weather tonight than me. However, we don't always get what we want. [G, if you're reading this, maybe a cover?]
The models are pretty much in agreement about the timing of some heavier storms. First timing, then strength.
Timing is consistent between runs of the HRRR, the 3km NAM, and the Hi-Res Euro. As early as 10, as late as 11 for the heaviest band of rain. Any rain to our N in Kentucky could spin off a few showers if the centers sag far enough south before this main line.
Below, our buddy the HRRR shows it entering our area between 10 p.m. – 11 p.m. Clearing out around by dawn. No reason NOT to believe it. It's well initiated and at this range has a good track record.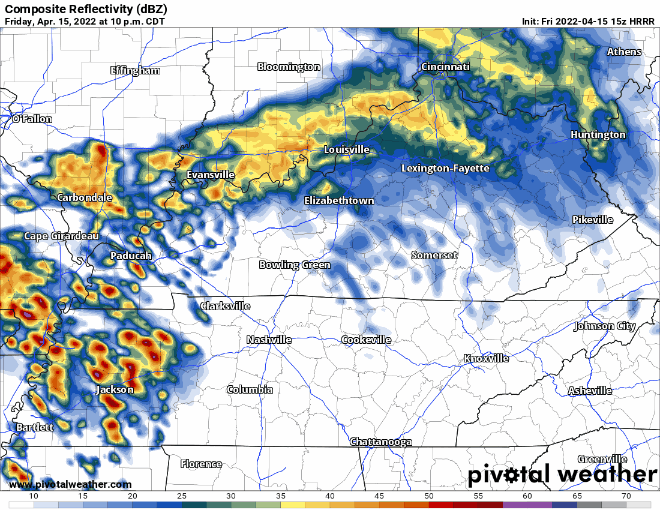 Severity… In the morning AFD, the forecaster mentioned a rise in precipitable water values. Any storm you encounter will be likely heavy. Heavy enough to ruin your time if you were standing outside with an electric guitar strapped to your abdomen. Or watching someone standing outside with a… you know where I'm going.
There is instability and shear present with this system, however the CAPE values are low. HRRR shows CAPE never getting much further E than this… No Cape, No Problem.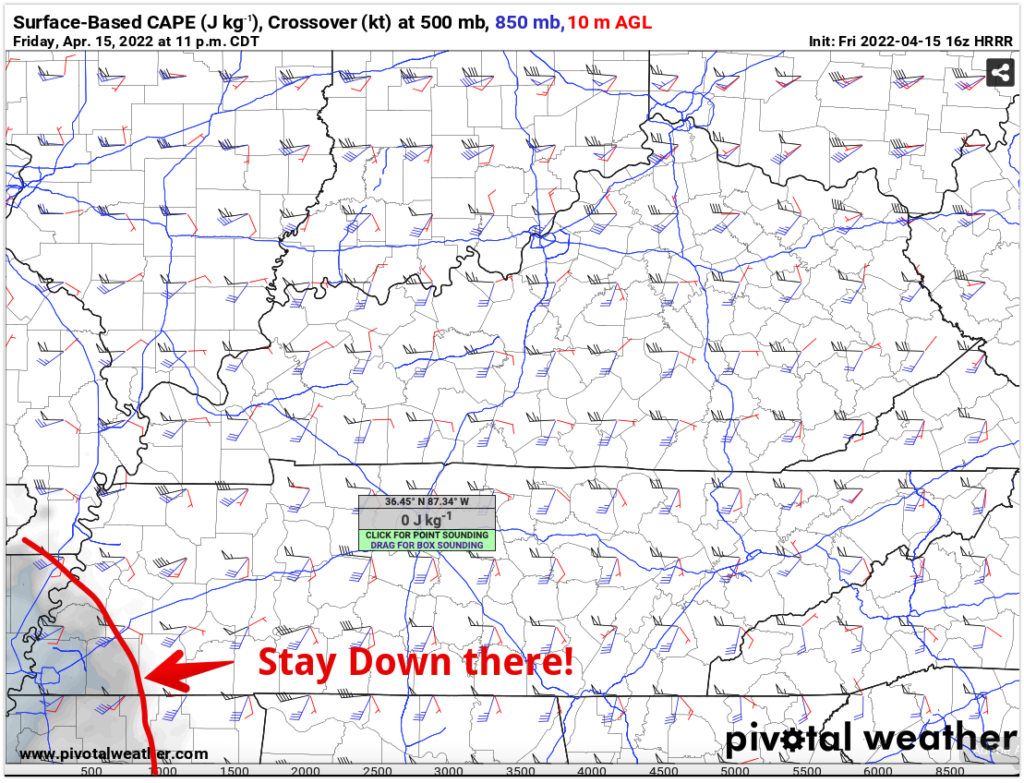 Severe thunderstorm threat? Hardly. Lightning, maybe. Tornado threat? No evidence of that.
Our largest threats are heavy rain, strong winds. and ruined shoes. Be ready to get wet, especially toward the end of your evening plans, and get indoors if you hear thunder.
BTW I will not make a thunder rolls joke. I just won't do that to the artist or to our readers.
Since this system is moving through overnight, it is important to have those weather radios on and wake-me-up apps ready to go just in case you need to move to your safe place. Always better to be prepared.
Feeling anxious about all of this weather we've been having? click here
The Rest of the Weekend
Our next rain chance might be Sunday night. Models are showing a surface low pressure system moving through around dinner time and clearing out early Monday morning. At this time we're a little far out to know the details.
Quick References:
Weather changes constantly.
Follow @NashSevereWx on Twitter for any changes to this forecast.
Live coverage during tornado and severe thunderstorm warnings:
Look good.
Support the mission.
We are 100% community supported. No ads. No subscription fees. Keep it free for everyone.