Scattered showers throughout the area so far this morning. Note that this is NOT the potentially severe event of the day. We'll have a break in the rain this afternoon before tonight's line of storms.
A quick side note before we get into the severe weather talk. Wind advisory has been expanded to include our counties. Expect non thunderstorm wind gusts into the 40 MPHs throughout the day. Secure any loose outdoor objects.
Timing
Yet another Wednesday we're talking about severe storms. It's routine at this point. What is it we should expect? Likeliest scenario is a single line arriving after sundown this evening. HRRR reflects this: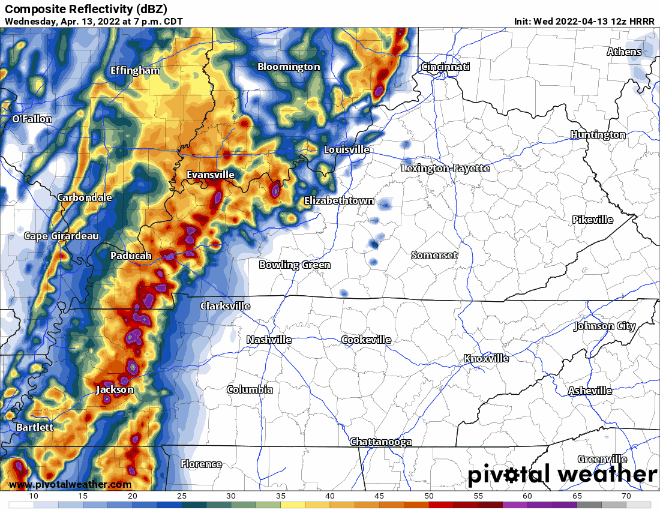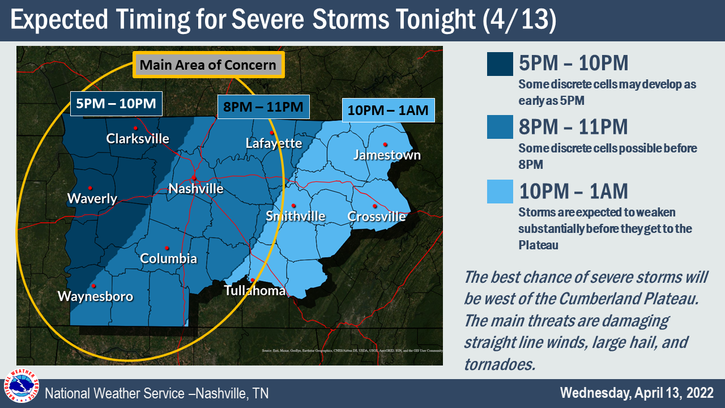 You may notice the statement "Some discrete cells possible before 8pm" for our area. This is just accounting for any storms that develop ahead of the main line. Odds are low. We'll be watching for them anyway.
Threats
All modes of severe weather possible, but damaging straight line winds pose the biggest threat. 30% probability of damaging thunderstorm winds/wind gusts within 25 miles of you. Hatched area means 10% or greater probability that those winds exceed 75 mph.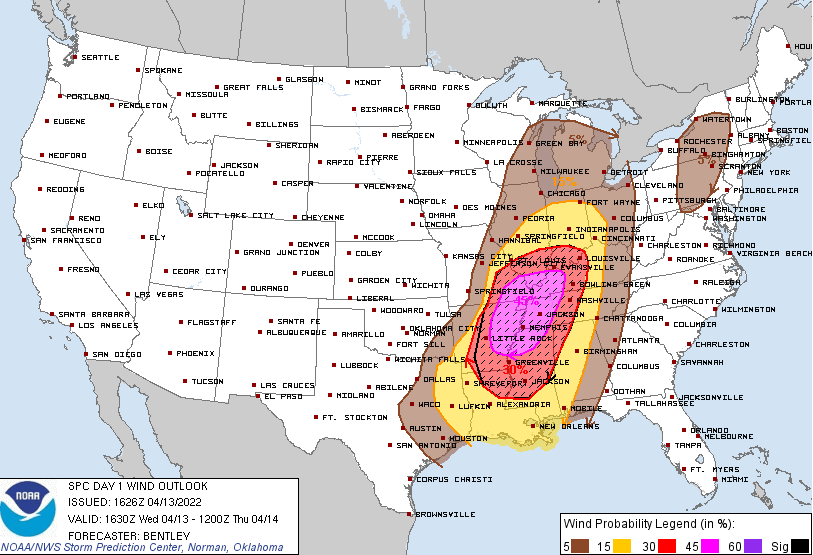 We're also outlooked for tornadoes (10% probability within 25 miles of you)… 10% or greater probability of EF2+ tornadoes within 25 miles: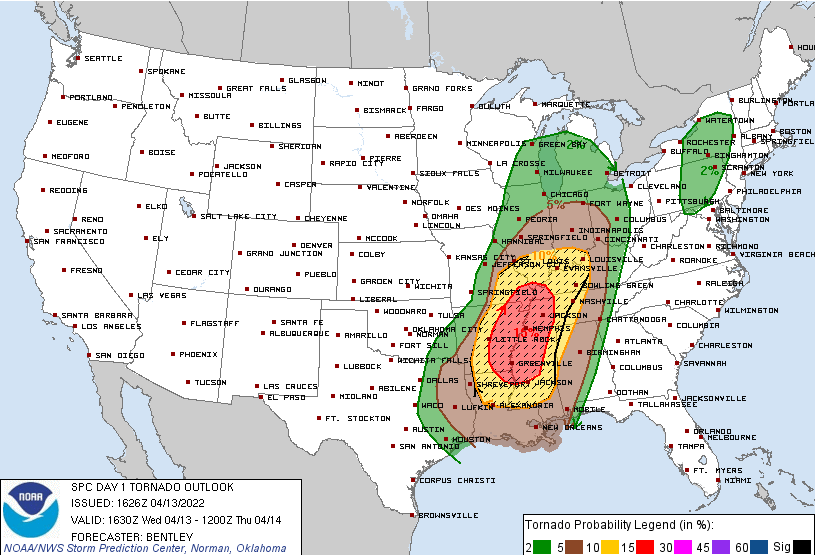 5% probability of 1 inch diameter hail or larger within 25 miles of you: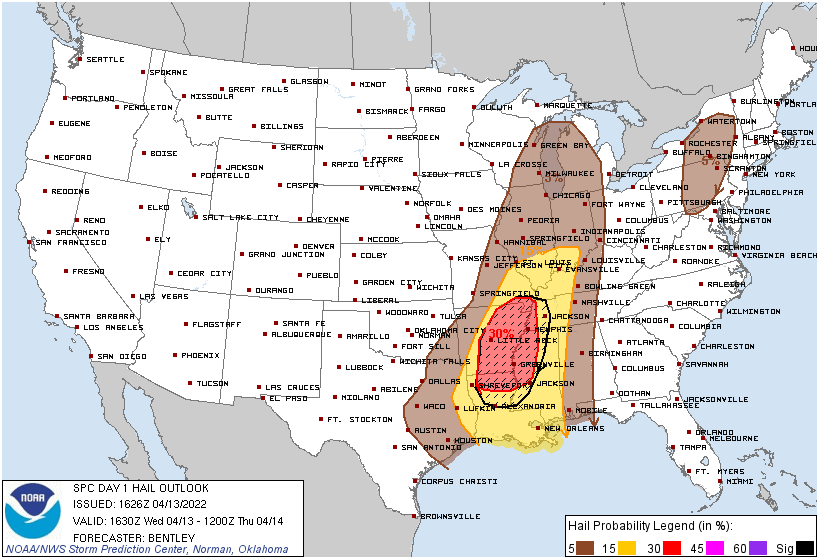 Clearly, those west of us have the greatest likelihood of experiencing severe weather. As the storm line pushes east, it will encounter a less favorable atmosphere over time. Thus, the gradient of lower probabilities as you go east. We find ourselves near that area where we expect storms to start encountering that less favorable atmosphere. This may not happen. We hope it does.
Caveats
So, the caveat and question of the day is…will storms have enough fuel to power through here and remain capable of producing damaging straight-line winds or tornadoes. The general consensus seems to be "yes," but maybe not quite as much as they do west of us. HRRR illustrates what it thinks will happen with the CAPE (storm food).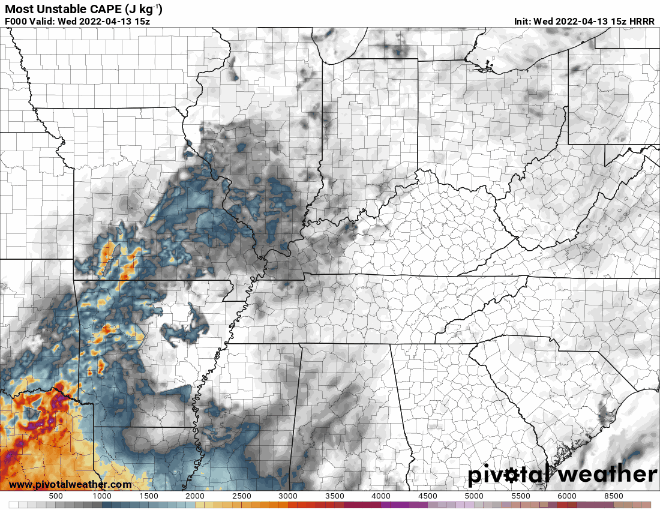 Notice how the bright colors don't hang on over our counties. But, really, they're not far off. So, we're not panicking. We're not letting our guard down. We're watching and preparing for the potential that storms will be severe when they get here.
What To Do
With this likely being a nighttime event, it is important to have multiple ways to receive alerts, know your severe weather plan, and know your home on a map. Have your ringer turned on for any alerts that come through.
Come up with a plan for shelter in case a tornado warning is issued. Best to be in a lower-floor, interior room with no windows. If you have a basement, go there. Under stairwells is a good place, too. Some things you can use for additional protection include mattresses, pillows, a helmet, etc. If you don't have any of those things, crouch as low as possible to the floor and cover your head with your hands.
For more info on the difference between a watch/warning and other severe weather tips, see this: https://nashvillesevereweather.com/what-to-do/
Flooding is possible, especially in low-lying areas. Line will move in and out quickly, so no significant flash flooding is expected. But, if you encounter water over the roadway, turn around, don't drown!
Quick References:
Weather changes constantly.
Follow @NashSevereWx on Twitter for any changes to this forecast.
Live coverage during tornado and severe thunderstorm warnings:
Look good.
Support the mission.
We are 100% community supported. No ads. No subscription fees. Keep it free for everyone.