Most, if not all of the rain has moved out for today. One flood advisory remains at press time, Whites Creek near Bordeaux. Many creeks are high right now, take extra caution if you live or work by one. Turn around don't drown.
Some of us may see a lingering sprinkle this afternoon. No severe weather is expected for the rest of today. Low severe weather chances are confined to W TN.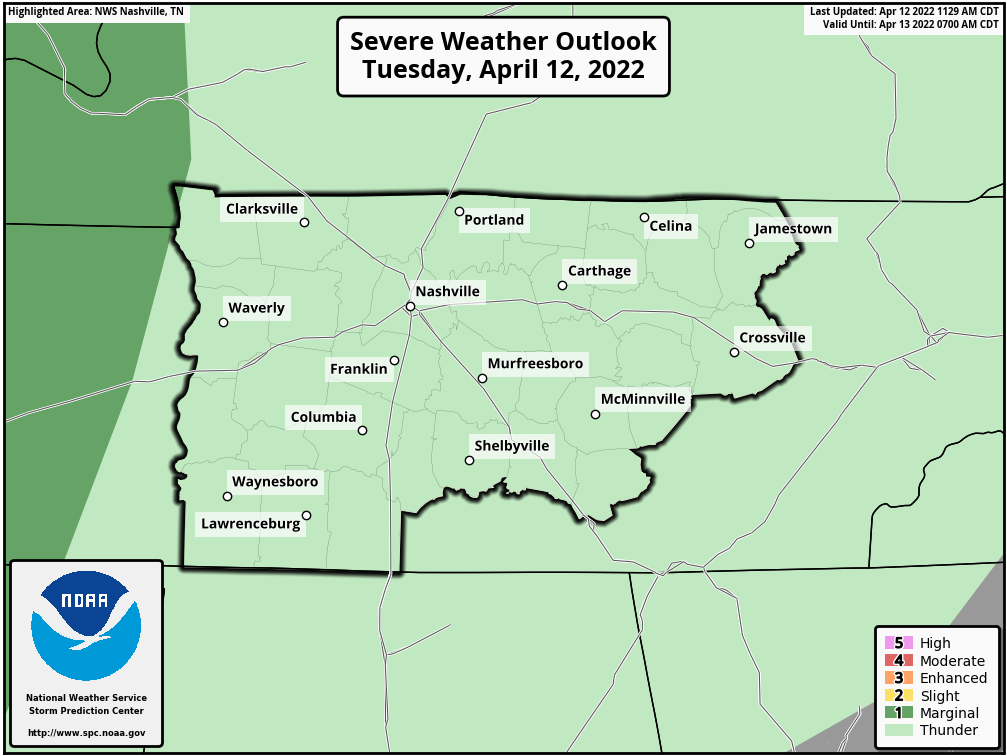 Rain and storms return for tomorrow. HRRR believes scattered morning rain is a possibility once again.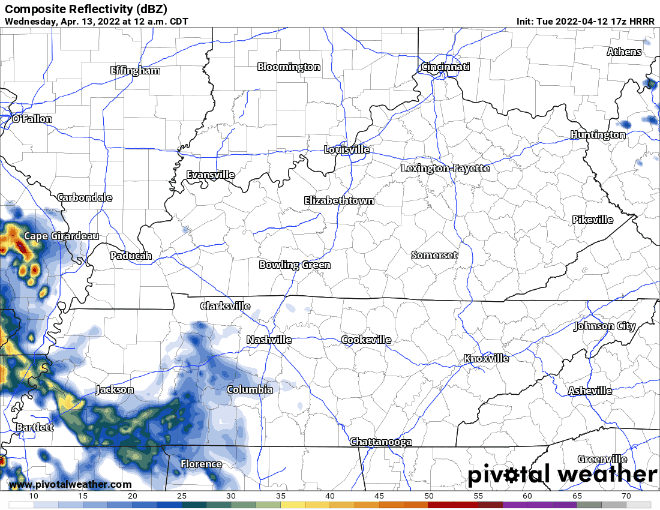 We'll likely have a break in the rain mid-day. Some of us may see a sprinkle. All eyes will be on the "main event" west of us. It will head our direction for the late evening. SPC probabilities of "x" within 25 miles of you are:
Tornado – 5%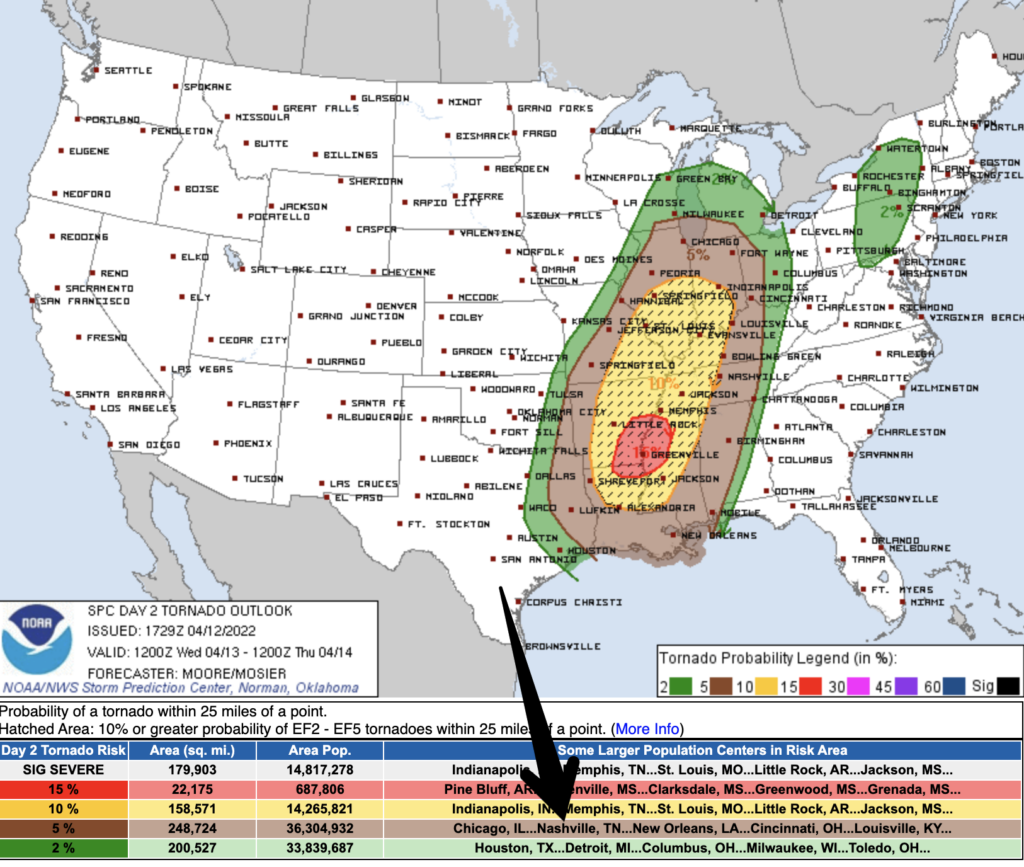 Damaging Straight-Line Winds 58+ mph: 30%. We're also included in a "hatched" area, which means there is a 10% chance those damaging thunderstorm winds could be especially strong, over 75 mph or so. (Do not want). This is our main threat tomorrow evening.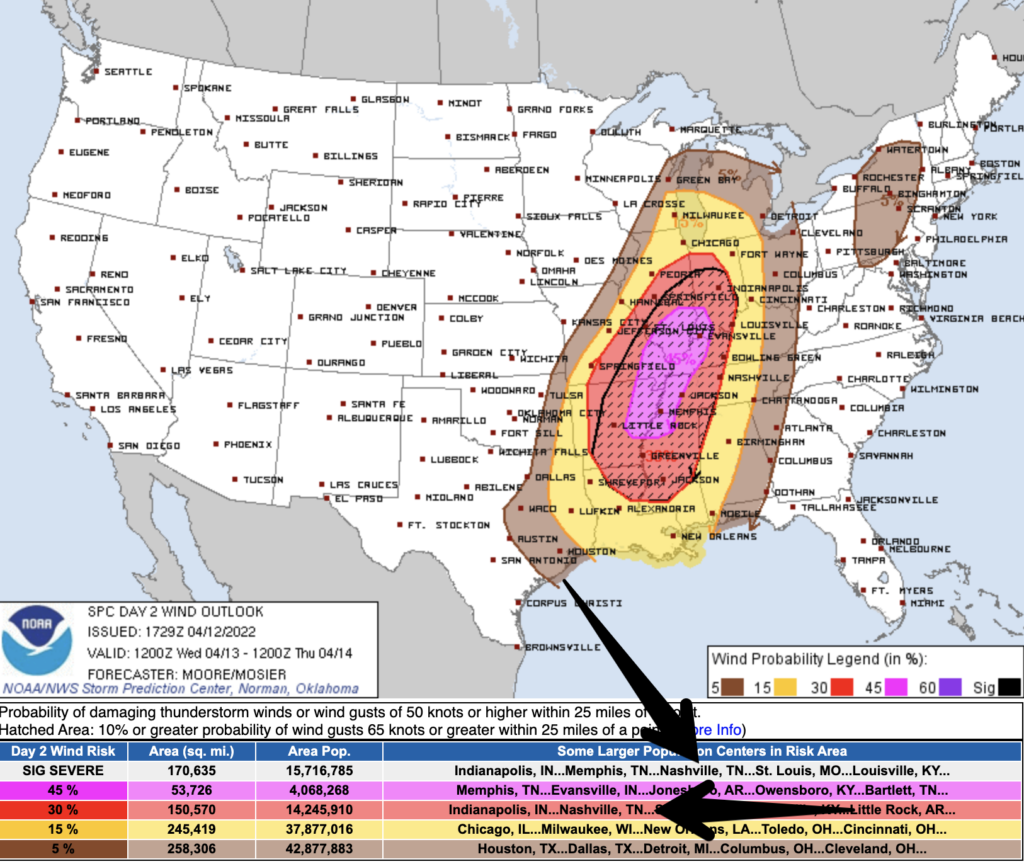 Large Hail 1 inch+ in diameter: 5%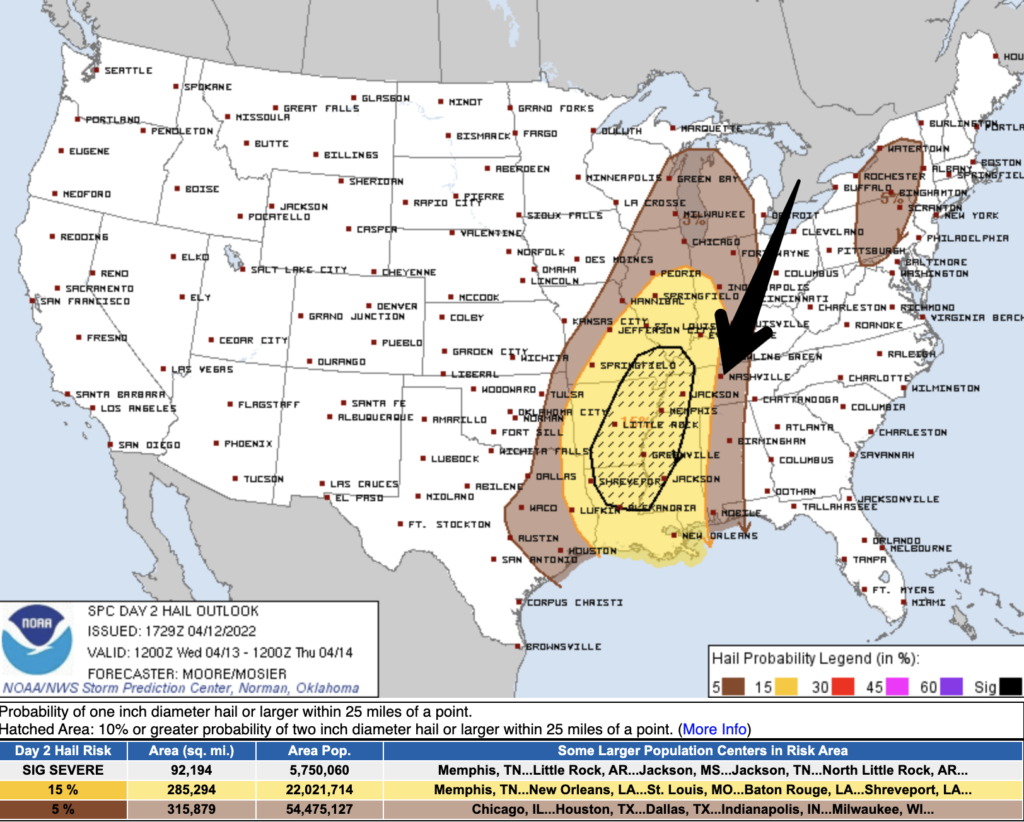 HRRR model below shows storms coming in tomorrow late evening and continuing for three or four hours into the night.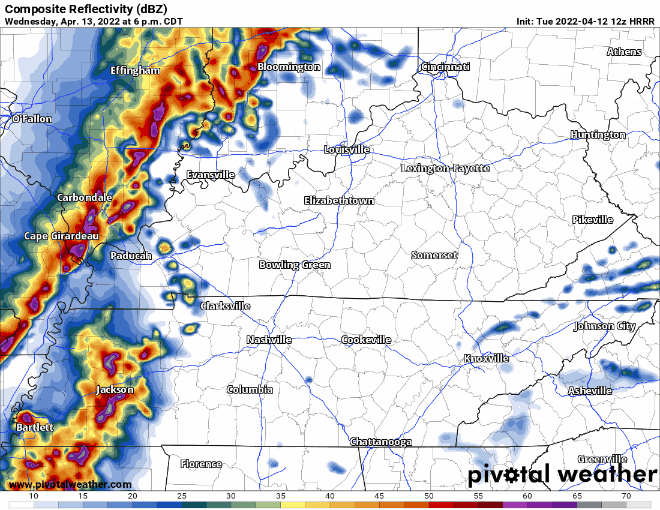 Caveats
Models are advertising higher storm fuel values west of us. Less east of us. Questions remain about just how much severe weather the storms will produce as they move from an ingredient rich environment in west TN to a less ingredient rich environment here. They could still pack a big punch. Just how much remains to be seen.
This is illustrated best with the HRRR CAPE output (storm food). Watch it drop off in Mid-TN. CAPE through 11:00 pm.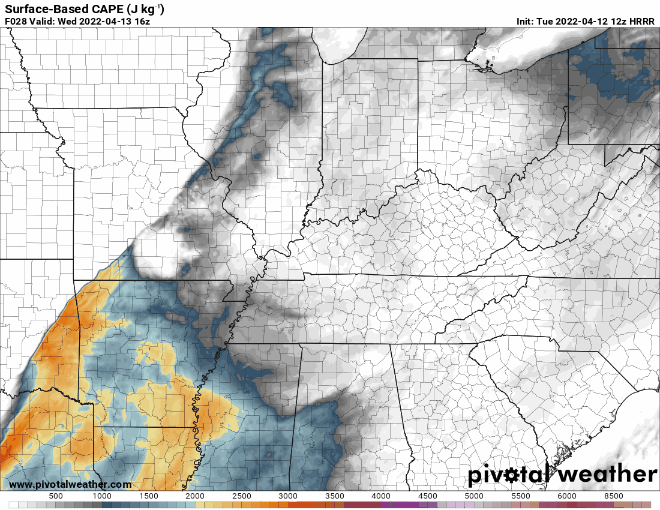 We'll be watching the storms from the time they form to the time they move through here. We'll let you know what they're doing. But, since these storms will likely be coming through after dark…
How do I prepare for a nighttime severe weather risk?
Severe weather at night is more dangerous because it's harder to visually see what's coming outside. What you can do to be prepared for severe weather at night is to have multiple ways to receive alerts, know your severe weather plan, and know your home on a map.
For alerts you need to not have your phone on silent or do not disturb. Make sure your WEA alerts through your carrier are turned on in the notification section of settings. I like having an app as a backup in case those don't alert me.
Know where you need to go in case a tornado warning is issued. Remember this is an inner room of a house with no windows if you do not have a basement. A closet, bathtub, etc. is great. Any pets should be in the safe spot as well. For extra protection, wear a bike helmet, and closed-toed shoes.
Rest of this week
We cool down just a little after the cold front pushes through early tomorrow morning. We will see temperatures in the 70s for the rest of the week. As for the holiday weekend we are a little cooler. Euro model has some sprinkles Saturday afternoon/evening with another system coming in late Sunday night. GFS agrees for the most part but some light sprinkles during the day Sunday. It's too far out as of today, we will keep you updated.
Quick References:
Weather changes constantly.
Follow @NashSevereWx on Twitter for any changes to this forecast.
Live coverage during tornado and severe thunderstorm warnings:
Look good.
Support the mission.
We are 100% community supported. No ads. No subscription fees. Keep it free for everyone.