TONIGHT – OVERNIGHT – WEDS MORNING
Scattered rain will be off and on late Tuesday night through Wednesday morning. Lightning and gusty winds possible. Not worried about tornadoes and not worried about severe straight line winds. Here's the HRRR model through noon Weds: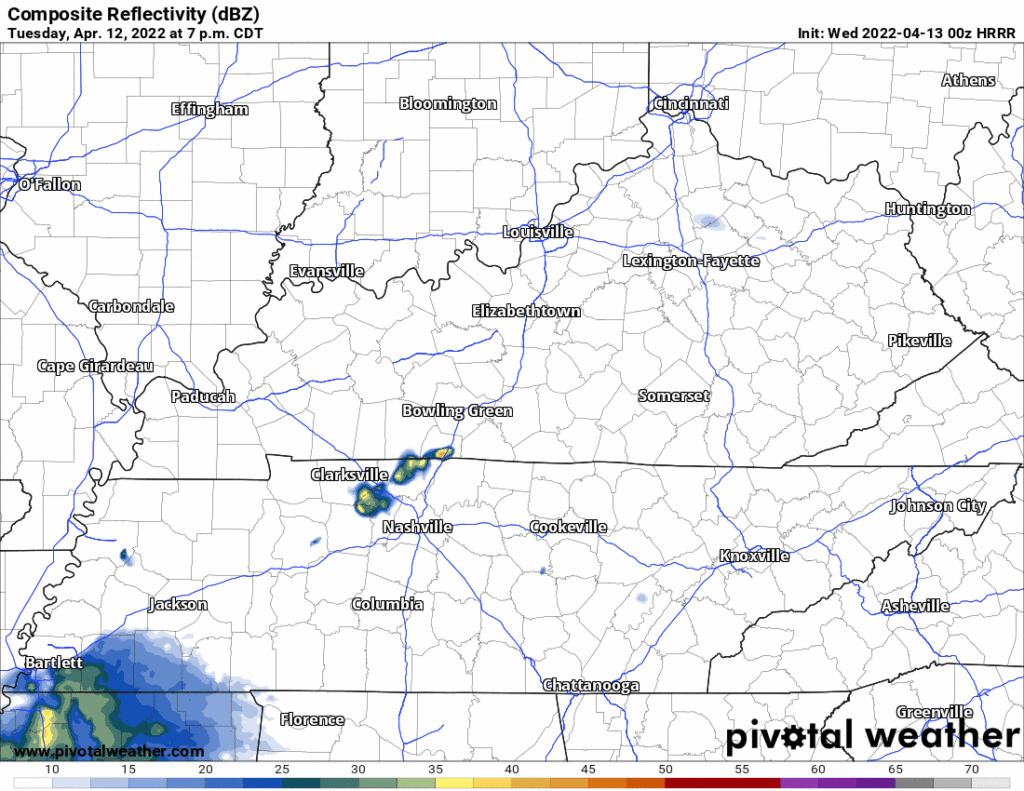 We're watching for flood potential for this rain tonight – Wednesday morning. That concern is mostly W and NW of us. Yes we got a lot of rain in the last 24 hours. It wouldn't take much more to push creeks and streams back up. But this doesn't look like enough rain to raise overnight/morning flood concerns. We'll see. There's a Flash Flood Watch just to our west and northwest.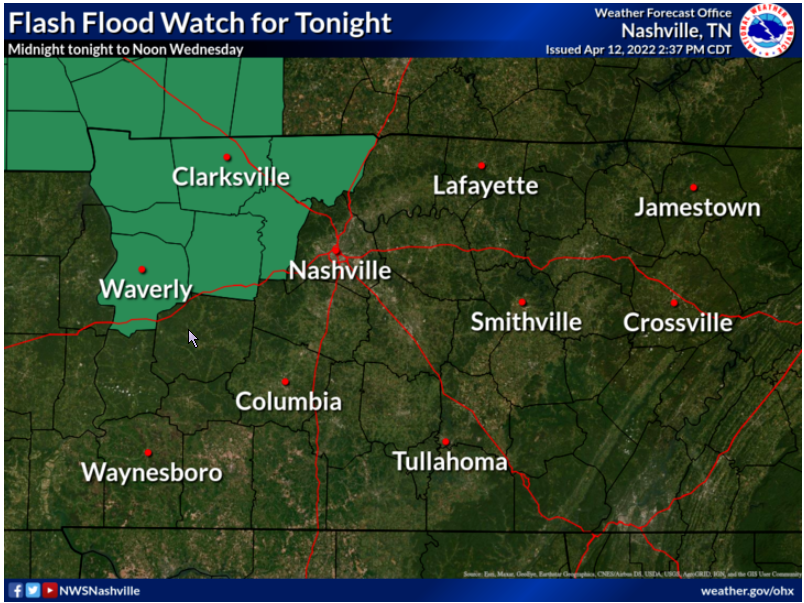 SEVERE SYSTEM DEVELOPS OUT WEST WEDNESDAY
Quiet Wednesday afternoon.
West of us, during the day Wednesday, a significant severe weather event will be ongoing.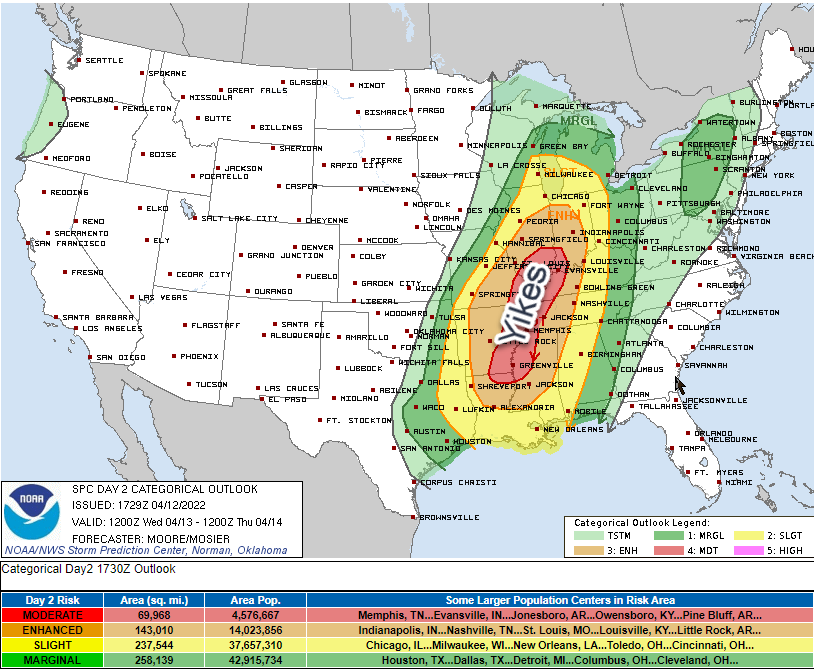 SEVERE SYSTEM GETS HERE . . . BUT HOW BAD WILL IT BE?
That significant severe event will congeal into one or maybe two lines. It will move east into Davidson and Williamson Counties. ETA could be as early as 6 PM. It could be as late as just after midnight Wednesday night.
The initial line should carry the primary severe storm threat because it would arrive with the highest CAPEs and shear.
So if there are two lines, the first would arrive here late afternoon/early evening and carry the higher straight line wind, hail, and tornado threat. If a second line comes in behind it closer to midnight it would be primarily for damaging straight line winds (tornado less likely with the second line because the first line will have used up the main source of storm fuel).
Or, it's possible there will just be one big ole line. Here's what the HRRR shows, just one line, with a 9-10 PM arrival.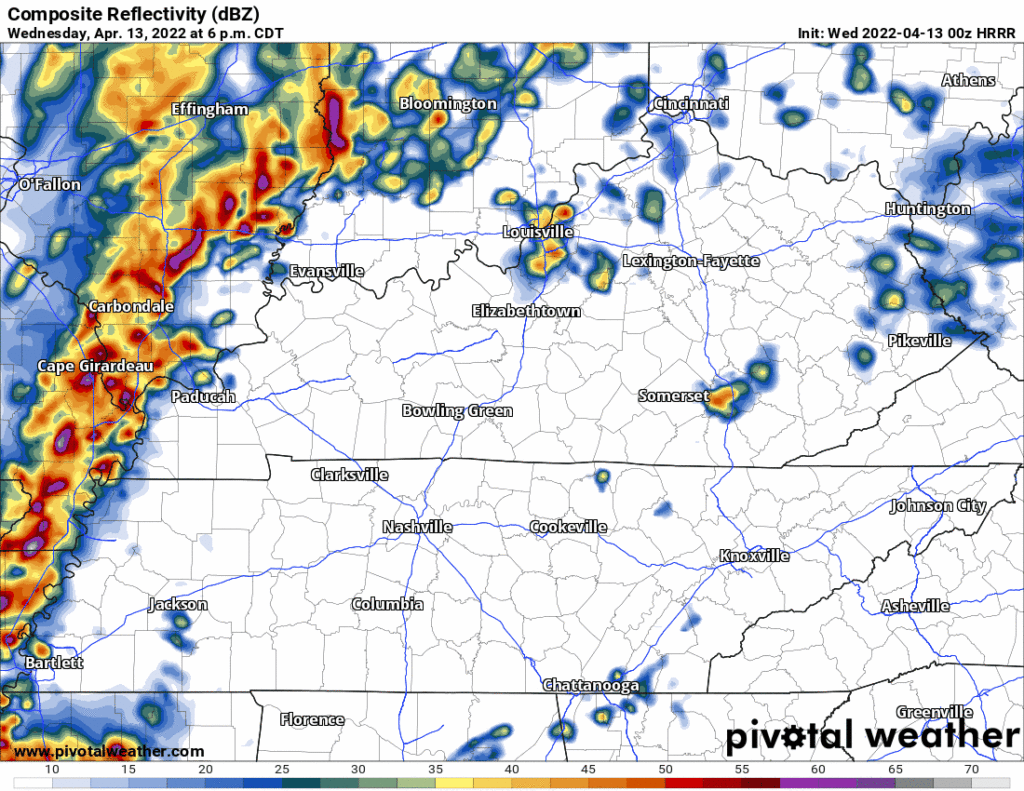 The initial (only?) line will deliver probabilities for damaging straight line winds (30% probability within 25 miles of you), large hail (5% probability within 25 miles of you), and tornadoes (5% probability within 25 miles of you). Flooding is also possible but the line should move quickly enough to reduce the probability of a significant flash flooding event.
The above run of the HRRR shows the line weakening — perhaps weakening significantly — as it arrives here 9-10 PM. That would be outstanding if it happens. But if the line arrives earlier (closer to 6-7 PM), it should be tapping more storm fuel and be stronger. Models have been going back and forth on an early evening vs late evening event. Either could happen.
Know today where your safe space will be tomorrow night. Do not leave yourself uninformed, vulnerable, and far from shelter should a warning be issued. Questions? This link may help.
This forecast may change, especially the timing, so check our Twitter and other reliable sources of information for updated/new information.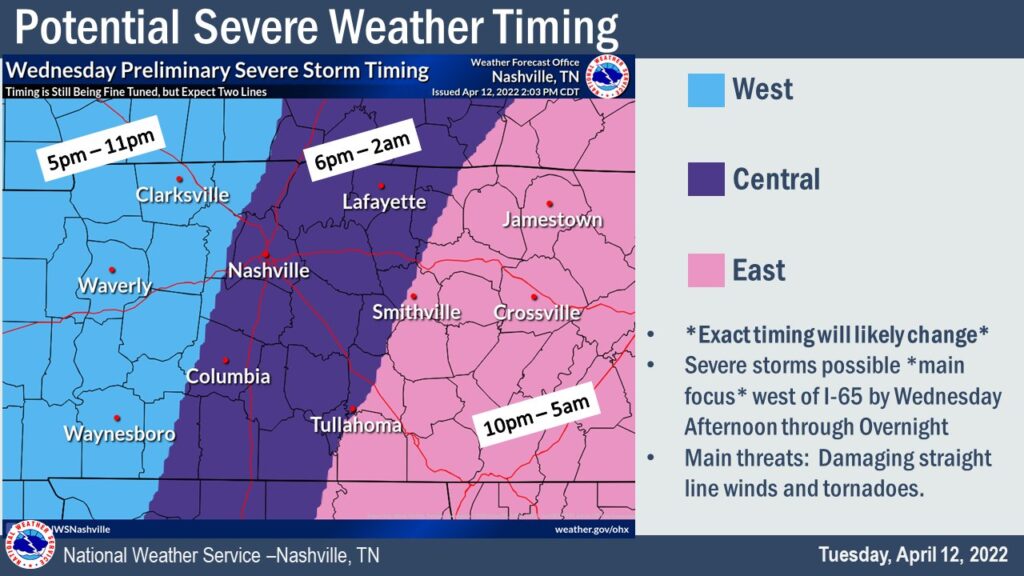 Quick References:
Weather changes constantly.
Follow @NashSevereWx on Twitter for any changes to this forecast.
Live coverage during tornado and severe thunderstorm warnings:
Look good.
Support the mission.
We are 100% community supported. No ads. No subscription fees. Keep it free for everyone.