We're in store for an all around windy day. Wind advisory has been issued for our counties, expiring 1 AM tomorrow. Already seeing reports of 30+ mph gusts. Expect these winds to strengthen throughout the day ahead of this evening's storms… could approach 50 mph gusts OUTSIDE of the storms!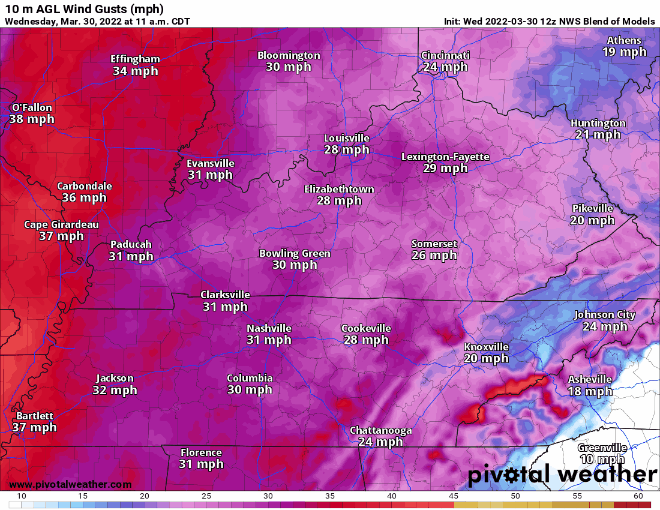 Now let's talk severe weather:
Timing
This evening after dinnertime. NWS giving us a 7 pm to 10 pm time frame. High res models agree: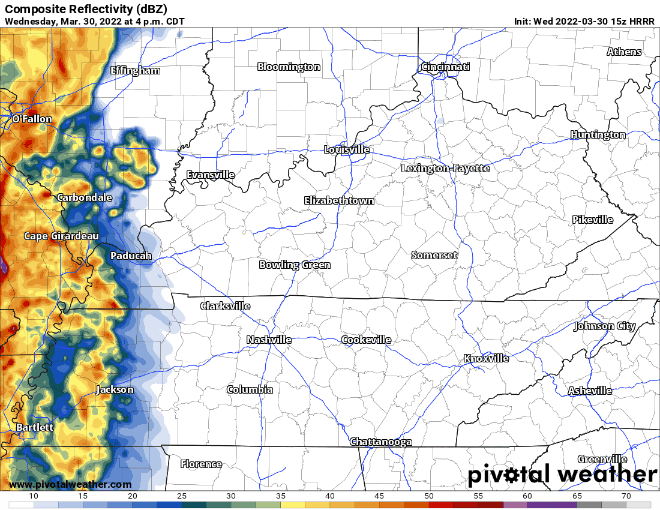 Severe Weather Threats
Could see impacts throughout our counties. Greatest threat west of I-24. Slight bump up in tornado/wind outlooks by the SPC. 5%-10% probability of a tornado within 25 miles of you.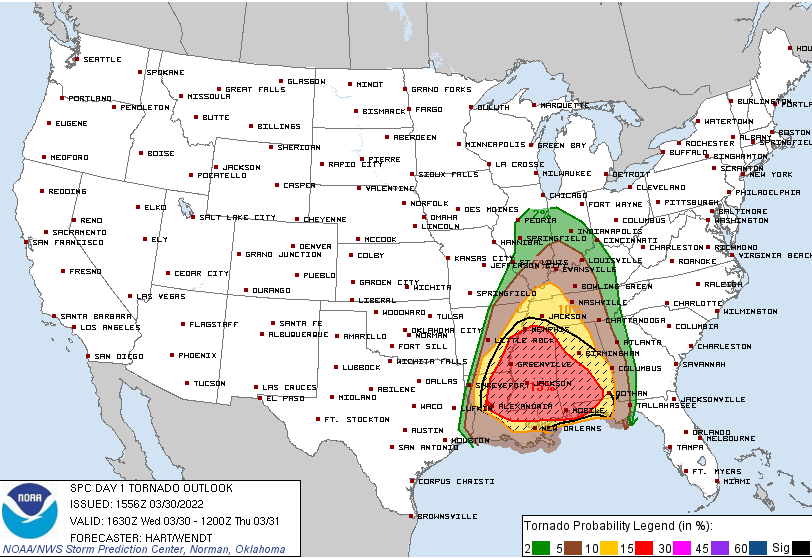 30% probability of damaging thunderstorm winds/wind gusts. That didn't change from yesterday. But we are now on the edge of the "hatched" area: 10% or greater probability of 75+ mph gusts within 25 miles of you.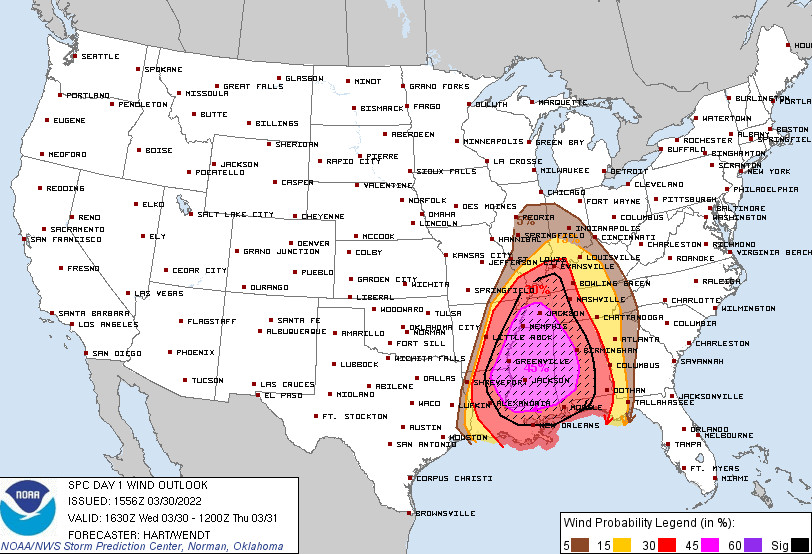 Could see isolated flooding in flood prone areas. Most will see around an inch of rain. Takeaway is damaging straight-line winds are likely. Can't rule out isolated tornadoes.
Caveats
As with our past few severe weather events, all eyes are on the amount of available energy these storms can feed off of. This is called CAPE in the weather world. If there's no or little CAPE when the storms come through, they don't have the energy for that extra "punch" that takes them to damaging strength. Storms can still be windy without much CAPE. But, the CAPE may make the difference in whether any spin up tornadoes can get going, for example.
These kinds of caveats are most clear in hindsight, of course. So, for now, we prepare for what we could see and be prepared to quickly adapt as the storms roll in.
Preparing
A series of questions… If you've been around here a long time, you know these are the things to think about when severe weather is knocking on our door. If you're new here or need a refresher, some ideas:
Do you know where you are on a map? Warnings are issued by polygons, not entire counties. So, know where your location is on a map so you know whether you're included in a warning or not.
Do you have multiple ways to get warnings or are your relying only on tornado sirens, for example (no no). Have a NOAA Weather Radio and a weather alert app ready to go, at least.
Do you know where your safe place is? In you're home, lowest level, interior closet or bathroom or hallway. Put as many walls between you and the outside as possible. Cars and mobile homes are a bad idea. If you live in a mobile home, spending time in a sturdy structure between 8-11 pm is a good idea this evening. No need to stay the whole night. Just til the line passes.
Are you prepared for a power outage? Today would be a good day to check batteries in the flashlights and weather radio.
Do you have storm anxiety? You're not the only one. That we know. Being prepared and having people around you is crucial to helping ease fears. See this article from our friend Samuel: https://nashvillesevereweather.com/storm-anxiety/
Make sure to check forecast updates and look out for any watches/warnings that are issued. For more on what to do and how to prepare, click here: https://nashvillesevereweather.com/what-to-do/
Quick References:
Weather changes constantly.
Follow @NashSevereWx on Twitter for any changes to this forecast.
Live coverage during tornado and severe thunderstorm warnings:
Look good.
Support the mission.
We are 100% community supported. No ads. No subscription fees. Keep it free for everyone.