WINDY. A storm line will arrive Wednesday night, but before that, south winds will howl 20-30 MPH and could gust over 40 MPH. Then when the storm line comes through those winds may briefly intensify and blow from the west/southwest so maybe yeah, tie down your things unless you want them in your neighbor's yard.
RANT ABOUT /OH NOES IT'S GONNA BE A THREE OUT OF FIVE/. You may have seen/heard breathless exclamations "it's a THREE out of FIVE" threat based on the below SPC map. It is factually true on the SPC scale this is a 3 of 5 but that is like saying "the Titans are playing an NFL team tomorrow" and getting scared for no good reason — the Titans could be playing any NFL team. For example, Jacksonville (they suck, why worry because /checks notes/ they're the Jaguars). Or, the Bengals (ruh roh, they are now featuring a competent offensive line and they franchise tagged their interception-making safety). Or, the Colts (whose QB carousel landed on 37 year old Matt Ryan so if the Titans were ever down 28-3 are we worried yet). The point is "three out of five" is like saying "an NFL team is coming to Nissan," you don't know whether to be concerned until you hear/read more about the opponent. (Note I considered using a Broadway play analogy but I am uncultured and would have made a mistake ranking the plays, although for sure The Scarlet Pimpernel would have been bottom).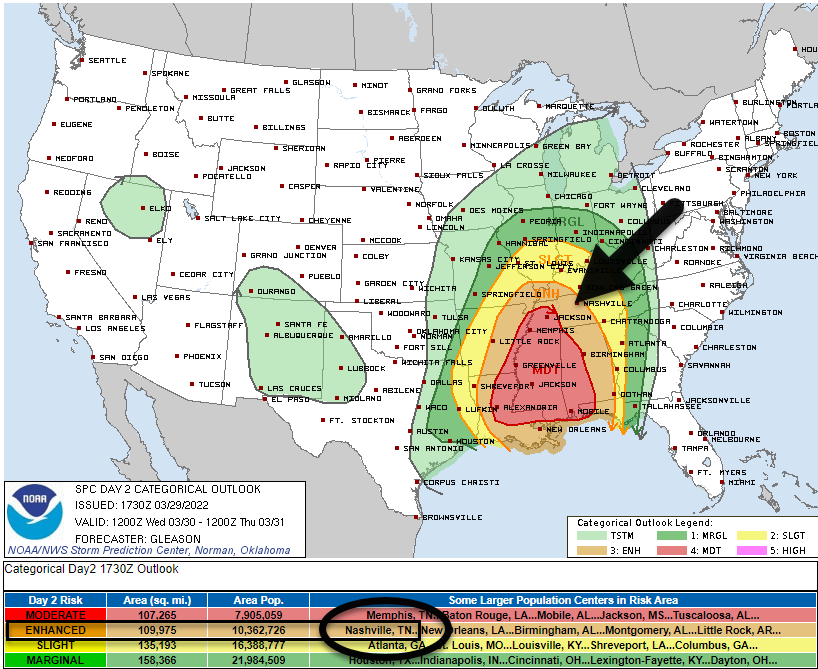 3. TIMING. A squall line is going to come speeding through here probably early evening Wednesday night. "7-8 PM" is NWS-Nashville's thought which seems about right to me (HRRR model agrees, below) tho that ETA could wiggle earlier or later than that, so look for an update (changes?) tonight and tomorrow.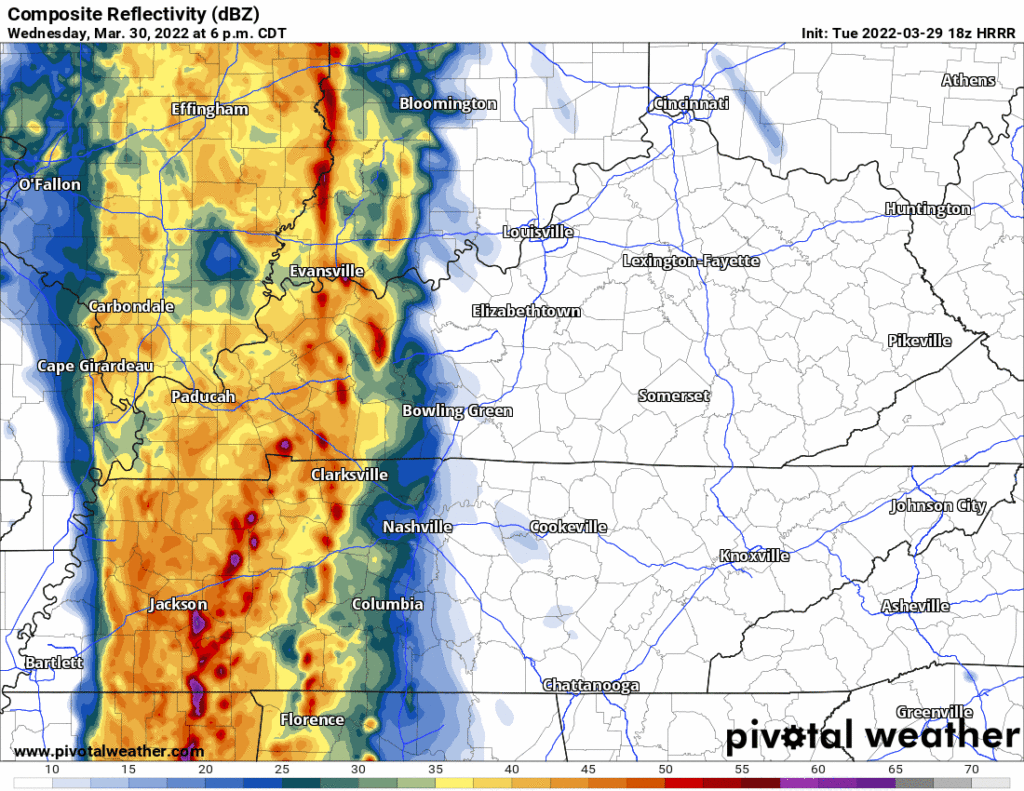 4. WILL IT BE BAD? SPC gave this system a 3 of 5 mainly due to the straight line wind damage threat, the probability of which is 30% within 25 miles of you. It's not rated that high because of a big scary hairy tornado threat. The tornado threat is not a superbig concern. SPC has the probability of tornado "only" at 5% within 25 miles of you. Same for hail, 5%. Why the lower concern of tornadoes? The system will have plenty of wind ingredients (shear, helicity, etc.) to rotate storms but the other basic necessary ingredient, instability/CAPE, is largely missing in all the models.
5. THE TORNADO THREAT IS CONDITIONAL.
Tomorrow afternoon will be key. Has the sun been out? Is the temp up? Are dewpoints closer to 60° or 55°? If the answers are yes, watch out, a few tornadoes could spin up in the line. If not, nah.
Or to return to the analogy, this system could be dangerous if it can fix its quarterback play (instability), and everything else works the way we think it should.
It's . . . conditional. We won't know how it might end until we see a few quarters.
We'll be closely watching how much instability does or does not build Wednesday afternoon. We'll have a better handle on the risk of tornadoes then.
6. DAMAGING STRAIGHT LINE WINDS ARE THE MAIN CONCERN. We may even see 70 MPH wind gusts in isolated spots embedded in the line.
7. FLOODING. Not a big concern, but flooding may be possible in the usual (mostly urban) spots when the rain is heaviest. We're forecast for just over 1″, which most of us should be able to handle. Although your games Wednesday night will be rained out, sorry.
8. PLAN AHEAD.

More tonight, tomorrow, and throughout the event.
Quick References:
Weather changes constantly.
Follow @NashSevereWx on Twitter for any changes to this forecast.
Live coverage during tornado and severe thunderstorm warnings:
Look good.
Support the mission.
We are 100% community supported. No ads. No subscription fees. Keep it free for everyone.