Happy Monday! Today will feel a lot like yesterday day with temps only reaching the mid 50s. Then temperatures into mid week, hitting the mid 70s Tuesday and low 80s Wednesday.
Windy Wednesday
15-25 MPH sustained winds, with gusts 40 to 50 MPH hollering out of the south before the storms arrive later Wednesday.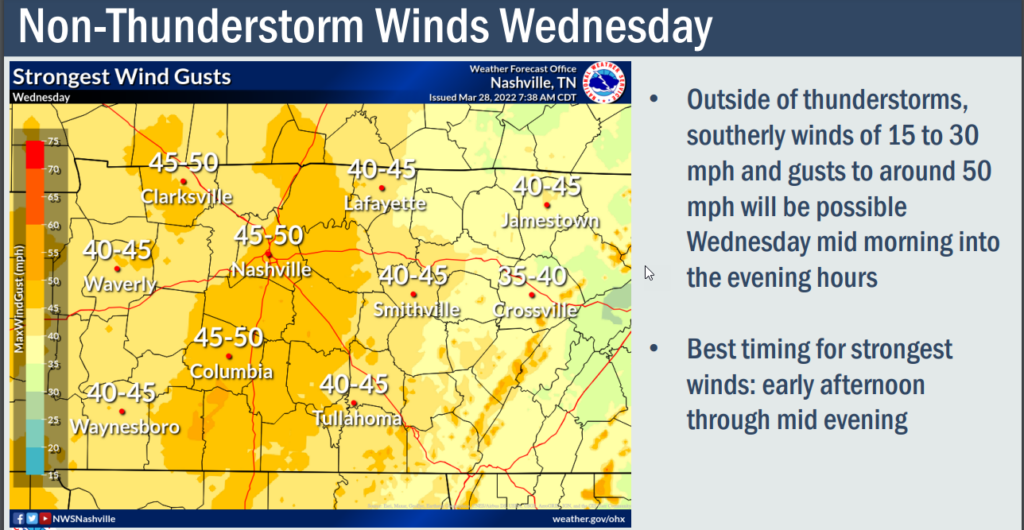 Wednesday Storms
\Models currently almost agree on ETAs (note though, we don't have all the models in, other more higher res models begin arriving tonight).
The GFS model below has a line of very fast moving thunderstorms getting here late afternoon time to around late dinnertime.
The main concern with this line is damaging straight line winds. Isolated tornadoes are a secondary, much less likely, concern. Check out the winds in the GFS model, blowing pretty good with straight line wind values up to 60 MPH just as the line hits.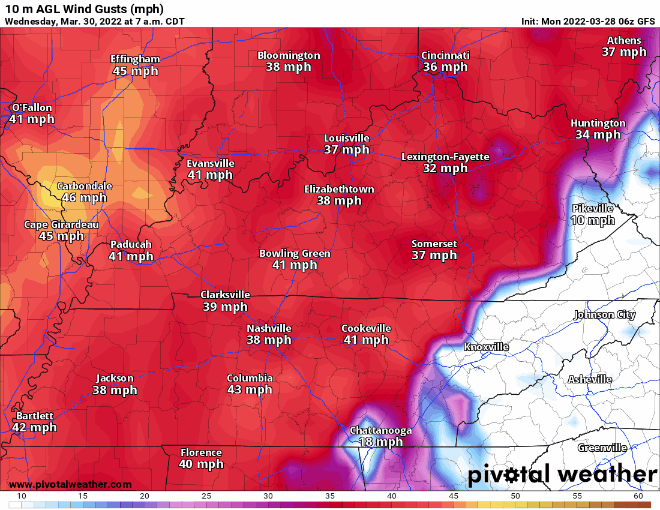 Euro model below thinks the storms will get here a few hours after the GFS does. The Euro thinks the ETA is around late dinnertime Wednesday.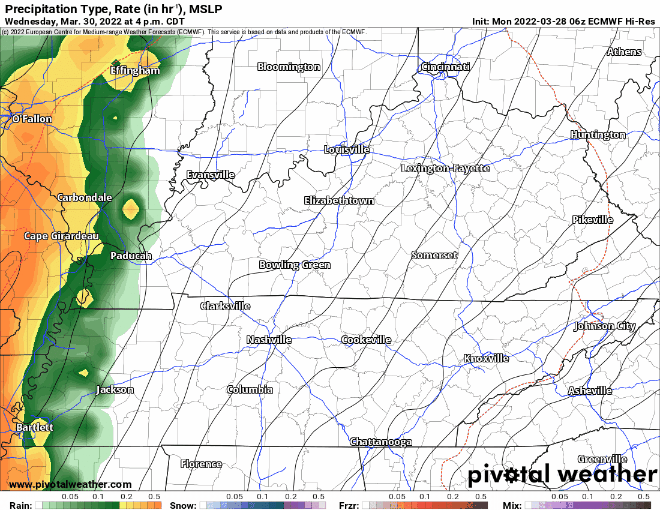 SPC drew the yellow-green severe weather outlook line straight through western Davidson & Williamson Counties.
I don't think western parts of our counties are in that much more risk than those in the green. This is another low CAPE, high shear event. Meaning, the winds will be screaming and able to rotate the storms in the line, but as the storms get to us they will encounter very little (if any) severe storm fuel, making a severe weather risk for us "marginal," which is to say, it's pretty low. We've had several of these setups recently and none of them materialized anything substantial. Like most things, though, breaks in the clouds, more moisture arrival, and bad timing could change everything for us for the worse, but for now this is not an alarming set up.
However, this forecast is based on the global models which run at lower resolution. The high res models (which can see more localized expected conditions) won't start getting into range of this event until tonight. So all this may change.
There may be localized, isolated, "usual spots" flooding during the heavy downpours, but widespread flooding is not expected. This is very fast moving system. It's going to rain out your stuff Wednesday night but it should move through in a few hours. WPC outlooked us for a 5% probability of flooding, which is their lowest risk category.
Rest of the week is pretty quiet. Another disorganized rain system is expected here late Saturday/Sunday. Doesn't look like much.
Quick References:
Weather changes constantly.
Follow @NashSevereWx on Twitter for any changes to this forecast.
Live coverage during tornado and severe thunderstorm warnings:
Look good.
Support the mission.
We are 100% community supported. No ads. No subscription fees. Keep it free for everyone.