WHAT
Tornado, damaging straight line winds, and large hail.
A low probability of a high impact event.
In the form of small, rotating supercells spread widely around the evening. So wide we might not even see rain.
WHEN
Timing is late afternoon – early evening. HRRR thinks the most likely arrival time is 6 to 8 PM. Stay connected, that time may change.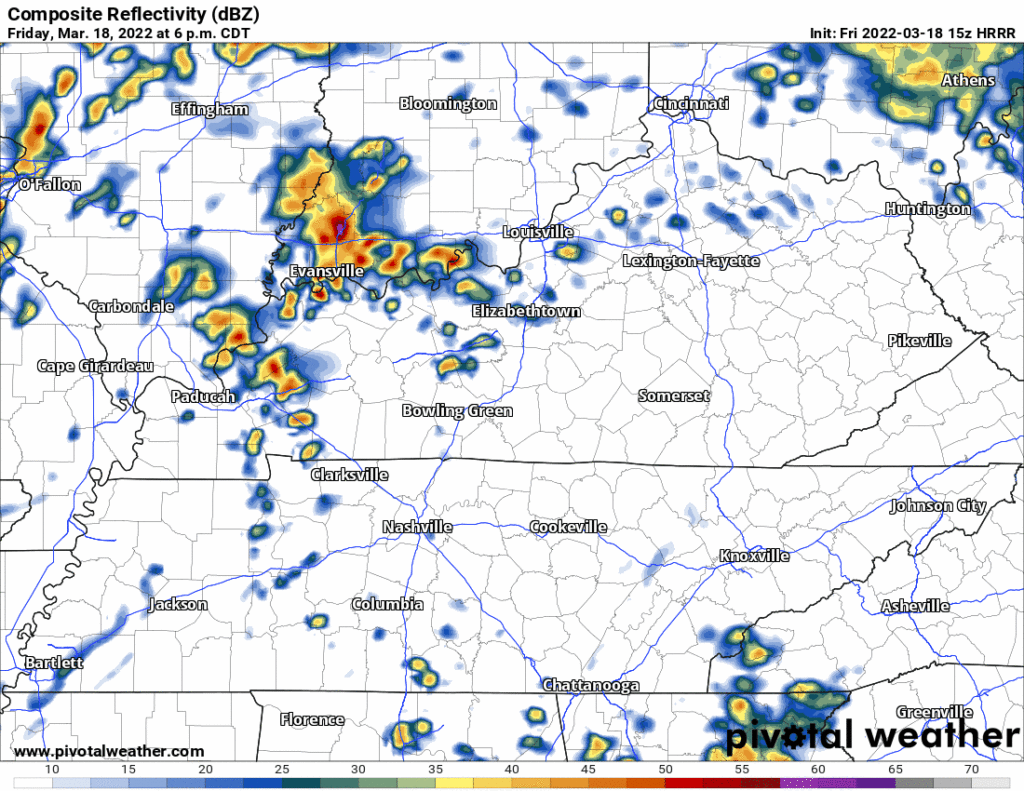 PROBABILITIES
SPC just published its lunchtime outlook. We remain inside the 5% probability of a tornado within 25 miles of you.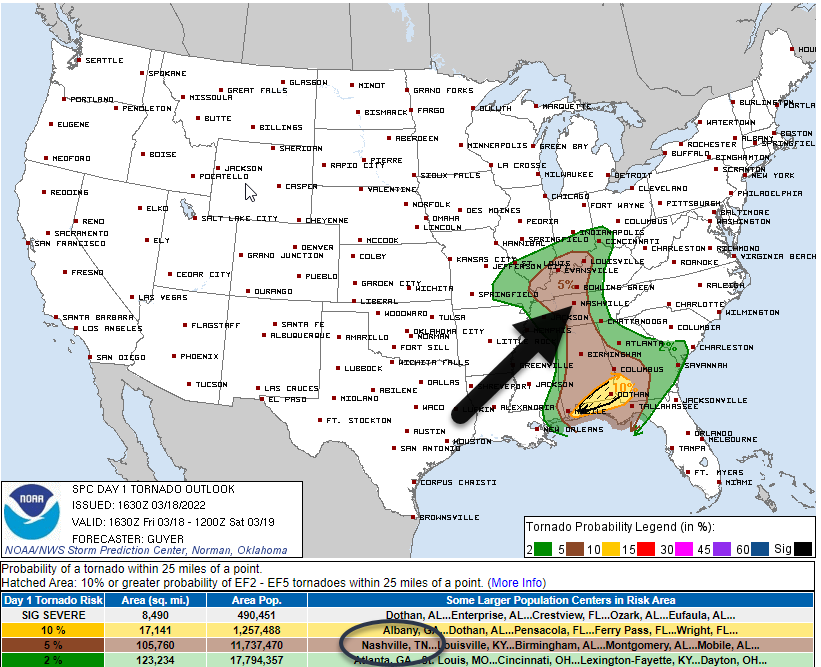 Large hail remains 5% and damaging straight line winds went down from 15% to 5%.
COMMENTS
We have a long way to go to charge up our atmosphere enough to get severe weather. Models think supercells may struggle to form due low dewpoints and low instability and other more technical obstacles. If we get enough sunshine in here today and a storm or two can get going there should be enough shear and maybe just enough instability to produce a tornado or wind/hail event. But looking at the models it all just looks kinda meh right now.
It's kinda like a firework with a bad fuse that won't light. If it lights you don't really want to be holding it but right now that fuse looks like it doesn't want to support a flame. Time will tell, obv.
WHAT TO DO
Your thing, responsibly.
Stay informed with new info. Storms that develop quickly will move quickly. A clear radar may become active fast leaving you little time to react.
Do not leave yourself vulnerable should a low probability event choose you. If a warning is issued, already be somewhere good to shelter from a tornado. Interior room, lowest level, as many walls between you and the outside as possible, and not a mobile or manufactured home.
Those going to the Vandy game tonight have walking shoes to get into Memorial if a warning is issued.
It is entirely possible this thing is only a problem for those north and south of us and we end up with a quiet night. But, things can and do change fast, and rarely (but actually) storm situations escalate, all of which is manageable if you do some weather adulting and reduce your vulnerabilities through common sense responsibility unparalyzed by fear.
We'll be on the Twitter all day and night as usual.
Quick References:
Weather changes constantly.
Follow @NashSevereWx on Twitter for any changes to this forecast.
Live coverage during tornado and severe thunderstorm warnings:
Look good.
Support the mission.
We are 100% community supported. No ads. No subscription fees. Keep it free for everyone.