This afternoon I searched "March snow" in my Google Photos, and several snow pics from March came up from years past. While March snows are not unprecedented for us, it seems a little odd. But, here we are… Let's lay it out.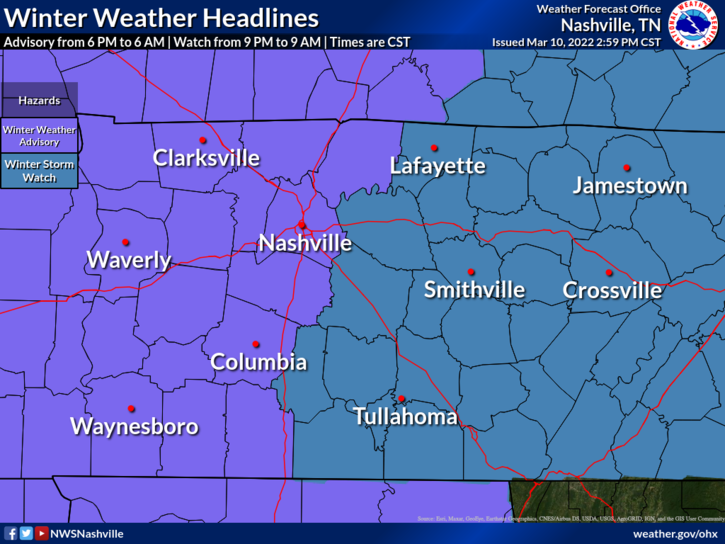 Winter Weather Advisory for Davidson/Williamson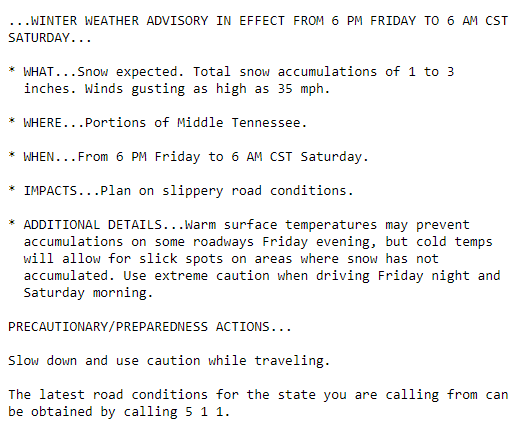 Potential Accumulations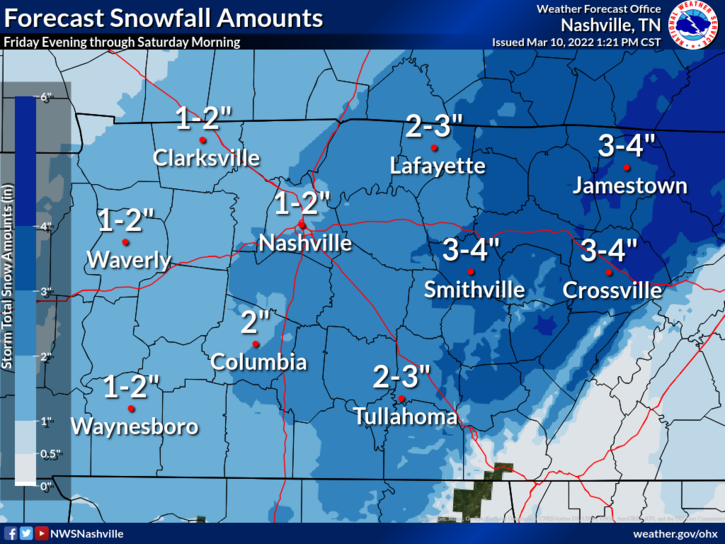 The Deets
A very strong cold front will barrel through here Friday, dropping temps quickly. Notice how the HRRR thinks temperatures are 64° in Nashville at 2:00 pm Friday. We'll be like "naw. Ain't no way it's gonna snow." Then, by 10:00 pm we'll realize we're below freezing, says HRRR: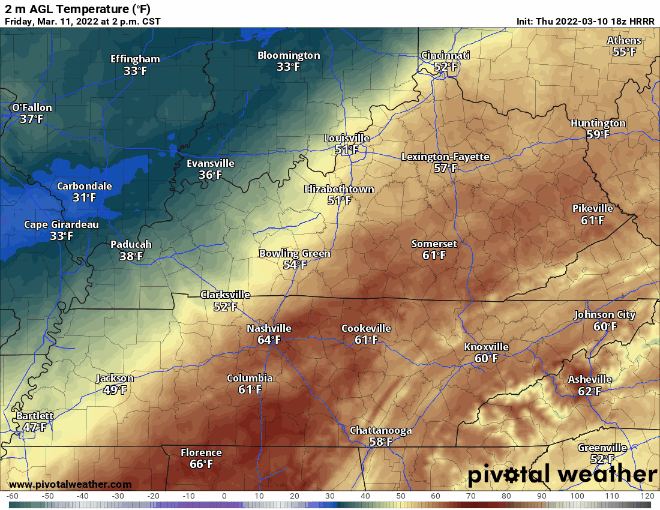 That brings us to precip. We may have precip falling as rain as these temps tumble, but the expectation is that the precip will change over to snow pretty quickly Friday night.
Snow looks to fall for most of the night, ending early Saturday morning. Again, HRRR illustrates.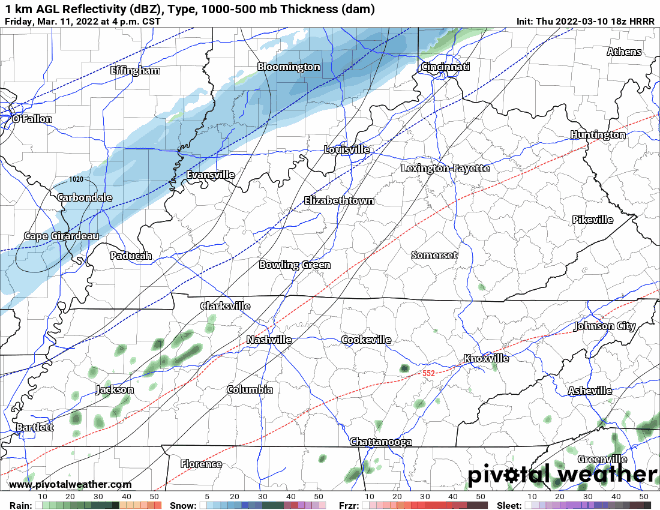 So, that's how we potentially end up with 1-3 inches of snow. But, we've had some nice warm March days after all, and the falling snow may find that the ground isn't exactly on board with the idea of being snowed on.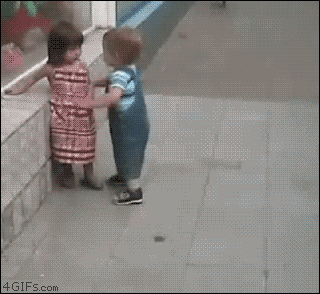 It's a complicated forecast. A warm ground, timing of the cold air, duration and rate of the snowfall all play into the possible outcomes.
But, it's March you say. It's when we usually get storms. Yes. NWS said it this way.

We're in a transition season when we can still get winter-like shots of cold air amid spring-time levels of Gulf moisture being pulled up our direction.
Most Likely Scenario
We expect snow to fall Friday night as temps drop fast. Snow will accumulate on non-paved surfaces if it snows hard enough. It will accumulate more if the snow comes down quickly. It will accumulate much less if it falls slowly and gets eaten by the warm ground. One to three inches of snow is possible. You may even find that the snow melts/settles some after it stops falling just because of the warm ground.
As temperatures continue to plummet overnight, roads could begin to freeze as temps drop to the low 20s. Bridges/overpasses/roads at elevation will freeze first. Travel could be hazardous Saturday morning. If you're heading out of town for Spring Break, build this possibility into your travel plans.
Saturday
Temperatures will not recover much Saturday. The forecast high temp is currently 31°, but the sun angle in March is higher than the dead of winter, so conditions will likely improve some if we can get sun or at least thinning of the clouds…even if we stay below freezing.
Then, 50s and 60s Sunday and Monday. The cold isn't going to last long.
Revisions to this forecast will happen tomorrow. Check back.
Quick References:
Weather changes constantly.
Follow @NashSevereWx on Twitter for any changes to this forecast.
Live coverage during tornado and severe thunderstorm warnings:
Look good.
Support the mission.
We are 100% community supported. No ads. No subscription fees. Keep it free for everyone.