Today we hit the low 60's jackpot, sunshine, and no rain. Great finish to the weekend.
The rest of the week will not be this pretty. Get ready for rain.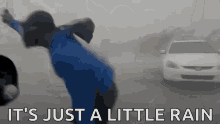 The rain this week will come in two rounds: #1 Monday night through Tuesday night & #2 Wednesday night into Thursday night.
Round #1
The HRRR shows some showers and thunderstorms arriving Monday afternoon. This will be sparse and you may not get anything from these. As we get further into Monday night, the more rain there will be.
Here is what the GFS thinks is in store beginning Monday at 9 PM and continuing through the entire day Tuesday.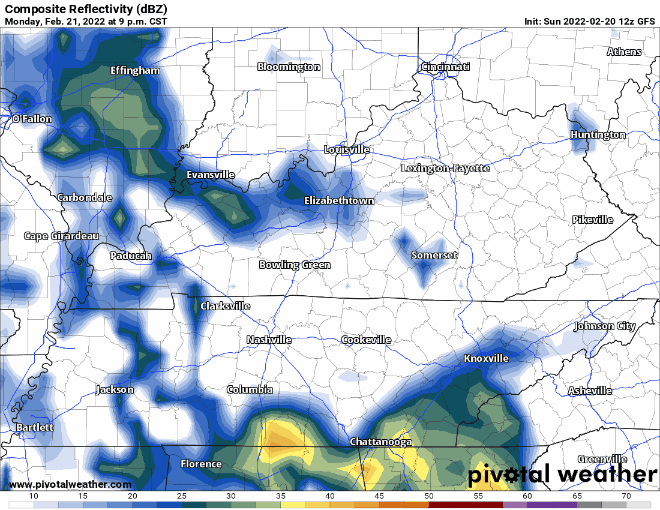 The GFS thinks 1.5″ to 3″ total: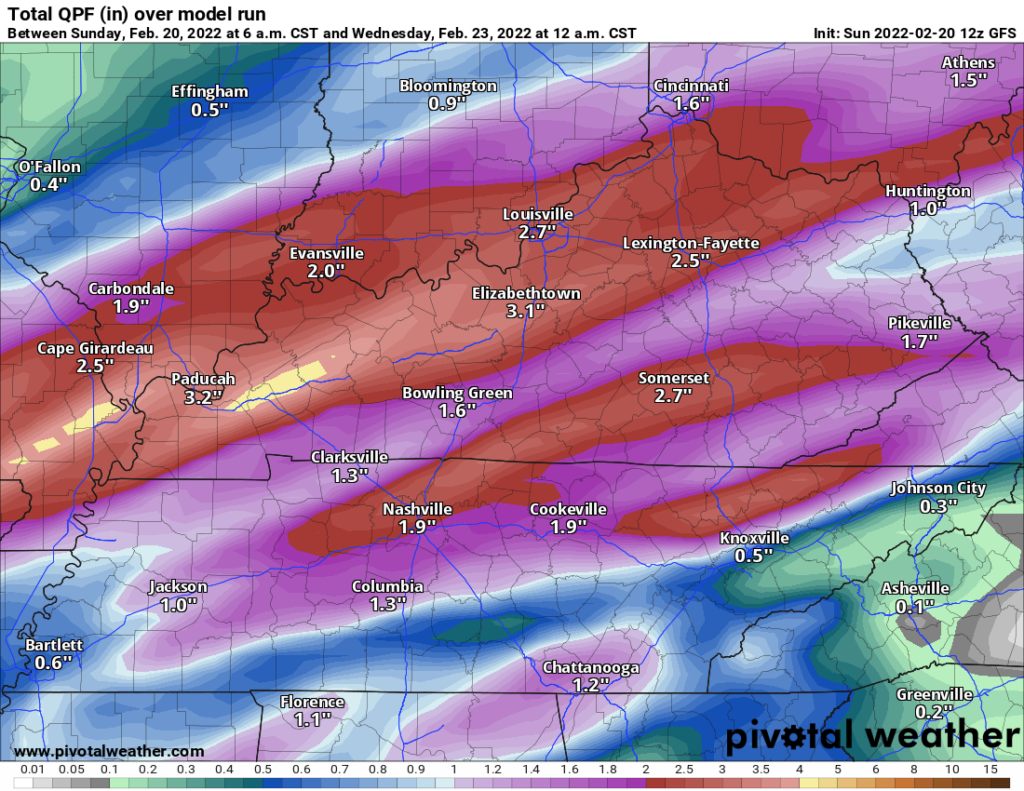 This is consistent with the NWS-Nashville forecast: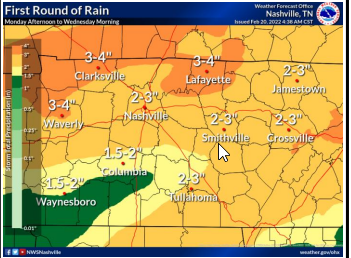 The severe threat for Round #1 very low. The only category the SPC placed us in for this event is damaging wind. There is a 5% chance of damaging winds within 25 miles of you. See map below: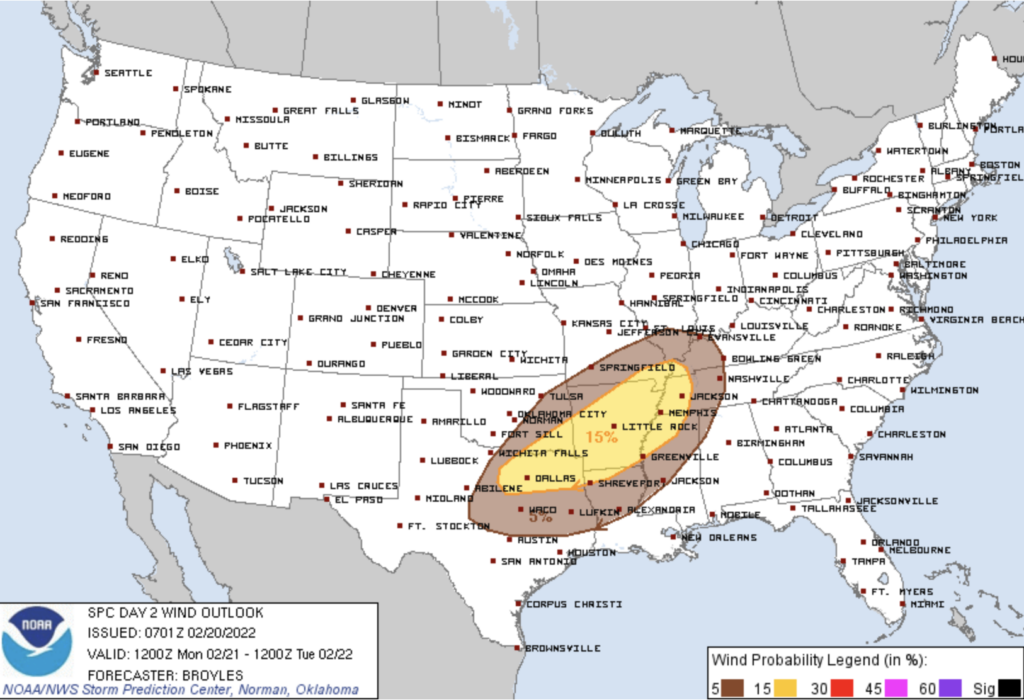 Flash flooding is the bigger concern Tuesday. 2″ to 3″ will rise local creeks and streams. If the rain is spread out long enough, we should be able to handle it. However, if we get a few "training" thunderstorms in here Tuesday, we should start to see flooding, and a narrow swath of the map may see more than 3″. The risk of flooding is "at least 15%" within 25 miles of you, but understand that risk is greatest for those in urban, and/or low-lying, and/or flood vulnerable spots. You know who you are.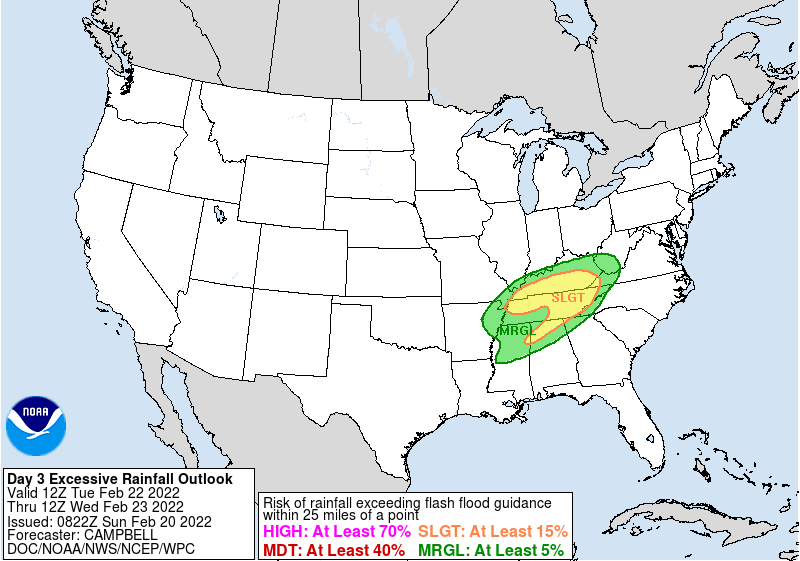 Round #2 arrives Wednesday overnight into Thursday. The GFS model below shows what looks like rain along a warm front, then more rain as a cold front crosses: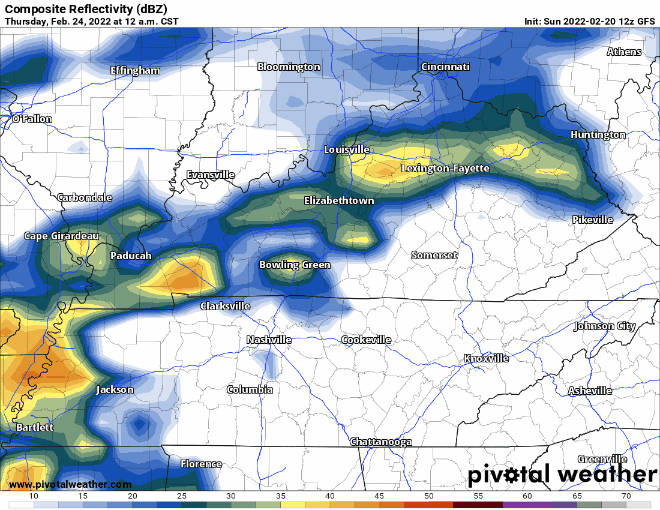 Another 1.5″ to 3″ is expected.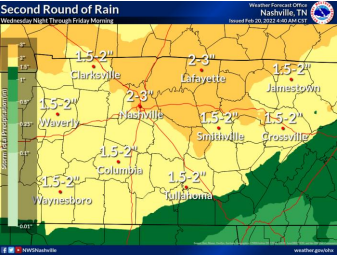 Lower dewpoints reduce/eliminate any severe thunderstorm threat. But, the flooding threat remains. The ground will be pre-saturated meaning water will go where we don't want it.
Plenty of weather to pay attention to this week, we'll be sure to keep you posted
Quick References:
Weather changes constantly.
Follow @NashSevereWx on Twitter for any changes to this forecast.
Live coverage during tornado and severe thunderstorm warnings:
Look good.
Support the mission.
We are 100% community supported. No ads. No subscription fees. Keep it free for everyone.