Storms are fed by instability. The question for tomorrow's potential severe event: will there be enough storm food to fire up storms AND sustain themselves? CAPE values are relatively low, but recent model runs show a slight uptick (which could be just enough).
Helicity/shear values are high. This means storms that successfully develop won't have much to stop them from rotating. Not much instability will be needed for storms to go strong to severe.
SPC has bumped up our probabilities of seeing severe weather tomorrow afternoon/evening. The probability of a tornado occurring within 25 miles of you is now 10%. We are also included in a "hatched" area in the outlook, which means if a tornado occurs, there is at least a 10% chance that a tornado could be an EF2 or stronger.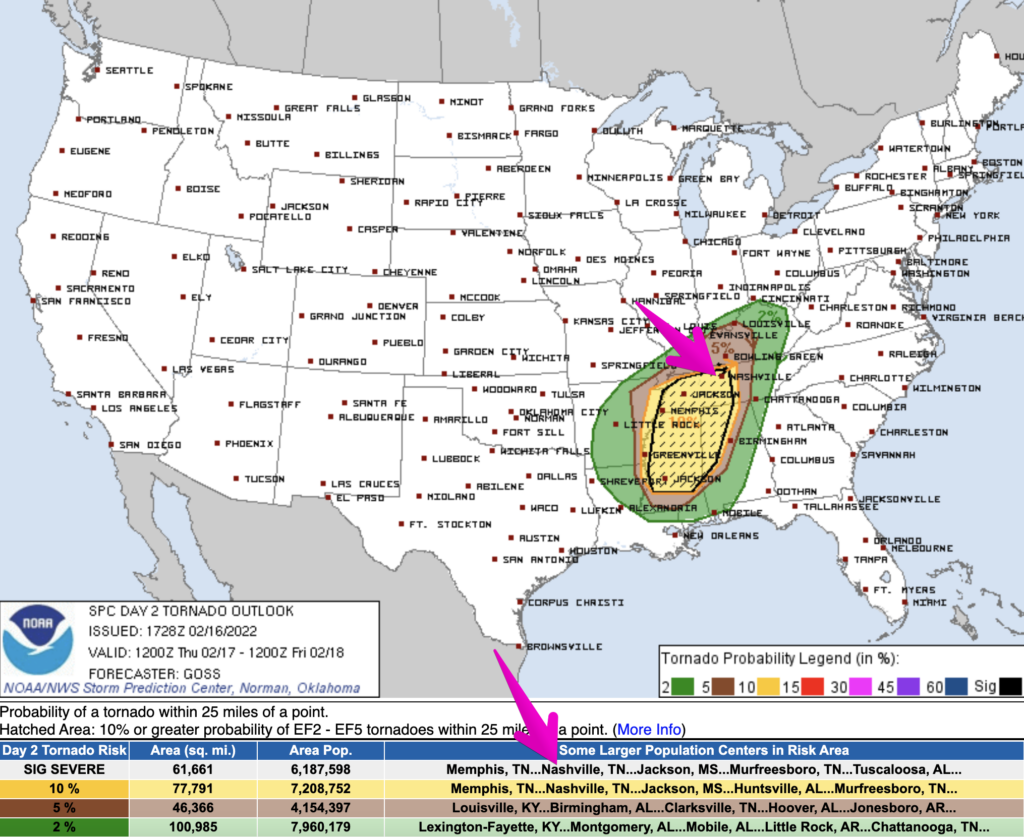 The probability of damaging straight-line winds occurring in a thunderstorm within 25 miles of you is 30%. These are thunderstorm winds that are 58+ mph.
The probability of severe hail of 1″ diameter or larger occurring within 25 miles of you is 5%.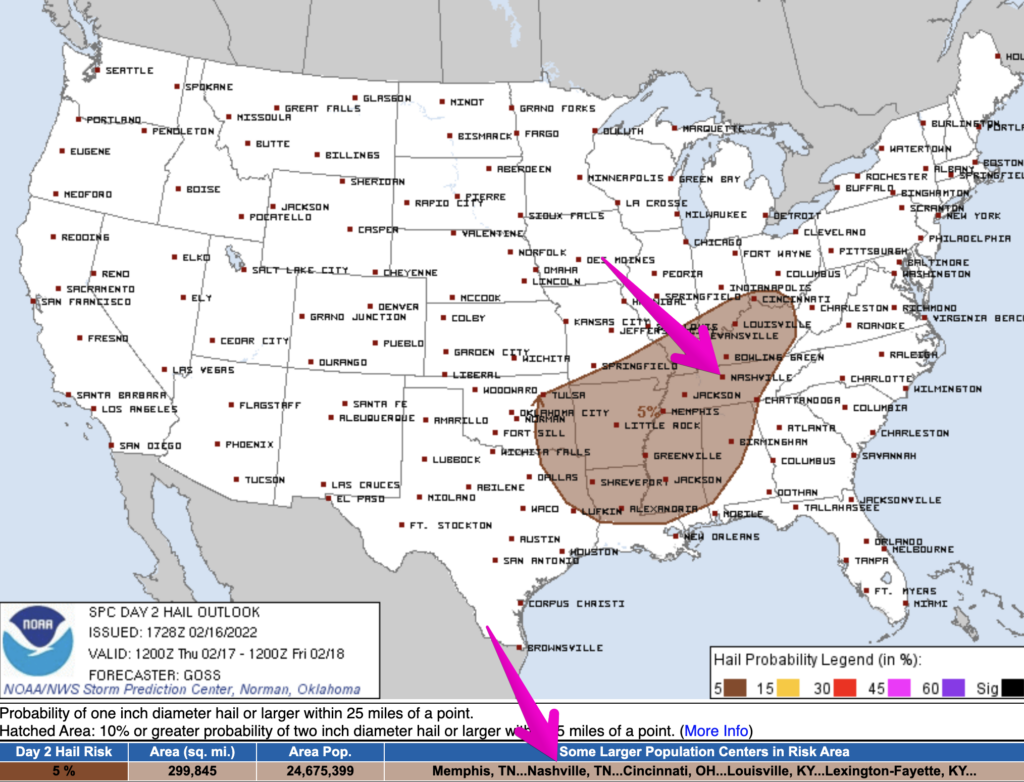 Timing
The HRRR from this morning thinks we'll see showers and thunderstorms begin mid-morning and exit around 7pm. 3-7pm appears to be the window for the strongest storms.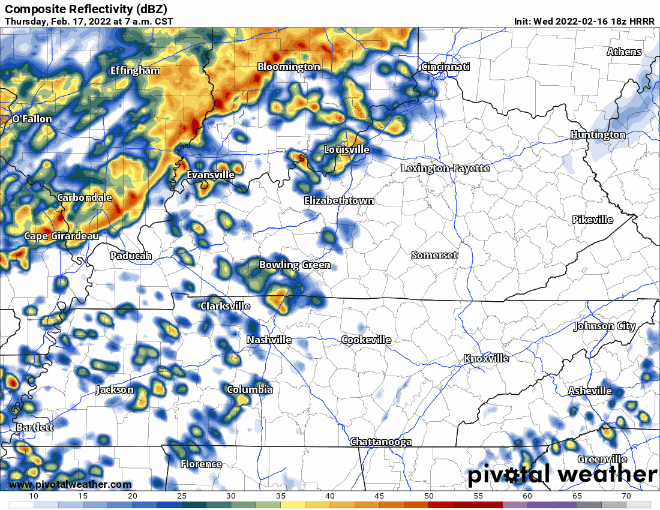 The Wind Y'all
A wind advisory is in effect until 9 pm Thursday for winds outside of thunderstorms. Today, winds are gusting between 35-40 mph. Tomorrow, winds could gust even stronger, up to 45 mph. Secure outdoor objects that could blow around and end up down the street. If you're downtown or in other areas of high-rise construction…be super cautious of building materials blowing down from the construction area high above.
What Could Limit Severe Weather?
At the top, we mentioned C.A.P.E. This is really the ingredient we're watching. Other ingredients are present in the setup for tomorrow. However, C.A.P.E. has looked kinda wimpy. We'd be okay with that. However, recent model runs show enough C.A.P.E. to where it has our attention. With incredibly high shear values, C.A.P.E. doesn't have to be crazy high to get severe weather. Will there be enough? That's the question. HRRR illustrates this narrow line of C.A.P.E. that could materialize as storms come through to give them that extra punch. If there's not enough C.A.P.E. severe weather will be limited.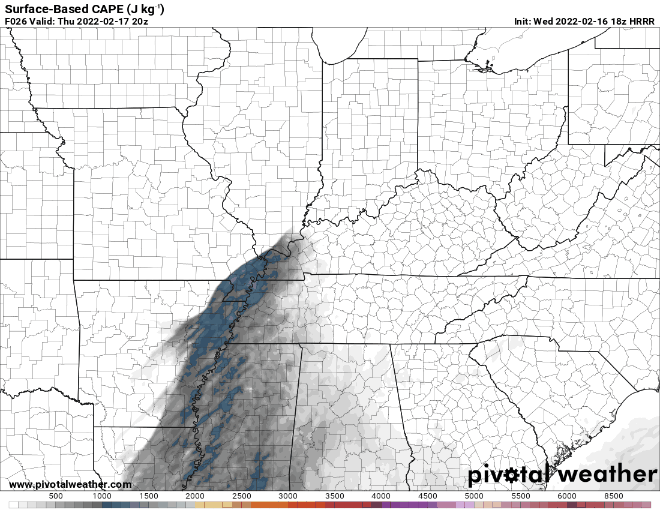 How To Prepare
This is a low probability, high impact event. Here are a few things to keep in mind.
Know where you are on a map. If a warning is issued, you'll want to know where you are. If your phone has GPS, open a map program and let your phone show you where you are if you aren't sure. Find out what county your location is in.
Have multiple ways to get warnings. Never rely on one warning delivery method. Use a combination of apps, WEA alerts, outdoor warning sirens (remember, not designed to be heard indoors), NOAA Weather Radio, etc.
If you live in a mobile home, have a plan in place where you can get to a shelter / sturdy structure very quickly (mall, store, friend's site-built house, safe room, etc). If you aren't able to get to one of these places quickly, consider just spending the afternoon/evening hours at one of these locations. Mobile homes are not safe in tornadic winds.
There are many more tips available here: https://nashvillesevereweather.com/what-to-do/
Feeling Anxious?
You're not alone. Many of us feel the weight of anxiety when storms are a possibility. Our friend Samuel gives some advice: https://nashvillesevereweather.com/storm-anxiety/
More Updates
We'll have more updates over on Twitter. We may even do an additional blog this evening as new data comes in.
Quick References:
Weather changes constantly.
Follow @NashSevereWx on Twitter for any changes to this forecast.
Live coverage during tornado and severe thunderstorm warnings:
Look good.
Support the mission.
We are 100% community supported. No ads. No subscription fees. Keep it free for everyone.