A MIGHTY WIND
Before the storms expect south winds sustained 20-30 MPH, with gusts to 45 MPH. Loose objects will be relocated.
MORNING RAIN
This should not be a big deal. Insufficient CAPE to power storms will be the reason.
AFTERNOON TORNADO, DAMAGING WIND THREAT
Storms are expected Thursday afternoon. Current ETA 3 to 6 PM (this may change, stay connected).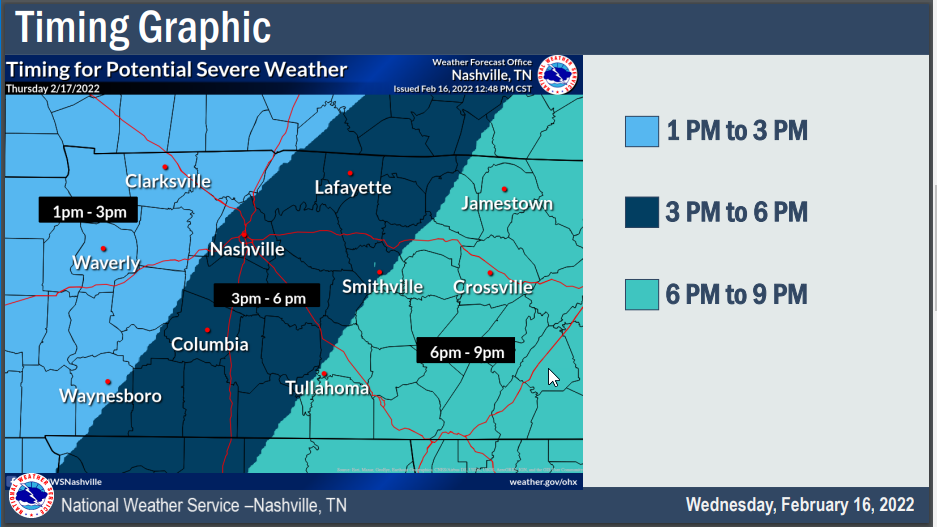 Here are the storms on the HRRR model: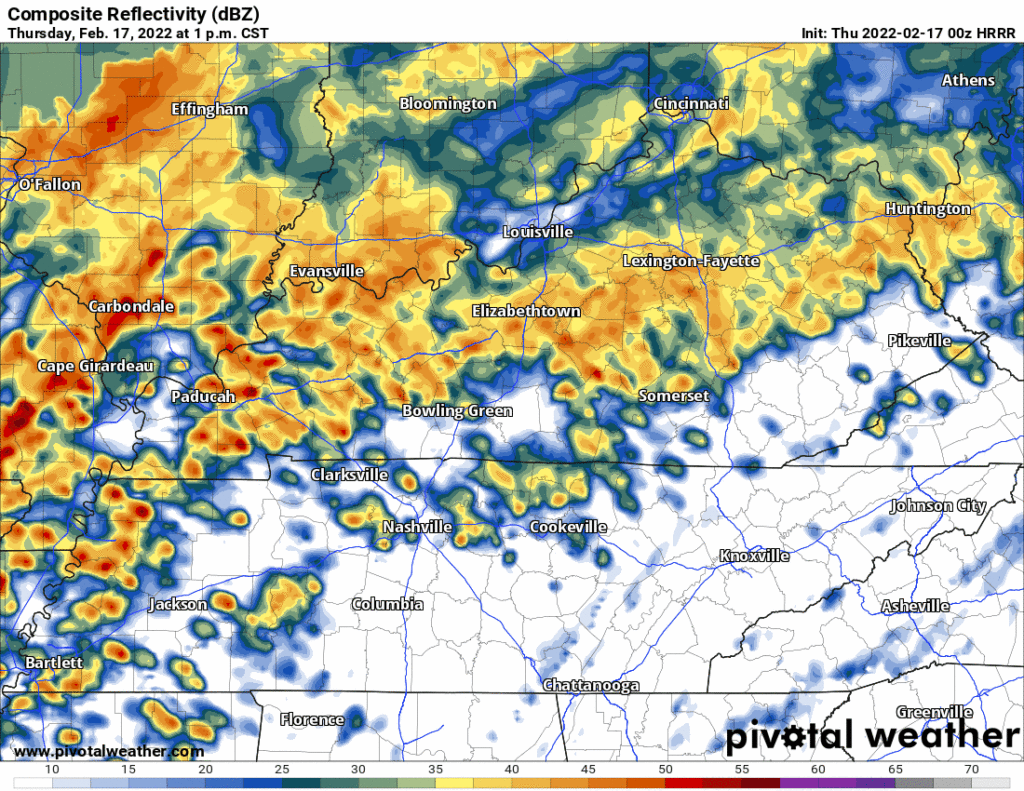 SPC says the probability of a tornado happening within 25 miles of you is 10%. Usually these are EF-0 or EF-1 tornadoes, but given strong shear/wind energy that will undoubtedly be present, tornadoes may be EF-2 or stronger if we get some morning breaks in the rain and enough CAPE and instability (modeled to be in low supply, thankfully) materialize.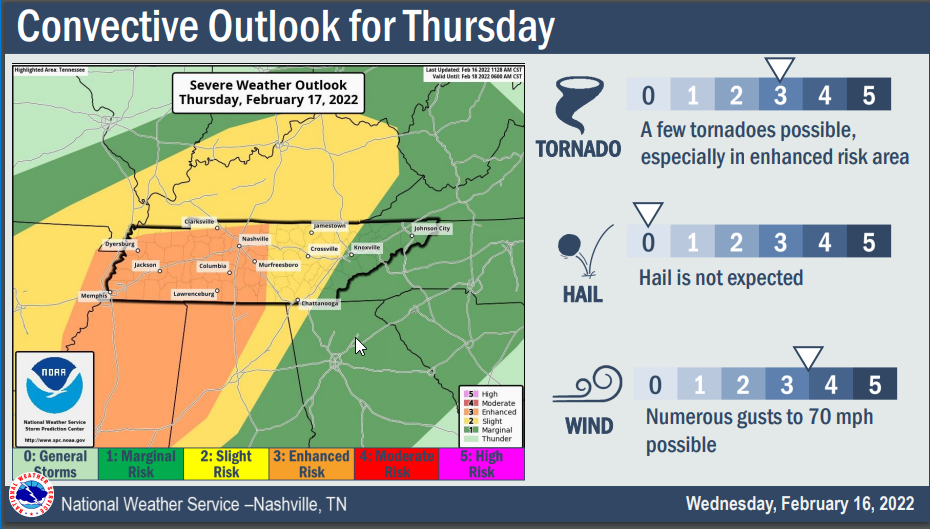 Damaging straight line in-storm winds up to 70 MPH are most likely. SPC has that probability within 25 miles of you being 30%.
Widespread flooding is not expected. Rainfall 1″ to 1.5″, and some of us will get less than that.
SOME COMMENTS
Most models show the severe ingredients in West Tennessee decrease (but not zero out) as the line approaches Davidson and Williamson Counties. HRRR and HREF data shows a drop off in the Significant Tornado Parameter in response to the expected lack of CAPE/instability. Both are good signs! So at the moment this event is not screaming at us, and although I'm certainly going to be glued to the data and will be watching this thing all day (as should you), the models aren't pointing to a certain stormpocalypse.
That said, this is just model data, and it has been wrong before. If we get very little rain tomorrow morning and CAPEs increase by early afternoon, then Watch Out, because just a little bit of CAPE will power up all the other plentiful storm ingredients, and we may get a few rotating supercells capable of producing strong straight line winds and/or a tornado.
This is a low probability, high impact event. Here are a few things to keep in mind.
Know where you are on a map. If a warning is issued, you'll want to know where you are. If your phone has GPS, open a map program and let your phone show you where you are if you aren't sure. Find out what county your location is in.
Have multiple ways to get warnings. Never rely on one warning delivery method. Use a combination of apps, WEA alerts, outdoor warning sirens (remember, not designed to be heard indoors), NOAA Weather Radio, etc.
If you live in a mobile home, have a plan in place where you can get to a shelter / sturdy structure very quickly (mall, store, friend's site-built house, safe room, etc). If you aren't able to get to one of these places quickly, consider just spending the afternoon/evening hours at one of these locations. Mobile homes are not safe in tornadic winds.
There are many more tips available here: https://nashvillesevereweather.com/what-to-do/
More tonight, tomorrow, and through the event.
Quick References:
Weather changes constantly.
Follow @NashSevereWx on Twitter for any changes to this forecast.
Live coverage during tornado and severe thunderstorm warnings:
Look good.
Support the mission.
We are 100% community supported. No ads. No subscription fees. Keep it free for everyone.